When the inscrutable Wall Street titan Hetty Green died in 1916, having singularly amassed a fortune worth $2.4 billion in today's money, the New York Times took a shrewd look at her legacy, or what would later be determined to be a shocking lack thereof. "Probably her life was happy," the obit stated. "At any rate, she had enough of courage to live as she chose and to be as thrifty as she pleased, and she observed such conventions as seemed to her right and useful, while coldly and calmly ignoring all the others." It was the latter appraisal that helps explain why Hetty never became a household name, despite her ability to beat Gilded Age robber barons at their own game in an era when women were denied the vote, let alone given access to the halls of power. Her riotous, headstrong disregard of how rich New York women lived their lives should also have been enough to make her iconic in these days when shapers of the #MeToo movement are looking for historic role models of women carving out their own paths in the face of male adversity. But in Hetty they'd have a hard time holding her up as a standard-bearer, during her own time — or in ours.
Many of the very attributes that led to the brilliant financier's success also led to her undoing, both during her life and afterward. Unlike such contemporaries as J.P. Morgan, Andrew Carnegie, or John D. Rockefeller, whose philanthropy managed to smooth out their rough edges for posterity, Hetty had little regard for her personal legacy. She left no public monuments nor endowed any libraries, universities, or foundations whose staffs might have dutifully curated her reputation.
In this sense, she can be seen as the architect of her own obscurity, or at best, her own infamy. As her financial triumphs and exploits faded from memory, what has been handed down is a compilation of anecdotes surrounding her cheapness. Google the term "world's greatest miser" and Hetty dominates the page. This monochromatic, oft-repeated view of the brilliant financier does much to minimize a complex figure who is arguably worthy of contemporary attention. She's as fascinating for her pioneering qualities as she is for her flaws, but the sheer tonnage of dismissive, disparaging stories have done much to bury a narrative worth telling.
She was born Hetty Howland Robinson in 1834. Her delicate, retiring mother Abby was a Howland, and the Quaker Howlands were the most successful whaling family in New Bedford, Massachusetts, at a time when the nation ran on whale oil. It was Hetty's father, the shrewd, hard-driving Edward "Black Hawk" Robinson — a Philadelphian who married into the family — whom she most identified with. An only child after the death of her infant brother, she might have spent her youth playing with other children in the fine homes overlooking the harbor. Yet it was to the docks where her father presided amid the heady smells of whale oil and money, that she gravitated. She read the financial papers aloud to her grandfather and learned thrift from her father, who turned down 10-cent cigars so as not to ruin his taste for 4-centers. She watched men drive tough bargains and learned quite literally to swear like a sailor.
When her father died in 1865 with an estate totaling $90 million in today's money, only a small portion of it was left directly to his 30-year-old daughter. The rest went into a trust to be managed on her behalf by professional men of finance. While the bequest was more than enough to make her wealthy, the arrangement left a deep sting. Had Hetty been a son instead of a daughter, she would doubtlessly have been full partner in her father's operations and taken over all of his fortune. Soon thereafter, She lost a contentious and highly publicized battle in court over the estate of her spinster Aunt Sylvia, forcing her to share Sylvia's estate with New Bedford charities and ancillary relatives.
"While she was ridiculed for personal oddities in her own time, Hetty was nonetheless also respected for her financial knowledge and power."
It's no exaggeration to see Hetty's adult life as an obsessive quest to prove that she could manage the family fortune as well as, if not better than any man. (Over the years, her own investments would multiply and vastly outperform the funds left in trust, which she finally gained control of in 1896 when the last trustee died.) Hetty married businessman and investor Edward Green in 1867, bore two children, Ned and Sylvia, and for years was content to raise them in Edward's hometown of Bellows Falls, Vermont.
Although the locals were taken aback by her plain dress and her insistence on haggling over the most trifling expenses when she could have lived like a queen, these were the years when she lived the closest to what might be called a conventional life. Then, in 1885, Edward became involved in some bad railroad investments with Cisco and Son, a prominent New York brokerage firm. Hetty's money was at Cisco, and when the brokerage failed, her finances were put directly in jeopardy. Enraged at Edward and fearing the loss of the inheritance she had dedicated herself to preserving, she stormed Wall Street.
Prior to that time, she had been known as "Mrs. E.H. Green." Now, she was simply "Hetty." Over the next 30 years this woman ahead of her time built up a colossal fortune, buying and selling stocks and bonds, railroads, and gold mines. She lent money and, often through foreclosure, acquired buildings in New York, Chicago, Boston, and St. Louis. Throughout her career as an investor, Hetty displayed unflinching, steely nerves while her male counterparts typically buckled. She avoided speculating and remained patient: she bought low, sold high, and kept her calm through every panic.
She eschewed living in grand style in a mansion on Fifth Avenue's Millionaire's Row (though she owned property there), and instead chose to lodge in inexpensive rooming houses across the river in Hoboken, New Jersey, or in Brooklyn, often under assumed names. Hetty famously made her rounds of New York banks using public transportation, and once stepped off a public coach lugging a parcel containing $200,000 in negotiable bonds. When the Wall Street banker awaiting her arrival suggested she take more secure, private transportation next time, Hetty snapped: "Perhaps you can afford to ride in a carriage. I cannot."
A cottage industry of miser tales about Hetty developed in every town or city she lived in: the furious, two-day search in Bellows Falls, Vermont, for a lost, 2-cent postage stamp; the nasty feud with Hoboken over a $2 dog license; the heating of oatmeal for lunch on the radiators at Wall Street banks, and instructing cleaners to wash only the bottoms of her skirts — since those were the only parts dirtied by the muddy streets.
But by far, the most damaging story about Hetty's thrift involves her son, Ned, and his amputated leg. Ned had initially injured his leg as a child in a sledding accident. As the leg grew chronically worse over the years, Hetty was documented dressing Ned and herself in old clothes and presenting themselves as charity cases when seeking treatment. While there is no documentation proving that money could have saved the leg, the very act of withholding it in such dire circumstances made her a lifelong object of derision.
While she was ridiculed for personal oddities in her own time, Hetty was nonetheless also respected for her financial knowledge and power. During the financial panic of 1907, when New York ran so low on funds that it froze municipal construction projects and the hiring of new police officers, Hetty's loan of $1.1 million helped keep the government running. She had made similar loans to the city in 1898 and 1901.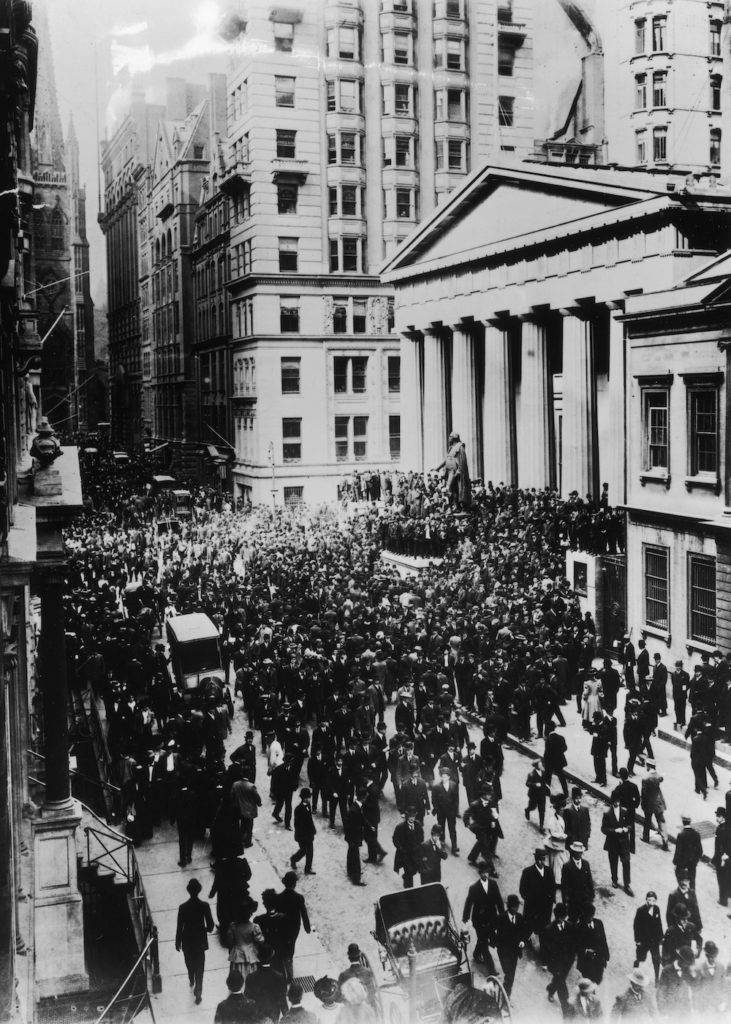 During the panic of 1907, J.P. Morgan organized a famous gathering of banking leaders in the private library of his home on East 36th Street. The meeting, which led to the establishment of the Federal Reserve several years later, was uniformly male, except for a lone woman who wore a black veil as she entered and exited the building. Though the mysterious woman was never formally identified, reporters of the time were convinced that it was Hetty, because she was known for wearing dark veils for privacy and because there was no other woman who carried her level of financial clout.
When she lent money to churches or to a city (in 1900, she financed Tucson, Arizona's first municipal water and sewage system), Hetty often did so at below-market rates. Yet when the transaction involved other capitalists, she was ruthless. In 1886, a group of New York investors plotted a hostile takeover of a Southern railroad called the Georgia Central. Hetty got wind of the plan and began quietly buying up every share she could get her hands on. She bided her time until the would-be raiders had fully committed themselves, and as the deadline neared, Hetty's 6,700 shares could make or break the deal. Through several rounds of financial brinksmanship, Hetty let the swashbuckling investors twist and turn. Like them, she stood to lose a substantial amount if the deal fell through and the share price dropped. But she had nerves to match her foresight, and the other investors blinked first, paying her a greatly elevated share price for her pains.
While Hetty enjoyed matching wits with other shrewd financiers, few things excited her ire more than a bully. Railroad magnate Collis Huntington was famous for intimidating everyone from congressmen to railroad workers, but Hetty wasn't so easily cowed. Their ongoing feud over railroad holdings was chronicled for decades in the press, including an incident when Huntington came to her office at Chemical Bank and made the misstep of threatening her son, who was helping her manage railroad investments. Hetty didn't flinch. Nodding to a souvenir pistol on display in her office, she said calmly, "Harm one hair on Ned's head and I'll put a bullet through your heart."
"In her zealousness to protect and grow her fortune, Hetty lived a life of extraordinary secretiveness."
Hetty was also capable of swanning around in society with the other swells when it suited her, and she was liberally possessed of a lively, sharp wit that would add life to any gathering. She enjoyed a lifelong friendship with prominent socialite and philanthropist Annie Leary, and to further complicate any caricature version of her persona, she displayed quiet kindness when out of the spotlight. While living in modest boardinghouses, Hetty often nursed ill neighbors through the night and was known for handing out piggy banks to children, with money inside, and admonitions to save.
Despite her groundbreaking position as a woman in finance, Hetty never professed to be a feminist. She refused when asked to advocate for the right of women to vote, and, until such time as she felt required to enter the workforce by her husband's missteps, Hetty raised her children along more or less traditional lines. It was Ned whom she trained to take over business operations, while keeping her daughter, Sylvia, as a sort of domestic companion until she finally married.
Of Hetty's two children, it was Ned who made attempts at buying his way to happiness. After his mother's death, he built palatial homes in South Dartmouth, Massachusetts, and in Florida, while indulging passions for aviation, broadcasting, auto racing, and collecting rare gems and stamps. Sylvia lived quietly in New York and in Greenwich but never had children, nor did her brother. It's been speculated that Hetty's fear of interlopers entering the family was the reason both Ned and Sylvia married late in life. When Ned died, he passed the bulk of his estate to Sylvia, and when she died, her estate scattered Hetty's meticulously built fortune to dozens of distant relatives, universities, private schools, and charities — none of the gifts having been earmarked for reputation management of the iconoclast who built it.
In her zealousness to protect and grow her fortune, Hetty lived a life of extraordinary secretiveness — as if by hoarding her treasures away from public eyes she might more meaningfully preserve them. She didn't appear to gain pleasure by spending or sharing the money she earned, and it's difficult to determine where she did gain pleasure. An assistant recalled accompanying Hetty, near the end of her life, to the top floor of a nearly empty loft building she owned in lower Manhattan. In the stultifying heat and near-darkness, they climbed floor after floor. At the top landing was a door. She bent down and felt for a thread running from the bottom of the door to the floor. "If anybody ever goes in here, I'll know it because the thread will be broken," she said.
Satisfied that the room was secure, Hetty unlocked the door to a chamber packed with dust-covered mementoes from her life: the sleigh in which she rode with her father around the snowy streets of New Bedford as a child, old jewelry and clothing, furniture from her childhood, family photographs. Tears filled her eyes as the objects recalled memories of her youth. Then she came across a newspaper clipping about her old enemy Huntington. "That old hyena thought I'd die before him, but he's long in his grave." As she mulled over the titans she fought over the years, she declared to her young assistant: "I'll outlive all of them!"
In large part, Hetty achieved these goals, and it's possible that this brought her the kind of happiness that spending her fortune did not. She proved herself more than the equal of Gilded Age Wall Street's fiercest competitors and she did it on her own terms. She exponentially grew the small portion of her father's fortune that he deigned appropriate to leave in her control, but he wasn't around to express pride in that feat. It's her loss, and ours, that she didn't gain more gratification in mentoring other brilliant women of her day, or of helping to jump-start the women's suffrage movement that has just marked its centennial.
But Hetty didn't live by others' rules or expectations, and it's doubtful that she would even have cared that history would go on to relegate her to the sidelines. At least the paper of record recognized the double standard with which she was judged in her own era, the New York Times noting that the world's endless focus on her personal quirks rather than on her accomplishments was owed to her gender. Had a man showed such monomaniacal zeal for acquiring wealth, stated the article, "nobody would have seen him as very peculiar." How odd, then, that in today's current climate of female empowerment, Hetty's singular accomplishments have yet to spark renewed interest in the trailblazer. It's hard to celebrate a figure as complicated at Hetty Green, but it seems even harder to ignore her.
Charles Slack is the author of several books, including Liberty's First Crisis on the early architects of American free speech, Noble Obsession on Charles Goodyear, and Hetty Green: The Genius and Madness of the America's First Female Tycoon.