New Yorkers have long been bedazzled by fireworks. If something was worth celebrating — the opening of the Erie Canal in 1825, say, or the triumphant return of Admiral George Dewey from the Spanish-American War 74 years later — it was worth saluting with rockets and whizbangs.
In 1883, Annie Oakley gazed from a roof as 6,000 skyrockets and 400 bombshells heralded the opening of the Brooklyn Bridge.
Yes, there was the occasional mishap.
A star-spangled 1858 tribute to the Transatlantic Telegraph Cable ignited the cupola of City Hall, nearly burning down our seat of municipal government.
But nothing could stop citizens from obeying the mandate of Founding Father John Adams, made in a 1776 letter to his wife 20 years before becoming the nation's second president, that America's independence be "solemnized with Pomp and Parades… Bonfires and Illuminations… forever more."
On the evening of July 3, 1876, New Yorkers of every class gathered at Union Square to greet their country's second century. At the stroke of midnight, reported The Sun, "The whole sky blazed with… balls and streams of fire," followed by "fiery pictures" of George Washington and the Pilgrims.
Another hundred years after that, to mark America's bicentennial, television brought viewers the first Macy's July 4th show. (The Coast Guard briefly seized Mayor Abe Beame's boat after it ventured too close to a fireworks barge in New York Harbor.)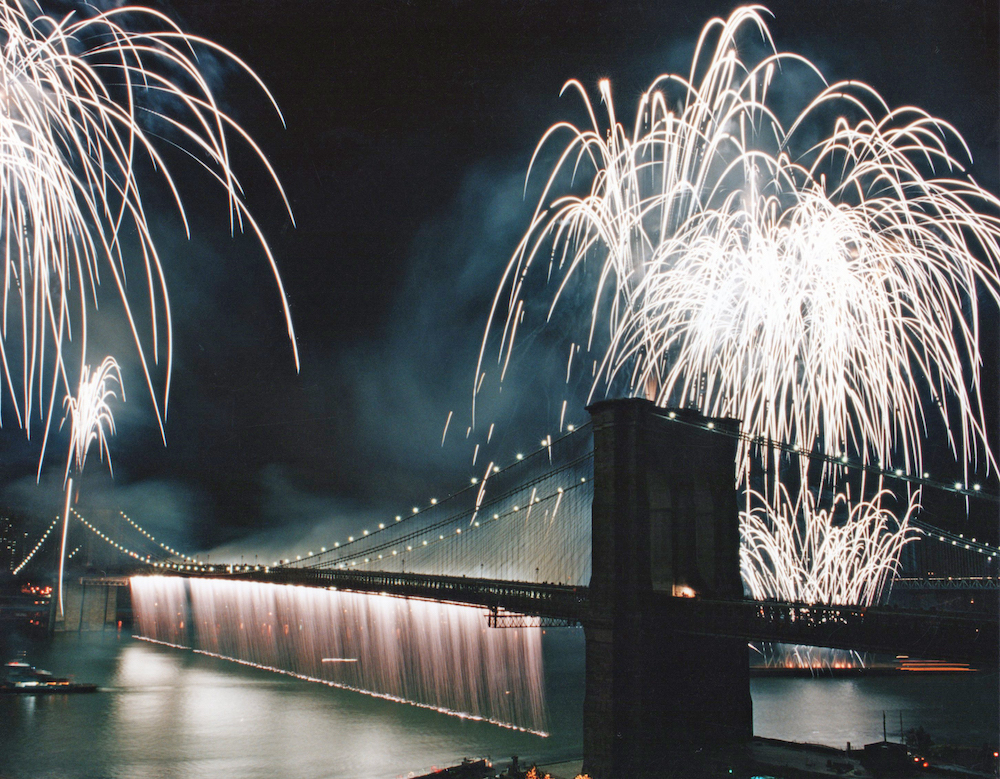 Lighting the fuses on many of this city's Independence, Memorial, and Labor Days has been a family of pyrotechnic artists, the Gruccis, whose company celebrates its 170th anniversary this year.
Family patriarch Angelo Lanzetta was born in in 1850 in Bari, Italy; as a young man, he had apparently been apprenticed to a local fireworks family and learned how to fabricate fuochi d'arti-ficio. He immigrated to the United States through Ellis Island in 1890, bringing with him a shoebox full of fireworks formulas.
After Angelo's death in 1899, his son, Anthony, carried on the business, recruiting his nephew, Felix Grucci Sr., as an apprentice. Settling in Bellport, Long Island, Felix developed safer fireworks, as well as an atomic bomb simulation for the Department of Defense.
Through the '40s and '50s, the Gruccis could always count on Italian feasts and town fairs for work. But, in the '60s, the Vietnam War made some people question bombs bursting in air.
"It was a tough time," said current chief executive Phil Grucci, 57. "We made just enough to feed the eight members of our family."
Phil was seven when he first got to ride the fireworks truck to the weekly show at Coney Island."My father, [Jimmy Grucci,] let me cut the string that held the rockets together," Phil remembered. "I'd wait on the boardwalk with my grandfather while a tug towed my dad and Uncle Butch out on a rickety barge filled with shells."
In 1976, a televised performance in Boston for America's bicentennial brought the Gruccis to national attention. Their ambition grew. Every Sunday, over pasta dinner, Phil's elders debated whether to take part in the 1979 International Festival of Fireworks in Monte Carlo.
"My father wanted to go," Phil remembered. "My grandfather didn't. My grandmother [Concetta] was the tiebreaker. We went!"
The Gruccis became the first American team to win a Gold Medal.
Joining the family on that trip was author George Plimpton. A few years earlier, Mayor John Lindsay had named Plimpton, a former U.S. Army demolition expert, as honorary Fireworks Commissioner. In 1975, Plimpton had collaborated with the Gruccis on creating the world's largest firework — a Roman candle dubbed "Fat Man," weighing 720 pounds.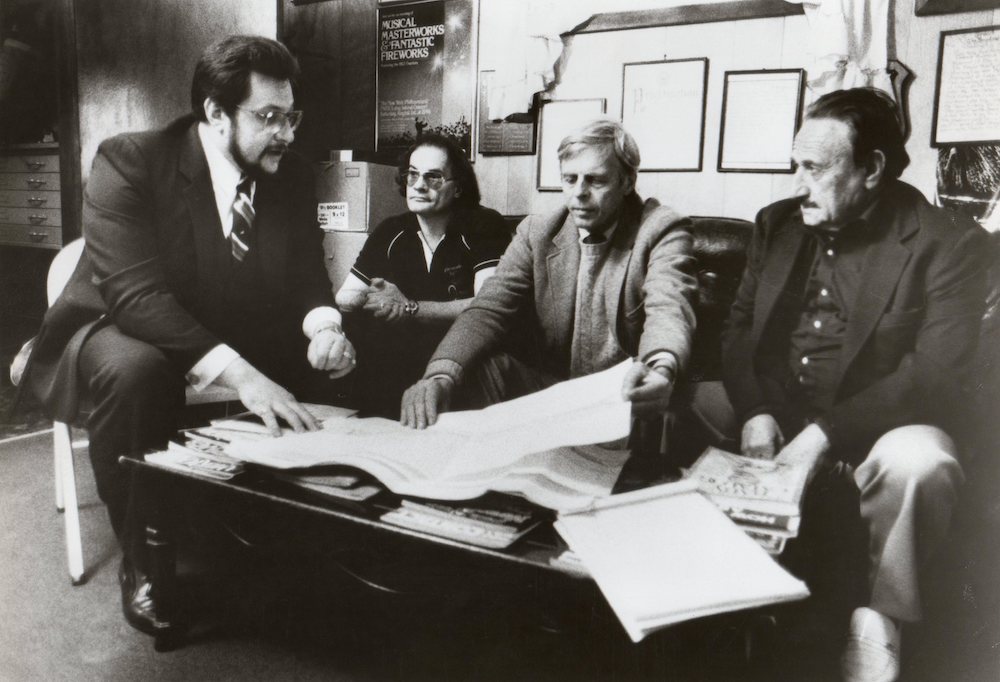 Though it failed to launch as intended (instead blasting a 35-foot-wide crater in the Bellport earth) Plimpton claimed a Guinness record for the world's "lowest" firework.
The Gruccis donated fireworks to Plimpton's annual East Hampton benefit for Anthony Drexel Duke's Boys and Girls Harbor charity. Narrating the show, Plimpton would caress each firework's traditional name — "Flower-Scattering Maiden, "Red Lions Over Snow-Capped Mountains" — with his patrician diction.
As the finale neared, Phil reminisced, "George would smack my knee, to try to get me to launch faster. He'd say, 'Go, Philly! Go, go, go!'"
Plimpton was also at Phil's side in 1983, when the Gruccis prepped for the Brooklyn Bridge's Centennial.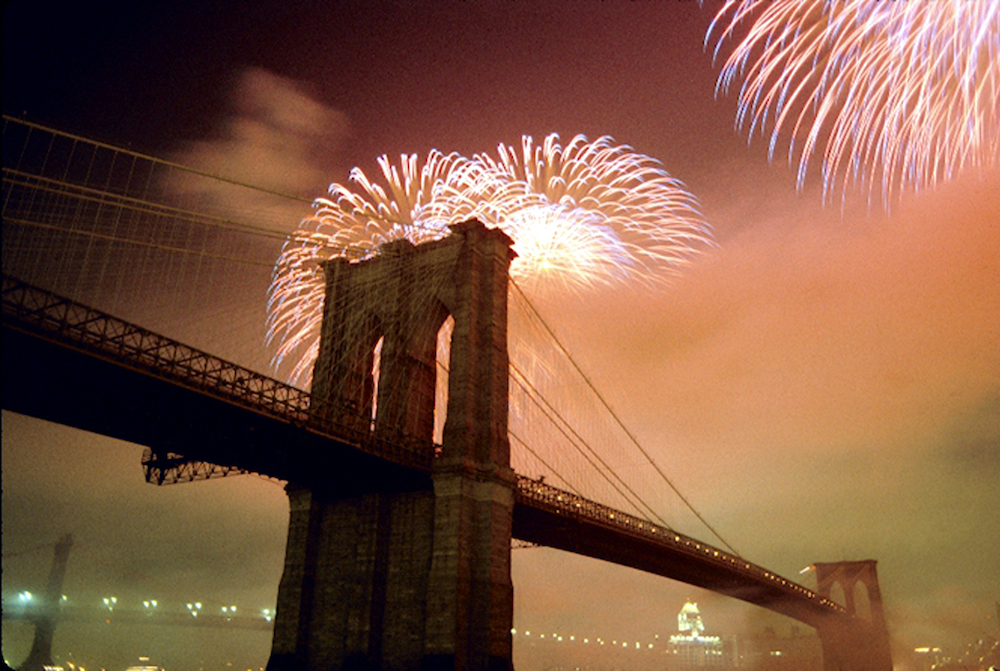 "My father put me in charge of installing fireworks on top of the towers," Phil recollected. "George and I climbed the bridge cable. He was white-knuckled all the way up. When we reached the top, he said, 'Philly, I don't know if I'm going to be able to get down!' We coaxed him."
Six months after the bridge jubilee, Phil's father, Jimmy, 42, and his cousin, Donna Gruber, 19, had just finished work at the Bellport plant when the assembly shed exploded, killing them both and injuring 24 others.
Later, at the funeral, Plimpton remembered Jimmy Grucci as "an honored member of a remarkable profession — craftsmen whose artistic function is momentarily to change the face of the heavens themselves, to make the night sky more beautiful than it is, and in the process give delight and wonder to countless hundreds of thousands."
"It was a turning point in my life and the lives of our family," Phil explained. "We knew everything was gone. We had a meeting around the dining room table. My grandfather had survived but he was still traumatized. My grandmother was on the fence about continuing. I was a freshman at college but I was eager to get the business up and running — in the name of my dad and the generations before us."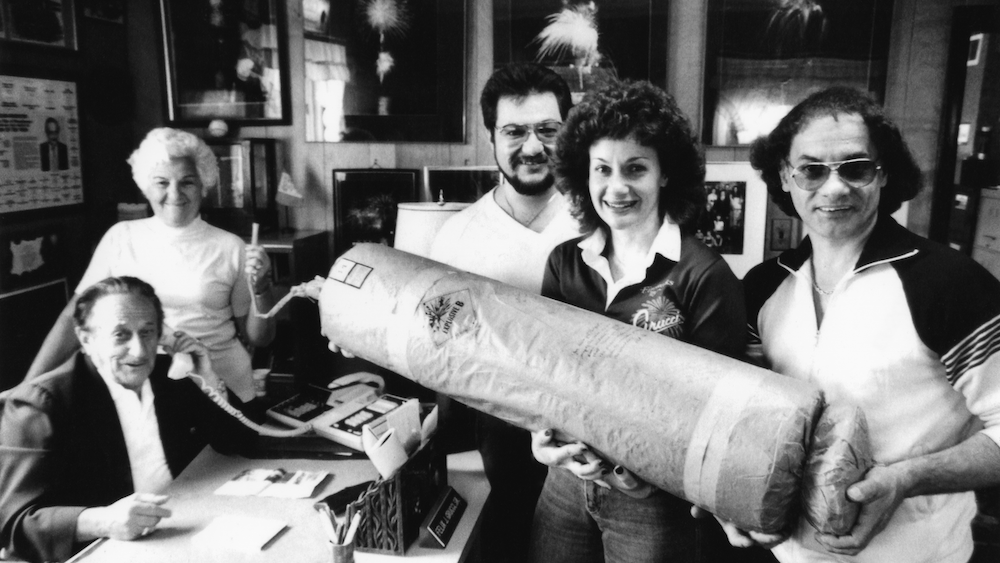 By 1986, the Gruccis had risen from the ashes, organizing 44 barges to salute the 100th birthday of Lady Liberty. Seven presidential inaugurations, four World's Fairs, five Olympic Games, and many casino openings followed. The Gruccis also renewed their relationship with the Department of Defense.
Since 1997, Pyrotechnique by Grucci has manufactured explosives and propellants at a 1,500-acre munitions facility in Radford, Virginia.
This year began auspiciously for the company, which set two new world records in the United Arab Emirates on New Year's Eve, including one for Longest Firework Waterfall (a cascade stretching almost four miles).
By summer, however, COVID-19 had darkened the skies; most of the Gruccis' clients canceled their annual displays, idling many of their 750 employees. Phil believes televising prerecorded fireworks could ensure social distancing.
"This year, maybe we can't be together en masse," said Phil. "But we can be with friends and family."
After George Plimpton passed away in 2003, Phil helped carry out the writer's wish to have his ashes blasted heaven-ward in his favorite firework, a Brocade Kamuro. Ten shells showered Gardiner's Bay with a sparkling rain of gold.
"George added a lot of color to anything he did," said Phil.