The holiday months are typically a time of parties and dinners with family and friends, with homes decked, champagne and canapés flowing, and general merriment.
This year "less is more" is the new mantra for entertaining, and that goes for guests as well as what's served. While shoulder-to-shoulder tables were popular pre-pandemic, more intimate get-togethers are now the preferred model. The city's top event planners, decorators, chefs, and caterers are adapting their work accordingly, downsizing on scale without diminishing their vision.
Decor Directors
BRONSON VAN WYCK, VAN WYCK & VAN WYCK
vanwyck.net
Bronson van Wyck knows exactly who has been naughty and who has been nice: His eponymous firm Van Wyck & Van Wyck has masterminded multimedia environments for presidents, rappers, and socialites on the Upper East Side, among others. This year he is conjuring nostalgic themes of Christmases past for his client's soirees. With motifs that include pine cones, yards of tartan ribbon, antlers in resin and gilded finishes, and plenty of glitter, a gay old time is guaranteed.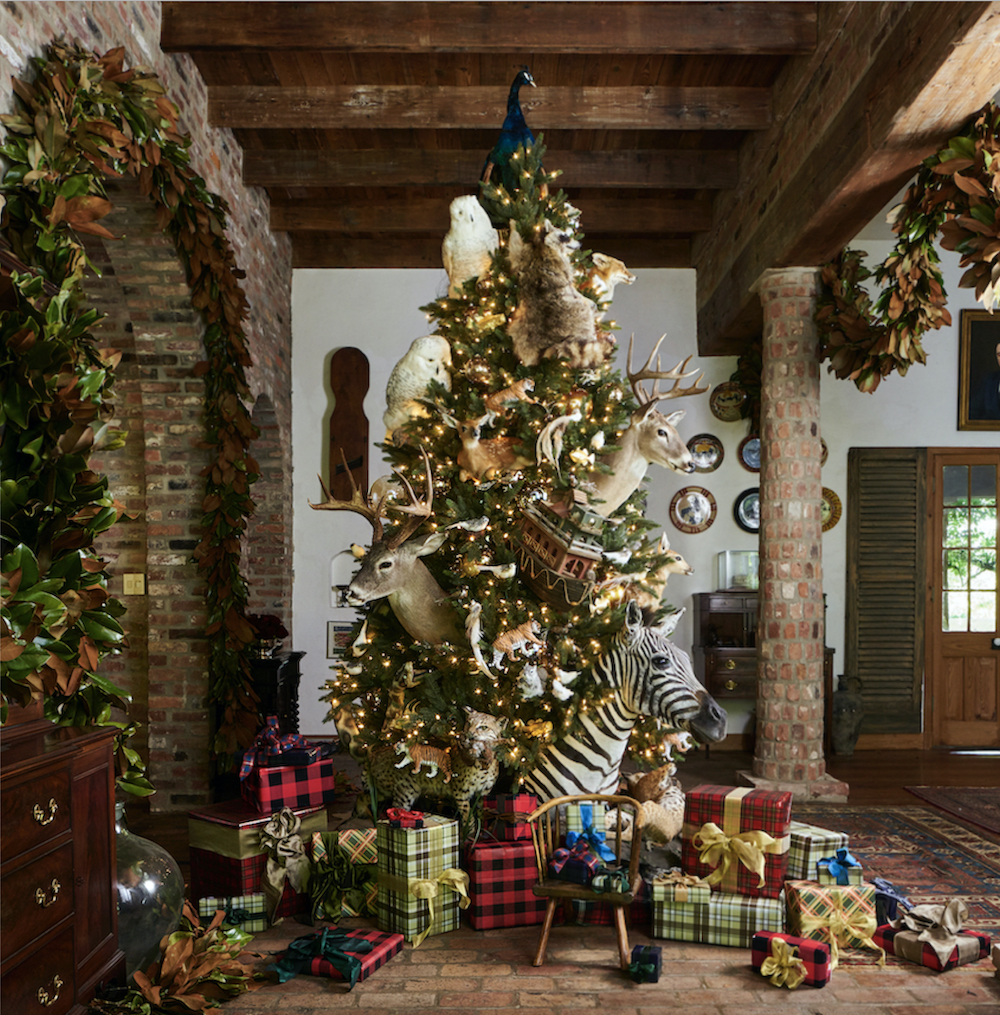 LAURA HURST, MORNING CLOAK FLOWERS
morningcloakflowers.com
"Using what the environment offers and refining it into an arrangement is my favorite way to decorate for the holidays," Laura Hurst, flower farmer and owner of Morning Cloak Flowers, says of her organic creations. Hurst's preference for foraged species, including garlands of greenery along with bayberry, pine, dried grasses, and holly, all make for sustainably forward arrangements. Hurst adds, "I don't usually do trees unless the client wants an unconventional one."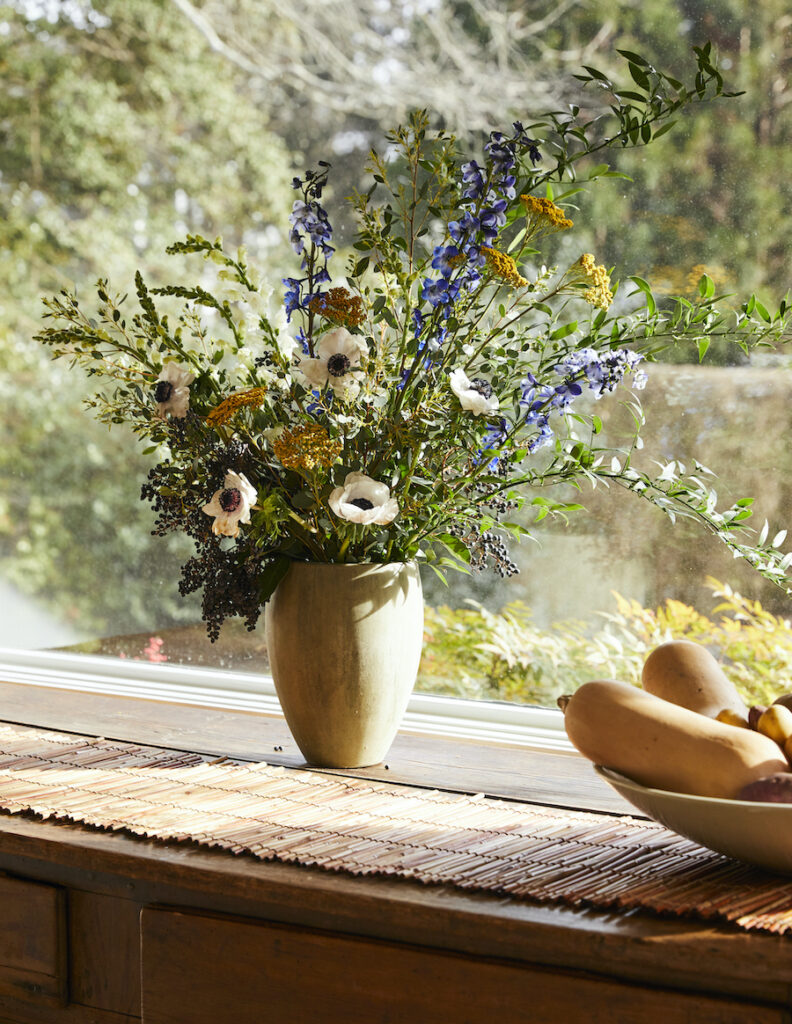 ERIN SWIFT, HOLIDAY WORKROOM
holidayworkroom.com
After years toiling as a stylist and editor, Erin Swift launched Holiday Workroom two years ago, a custom decor service for sourcing and dressing the holiday tree. Her repertoire includes a compendium of seasonal trees and styles including Greenwood Essential, New England Classic, Scandinavian Modern, or Uptown Royal, offered in various heights and species from Douglas to Frasier firs. Custom options may require a bit more elf time when a tree of their client's dreams is being realized. Swift and her merry team can string lights, hang ornaments, arrange floral centerpieces, design bespoke wreaths, or wrap gifts, while leaving your abode as spotless as when they arrived. Professional installations can take from one to 10 hours, and masks and hand sanitizing are standard. Tree removal service is optional.
B FLORAL
bfloral.com
Known for its ultra-sleek aesthetic, B Floral also offers unique bouquets for clients that broadcast the holiday season without going overboard. Their rule of thumb: Keep the overall aesthetic monochromatic and streamlined, while showcasing metallic flourishes and shades of blue. An alternative signature option includes an understated winter white floral arrangement that doesn't clash with existing decor.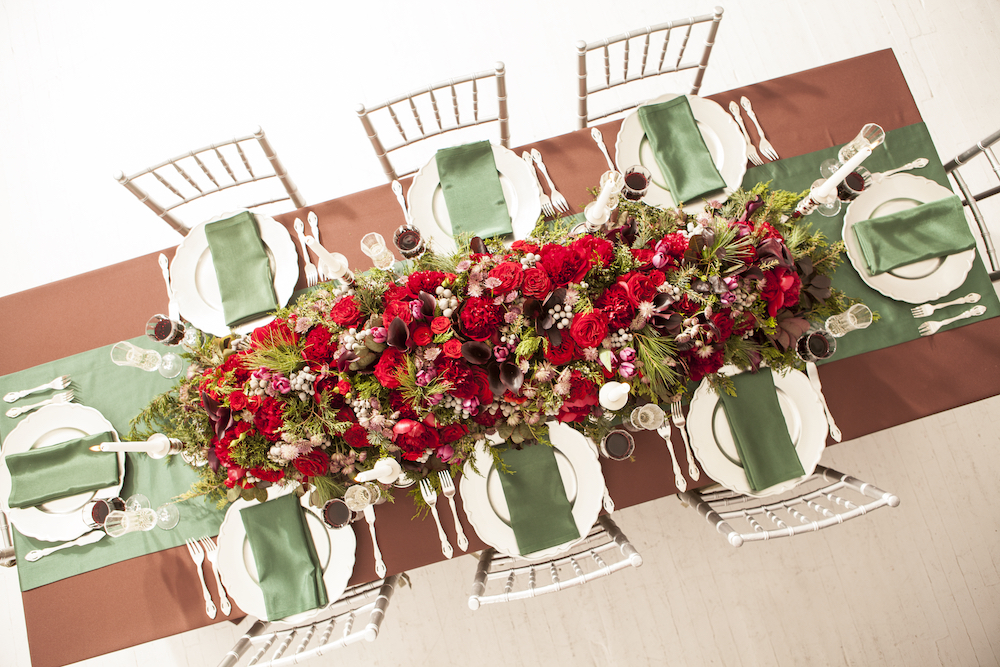 SOCIAL STUDIES
social-studies.com
For those who want to keep it simple, rental start-up Social Studies launched last year with the unassuming concept of a party in a box. Choose from inspired settings like Dark Nordic or White Out, equipped with all the accoutrements to set an Instagram-worthy table. Online instructions walk a newbie host through the process, from picking a theme to establishing a date, time, and guest count. Party kits get delivered to your door, in advance of the big day, with each order supplemented with recipes, tips, and playlists that add a virtual assist through the night. Customize with your own floral buds, garlands, or a sprig of green to complement your chosen style. When the party is over, repack everything and schedule a pickup.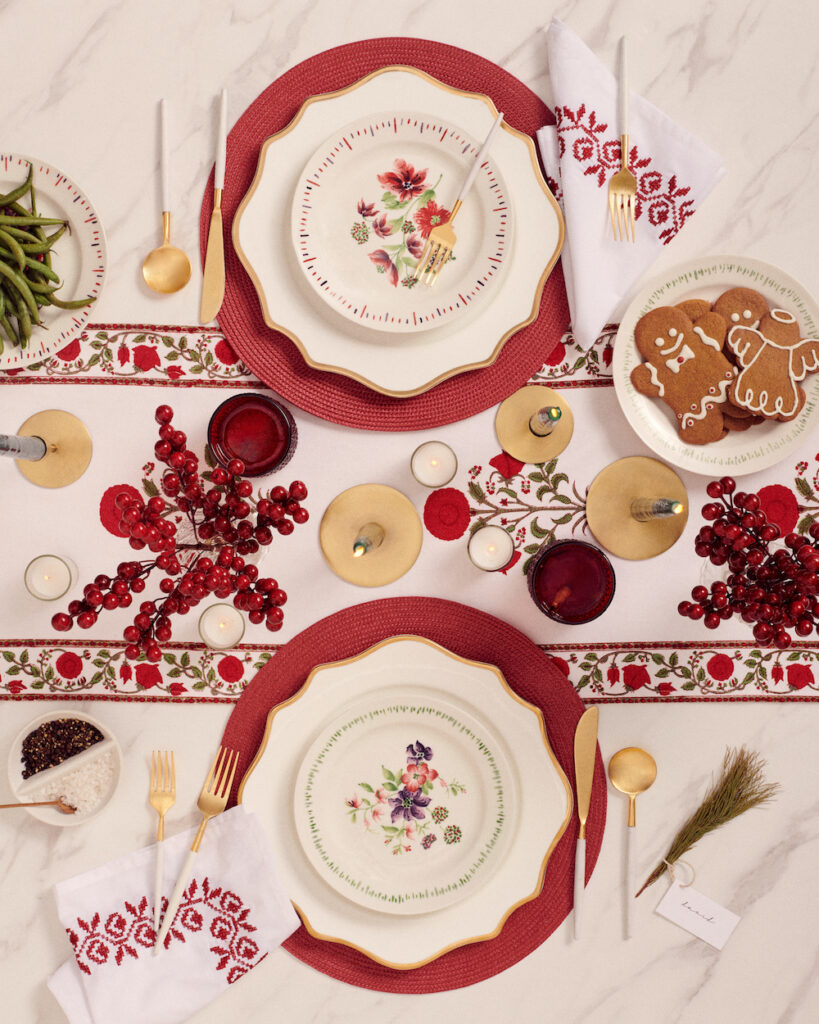 MIEKE TEN HAVE
mieketenhave.com
Stylist Mieke ten Have has spent the past decade collaborating on interior photography for shelter publications including Architectural Digest and Elle Decor. Lately, she has channeled her passion into a new enterprise, providing holiday tablescapes for private clients who require a personal touch. With a secret stash of vintage dishes manufactured by Tiffany, Wedgwood, and the late Parisian decorator Alfred Pinto, she plans to deck the halls and create custom table settings adorned with flowers, china, silver, and crystal for intimate seated dinners of ten to twelve.
Cozy Caterers
RYAN MAERZ, CANARD INC.
canardinc.com
When it comes to the guest list, "twenty is the new 200," says Ryan Maerz of the current mood. Maerz and head chef Jose Delgado consistently create sophisticated nibbles for clients in the 10022 zip code. This season, the pair, who relaunched this luxe catering company two years ago, are orchestrating tiered bento boxes containing three to four courses to be delivered, or in-home chef-prepared menus such as a salad of brussels sprout leaves, arugula, diced butternut squash, and toasted pumpkin seeds with lemon pumpkin vinaigrette; short ribs with cauliflower puree, horseradish bread crumbs, and green asparagus; and Pavlova with winter fruit compote for dessert. Self-serve pre-batch eight-ounce cocktails and wine will also be available for individual pours.
STEPHANIE NASS, CHEFANIE
chefanie.com
Chef and caterer Stephanie Nass was hosting dinner parties in her apartment at the age of 23 and has since transformed that passion into Chefanie, a catering and lifestyle brand. Sweet treats are embellished with her signature Chefanie Sheets, a vegan confection in a variety of signature designs, including tartan plaid. Custom cakes, cookies, and lollipops, as well as donuts for Chanukah, are available for delivery in and around Manhattan.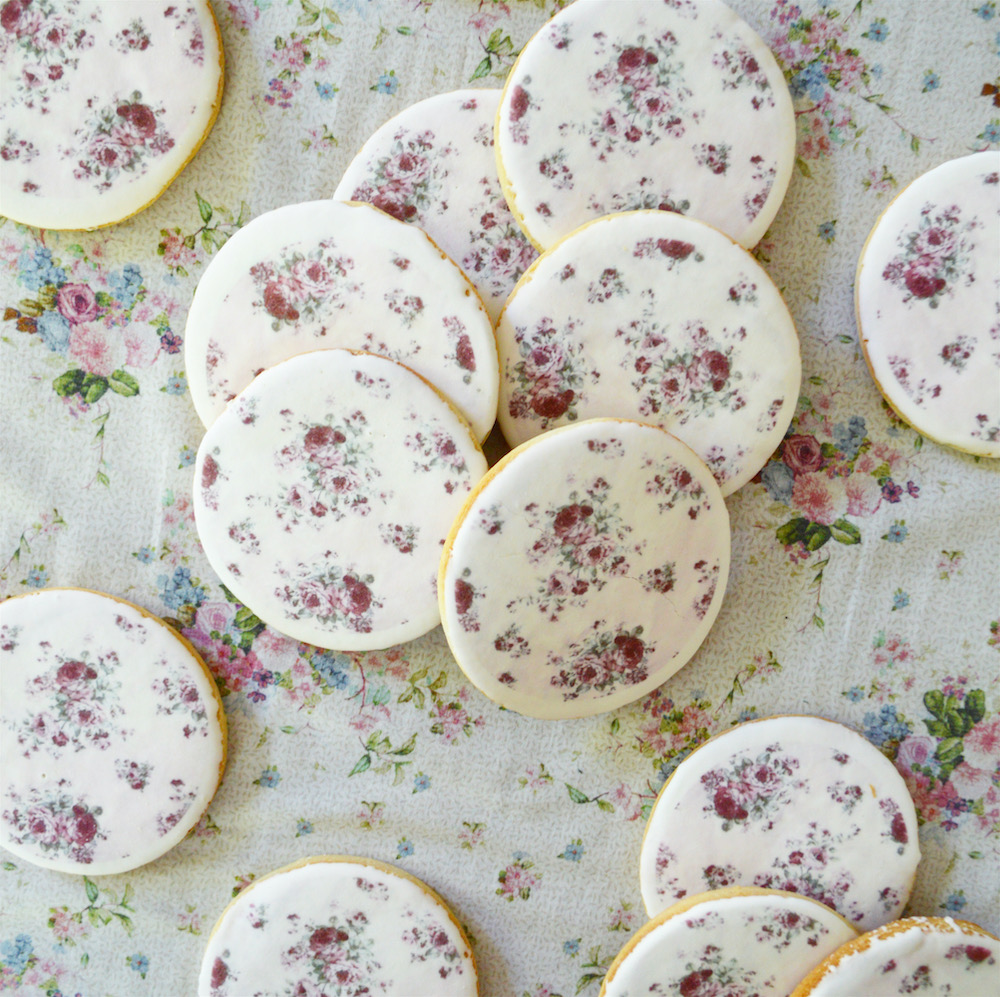 ACQUOLINA TO GO
acquolinatogo.com
For those too busy to make plans in advance, event producer David Stark recommends Acquolina To Go Catering for a festive holiday meal. "The food quality is very, very high," says Stark, and "the finishing directions are very clear, while the food tastes as if it was made at home. They will pick up wine on the way to deliver to you. A great entertaining solution and a brilliant gift to give," he adds.
MEAGHAN DORMAN
meaghandorman.com
For Meaghan Dorman, premade batch cocktails are the recipe for chic, easy entertaining. As bar director and consultant for downtown boîtes Raines Law Room and Dear Irving, Dorman has been creating cocktails for the past 15 years. Her Sweater Weather cider-based cocktail will keep you cozy, provided you don't drink the entire batch. Dorman also advises hosts to keep refill ingredients prepped and accessible in advance to stay engaged with their guests. She'll be offering a bevy of cocktail kits, including old-fashioneds, martinis, and Aperol spritzes, as well as custom orders available for delivery to your door.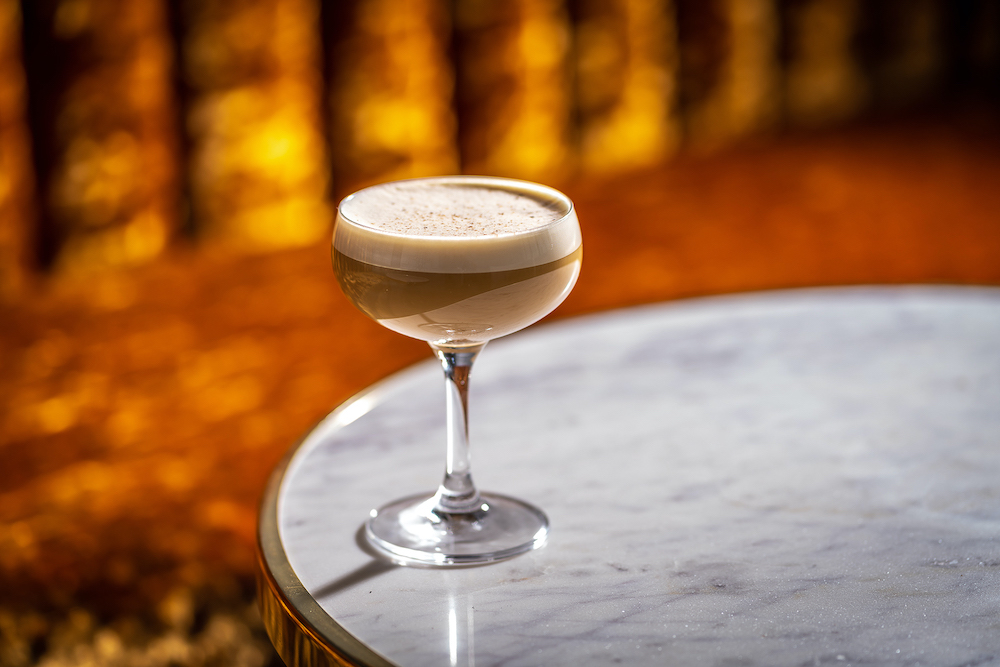 6 FEET BY MIMI BROWN
mimibrownstudio.com
Mimi Brown has pivoted to the new intimate entertaining model, with her event production company highlighting contactless deliveries, unusual environments, and chic decor. Full disclosure: Brown, who is known for chic events for the fashion crowd, is also moonlighting as an interior designer and is ahead of the curve, installing self-serve stations and producing monogrammed masks to match napkins and table decor. "Keep it small, keep it safe," Brown says.
JORDANA BLITZ, LITTLE GEM
littlegemnyc.com
After spending a decade at accessories brand Coach, four years ago Jordana Blitz created Little Gem, a fashion-focused catering and events business. Her fashion and luxury clients include a coterie of bold face brands such as Valentino, Hermès, Tiffany, Burberry, and Tory Burch. Blitz is currently concentrating on private clients and is gearing up for Chanukah, with her version of a latke as a crisp parsnip pancake, served with crème fraîche and a choice of Russ and Daughters smoked salmon, caviar roe, or apple horseradish slaw. She says her one-bite s'mores tarts are the company's most requested holiday treat.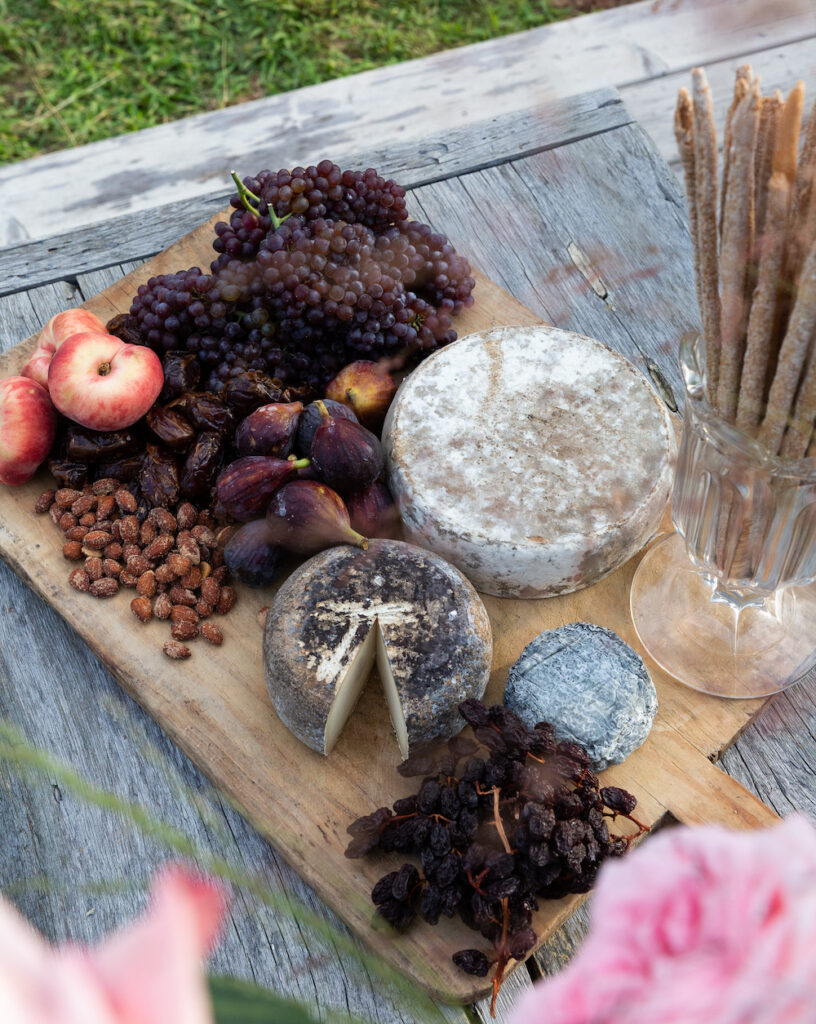 ELIZABETH KING and PAUL FARRELL, KINGS' CARRIAGE HOUSE
kingscarriagehouse.com
If Kings' Carriage House sounds like a throwback to old New York, it is. Installed in an actual former carriage house, this Upper East Side institution has created afternoon high tea for local patrons since opening in 1994. This holiday season, their traditional high tea service will be packaged to go, including their savory finger sandwiches, scones with cream and jam, and a delicious assortment of homemade cakes and holiday sweets. And tea, with all the trimmings. Champagne optional.
Personable Chefs
RŌZE TRAORE
chefroze.com
Chef Rōze Traore's side hustle might be modeling on the pages of GQ, but he's become a pro in the kitchen after graduating from Le Cordon Bleu. A few years spent as a line cook at both the Nomad and Eleven Madison Park restaurants in New York led to launching his own company, Rōze LLC. As well as cooking for private clients he creates virtual and IRL dining experiences for brands, including Veuve Clicquot and Twitter. This Thanksgiving Traore will be creating dishes for his clientele, including a chicken roulade with brussels sprouts or delicate squash with mixed grains. His advice to home cooks? Always brine your chicken the night before in the fridge, which results in a juicy and tender bird.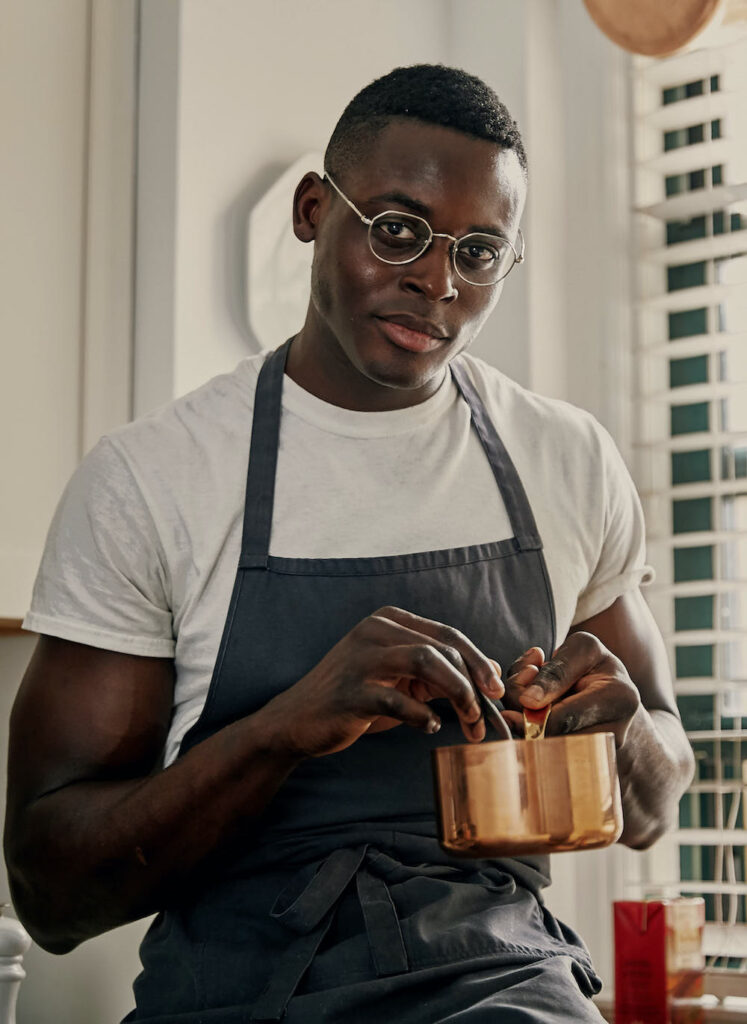 LAURA GERATY and RIAN TOMPKINS, WHAT WE EAT
whatweeat.nyc
What to Eat is a small, yet mighty (in founder Laura Geraty's words) Brooklyn-based group of all-female professionally and nutritionally trained personal chefs. Billy Cotton, the new creative director for Ralph Lauren Home, has used them as his catering go-to. This holiday season they plan to enter client kitchens to cook holiday meals in situ. Either seated or buffet, they will prepare traditional dishes from your auntie's timeworn recipes or create mod menus that fit any occasion of your choice. Their health and safety protocols and interpersonal skills set them apart from the usual suspects and make their service unique.