Italian resort towns are hallowed ground for the jet set. Like any other island haven, whether it be Nantucket, Anguilla, or Sardinia, Capri requires an arduous journey to get there and a steadfast dedication to complete leisure.
Hotel La Palma, the first property in Italy from the Oetker Collection, who are famed for their stewardship of Hotel du Cap-Eden-Roc in Antibes, Le Bristol Paris, and many more gilded locales around the globe, is nestled in the heart of Capri. Just off the island's bustling Piazza Umberto Primo, Hotel La Palma was originally the Locanda Pagano, the island's first hotel which opened in 1822.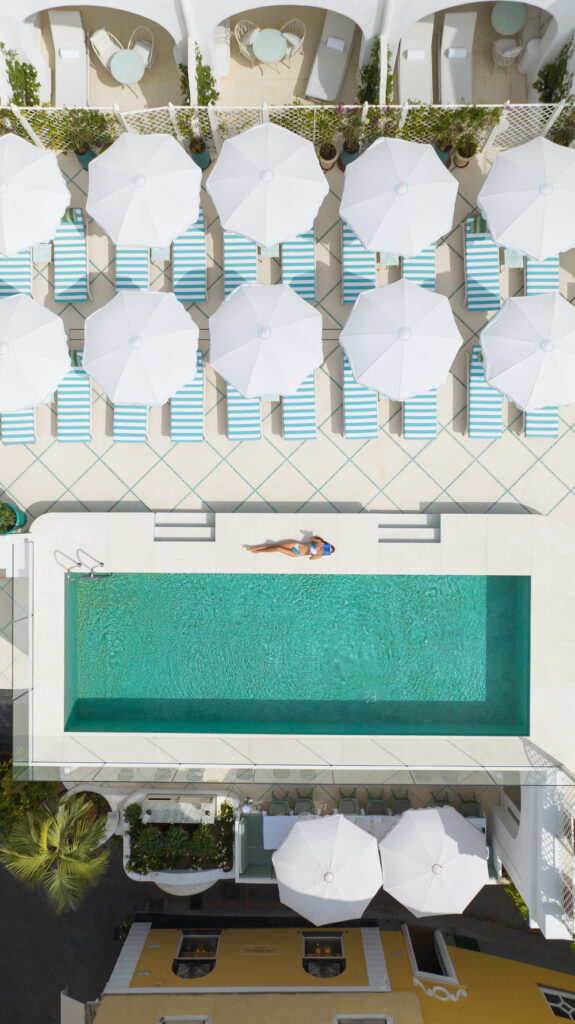 With just 32 rooms and 18 suites renovated by interior designer Francis Sultana, it's an intimate Mediterranean hideaway that still boasts all the hallmarks of five-star hospitality one expects from a grand hotel, making it equally suitable for a weeklong romantic jaunt, a long poolside lunch enjoyed on the rooftop overlooking Via Vittorio Emanuele, or an afternoon at Da Gioia beach club, situated just a stone's throw away in Marina Piccola — a prime location for spying on incoming mega-yachts.
If a glistening new hotel and chic beach club weren't enough to entice you, to celebrate its opening, Hotel La Palma has also released a bespoke collection of luxury products all hailing from Italy and curated by lauded style and decor editor, Gianluca Longo. The trove of treasures includes clothes by La DoubleJ, with a custom pattern inspired by Hotel La Palma's design, Aquazzura palm tree motif sandals, and a backgammon set by Fenili. Sprezzatura!