With his wavy coif of snow-white hair and deep Mediterranean tan, Chef Xavier Mathieu exudes European elan. His is a face made for the Provence sun where, as it happens, he runs a Michelin-star restaurant, La Table de Xavier Mathieu, at Le Phébus & Spa, a five-star farmhouse in Joucas. Yet I met Mathieu, and his stunning Monégasque wife, Stefanie, not in the lavender fields of southeastern France but at the Applewood Manor, a six-room bed-and-breakfast in Asheville, North Carolina. Mathieu was there for the weekend, alongside two young commis, for what tech entrepreneur (and Applewood's new owner) Stephen Collins called an "immersive guest chef event." Mathieu has brought olive oil from his estate and smuggled in a few knobby black truffles.
When I arrived, Mathieu was preparing cromesqui de brandade de morue (salt cod fritters) in a massive Dutch oven, smoking the fritters on a bed of thyme in what essentially amounts to a very nice home kitchen in a very nice inn in a small town in America. And as incongruous as that seems, Mathieu is only one of many high-wattage culinary talents popping up unexpectedly behind the pass — or, in this case, kitchen counter — of hotels, inns, and resorts in far-flung destinations.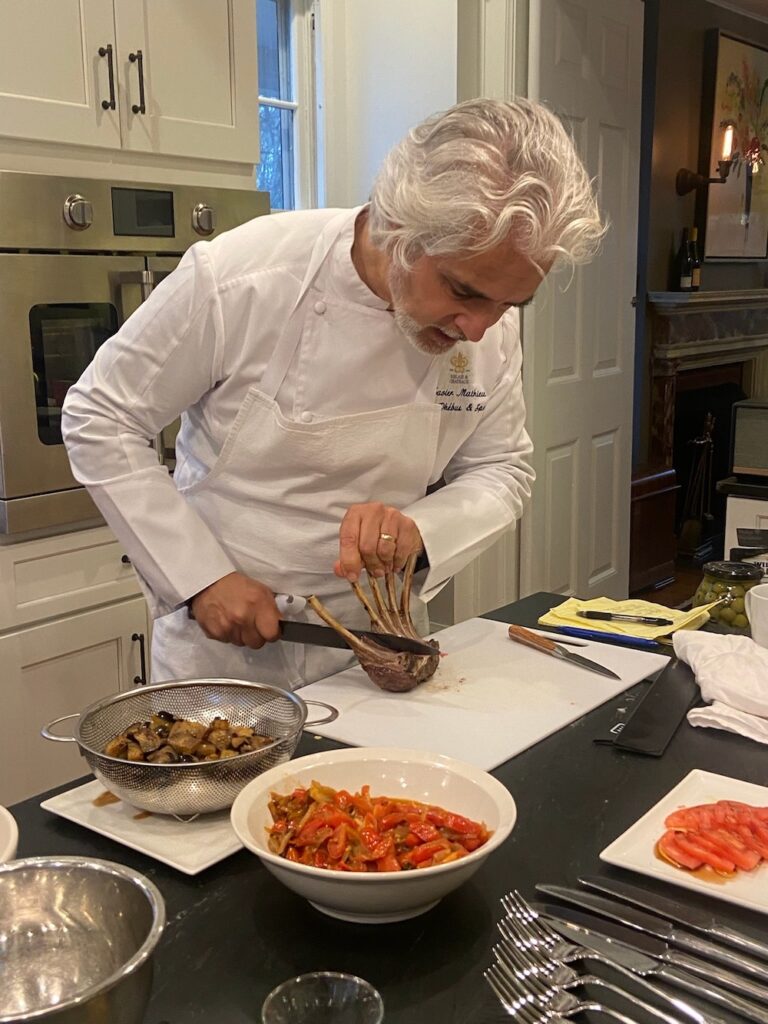 The march of progress of hotel dining has gone roughly from forgettable food of a vaguely Continental but strictly utilitarian ilk (Cebus horribilus), to celebrity chef-helmed restaurant with its complex array of contractually obligated appearances by said chef, but otherwise minimal oversight (Cebus celebritas), to hotels being actually the loci for some of the most exciting food in town (Cebus zeitgeisticus). Like all gradual evolutionary processes, this one has been multifactorial. At first, hoteliers contented themselves with the revenues — RevPAR or "revenue per available room" — from the guests themselves.
Searching for more dollars, they opened up their dining rooms to both guests and non-guests alike, using big-name chefs like Wolfgang Puck, Jean-Georges Vongerichten, and Tom Colicchio to woo diners inside.
But this was an imperfect solution, since it played almost exclusively to the largest and most munificently funded hotels. Simultaneously, since often these restaurants bore only the imprimatur of a bold-faced name while seldom benefiting from their constant presence, the luster of these restaurants began to wear off. In addition, actually being connected to a community, rather than being simply a moon landing of well-known names, became in vogue. Today, many hotels, for instance the Thompson Dallas, where two-star Michelin chef Danny Grant helms a glittering steak house called Monarch, or the Tributary Hotel in McMinnville, Oregon, where Matthew Lightner's Ōkta opened in July, are turning to local restaurateurs to impart both their cachet and their cooking. And now we have something new.
A permanent — or erstwhile permanent — restaurant is a high-stakes marriage, both for the chef and for the property. Surely, in this era of Hinge, short attention spans, thirsty marketing, and a hunger for the new, a novel model was needed. Thus was born the ever-changing culinary circuit of guest chefs, hopping like artists of yore, from residency to residency, with little more than a knife roll, clout, and the ability to draw the hungry in. Like any pairing, transitory or otherwise, each individual case has its unique factors.
At Applewood, the pairing came from the owner's mania for bike riding, which took him to the hills of southern France and a house in Provence, and therefore proximity to, and affection for, the kitchen of Mathieu. Collins has doubled down on culinary programs with residencies at Applewood with other chefs, such as Noma cofounder Mads Refslund, who tools around the farmer's market with guests before initiating them into the wonders of Ny Nordisk Mad, or New Nordic Food, the movement he helped start back in 2004.
For owners like Collins, much of the programming is based on personal connection. (Being immensely wealthy and having lived in 20 countries doesn't hurt.) But elsewhere the chef residency model is a company-wide directive. Take Auberge Resorts Collection. The company, with 24 resorts scattered around the globe, recently hosted New York-based chef JJ Johnson for a culinary weekend at Malliouhana in Anguilla. April Bloomfield, the tremendously talented Brummie chef behind not just the Spotted Pig but the Breslin and the Hearth & Hound in Los Angeles, completed a months-long residency at Connecticut's Mayflower Inn & Spa. "It's a win-win-win," says Kat Odell, the author and food journalist who has been working with Auberge since March 2022 to curate their culinary experiences. "For the in-house chef, they get to work with a big name, learn some new techniques and potentially new ingredients. For the property, they benefit from the social-media following so many of these chefs have. And for the chef, they get to promote awareness of their brand to the hotel clientele."
In some cases, a resort's kitchen gives chefs-in-need both an outlet and a refuge. For instance, JJ Johnson, whose first restaurant, the Cecil, was a forerunner of fine dining diasporic food, no longer has an outlet for fine dining. (His sole New York restaurant is a very good fast-casual Harlem spot called Fieldtrip.) April Bloomfield was cast into exile following the downfall of her business partner Ken Friedman. And Daniela Soto-Innes, after being named the world's best female chef — a stupidly gendered award but an award nonetheless — hasn't had a restaurant since she left Cosme in New York to move to the now-closed Willows Inn on Washington's Lummi Island with her husband, Chef Blaine Wetzel, in 2020. For diners long of tooth and with some modicum of institutional knowledge, a pop-up or residency is often the only chance to taste the work of their favorite now-nomadic chefs.
Even for chefs with restaurants, a residency sometimes offers the best chance of eating their food. Ever since Shenarri Freeman opened Cadence, her vegan Southern food restaurant in the East Village, a table has been hard to come by. The difficulty only increased when Esquire — ahem, me! — named Cadence one of the best new restaurants in 2021 and was hardly relieved when the place moved across the street into slightly roomier digs in 2022. A reservation at Cadence is, at this point, beyond even my grasp. So, when I heard Freeman was doing a week's long residency at J Vineyards & Winery in Healdsburg, California, it seemed worth the trip. Freeman's appearance was part of a chef residency series called "Shifting the Lens," a marketing initiative seeking to include diversity in the wine industry, curated by Chef Preeti Mistry. For a few weeks in September, Freeman took over the kitchen at the winery's restaurant, the Bubble Room, raiding the Napa farmer's markets for her larder. Her menu, including a trio of trumpet mushroom in black garlic glaze atop roasted red pepper pesto, and okra gumbo, was all the more delicious because it was fleeting. And, thankfully, all it took was a flight across the country to taste it.
This is even more salient an issue with Noma, René Redzepi's Copenhagen restaurant, whose waiting list seems sempiternal. Even if you do make it to Copenhagen, you'd likely get citizenship before you score a table. Thankfully, for the past few years Redzepi has taken Noma nomadic, into places so far-flung only the most die-hard fans make the journey. This March, after residencies in Tokyo, Sydney, and Tulum, he's taking over the Ace Hotel in Kyoto for a ten-week residency. Reservations are now sold out, certainly helped by the recent news that Redzepi will be shuttering Copenhagen's Noma permanently at the end of 2024. But perhaps you may get lucky joining the (assuredly long) waiting list.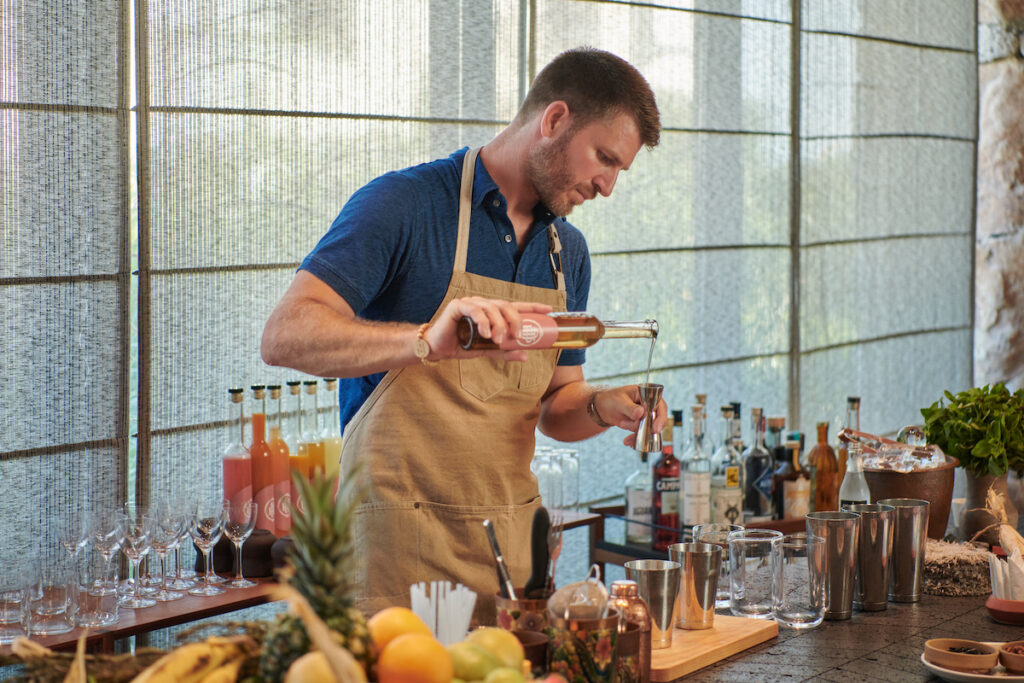 Sometimes, even if you can enjoy a restaurant in situ, it just feels better in paradise. For anyone who lived in New York City (at least below 14th Street, so apologies to 90% of Avenue's readership) in the mid-aughts, the three letters "PDT" instantly conjure memories of taut anticipation, nocturnal stress, and, if you're lucky, joyous nights. Dark in the extreme, difficult to get into, with complex and strong cocktails, PDT, or Please Don't Tell, was a speakeasy on St. Marks Place and was the apotheosis (and catalyst) for much of the cocktail revival in New York. And it's still there and you can still go. But sometimes, well, sometimes you want to drink during the day, overlooking the Caribbean Sea before returning to a luxurious suite whose bathroom is significantly bigger than your crummy New York apartment. A few months ago, instead of descending a few stairs into a hot dog shack and buzzing through a phone booth, I sauntered along the wooden walkway at the Etéreo resort on the Riviera Maya. PDT was throwing a beachside party, part of their residency at the hotel. There would be hot dogs and cocktails, sunsets, and hammocks. I could have maybe the world's greatest Manhattan on a beach in Mexico, and if that seems incongruous, well, it's perfect as well.