Sunshine floods Zibby Owens's spacious Park Avenue kitchen, bouncing off the white countertops and amplifying the effect of light. As "Wolf " by the Swedish band First Aid Kit plays over the home sound system, the day's edition of the New York Times rests untouched in the middle of the stainless steel island. The book influencer, podcaster, TV personality, writer, publisher, mother of four and famous daughter (of Blackstone Group founder Stephen Schwarzman) is standing, in jeans and navy blazer. Her hands grasp a bottle of Smartwater.
Would she like to sit down? "I've been at my desk recording all morning," she says. "Do you mind if I stand?"
It's a rare moment of calm in a life that moves at breakneck speed. In a matter of just four years, and despite the global pandemic, Owens has built her literary podcast Moms Don't Have Time to Read Books into a full-scale enterprise, landing her on Good Morning America one morning and in the pages of the Washington Post the next. During the pandemic, in particular, she has rapid-fired her rawest emotions and personal setbacks on Instagram. Almost 20,000 followers read about Covid claiming the life of her beloved mother-in-law, then her husband's grandmother. But through it all, one achievement had eluded her. Unremitting in her support and encouragement of authors and their books, she had never published a book of her own. After all, if moms don't have time to read books, how could they have time to write them? Not that she hasn't tried. For almost two decades, Owens pitched memoirs, novels, and nonfiction stories to publishers. No takers, but that's about to change.
"You want to see it?" she asks. In the dining room, across from a large-scale Candida Höfer photograph of the Mafra Palace Library in Portugal, she has stacked printed galleys of Bookends: A Memoir of Love, Loss, and Literature, due out in July. Part literary love story, part family history, it's a propulsive read that chronicles Owens's complicated relationships — with food, with romance, with books, with vast wealth — all told with the self-effacing warmth that has won her the title of "literary fairy godmother" among the wide range of writers she's had on her show.
Owens launched her popular podcast in 2018 out of her book-lined office on the second floor of her Rosario Candela triplex with nothing but an idea, GarageBand, and a couple of Blue Yeti microphones. Since then, more than 900 authors have appeared with her, from Susan Orlean to Amor Towles, Dani Shapiro, Malcolm Gladwell, Celeste Ng, Maira Kalman, and Jaqueline Woodson, to name a few. (In 2019, after a chance meeting at Emma Straub's bookstore, Books Are Magic, Owens invited me on to talk about my novel Beyond the Point, then enlisted me to help edit several essays that went into her quarantine anthology, Moms Don't Have Time To.)
Owens's writing journey started in 2003, the year she graduated from Harvard Business School. While her classmates scattered to high-powered jobs at various companies across the globe, she returned home to Manhattan. She had decided to write a memoir about losing her best friend from Yale, Stacey Sanders, who died on the 93rd floor of the World Trade Center in the terrorist attacks of 9/11. As a lifelong reader and lover of books, Owens wanted to honor her friend's memory by putting the story of their friendship and the shattering grief of the loss down in words.
But when she finished the manuscript, she found no publishers were interested. It was too soon for a 9/11 memoir, they told her agent. Who was this Zibby Schwarzman, anyway?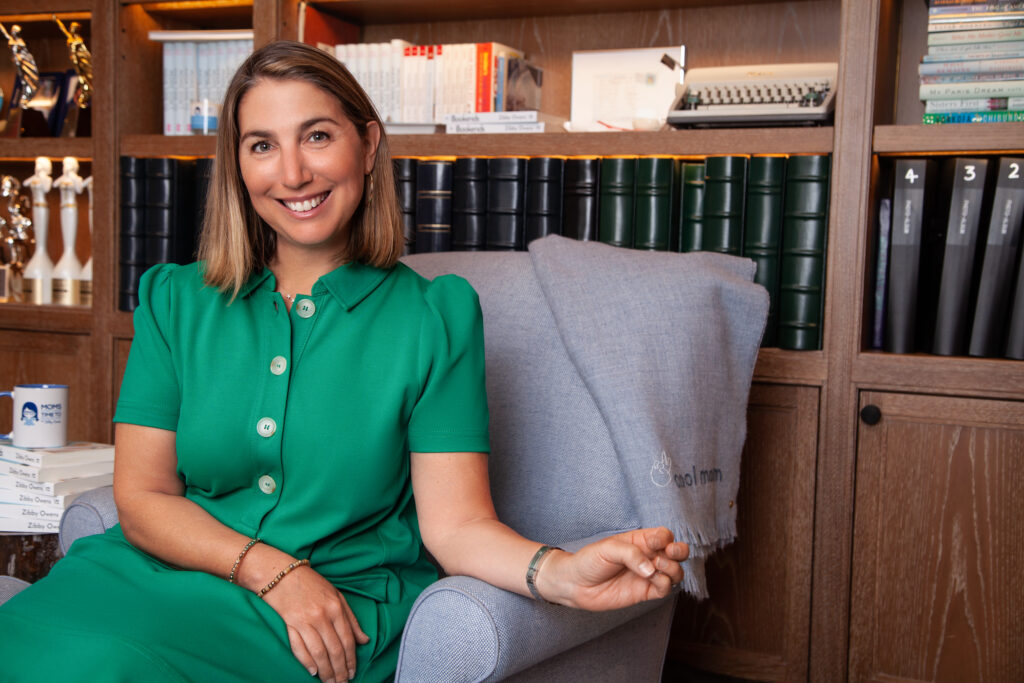 "I was devastated," Owens says, "I had never failed so publicly before. It didn't occur to me it wouldn't sell." After all, failure doesn't exactly run in the family. The granddaughter of successful German-Jewish entrepreneurs on both sides, Owens grew up with a front row seat to the meteoric rise of her father and his formidable global enterprise.
In addition to the near incomprehensible wealth and privilege that implies, Bookends chronicles Owens's struggles with crippling shyness as a child, and the way books brought her solace.
She wanted them to do the same for other people, and in 2018 she started with by-invitation-only salons with authors she thought would appeal to her well-heeled — though time-pressed — social circle, which led to her podcast and the catchy concept she took from her moniker for the salons. When she interviewed authors, hearing echoes of her own experience in prominently published writers' stories of their struggles to get published was "inspiring," she says. "It made me feel better to hear Mitch Albom say he had survived rejection. Mitch Albom! It just made me realize, if he can do it, then it's just part of the business."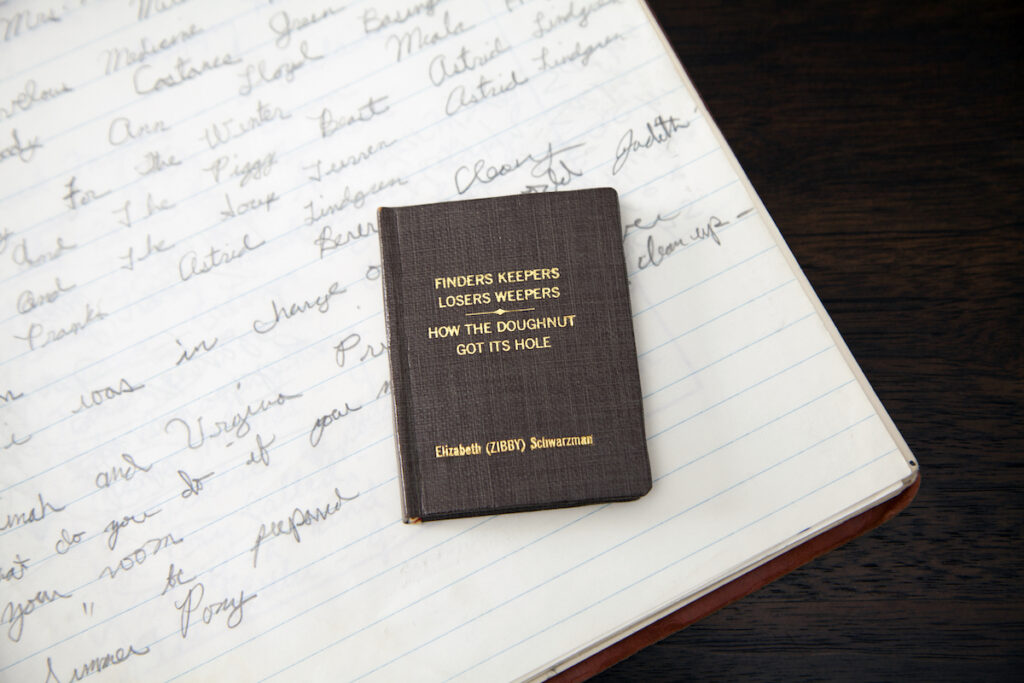 The book she is finally publishing, thanks to Amazon Publishing's imprint Little A, is heartfelt and touching, and leaves a few things out. It makes no mention of Owens's first husband, investment banker Andrew Right, as well as their marriage and divorce. When I ask why, her face goes still and she sighs. "I just don't want anything related to my kids," she says. "And, it's their dad." Though the answer is strangely unforthcoming for a memoirist, a more satisfying description may be found elsewhere in Bookends, where Owens does describe her sudden depression at age 9, when her parents announced their divorce; her stint as a Weight Watchers coach; and, with a kind of detached awe and discomfiture, the unusual experience of being a fly on the wall to her father's growing private equity empire, reminiscing about her family's skyrocketing wealth as if it was a roller-coaster she never signed up to ride. "For a long time I tried to keep that part of my life a secret," she writes, "asking my dad's driver to drop me off two blocks away from school… or occasionally fudging how I got to the Hamptons for the weekend when really I'd flown on a helicopter. The cat appears to be out of the bag now, despite my different last name… I don't want to hide it anymore, but I would never flaunt it. That's just not who I am."
The Hamptons have long formed a shimmering backdrop to her summers, and her story really starts to glow the year a fill-in tennis coach for her older son steps onto the scene. The pro's name was Kyle Owens, and he was visiting from Charleston, South Carolina. What starts as a standoff between coach and mother — "So, listen, your son doesn't really like tennis" — ends on the beach several months later with the two entangled like teenagers in the sand. "What, the gardener was taken?" a friend quips when Owens reveals she's fallen in love. Nonetheless, the unexpected romance has led to a happy marriage (they wed in 2017) and a close partnership — it was Kyle who revived her ambitions as a writer, Owens says.
So each day, after the hour-long drive around Central Park for school drop-off, Owens returns to her office with its pair of blue velvet sofas to write her essays, record her author interviews, host marketing meetings for the new book or her new publishing imprint, Zibby Books, or hop on a Zoom call for one of the five philanthropic boards she serves on. Her schedule is so tight, she recently invited best-selling author Adriana Trigiani to join her family for dinner so they could have enough time to talk.
"This was never the goal," she says, looking around her briefly peaceful apartment and the small publishing empire it contains. "My goal was to sell a book. But I've ended up doing something so much better. And I'm really grateful."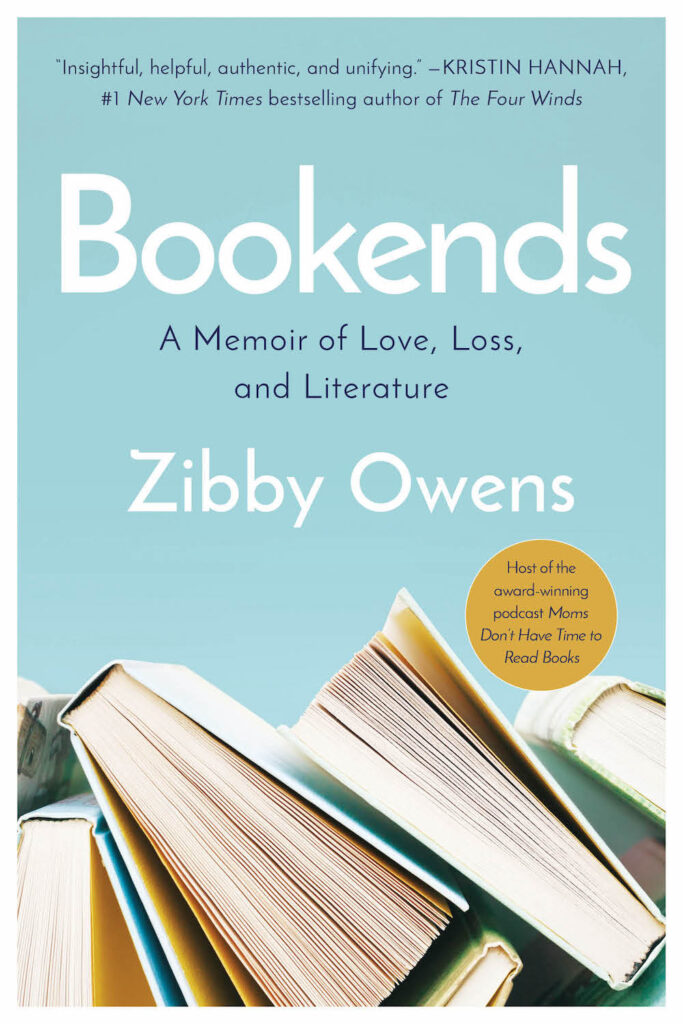 Bookends: A Memoir of Love, Loss, and Literature, by Zibby Owens, (Little A) will be available July 1