Hudson Yards, Manhattan's 28-acre city-within-a-city on the West Side has garnered its full share of press in the past year with its cultural and performing arts center, the Shed, and its Neiman Marcus-anchored shopping center quickly becoming embedded within the life of the city. It is the largest private real estate development in the history of the United States, according to its co-developers, Related Companies and Oxford Properties, and within (and beneath) those millions of square feet are engineering feats, design breakthroughs, and technical innovations that have made it something of a 21st-century marvel.
Hudson Yards has a first-of-its-kind micro-grid, which features two eco-friendly cogeneration plants. Four large engines generate electricity, and the excess heat they give off is recaptured and used to both heat and cool the neighborhood's buildings. This process reduces greenhouse-gas emissions by an estimated 25,000 metric tons of CO2 per year, the equivalent of taking more than 5,000 cars off the road. There are ducts with four points of air filtration to feed fresh air to the residences; communications are supported by a fiber loop and there is a dedicated app for residents. Garbage chutes send trash barreling down at 45 mph to an ingenious underground processing area where it is then dehydrated and ground up.
One building, 35 Hudson Yards, perhaps best exemplifies the cutting-edge technologies being employed here. It is a 92-floor glass and limestone tower, the tallest residential building in the complex. David Childs, Chairman Emeritus of the architectural firm Skidmore, Owings & Merrill (SOM), was the lead architect on 35 Hudson Yards and his colossal, mixed-use building of 1.1 million square feet includes 143 private residences, a 212-room Equinox Hotel, an Equinox fitness club and spa, offices, and restaurant spaces.
"It's a small footprint for a building with so many uses," says Childs. "Each must have its own elevator core. It isn't simple." He continues, "It's also important to remember that the site has no land under it, only train tracks, so we had to slip everything in between the tracks, which are constantly in use. The building sits on transfer beams that look like bridges."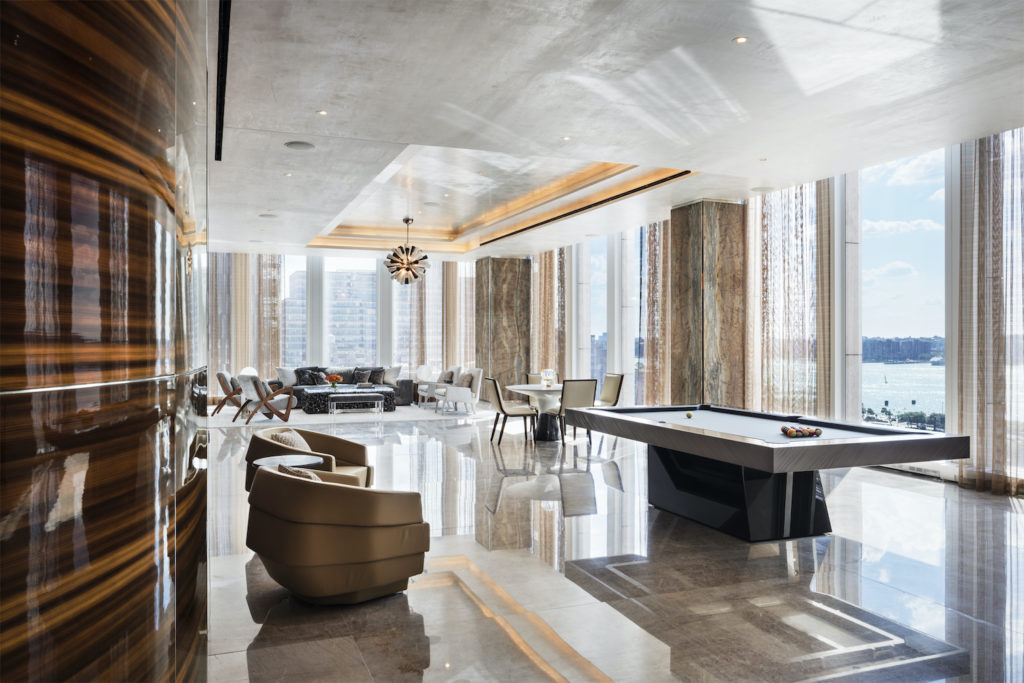 Childs says his design was inspired by its location at the intersection of 33th Street, which runs east to west, and the pedestrian park that runs from 34th street to 30th Street, north to south. The building is envisioned as the point at which these two axes meet. The base follows the east-west, north-south grid; it stops with the overlook at 80 feet. The tower then begins to twist and turn as it ascends; a series of setbacks spiral around the building as it rises to express its different programs, from the retail podium, to the offices, to the hotel, to the residences. Terraces on each setback create outdoor gardens.
"Nowhere in the world is there a design that is so site specific," enthuses Childs. There are, blissfully, almost no cars on the site. "The northwest quadrant, at 33rd Street and 11th Avenue, is where we reserved space for all the mechanics, loading docks, and the underground collection of air," he explains. As the architect of the One World Trade Center and 7 World Trade Center, Childs is concerned, above all, with safety. "We have taken every precaution possible at 35 Hudson Yards."
Childs is particularly proud of the materials he chose. "In the 20 years since we built the Time Warner Center, buildings have been constantly changing and improving," he says. "The glass is much better and much more efficient. We can now block different sorts of light and transparency. We did a tremendous amount of work so the glass looks the same on the inside as it does on the outside."
He is also happy with the Bavarian limestone on the exterior. "Since a lot of structures at Hudson Yards are glass office buildings, I thought a residential structure should have stone, and I wanted to make sure the stone looked like stone, with an absorbent warm tone, but it would also have to perform like granite." After much research, he chose a limestone from Germany that, he says, "performs well under pressure," meaning water, wind, and abrupt changes in temperature. Childs noted that the columns of limestone are not square, but wedge-shaped, so the building looks different as you walk around it. "I'm interested in the interaction between the pedestrian and the building," he says. "Its appearance changes every 20 feet as you walk by it."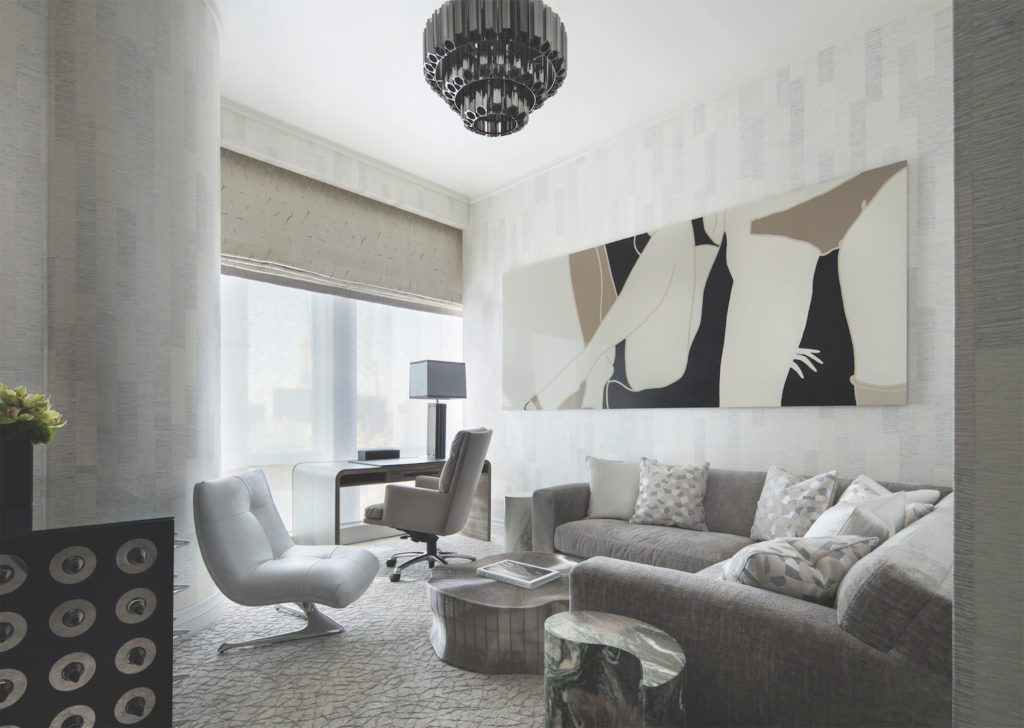 Walking inside is another experience altogether, thanks to Tony Ingrao, who designed all of the residential and amenities spaces within 35 Hudson Yards. He explains, "The layouts are all generous; I took the principles from prewar apartments and applied them here. We took the same approach here as we do with our clients," he says of a list known to include Stephen M. Ross, the late Jack Welch, Lisa and Richard Perry, and Donny Deutsch. "We know how they like to live."
The apartments range from 1,500 to 10,000 square feet and include entry foyers and tall, walnut doors, and ceilings nearly 11 feet tall. "Each space was designed to frame the stunning views of the Hudson River and city skyline, and to serve as a calming and comfortable oasis. Our goal was to create a mix of glamorous environments that work for gatherings that are large-scale as well as intimate." Less intimate is the showstopper of a lobby: Amoeba-shaped and huge, it has a black, veined marble floor; a curving, custom-made bronze concierge desk; an immense Windfall chandelier from Germany; and furniture designed by Maria Pergay and Fendi. Related commissioned a massive contemporary, floral tapestry from the Swedish artist Helena Hernmarck that complements Ingrao's design.
The luxury extends to the apartments where master suites include bathrooms with polished iceberg quartzite sinks, freestanding tubs, and custom Sherle Wagner hardware. The kitchens were designed in collaboration with British firm Smallbone of Devizes and include Gaggenau appliances. The floors are oak, the cabinetry is high-gloss, stained and lacquered eucalyptus wood. The powder room sinks are thick, translucent onyx. To hear Ingrao describe it: the sky's the limit. He also decorated two model apartments, which are fitted with custom furniture, rugs, and cutting-edge contemporary art. Residence 5503, for example, is a fully decorated, 1,892-square- foot, two-bedroom priced at $5.8 million. "They are amazingly detailed," says Ingrao. The palette is cool, with silver, pale gray, gold, and beige predominating, and it is all set off with marble and with metallic fabric. Imposing building amenities include a golf simulation room, corner lounge, dining room/event space, and a boardroom with office suites. According to Ingrao, "The building offers a totally integrated luxury experience for mind, body, and soul."