The Hampton Jitney is getting a youthful makeover, courtesy of Jack Brinkley Cook. The stalwart bus service is partnering with Cook's start-up shuttle brand, Rove, to offer luxury, socially distanced travel during August.
Using specially-branded Ambassador coach buses — the Jitney's most spacious fleet, with three seats to a row — the buses will depart from 40th St and 3rd Ave, as well as a new stop at Hudson Yards.
"This is a great opportunity to work with the Jitney," Cook, 25, told Avenue. "We were able to come in and bring what we do best, which is branding and curating an experience for people that is really enjoyable."
Cook, a Bridgehampton native, is no stranger when it comes to hitching a ride out East, where he has been  "hunkered down" with his family since March.
"My sisters, my mom, my girlfriend,"—that's singer Alexa Ray Joel, and models Sailor Brinkley Cook, Christie Brinkley and Nina Agdal, respectively—"we're all taking it pretty seriously," he said. "This is probably the busiest I've seen it out here consistently, even through the weekdays. There's more people out here seven days a week than I've seen any other summer."
Last summer Cook launched Rove, a Jitney competitor, which offered shuttle service between the Hamptons, SoHo and Williamsburg in Mercedes-Benz Sprinter vans. But amid Covid, the company decided to sit this summer out.
"It was very difficult, but given the circumstances, for everybody's safety it made sense that we had to put ourselves on a bit of a delay until we could come up with a plan that we felt was safe and responsible," he said.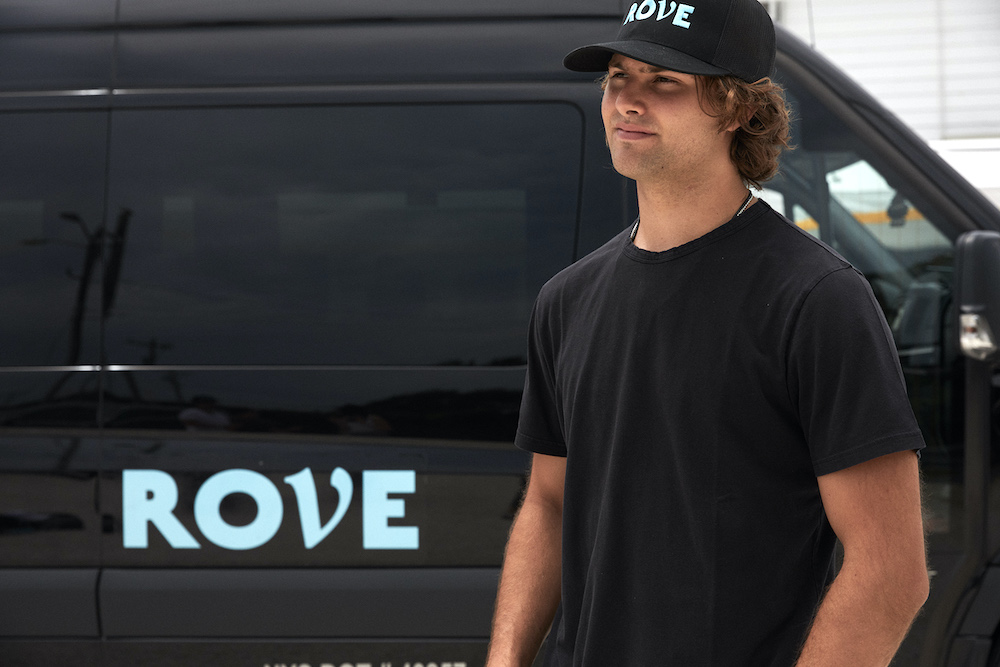 But with the new Jitney partnership, Rove is back in the game. Perks for riders will include a beverage menu with waters from Lemon Perfect and Just Water, beer from Montauk Brewing Co., wine from Maiden + Liberty, and Volley, a tequila-spiked seltzer.
Food is not being offered to encourage passengers to wear masks, which are required, and supplied by Judy, Simon Huck's emergency preparedness brand. Hand sanitizer from Merci Handy is also provided. Rove buses also feature 30% lower occupancy than regular Ambassador services, and will offer reserved seating.
From August 6 to September 7, buses will run eastbound on Thursday and Friday evenings, and westbound on Friday and Sunday evenings. Tickets — which each way cost $67 for Southampton and Bridgehampton, and $75 for East Hampton, Amagansett, and Montauk — go on sale August 1.
And what are the chances riders might find themselves sitting near a Brinkley, if they buy a ticket?
"My mom, being a little bit older, is being the most cautious, naturally," Cook says. "I think her plan for the time being is to stay put in the Hamptons. But myself and my sisters, should we have to go into the city throughout the month of August I think we'd be more than happy to take this program."