Jane Holzer has played many roles. A former model turned Warhol superstar turned contemporary art collector and movie producer, Holzer is also a major commercial property owner in Palm Beach, including the city's hottest restaurant, Le Bilboquet, of which she is also a partner with Philippe Delgrange. But on a recent Saturday she was happy to play the part of doting meemaw and rave about her granddaughter, Emma Holzer, an aspiring actress, and couture-wearing It Girl.
"She's going to be a big star," Holzer insists — adding that so is Emma's brother, Harrison. "Look him up. Supercute, super talented." Holzer, now 81, sounds as elegantly assured as one can while eating a boiled egg and appears remarkably chipper for someone who had Covid just a few days ago.
In the early 1960s, the native Palm Beacher was nicknamed "Baby Jane" Holzer by a newspaper columnist riffing on a popular film of the era — she didn't care for it initially, but it stuck. Today, she is sitting in the Ocean Boulevard home of her son Charles "Rusty" Holzer and his wife, Ashley, she explains, because her new, $8 million property across the street gives her allergies. So, it sits empty, awaiting renovation and a good clean. Covid means she has had to cancel a few commitments, including a speaking engagement in Australia, but mostly she remains as busy as ever. One of her big current projects is 247 Worth Avenue, a fashion and art destination building that also houses Brioni and Loro Piana, as well as two buzzy pop-ups for Lehmann Maupin and Christie's.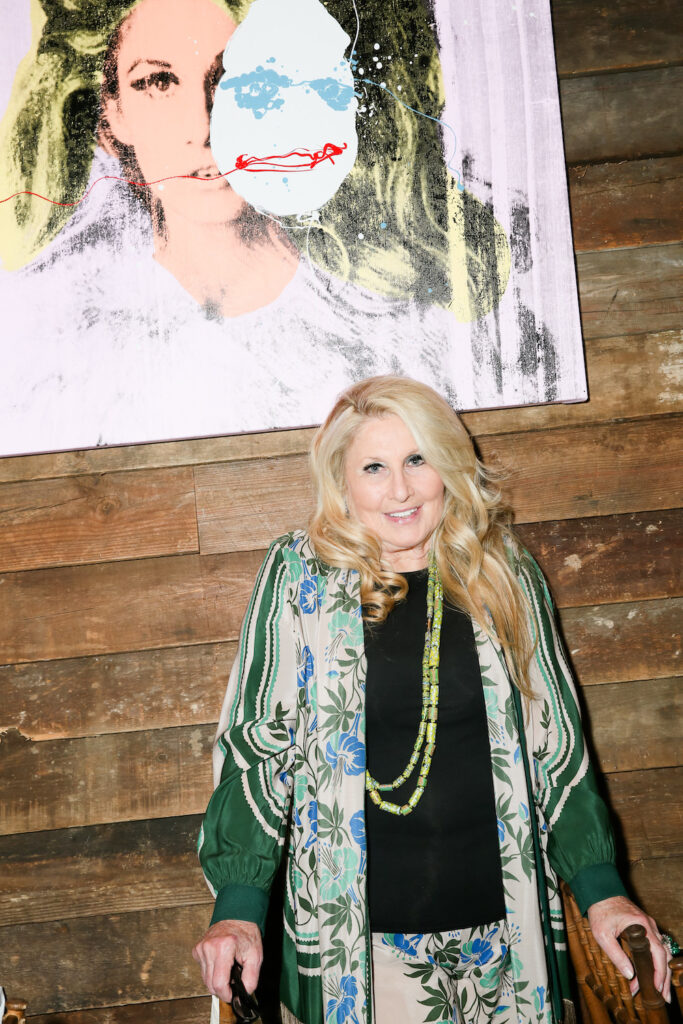 "I'm not attending many art fairs these days," explains the perennially black-clad collector, who has recently been turning her attention to KAWS, in addition to extending her formidable pop art collection, "but there's always something to keep me in trouble."
"She reigns supreme around here," says Nick Hissom, a 29-year-old co-owner of Aktion Art, who became friends with Holzer via her granddaughter Emma. "You have dinner with her at Bilboquet or the Colony Hotel and half the restaurant will approach her during the course of
the night."
Just don't expect Holzer, who was the subject of "To Jane, Love Andy: Warhol's First Superstar," the 2014 exhibition at the Norton Museum of Art, to make an appearance in Ryan Murphy's coming Netflix documentary about Andy Warhol. "I wouldn't talk to that man," she fires back, when asked if the megaproducer has been in touch.
"Did you see the Netflix thing he did on Halston? It was all about fucking. It was so nasty. There will only ever be one Halston, okay? I don't need to see, you know, Ryan Murphy's take on Warhol."