Life has been a whirlwind for husband-and-wife filmmakers Jimmy Chin and Elizabeth Chai Vasarhelyi since winning the 2019 Academy Award for Best Documentary Feature.
Their film, Free Solo, chronicled climber Alex Honnold's ropeless, nail-biting ascent of El Capitan, a 3,000-foot sheer granite mass that rises out of Yosemite Valley. It was a feat matched by the mental and physical strength of Chin and his climber crew, who had to master the monolith while keeping the cameras rolling.
Today, when not on location, the couple and their two children split their time between New York City and Jackson Hole. Their western lodge, boasting sweeping views of the Teton Range, befits the home of adventurers, filled with mountaineering gear; camera equipment; books; talismans from travels to the Himalaya and Karakorum; a film-editing studio, and an indoor climbing gym.
"We've been spending most of our time in Wyoming since the beginning of Covid, trying to take advantage of the special time with our kids because they are learning at home," says Vasarhelyi, 43. "Had we been quarantining in our Upper East Side apartment, Jimmy would literally be climbing the walls."
The son of immigrants from China, Chin, 47, grew up in Minnesota, studying the violin and classical Chinese calligraphy.
"Naturally, my parents, both librarians, were quite traditional in that they expected me to become a doctor, a lawyer, or a businessman. But then I discovered the mountains and photography," he says. Chin began his career as a National Geographic photographer and in 2004 summited Everest, becoming part of the first American ski descent from its peak two years later.
Vasarhelyi, the daughter of a Hungarian father and a Hong Kong Chinese mother, was raised on Manhattan's Upper East Side, where she attended the Brearley School before heading to Princeton. She has been staying connected with the city through recent work, including Pas de Deux, an online miniseries produced in partnership with American Ballet Theatre (ABT) and Chanel.
"I am absolutely passionate about ballet, having studied at the School of American Ballet for a number of years," Vasarhelyi says. "I am also on the board of ABT. For the series, we paired principal dancers and soloists with other creatives, including chef Marcus Samuelsson, singer/songwriter Alicia Keys, and artists Kat Sullivan and Chloe Wise. Chanel provided all of these beautiful clothes for them to wear as they engaged in dialogue."
A love for ballet runs in the family.
"Our daughter Marina, who is seven, has been attending ABT and one of the great joys of my pre-Covid life was dropping her off for class and seeing Misty Copeland rehearsing in the studio," Vasarhelyi says. "While Jimmy and I are very much tied to the outdoors, we find it impossible for us to leave New York and its vibrant connection to culture."
Filmmaking brought Vasarhelyi and Chin together, first creatively, and then personally.
"Jimmy and I met in 2012, at a creative conference in Tahoe, where he was giving a talk. Not long after that, he sent me some of the footage he had shot during his first ascent of the 'Shark's Fin' route on Meru in the Indian Himalaya," Vasarhelyi recalls.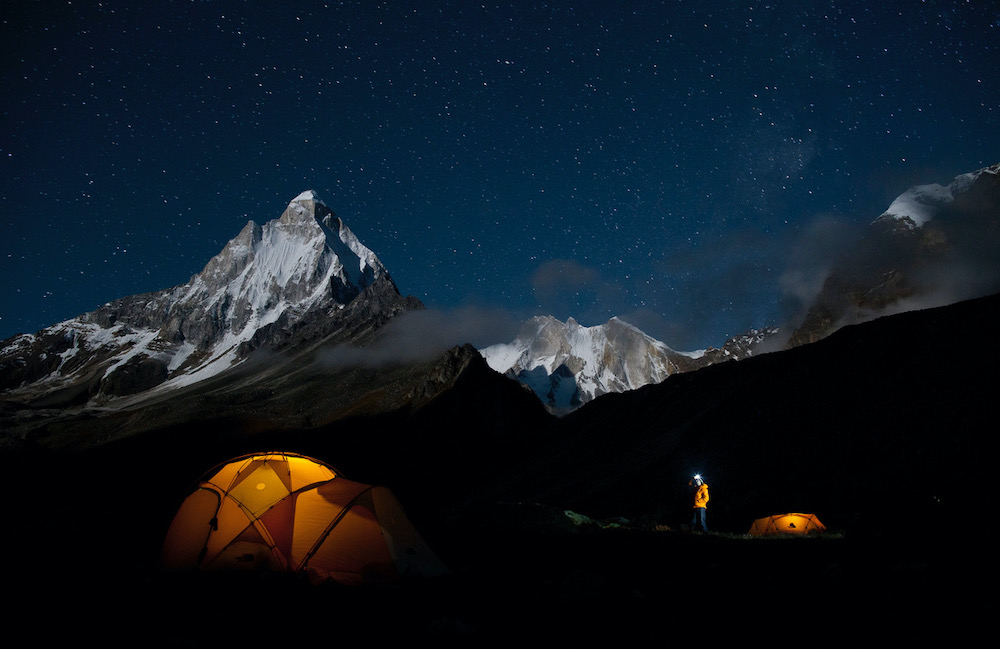 "Chai didn't respond for what seemed like months," Chin interjects.
"I am not sure it was months," Vasarhelyi counters, "but I was in Senegal, covering the presidential elections there for a film I was working on, Incorruptible. So much of my work has been in the sociopolitical realm. When I got home and finally took a look at Jimmy's footage, I was really struck because it was so different from anything I'd seen before." And that, she says, is where all began. "We became friends and I agreed to help him shape the film. Only later did we become romantically involved while making Meru, which we finished in 2015."
By the time Meru premiered, the two were married, had two-year-old Marina, and a son, James, on the way. The film grossed $2.3 million and was shortlisted for an Oscar; hoping to build on its success, they approached Alex Honnold as a potential subject.
"We just thought of him as this fascinating character with such mental fortitude," Vasarhelyi says. "Early on, Alex came to visit me in New York on what I call a filmmaking date just to see if we got along. While he was staying at our apartment — Jimmy happened to be out of town — Alex casually blurted out, 'Well I'm going to free solo El Cap.' Not being a climber myself, I didn't comprehend what that might entail. When Jimmy came home, I told him and his jaw just dropped. He said, 'You're kidding me, we can't make that movie.' Knowing the risks involved, we faced a real ethical question and were haunted by the possibility that our presence might put Alex at even greater risk if he undertook the climb. As Jimmy put it, 'What if he just fell through the frame to his death? Could we live with that?' So it took us quite some time of self-reflection and speaking to Alex to figure out how we could make it, if we could make it."
Free Solo — which grossed $29.3 million and won a BAFTA and an Oscar — succeeds not only as an account of Honnold's accomplishment, but also his complex and sometimes conflicted personal story, including his relationship with outdoor lifestyle coach Sanni McCandless.
"Jimmy and I lived through them falling in love — I saw it as much of a love story as a story of adventure," says Vasarhelyi of the pair, who married in September. "Because of the Covid crisis, we, like so many others, were unable to attend their wedding. We made a ten-minute movie for them that told the story of their relationship in little snippets… the things they said about each other on set."
Free Solo's success brought Vasarhelyi and Chin considerable acclaim. Now, despite travel limitations, they are busier than ever, with two films and two television series in the works for National Geographic.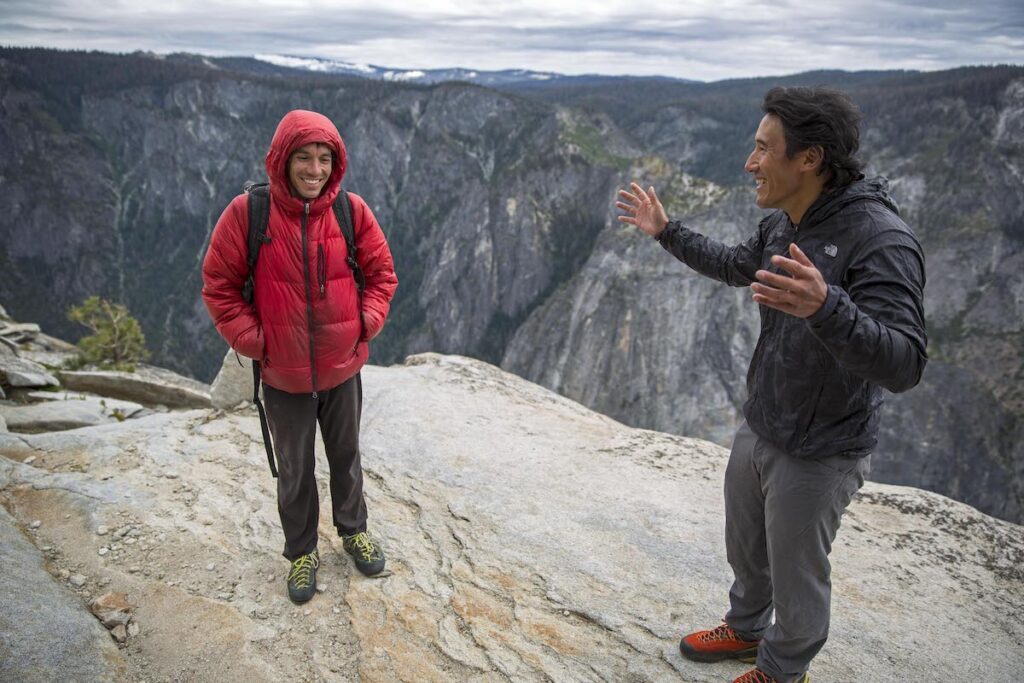 "One of the films is about [American conservationist] Kris Tompkins and the amazing work she has done, setting aside vast swaths of protected land in Patagonia — places she calls Master Landscapes in the southern cone of South America, in Chile and Argentina," Vasarhelyi says. "She and her late husband, Doug, who founded The North Face, have played an outsize role in the environmental movement since the beginning, along with Patagonia [clothing brand] founder Yvon Chouinard. Jimmy has known them for a very long time, so this is an intensely personal project for us."
The second film, which will be released this fall, documents the 12 teenage members of the Wild Boars soccer team and their 25-year-old coach, who became trapped in a cave in Thailand in 2018, attracting worldwide media attention. Nine days would pass before divers found the group and were able to devise a plan to get them out.
"They were on what was to have been a little after-practice adventure when the cave suddenly flooded with the early onset of monsoon rains, trapping them more than two kilometers inside," Vasarhelyi says. "We have been working with the Thai navy SEALs and the British and Australian cave divers who carried out the daring rescue, which entailed sedating the kids for transport."
"So much about what the divers in this extraordinary rescue were able to accomplish was about being aware of and in control of their mental state," adds Chin. "I've always been attracted to people who push not just physical boundaries, but mental ones as well, which is why I have gravitated toward such ambitious projects."
"With Free Solo, one of our big challenges was to convey the scale of El Capitan to audiences — so that they could fully understand what Alex did, and to be able to comprehend just the sheer physical size and scope of the climb," he says. "With the Thai cave project, we have a similar challenge in communicating what the actual physical cave is like to viewers — the length of it, how crazily narrow sections of it are; the currents in the water. Both are situations where you're trying to contextualize this massive natural formation in a way that viewers can really grasp how difficult what all of these people did truly was."
Beyond the films, the couple is developing two television shows for National Geographic — one, Into the Unknown, that examines fear and fear management, and the other, Photographer, which focuses on famed photographers, leaning into their personal stories and understanding their vision of the world.
"Our pilot episode features the wildlife photographers Paul Nicklen and Cristina Mittermeier, and their extraordinary relationship," says Vasarhelyi.
"In the end we want to make projects that tell a great story and entertain, but also that truly matter and have deeper meaning," Chin says. "That's why something like the Patagonia project is so important to us — spreading the word about the importance of conservation and protecting our wild places. But authenticity is also something that is really crucial. I meet so many interesting people who are pushing all kinds of different boundaries, and it really fires me up to see someone living that kind of honest, authentic life. We love being able to share those stories with the world."