Don't tell anyone, but Juliette Binoche is rather punk rock.
The acclaimed French movie star, who won a best supporting actress Academy Award in 1997 for The English Patient, may pose in Armani Privé and Schiaparelli couture on the red carpet, but her preferred New York pied-à-terre is right on the Bowery, the adopted homeland of the Ramones, Patti Smith, and more graffiti than a Brooklyn subway station in the '80s. "What I love about it is the friendships you make there — you walk to restaurants, to gallery exhibits, to see people's work," says the 59-year-old actor, speaking from her home in Paris. "I can walk around forever, because the energy I feel is so good." And the late-night noise that comes from living on the epicenter of hipster chaos? "No, it is fine!" she laughs. "It's cool."
Binoche is equally unassuming when it comes to her film roles. In the streaming era of prestige TV, French style icons are often cast as opulent Versailles schemers — in the past year alone, Ludivine Sagnier played the castoff countess Diane de Poitiers in The Serpent Queen while Isabelle Adjani served the same role in The King's Favorite. Eva Green courted similar Sun King-scandal as a corseted assassin in The Three Musketeers: D'Artagnan. Meanwhile, Binoche spent the bulk of the 2020 pandemic fighting to make Between Two Worlds, a drama based on the work of French journalist Florence Aubenas that chronicles the hardships of cleaning women working aboard a ferry.
The actor spends much of Between Two Worlds scrubbing floors, sinks, and toilets in close quarters with other women trying to stay financially afloat while drifting across the English Channel. "In real life, I am actually a perfectionist about cleaning!" Binoche laughs. "So that part, I could do very easily." The challenge, she notes, was ensuring the audience fully connected with "les invisibles," a class of often-ignored domestic and industrial workers that keep the white-collar worlds of France — and, indeed, Europe — functional as truckers, line cooks, janitors, electricians, and garbagemen. "They are running like crazy in their lives, and not making enough money to survive despite working long hours and working so hard. For me, that knowledge was enough to have me sign onto the film."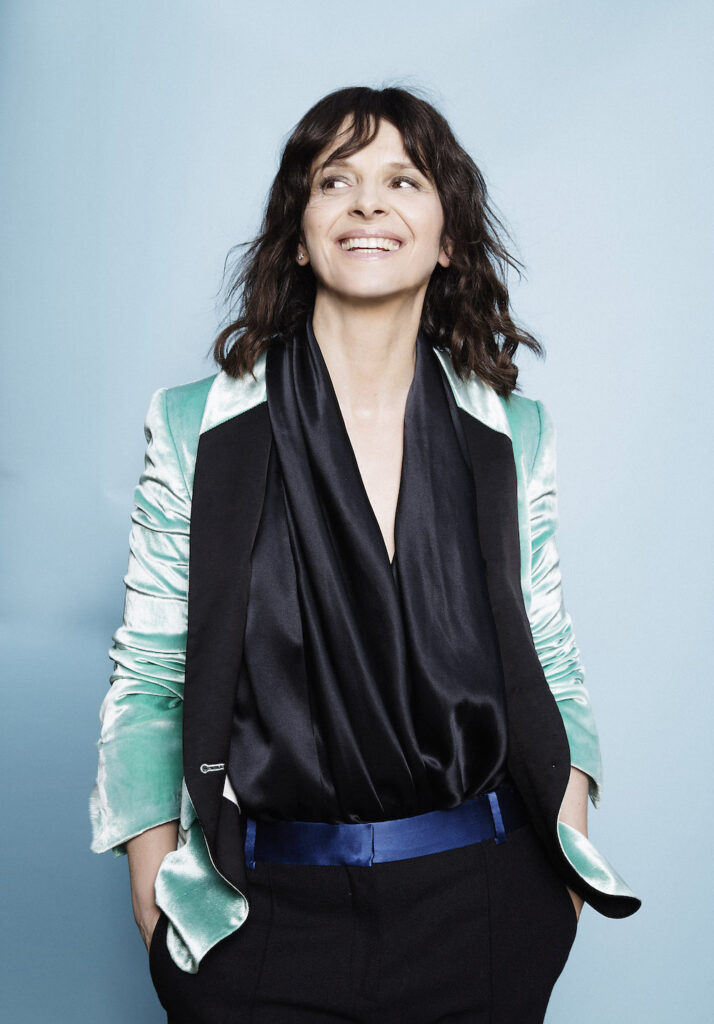 She also had a personal connection. "My grandmother was a cook, a seamstress; she had many jobs after [escaping] Poland in 1939 during the war," Binoche says. "She went through some traumatic events, but she still had to work when she got to France, so she did hard jobs that did not pay that well. Then my mother did some different jobs too as a young student. She did clean, actually! I always wanted to talk about that. How do you find your way as a migrant or someone who is lost? The strength these women have… I wanted to make sure it was captured on screen."
There was also something of a struggle behind the camera. In the beginning, Aubenas didn't want to sell the rights — until Binoche spent two years arranging face-to-face meetings and workshops with director Emmanuel Carrère. "Right before we began shooting, Emmanuel said to me, 'Even though you did all this work, I'd rather you not name yourself as a producer. It would feel [like] too much for me to deal with.' It was a little humiliating for me," she concedes. "But I said, 'Well, I have to be humble in the movie,' so… you know, it's fine."
Judging from the reviews, it's more than fine — Variety dubbed Binoche "a master of empathy" for her performance, while the Evening Standard declared her work both "hilarious" and "emotionally devastating." "I'm very proud of its impact," Binoche says of the film, which is due for release this August in the U.S. The week before Between Two Worlds hits theaters, New York's Quad Cinema is running a retrospective of the movie star's most notable films including Hail Mary, The Unbearable Lightness of Being, and Damage, to name a few.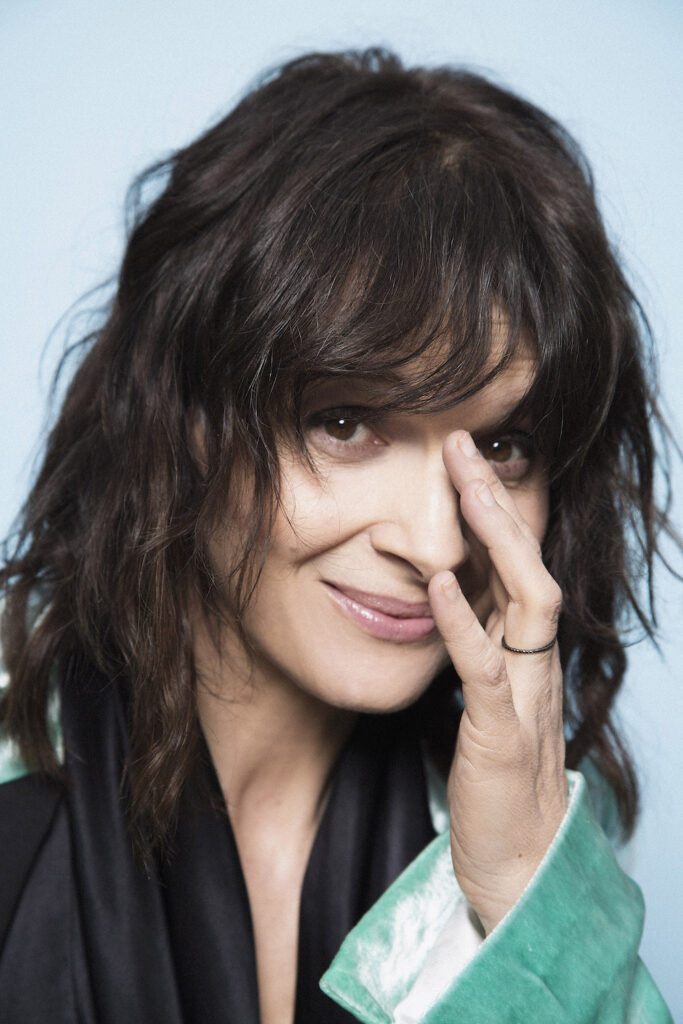 Next Binoche will play legendary and controversial fashion designer Coco Chanel in The New Look, which chronicles the rise of Christian Dior in the early 1950s. Penned by Sopranos auteur Todd Kessler, the ten-episode series from Apple TV+ will explore Madame Chanel's willing partnership with Nazi officers, as documented in Hal Vaughan's 2011 biography of the style icon, Sleeping with the Enemy. "We're definitely going to have to start talking about collaboration," says Binoche, whose maternal grandfather — like Christian Dior's sister, Catherine — was imprisoned in a Nazi work camp. In a tacit nod to the project, Binoche wore a Dior haute couture ensemble at this year's Cannes Film Festival that directly riffed on Dior's past original gowns.
Her red-carpet looks are — to quote the skaters who often swarm Binoche's Bowery neighborhood — "so sick." But the actor is a bit amused when I ask how we can adopt her classic style vibes in the U.S. "You know, I cannot help you for this!" she laughs. "You think French women are all running around in black and white all the time, just looking so much like an ad or something? It's like Emily in Paris, I guess — it is the idea of French women being written by Americans. It is super cute," she admits, "but it is not accurate… although," she adds with a pause, "Yes. Okay. I wear a lot of all-black in the winter in Paris. We all do."
Alas, Binoche can't offer any concrete style advice. Can she at least pass on some cleaning tips she learned during research for Between Two Worlds? "Oh, actually, I can!" she exclaims eagerly. "Although I learned this much earlier in my life. You know Akira Kurosawa, the film director?" she asks. I confirm Seven Samurai is on my Criterion Collection watch list, and she continues. "Okay, so one time I met with him in Japan, and he said to always make your bed in the morning. You know, clear your space for a new day. I have done it ever since. If you can make your bed, you can make your life."