One of the biggest cultural conversations of our time is whether or not we can separate art from the artist who created it. Across cinema, literature, music, and more, there has been a reassessment of the figures we previously considered icons, which is turn is changing how we think about their work. And as Tom Shone recently wrote about for Avenue, this is putting fans in an unusual position: can you still enjoy art made by problematic artists?
The Costume Institute's latest fashion exhibition, Karl Lagerfeld: A Line of Beauty — the first major retrospective of the late designer's career — attempts to side-step the question by avoiding the topic of Lagerfeld as a person beyond his professional output.
"The intention of the show was that you get to know him through the work first," Andrew Bolton, the Costume Institute's Wendy Yu Curator in Charge, tells Avenue. "There's no image of Karl until you get to the end of the show. It's just a hand sketching when you first walk in and everything [on display] is a sketch and a garment."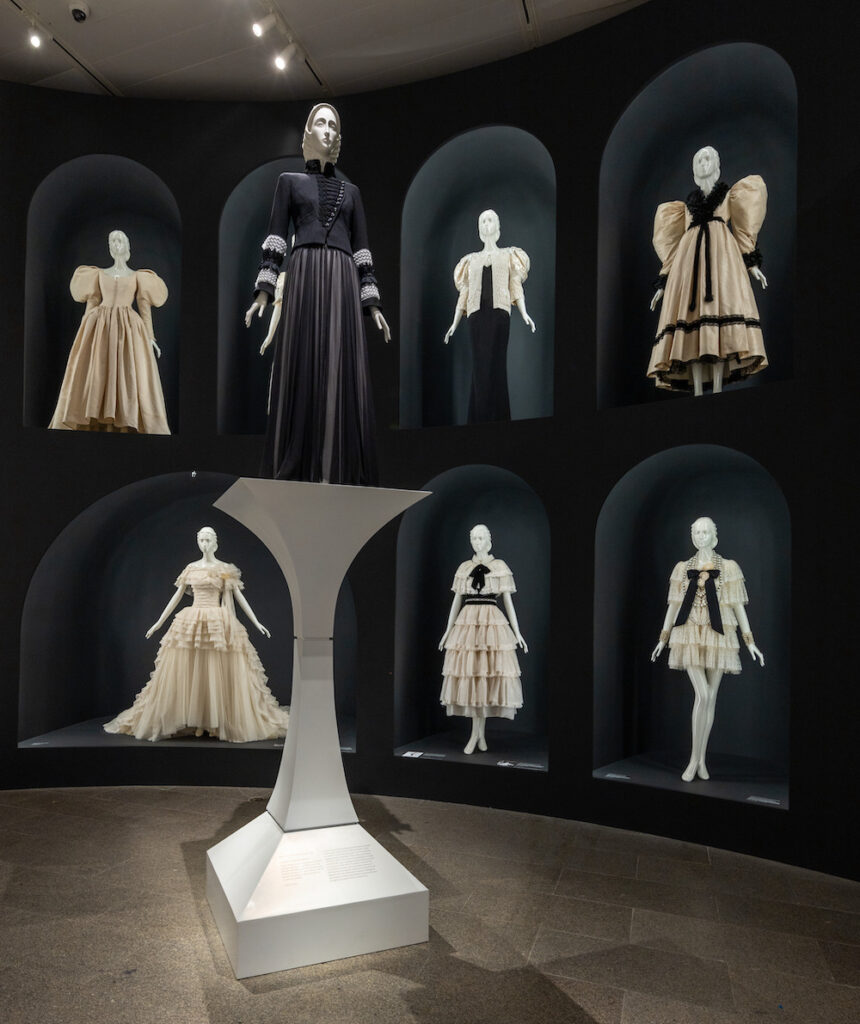 The problem is that Lagerfeld's legacy was so much more than that. The designer, who passed away in 2019, was equally remembered for his influential 65-year-long career as he was for his larger-than-life public persona — which included a long history of fatphobia, Islamophobia, and misogyny. The choice to make the artist nearly absent in the exhibit is being taken instead as a striking an omission. And it's difficult — as evidenced by many of the reviews of the show so far — to walk out of A Line of Beauty without pondering the very "art vs artist" question it appears it was trying to avoid in the first place.
Because of its focus on object and materiality, Bolton likens the show to the Costume Institute's 2016 exhibit Manus x Machina: Fashion in an Age of Technology, rather than one of its other designer retrospectives. And because fashion design is much more of a group effort than the work of a sole creative, it's a bit easier to appreciate what's on view beyond the man who created it. Because while Lagerfeld may have come up with the ideas, he wasn't the one who turned them into reality. That, as the show explains, was the work of the premières d'atelier — the seamstresses who brought his ideas to life.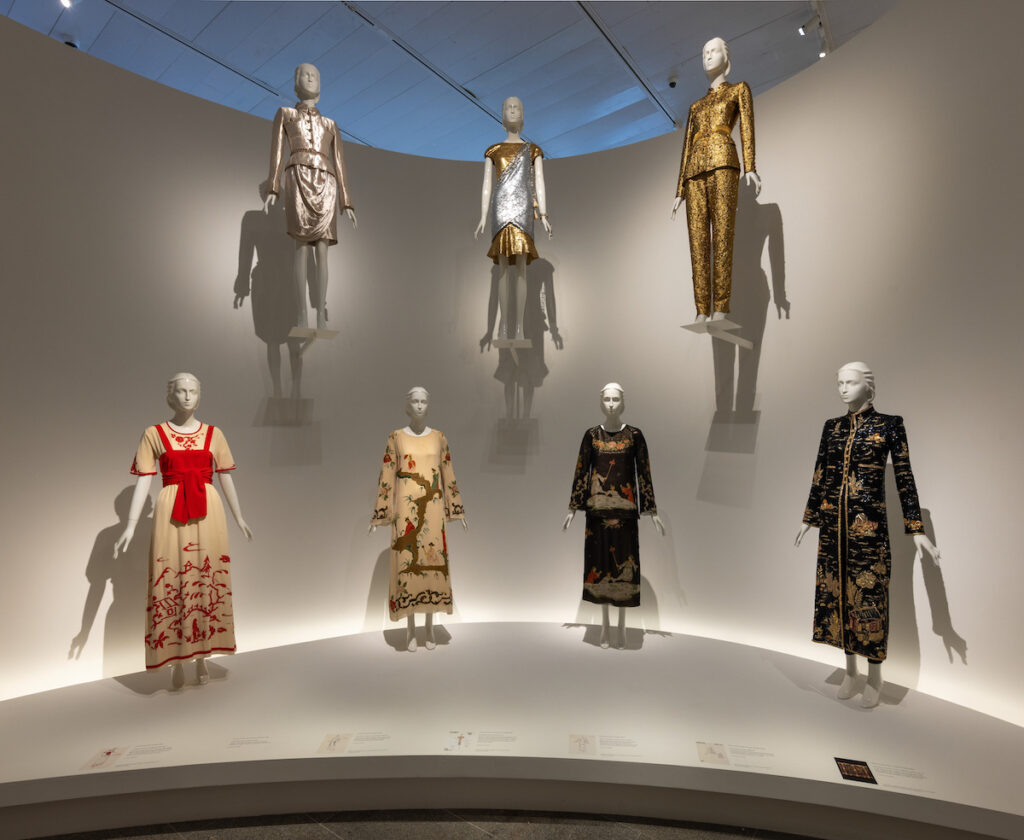 "[They were] the architects of his vision. They were the ones who realized his designs. They made his clothing," Bolton says. "Karl wouldn't mind being filmed at all, but when he gave his drawings for the first time for premières, he did not want to be filmed, because it was a really vulnerable moment for him… because he didn't care about opinions. But the people he did care about, and their opinions, were the seamstresses. That was really telling for me."
The premières appear in video interviews early in the exhibit, breaking down how simple elements like the placement of a seam can impact the overall presentation of a garment. This is where A Line of Beauty is able to shine — by priming visitors to view what's on display through the lens of construction, A Line of Beauty celebrates fashion's dual nature as both art and craft.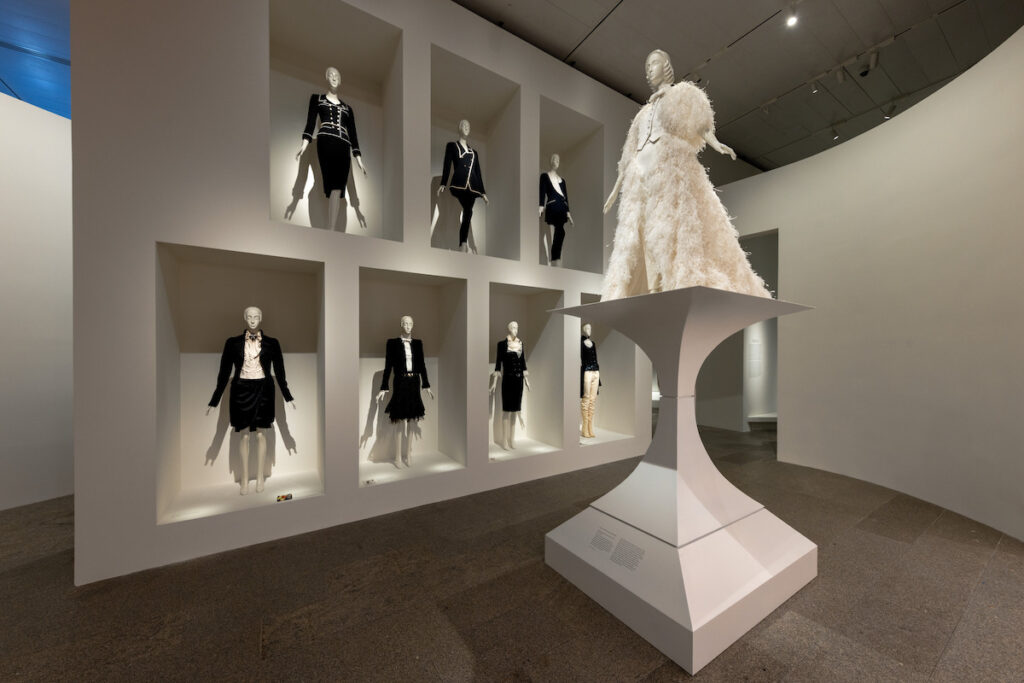 Snaking through a labyrinth of curving walls and towering galleries designed by architect Tadao Ando, visitors are able to be dazzled by looming mannequins above, while also getting up close to couture at eye level, where one can appreciate handiwork like beading, tailoring, and fabric choices. As Bolton notes, Lagerfeld's style wasn't really about grand silhouettes, it was about subtle details and proportions.
Bolton and his team sifted through thousands of pieces across Lagerfeld's career, narrowing the show down to just 200 ensembles, often accompanied by the designer's original illustrations. Adamant that he never wanted to do a traditional retrospective, Bolton organized galleries by recurring creative themes that arose over Lagerfeld's career, rather than chronologically or by design house.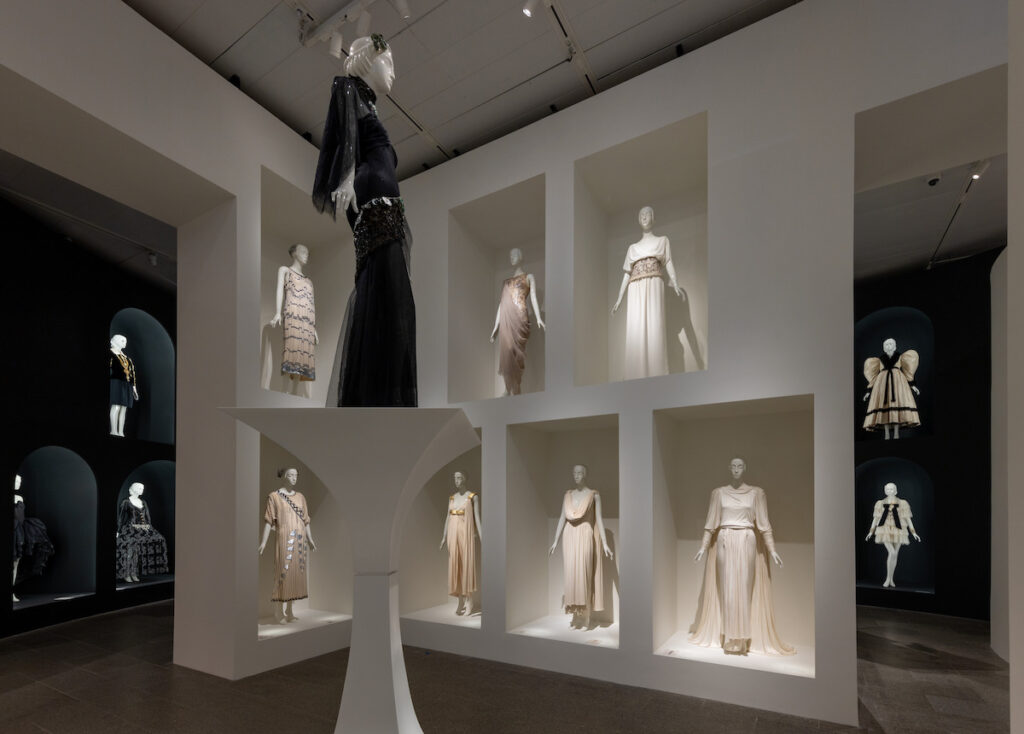 Of course, as fashion fans know, one of those themes eventually became Lagerfeld's own public image. As the show comes to a close, viewers are presented with Lagerfeld's most divisive creation: himself. His uniform of black suits with a white, high-collar shirt, sunglasses, gloves, and white ponytail became referenced in his later years. The exhibit's final gallery is a video installation of 81 iPhones alternating between a candid moment of Lagerfeld laughing on set, and some of his fashion-related bon-mots. None of his more inflammatory comments appear to be included.
"It was like a Warholian experiment, where he was presenting his dandified image to the world," Bolton says of Lagerfeld's persona. "Almost a cloak of invisibility… it was a way of allowing him to pass incognito on the world stage and disallow people from going deeply into who he was, because it was so fixated on the image. The myth of Karl that he created was a very good way of deflecting anything about himself."
Karl Lagerfeld: A Line of Beauty opens to the public at the Metropolitan Museum of Art on Friday, May 5, and runs through July 16, 2023.