The past few years have been a whirlwind for Kevin Kwan. In 2013 he published the hugely popular Crazy Rich Asians, an old-fashioned romantic comedy about a woman who meets her boyfriend's family for the first time, only to discover that they are among the richest people in Singapore. He penned two more books in that series, and the ensuing film, which was adapted from the first novel, became a hit.
Now Kwan has written Sex and Vanity, the first installment in a new literary trilogy and what he calls his "valentine" to New York. In an homage to E.M. Forster's A Room with a View, the story follows Lucie Churchill, a mixed-race Asian woman torn between her rich fiancé, who is in line with her WASP heritage, and George Zao, an equally rich Asian man whom she fights an attraction for. All the while, Lucie is navigating the social sets of the Upper East Side and the Hamptons, which Kwan lovingly ribs.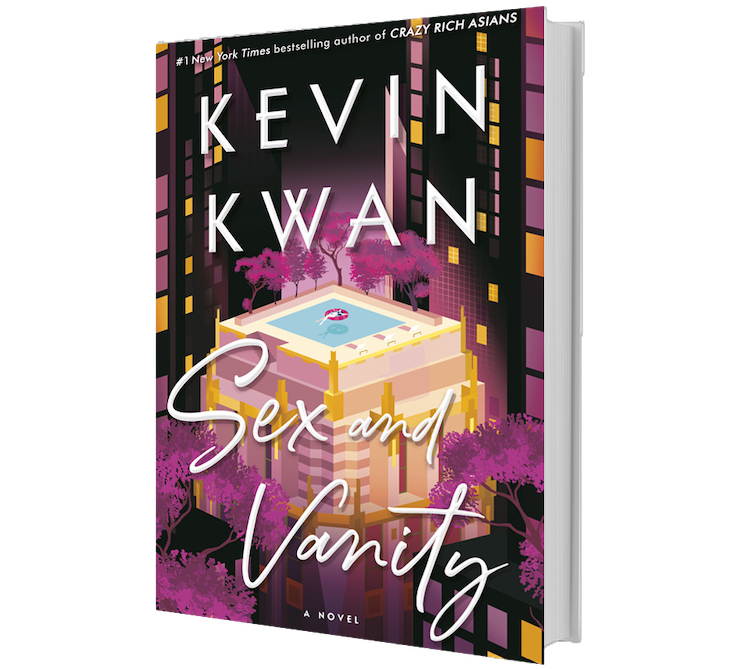 What's it like releasing a book under quarantine?
It's weird that I can't tour. I was really looking forward to that. It's a strange new reality to have to launch a book in the middle of a pandemic. Do Zoom interviews. Every industry is adjusting its own way.
You write about the wealthy. But right now a lot of people are worried about their financial futures. Was there any concern about the release date?
[My publishers] think this is what people need right now. For the fans, this is going to be a respite for them. Certainly, that's the response I've been getting so far. They want that escape. They want to laugh and not take things too seriously. It helps that it pokes fun at the rich. We're not reveling in pots of money. It's a story of how money changes people, and the various issues related to growing up with wealth and internalized racism in your own family.
Tell me about your hero, Lucie!
Lucie is a [mixed-race] girl raised in a dominant WASPy family. Because she presents more Asian than WASP, and the social conditioning within her family, she's grown up with an inferiority complex. Whereas her brother, who looks like he's straight out of the J. Crew catalog, has absolutely no problem. There are subconscious ways in which families adapt to situations like this. I thought it was interesting to explore in a comedic romance.
You've spoken about the struggles of your mixed race cousins, trying to find their identity and place in the world. How much of that made it into your writing?
Actually a great deal. I felt no one was really telling the story of what it's like for mixed race Asians, whether they are Asian American, Australian, or British. Everyone has a different experience. I know people who were raised where the Anglo side was emphasized and their Asian side was sublimated. One parent was basically saying, "My kids are British. They're not Chinese. We're going to really raise them in British tradition." They were sent to the best British-style boarding schools in Asia. Eventually they would go to school in England and discover, holy cow, I'm not British! I felt British all my life but now I'm here I'm seen as an Asian. They struggle assimilating into this Motherland that they've created in their heads and to find their own identity within that mix. But there are also families where both parents celebrate both cultures.
How does your family feel about you drawing from their lives?
I don't draw directly from anyone's lives. I value my family's privacy and respect that. The stories I tell are such big sketches. And it's all done in good fun. I'm not trying to bring anyone down. A lot of my cousins have been tremendously supportive. They love reading my books because they recognize the types of people in them. That's the goal of most satirists: to make it as relatable and universal as possible. Whether you're my family or a complete stranger, you can read about a character and go, "This is just like my cousin," or, "I have an aunt who's this snobby, social climbing woman!"
How do you push yourself as a writer?
I always want to write a better book every time I get a chance. In this book I really had fun experimenting with form. There's a scene — a housewarming extravaganza — that all takes place in overheard dialogue. I wanted to create the experience of coming to a party, wandering around this ridiculously over-the-top house, overhearing bits of conversation. But at the same time you're still moving the narrative forward. There's intrigue happening. Stuff is being set up within each of these little overheard snippets. I really wanted to have fun and break out of what I've done in the past. In many ways, Crazy Rich Asians is a classic novel format. I was giving myself creative license to push that boundary this time around.
You must be used to overhearing insane bons mots from rich people!
Absolutely. Especially since moving to LA. The social scene here operates in a completely different world.
How so?
The social pecking order really revolves around the Hollywood system. People tend to cluster in groups based on whether they're A-list or B-list. Comedy people are always clustered together, producers are together. There's less cross pollination. In New York you can go to a party and meet so many different people from all walks of life. Scientists, writers, financiers, jugglers, you name it. LA is stratified in a different way. But it's changing. It reminds me of New York in the '90s, with a lot of writers and creative people. And there's this amazing, exciting new art scene. In LA you go to an art opening and it feels like a rave. Miley Cyrus shows up, Dita von Tease, people like that. It's a whole different energy.
Aside from finishing the Sex & Vanity series, what ambitions do you have for your career?
Believe it or not, I would love to slow down. Life has been going nonstop since Crazy Rich Asians came out [in 2013]. I wrote two more books. Then the movie happened, and that exploded. I was getting all these amazing offers to work on projects in Hollywood. It's been nonstop. And while I really appreciate that opportunity, I'd love to have a whole year to write a book instead of four months. My fantasy, before this pandemic happened, was to go to Italy and spend a year living in Naples writing the next book there.
Sounds lovely! 
I'm very inspired by what Daniel Day Lewis did a few years ago. He moved to a village in Italy and began learning the craft of Italian shoemaking. Sign me up, I would love to do that! I'll make shoes in the day and write in the evening, or vice versa. I'd love to do something new that doesn't involve writing.
Sex and Vanity is available now.