Going naked was like waving a defiant flag in the '60s counterculture, as at muddy Woodstock. Al Goldstein founded Screw magazine in 1968, and Suck, the radical feminist mag, was launched in London the following year.
Germaine Greer, a Suck stalwart, was involved in a landmark event I attended in Amsterdam in 1971 — the second iteration of the Wet Dream Festival, a showing of international porno movies. The following year Deep Throat and Behind the Green Door opened, making Linda Lovelace and Marilyn Chambers, their key players, cross-culturally known names. In 1974, Goldstein launched the cable talk show Midnight Blue, and "porno chic" — a phrase coined that year by Ralph Blumenthal of the New York Times — was surging.
Larry Levenson was more than ready to ride this wave.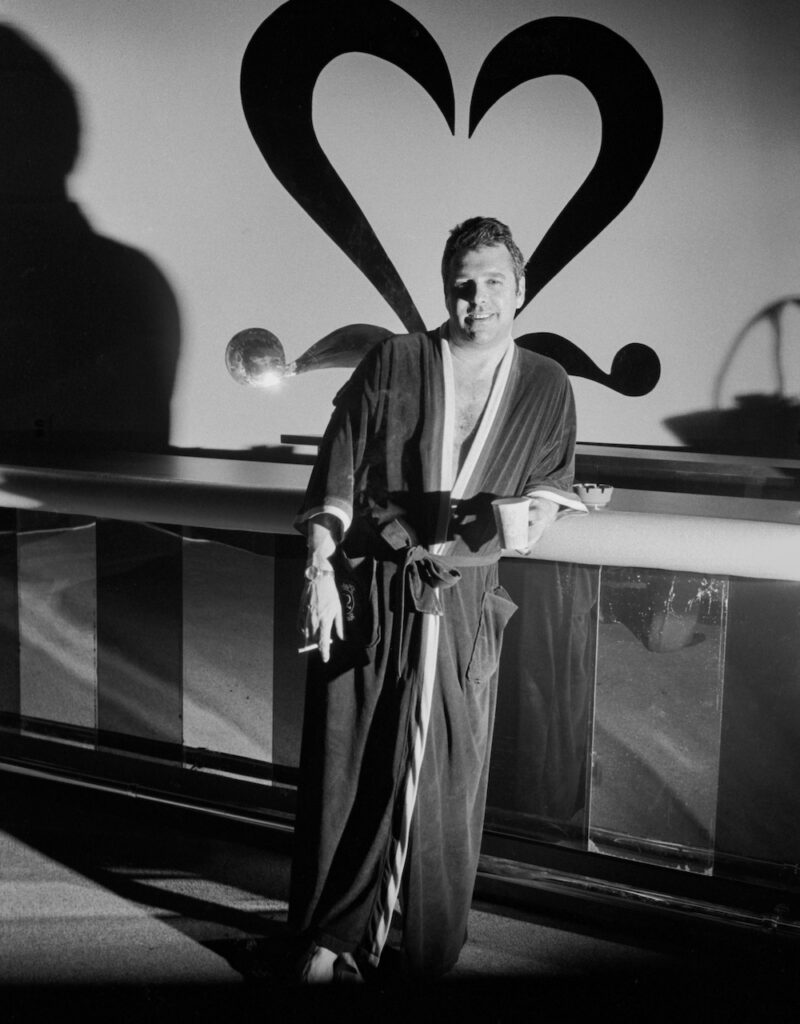 A friend of Goldstein's from high school in Brooklyn, he had been working mundane jobs such as selling sodas in Coney Island and managing a McDonald's. But after being plunged into the swingers' milieu by a woman he met in a bar, he quickly decided he had found a calling that suited both his talents and his inclinations: swing parties.
His skills developed to such an extent that in 1977 he opened a space for swingers to mingle (and get down to it) in the basement of a small hotel on East 23rd Street between Lexington and Third Avenues. This was the first Plato's Retreat.
Soon, Levenson was attracting such a following that the same year he moved his business into a more ample basement uptown, in the Ansonia Hotel, a handsome building on Broadway between West 73rd and 74th. Until 1974, it had been home to the Continental Baths, a gay club where Bette Midler launched her career and a place where even Chubby Checker performed. As New York's sex-oriented spaces were traditionally for gay men, Levenson was aware that offering a venue for public straight sex was breaking new ground.
He was outspoken on this subject, saying he was bringing to the straight world the liberty of the gay clubs. His sincerely held rationale was that no man was monogamous, and that swinging would replace cheating. Plato's, Levenson said, was a "couples club."
Such a couple arriving at Plato's was made aware of the rules at the door. "NO THREESOMES AT ANYTIME" was one. Also "NO ONE ADMITTED FULLY DRESSED" and "WHEN THE FEMALE LEAVES THE MATS, HER MATE WILL BE ASKED TO LEAVE." More on "the Mats" shortly.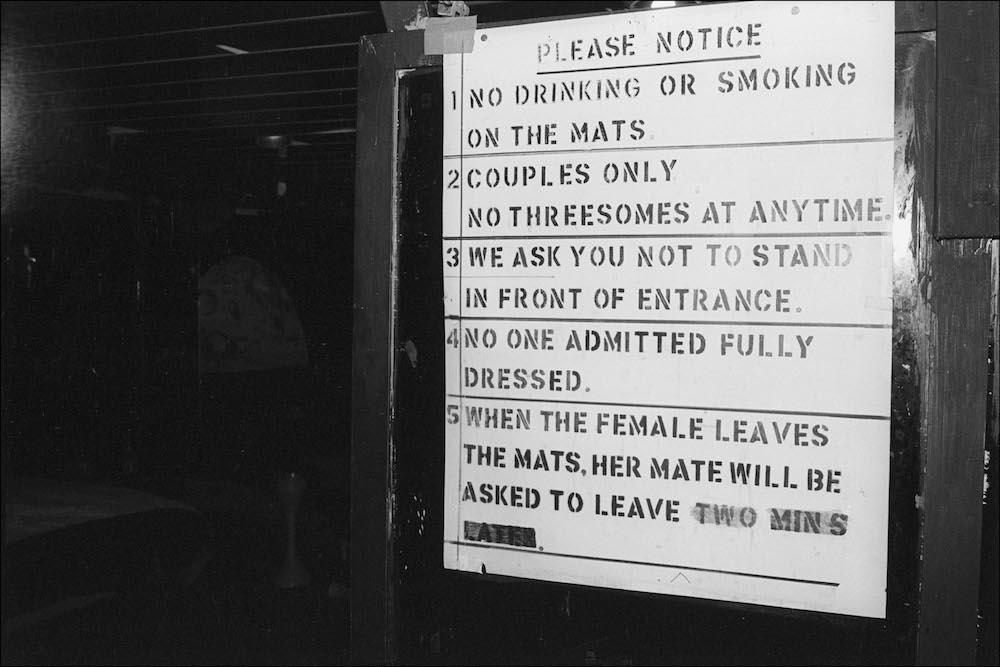 A couple paid $25. The deliberately unimpressive front door opened onto a steep flight of steps, which led down to the action, which was impressive.
DJ Bacho controlled the music, and there was sometimes dancing, most of the dancers being wholly or partially naked. The crowd was largely couples; solitary women were okay but single men were a no-no. So too was man-on-man action, though random displays of female bisexuality were very much okay.
Beginners would often wear towels, but these would usually be shed as they wandered the available venues, such as the Mats: the Mattress Room, which was furnished with mattresses that could be covered with a couple hundred interlocked bodies on a busy night.
But there was also the bathhouse, the locker room, and private cubicles for the shy, as well as Ping-Pong and pool tables, which might also be unusably covered with heaving flesh. And, believe me, the rule that threesomes were not allowed was not too strictly enforced. There was also a swimming pool, and this saw action too, natch.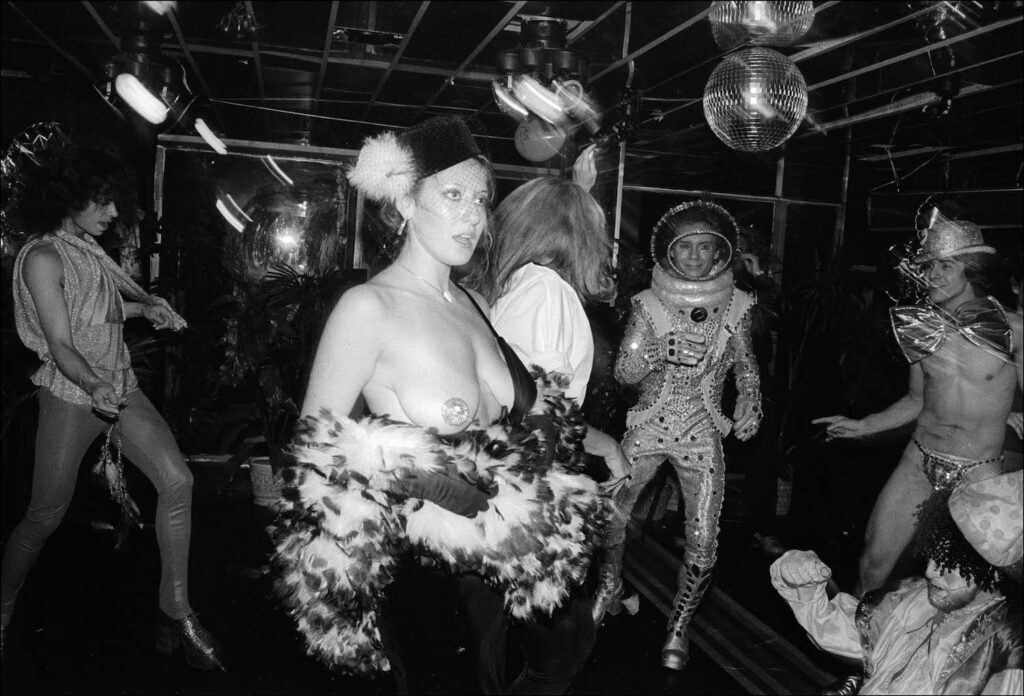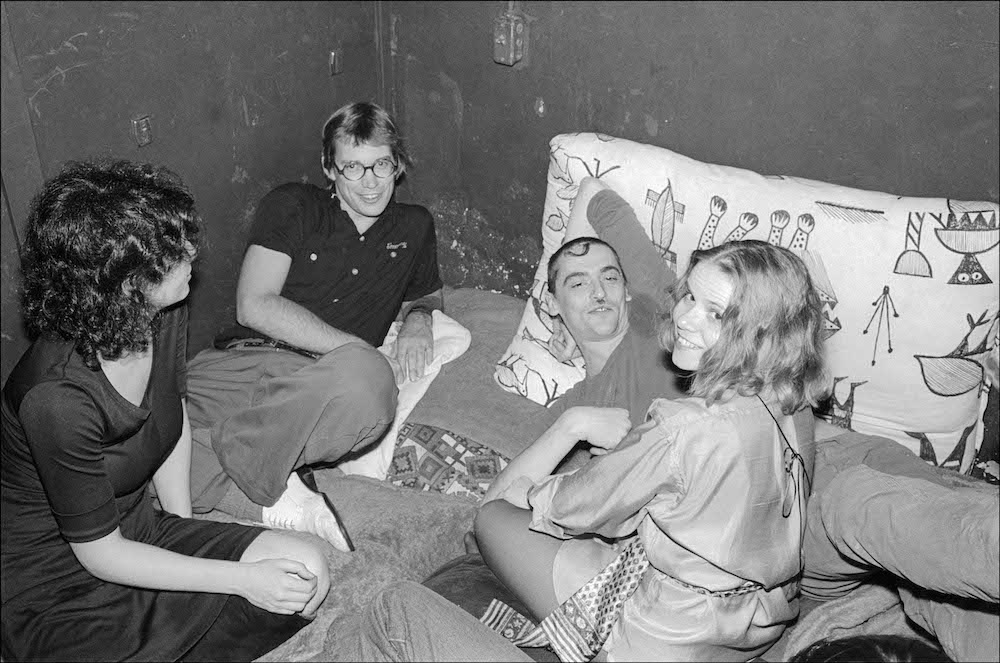 In American Swing, an excellent 2008 documentary about Plato's, codirected by Mathew Kaufman and Jon Hart, a young woman is chatted up by Levenson who suggests that she take a dip. She says she needs to go to the ladies' room.
"Oh, come on in, " Levenson coaxed. "The water's nice and warm. And that's how it got that way."
This was Mary, who would soon be sharing his life, and the drollery was not untypical of Larry, who struck me as open, friendly, and somewhat ingenuous. I was going to Plato's now and again because I had arrived in New York just a few years before, and visiting Brit friends would often call upon me to take them to this worldwide notorious hot spot. That is why I was included in the aforementioned documentary, wherein I observe that I linked Plato's to Studio 54 as elements that had made New York "the world's most exciting city."
Yes, Studio 54 had also opened in 1977, disco-mania seized New York, and Plato's benefited from that avid curiosity and hunger for nocturnal highs. It became huge, Levenson was anointed "The King of Swing," and just as certain individuals became Studio-famous, like Disco Sally and Rollerena, the Wall Streeter wearing a skirt and blades, so there were famous Plato's regulars, like Jamie Gillis, Captain John, and some with wink-wink porn names, like Annie Sprinkle and Danny, the Wonder Pony. As with Studio, Plato's was kept in the headlines by gossip about famous faces spotted there, whether Sammy Davis Jr., Frank Sinatra, or cast members from Saturday Night Live.
This was a specific moment in the development of the celebrity culture, its virginity you might say, a time when you could spot Michael Jackson in the foyer of Studio or a sports star in Plato's, but nobody would be likely to approach them. The significant difference was that the famous face entering a happening disco would be likely to disappear into the VIP room — but Plato's had no VIP room. Photo reportage might give the impression that the place pulsed with high octane glam and getting into it was like penetrating the Playboy mansion. Not so, and some who had been drawn by the media heat were chilled.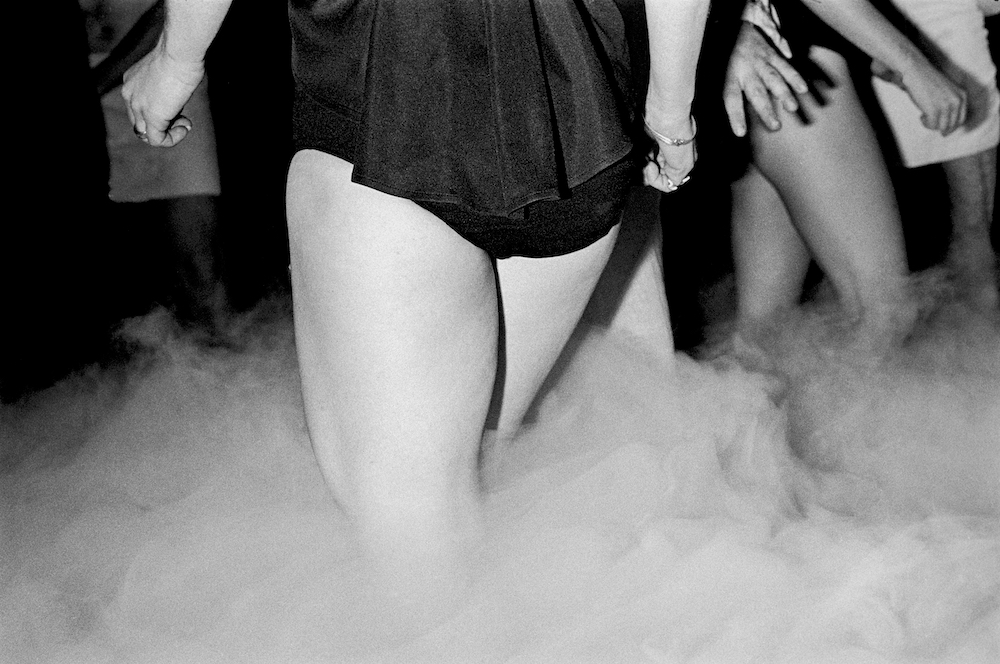 "I went there because everybody in New York was going to the place," says Roger de Cabrol, a French friend who arrived in New York more or less when I did. He and his female partner had scooted around, but the scrumptious flesh he had been anticipating was not on display.
"It was incredibly sleazy," he says. "Ugly bodies. Everybody could have been your mother [or] your father." He did not repeat the experience.
"It was dark and scummy and scroungy," says Matuschka, the artist and former model most widely known for making the cover of the New York Times magazine in 1993 after a mastectomy. "They let me walk around naked in my fur coat because it was too expensive to leave in the locker room. I remember people would select you. They would just point. The husband or the wife would want you. But I was just a voyeur."
In 1980, Levenson moved Plato's again, this time to West 34th Street. The King of Swing was high on the place, believing that Plato's was on its way to becoming a franchise.
"Within three months there will be four more around the country," he said on television.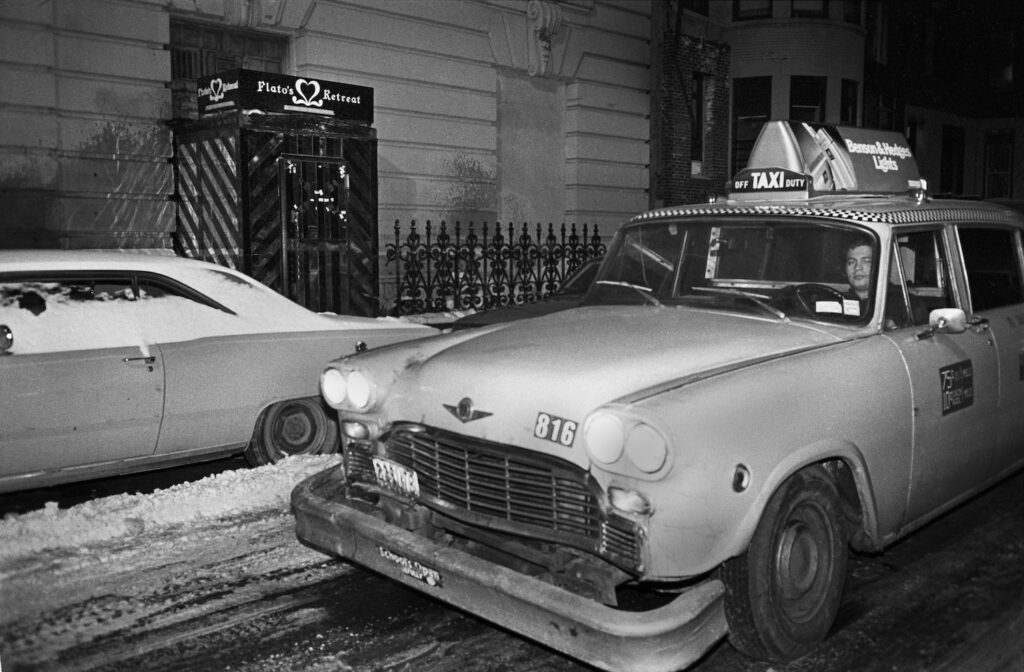 In keeping with the spirit of the place, Mary, his mate, had an affair with their chauffeur. So when Levenson was robbed and badly beaten, some gossips implicated the driver. Others close to Levenson said dealings with wise guys must have gone askew. He showed up soon after at the club, in a wheelchair, but still cock-a-hoop. A reporter quoted him saying, "We don't pay taxes."
This was an echo of what Steve Rubell said about Studio. The IRS swooped and got the books, which contained records of three years of meticulous misstatements. He was now confronted by Peter Sudler, the assistant district attorney who had brought down Rubell and his partner, Ian Schrager. Levenson's defense, which was that he had thought Plato's was a nonprofit, amused the jury. He was sentenced to eight years and went to jail in 1981. He had a cheerful jailhouse interview with Al Goldstein, got out after 40 months, and had a terrific Welcome Back party at Plato's.
The time span of hot New York clubs is frequently short, however, and Plato's was in precipitous decline. AIDS, Covid-19's dark precursor, had struck. Sex had become self-destructive, and Mayor Ed Koch was closing the gay clubs. But it was learned not only gays were vulnerable. Compounding this new risk, half the women at Plato's were said to be on the game — four arrested for "working" there in November 1985. That New Year's Eve, Koch, not wishing to discriminate against gay clubs, had Plato's Retreat closed down. It would never reopen.
Larry Levenson, who had always survived on a shoestring, was now penniless and started driving a cab. Former clients who spotted him at the wheel reported that he was still smiling, still cheerful, but that the King of Swing had somewhat wised up.
"I thought we had a great family," he told one. "But I guess I was mistaken. it was just me."
In 1999 he was at Screw's 30th-anniversary party. Within a year, he died of heart problems at 62. So porno chic was truly dead… or is it? I hear on pretty good authority that, Covid or no, millennials are currently flocking to swing parties.