There was no one quite like my grandmother Louise Nevelson. Grandma — I called her Grandma, and she called me Ri-Ri — passed away in 1988, when I was 28. A towering figure of 20th-century modernism who continues to hold sway over the art world and is again being celebrated in exhibitions around the world, including the Venice Biennale, she also looms large over our family.
How could she not? From when I was 6, she talked metaphysics to me. She spoke about the importance of centering oneself and about how your friends are your mirror and should be respected. Her house was minimalist and the chairs were uncomfortable, because she believed that soft furniture made for soft conversation. In her own way she was trying to give me an inner foundation to handle things in life, but it was a lot for a young child to process.
She was a true eccentric, and unlike any other grandmother in the small town in Connecticut where I was raised. For one, she liked a good drink. Because of her heavy work, sometimes in a sweltering foundry laboring over 30-foot-tall sculptures, she smelled differently to the others, a sensual mix of body odor and Givenchy perfume.
She also looked different from my friends' grandmothers. She cut her own hair super short, wore orthopedic shoes that she would spray-paint gold, and dressed like an art-world gypsy in a mix of vintage-store finds, high-fashion pieces, and jingly treasures she had picked up on her many travels to places like Iran, Afghanistan, and India.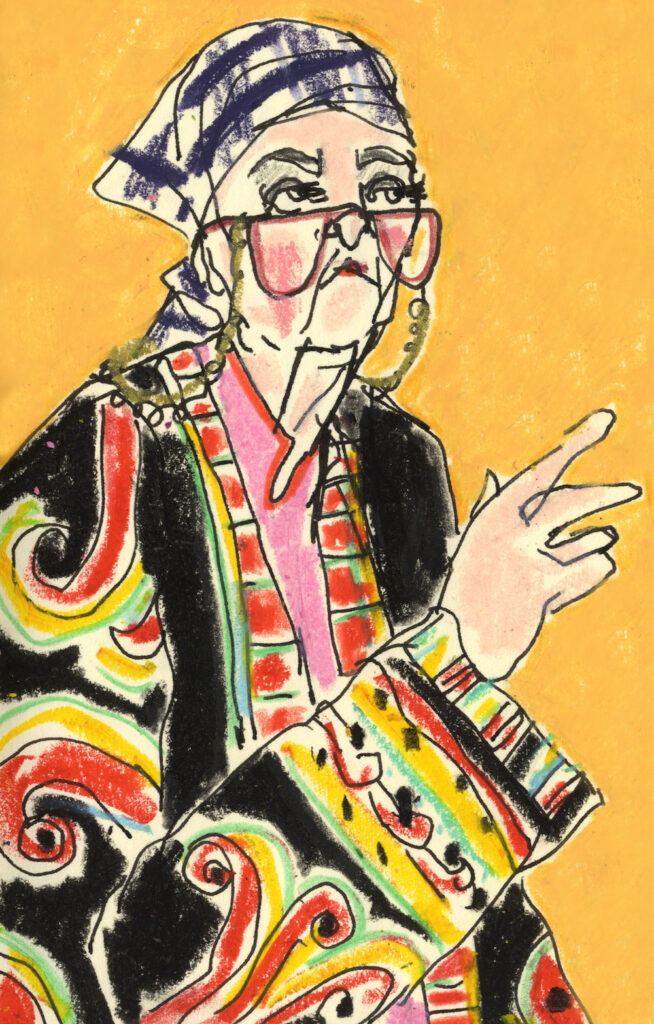 Then there was her distinctive head gear — headscarves, turbans, men's Stetsons, and equestrian riding hats — and her incredible jewelry, which she would pile on. Though her ethnic-looking jewelry was a key part of her look, not a lot of people know that much of it was made by her in the late 1960s.
These pieces were extensions of her work, most notably her collages, and she kept making them over the years, exploring the medium again and again, which I find interesting. You can see the mind at work putting these shapes together. The only difference is that they were at a radically smaller scale than what she was used to working in.
I'm surprised that until now only galleries were interested in this part of her creative output, but now that Hedi Slimane at Celine has released a limited-edition capsule collection inspired by her jewelry, a new generation of her fans will hopefully discover it.
I wonder what she would make of the renewed interest in her. She'd be tickled pink, and would probably say that it's about time.