One unforeseen outcome of months of sheltering in place is that the home office is no longer the place where fun goes to die, aesthetically speaking. Instead, the "command center" or "Zoom room," as it now calls itself, is a luxurious work-from-home space, with no expense spared.
"Given the Zoom room boom, many people are giving designers some extraordinary requests," says architect Amy Lopez-Cepero of Manhattan firm Ampersand Architecture.
One client, a New York hedge fund manager, asked for an entire wall of his home office be filled with 12 huge computer screens so that he could check the markets — all of them — 24/7. Sounds reasonable enough, except that this upgrade, to the specifications required, needed some 27 miles of wiring connecting everything, from the lighting system, smartphone controls, and AV, to the speakers and televisions, all of which need to go back to the server racks, as well as an additional 400 feet of superfast FIOS fiber-optic cable at $100 per foot. (The latter alone ran up a tab of $40,000.)
Lopez-Cepero adds that the concept of an office in the traditional sense has also changed and become "open-minded." She cites a recent request from another Master of the Universe for an outdoor screen on his Manhattan terrace with a Bloomberg feed, so that he can "trade from the comfort of his hot tub." (Sometimes it's just the aesthetics: famed fashion photographer Steven Meisel created a hybrid home office/bathroom, complete with a gilded French 1940s desk and a shower walled with onyx.)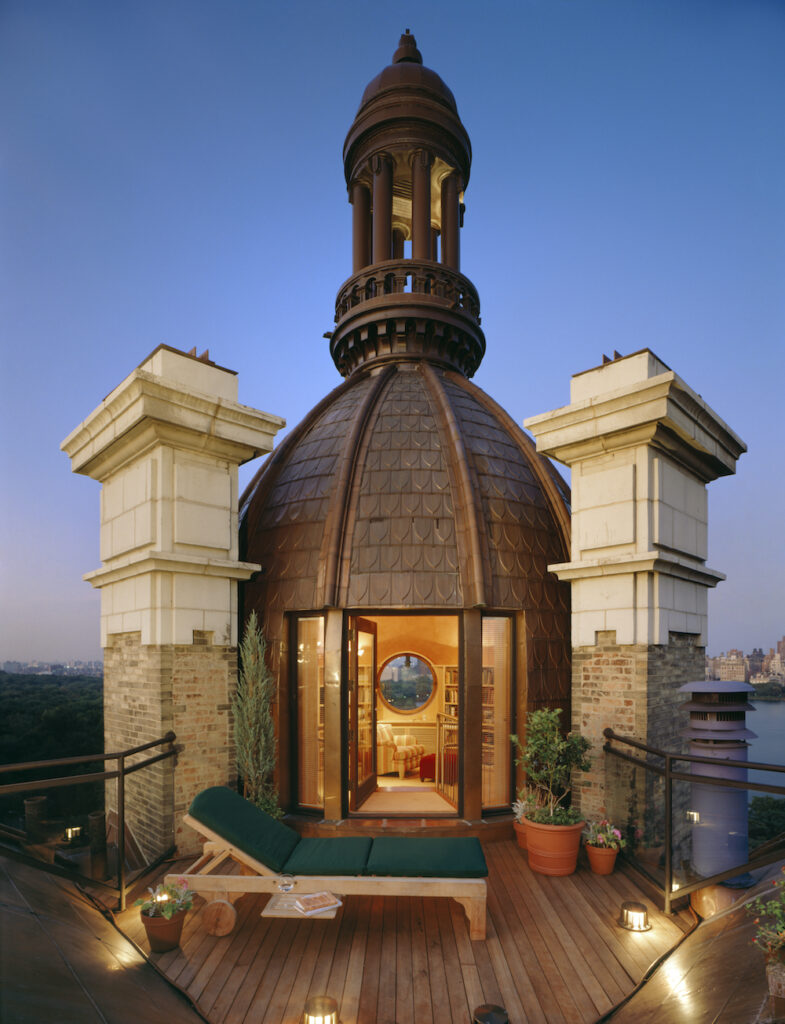 Steph and Pamela Katch, the sisters behind interior design firm Katch I.D., have recently been tasked by a leading music industry executive with transforming a space that was once a library into a new office, "with all the appropriate efficiencies that will be needed."
Once just an extension to the living room, the space is being retrofitted and reconfigured with relaxing lounge seating, discreet storage, and a functional work space with all the information technology and audiovisual systems that will enable her to manage her work day. On the client's return to the city this fall, her "command central" area will be ready to go, and able to accommodate appropriate staff when needed with ease and convenience.
Critical to the command center is the ability to Zoom. Although the traditional spirit of the room will be preserved, Steph Katch says, it will be modernized to facilitate "clear Zoom calls throughout the day, with enough power to run all the necessary communication points."
A fine antique desk will be added to the existing traditional mahogany French polished bookcases and paneling, along with new window treatments to ensure "proper ambient lighting for an endless stream of video calls." It will have the same "level of refinement as the rest of the apartment," says Steph, adding "it needs to feel like it's always been there."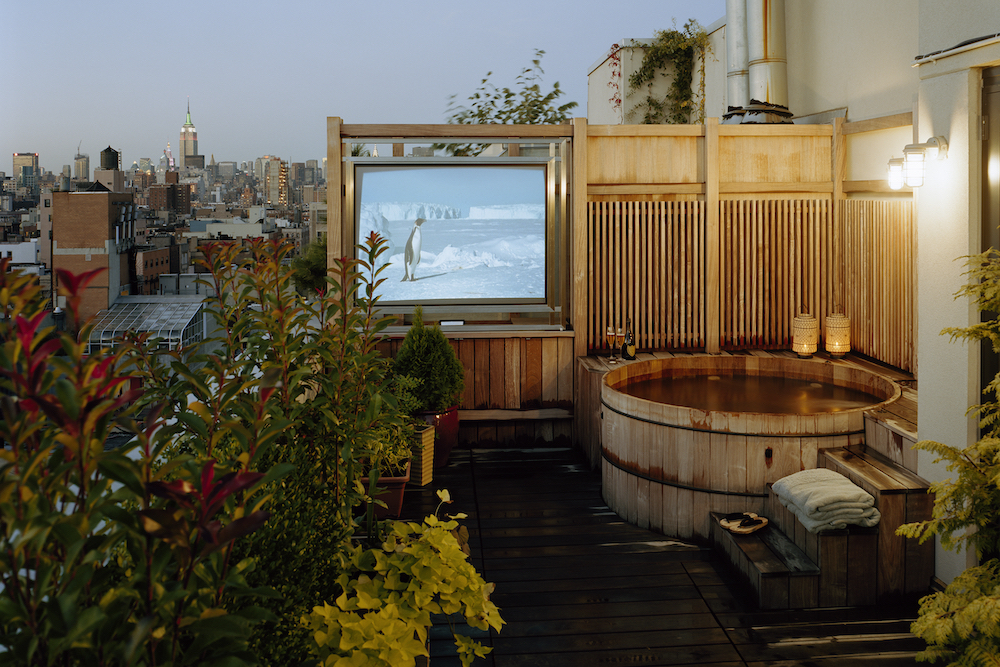 Meredith Harrington of Meredith Harrington Interiors LLC has worked with one international couple for more than 20 years, designing their houses in London and on the West Coast. Currently, Harrington is working on their new apartment on Fifth Avenue overlooking Central Park.
The couple, who both work in finance, sit on various boards and come into New York frequently for business. She will be creating two offices, one for him and one for her.
The apartment is in a 1960s building and will have bespoke finishes on the inside and landscaping on the outside.
"They have never wanted their offices to look like offices," Harrington says, and prefer them "to be done in the vernacular of the entire space, including artwork and sculpture." The wife's has sliding glass doors that open onto a terrace, and walls covered in Hermès wallpaper. A single wall is done in cerused oak (a special bleaching process) and incorporates raffia and a bronze strip. A large elliptical-shaped desk is inlaid with leather.
In contrast, the husband's is more masculine, with bespoke bookshelves, space for a banquette, and linen wallpaper throughout. Alongside a piece from renowned French furniture designer Jules Leleu, a Victor Roman table and chairs work as a small conference space.
The new supersize home office is arguably becoming the most luxurious room in the house. At present, Young Huh of Young Huh Interior Design is working on a complete renovation within 520 Park Avenue, a 64-story condominium tower designed by starchitect Robert A.M. Stern. The designer says she is creating a luxurious new office, separate from the living spaces, with custom cabinetry as well as state-of-the-art internet and audiovisual systems.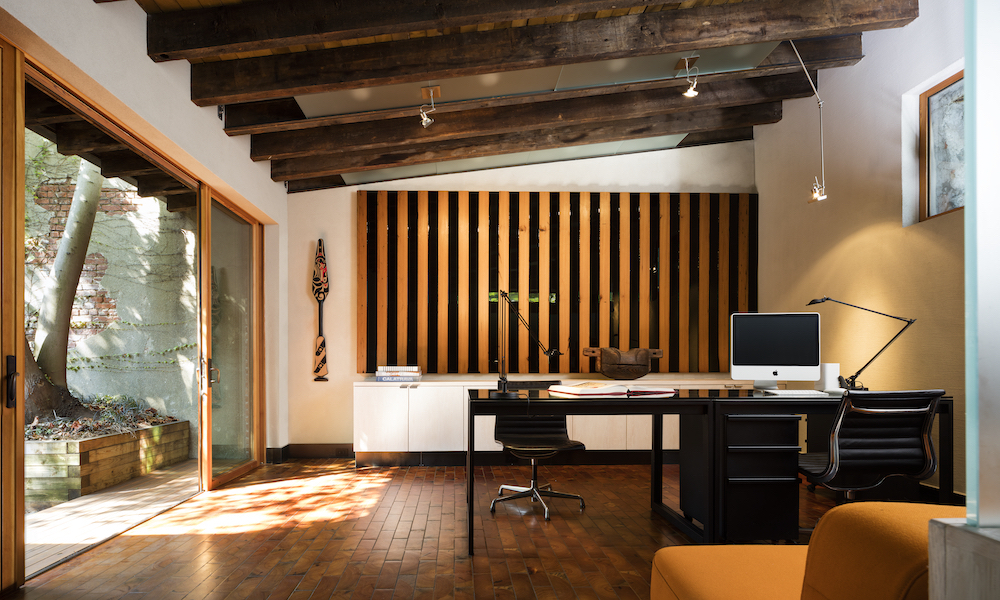 There is wood paneling from The House of Silver Lining, known for their "exquisite millwork," Fromental wallpapers for the living and dining rooms, a custom desk, and an antique rug from Mansour Modern.
Sara Bengur of Sara Bengur Interiors advises her clients to make their work space "very comfortable, with a good desk chair for long periods of sitting." One person has asked her to create optimal lighting in the office for Zoom calls, and to create a backdrop that is "both professional and pleasing." As well as adding a desk that can convert to a stand-up when needed, Bengur is also incorporating a colorful custom-made bulletin board, which "looks like artwork but functions beautifully."
Mary Valaika of Mary Valaika Designs is also increasingly asked to create dedicated and ergonomically correct Zoom stations, with a table and chair at the optimal height. Valaika says that clients also seem to have a newfound appreciation of being at home.
She recounts that one client texted to say, "I'm sitting in my living room and I'm in awe of how beautiful it is," even though it was a project that the designer completed eight years earlier.
"People have never spent so much time in their homes. New Yorkers were always on the go, but now they are really enjoying their spaces," she says. "Homes have become a sanctuary, and people have come to appreciate the beauty and serenity of a peaceful, safe place. Which is, of course, what a home should be."