As far as stately pleasure-domes go, Xanadu has little on Madison Avenue. This stretch of the Upper East Side, approximately between 59th and 78th Streets, shimmers with the incandescent beauty of worldly goods. Here the finer things in life, frequently metaphoric, are literal.
These blocks are home to renowned perfumers, cashmere purveyors, Neapolitan tailors, rare-book dealers, leather artisans, haute couturiers, canny gallerists, and chefs skilled in satisfying demanding palates.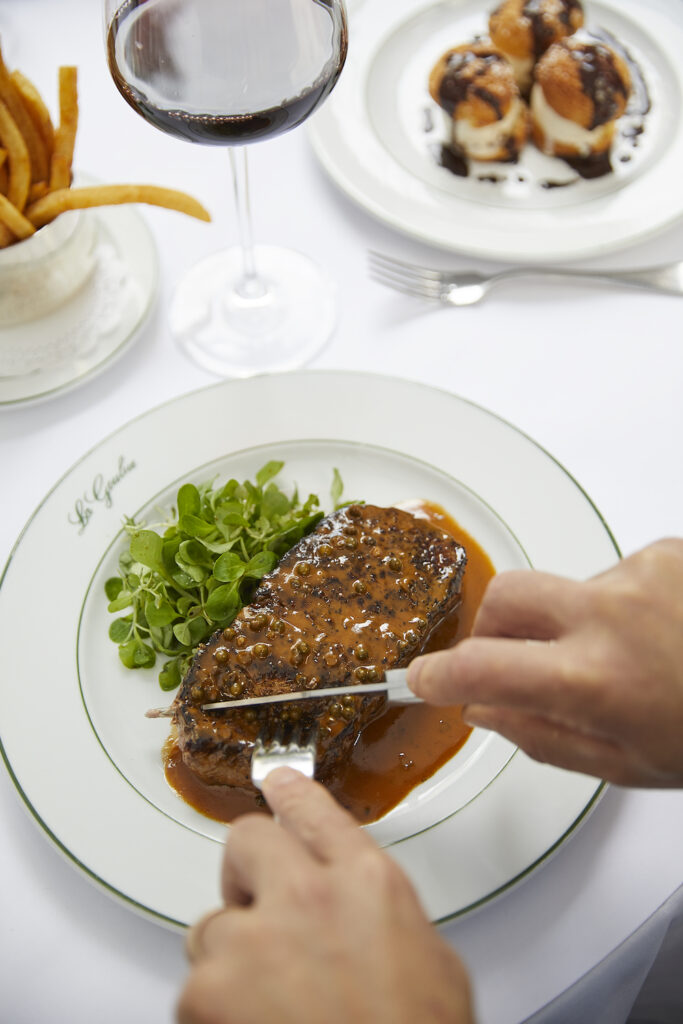 Here ticks the mechanical fruit of Swiss watchmakers, beside acres of high-thread-count bedding, plush velvet slippers, and Italian nightshirts. There are (almost) more luxury leather handbags than there are bejeweled hands to hold them.
It all seems so established now, but as late as the mid-1800s, the rolling fields of Lenox Hill were still largely home to sheep. Madison Avenue (named, like the square at its southern end, for President James Madison) was initially created as a service street for its tonier neighbors, Fifth and Park Avenues. But, after Central Park started opening around 1860, the area "converted within a few years into the finest residential parts of the city," according to the 1898 book The History of Real Estate.
Palatial townhouses in fashionable styles like Neo-Grec, Italianate, and Queen Anne turned the former grazing land into an architectural Disney World. The city's elite, including diamond dealer Charles L. Tiffany and sugar merchant Charles Sneff, moved in. Some of their houses, like the Rhinelander Mansion, which belonged to the eccentric widow Gertrude Rhinelander, still stand. But many were replaced by apartment buildings of comparable luxury, with names like the Verona, in the early 20th century.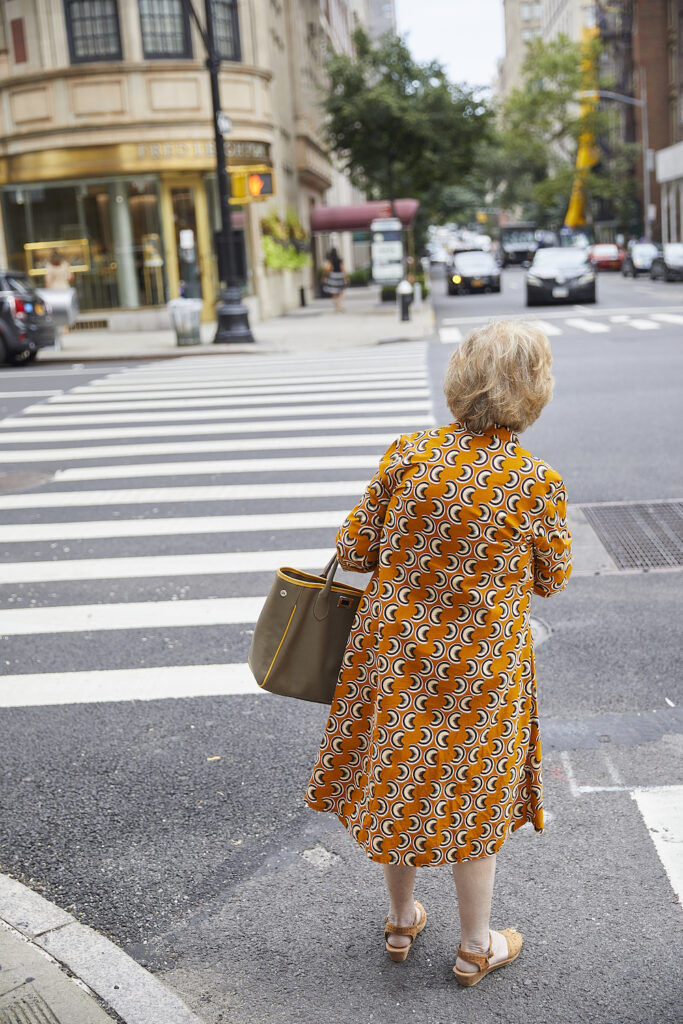 The Tiffany mansion, for instance, was demolished to make way for a 16-floor apartment building whose bas reliefs of cavorting animals is a familiar site to architecturally minded boulevardiers.
In popular imagination, the lower stretch of Madison Avenue is still associated with advertising, where, during the 1930s, nearly 40% of the American Association of Advertising Agencies were located. But above 60th Street was where one did the shopping itself.
Much of Madison's current commercial character is due to a 1922 order by the Manhattan borough president prohibiting stoops — or any other protuberance — jutting beyond the property line onto the sidewalk. Soon, the first and second stories of many townhouses became storefronts. The footprints of those townhouses (between 15 and 40 feet wide, although most were 24 feet) still define the dimensions of many stores. Meanwhile, even as luxurious apartment buildings began to replace townhouses, the tradition of ground floor retail continued.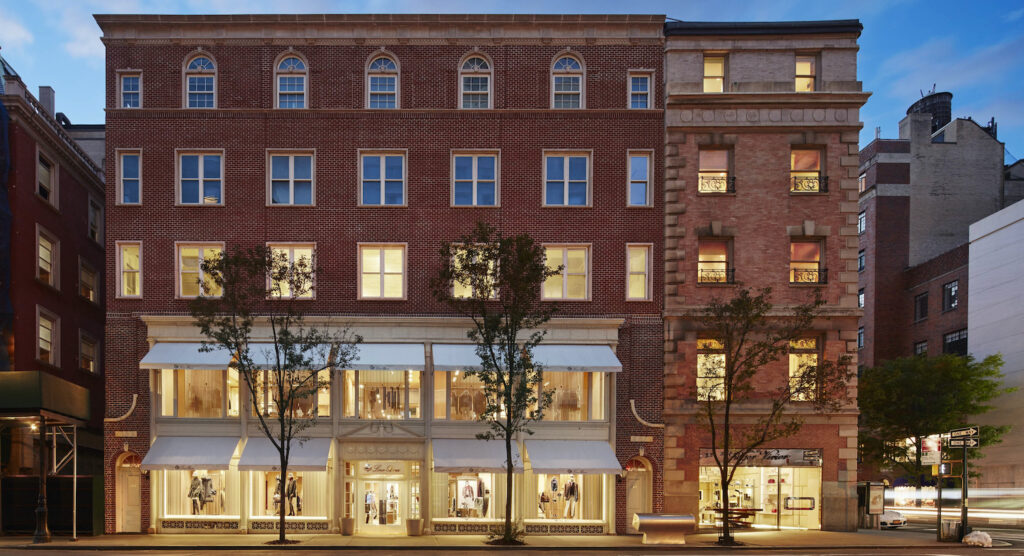 Meanwhile, on the side streets and second floors, gallerists set up shop. Many were fresh from Europe, bringing canvases by the likes of Picasso and Braque. Before the art world moved downtown — to East 10th Street and finally Chelsea — Madison Avenue, where both the collectors and the gallerists lived side by side, was the art center of New York.
Like so many modern capitals, the area has become increasingly international in the last 20 years. Many of the smaller boutiques have fled north. As Herbert Peress, the 85-year-old owner of Peress of Madison Avenue, tells Avenue: "The mom-and-pops began moving up, but we're still here."
His neighbors like Zitomer, a local department store, Art Bag, and Gentile's Fine Foods continue to find space on the all-important Madison Avenue even as the glittering flagships of brands like Hermès, Ralph Lauren, and more continue to flourish. Of course, as it did everywhere from the Ginza to the Champs-Élysées, COVID-19 put Madison Avenue on ice for much of 2020. But now the neighborhood is purring back to life and flowing with, as Coleridge might say, the milk of Paradise.
LA GOULUE
Of the once plentiful bistros that catered to peckish Madison Avenue denizens, La Goulue is a rare survivor. Opened first in 1972 at 746 Madison Avenue, in what is now a Loro Piana boutique, La Goulue moved to its current location — a side street but no less charmant — in 2018 after nearly a decade-long hiatus. But the patron Jean Denoyer reinstalled all the wood paneling, brass rails, and the old mirrors. Those long enough in the tooth can hardly tell the difference. The menu itself, by longtime chef Antoine Camin, may be an homage to an earlier time — steak au poivre vert, le tartare du thon Japonais, and profiteroles — but is executed with pizzazz and refinement.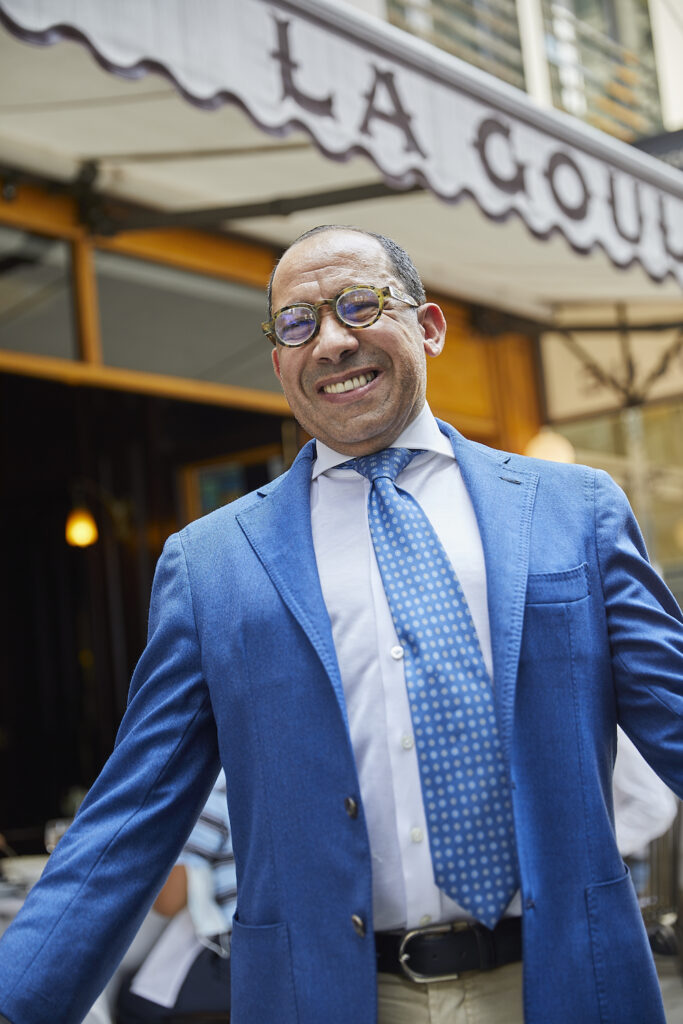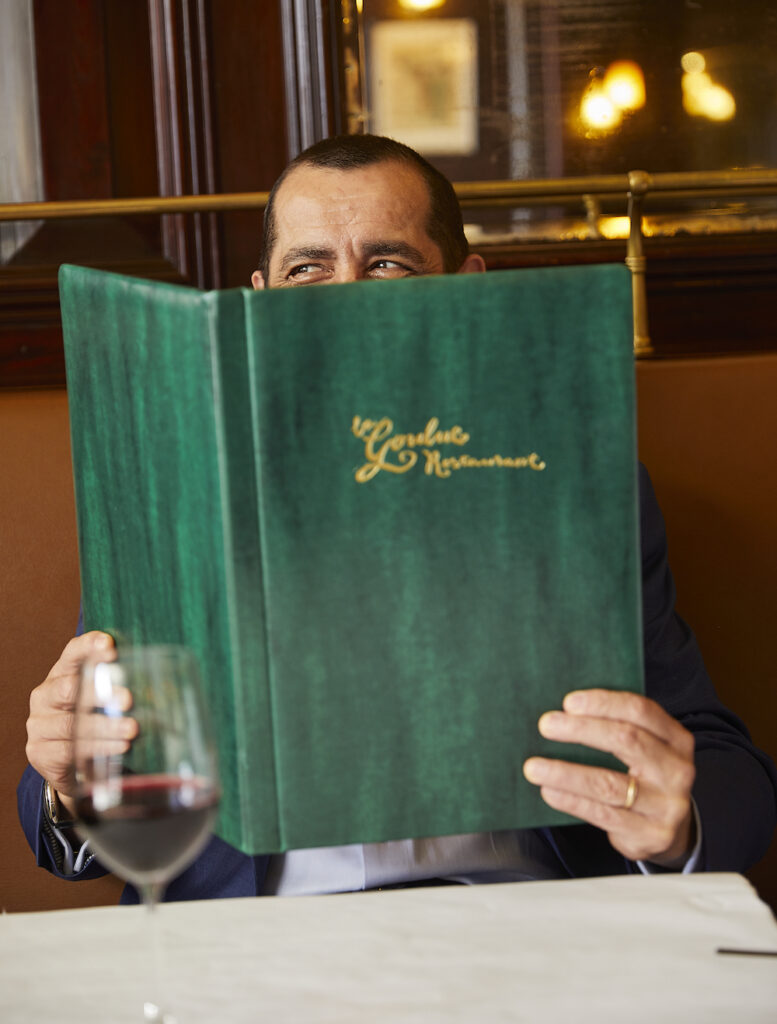 ROSENBERG & CO.
Rosenberg & Co. occupies the ground floor of a new-French classic townhouse on East 66th, and its owner, Marianne Rosenberg — "a real Madison Avenue girl," according to herself — is the latest in the long line of gallerists.
"My great-grand-father founded his own gallery in Paris in 1878; my grandfather, Paul, was Pablo Picasso's dealer, one of the most well-known art dealers there ever was," she says.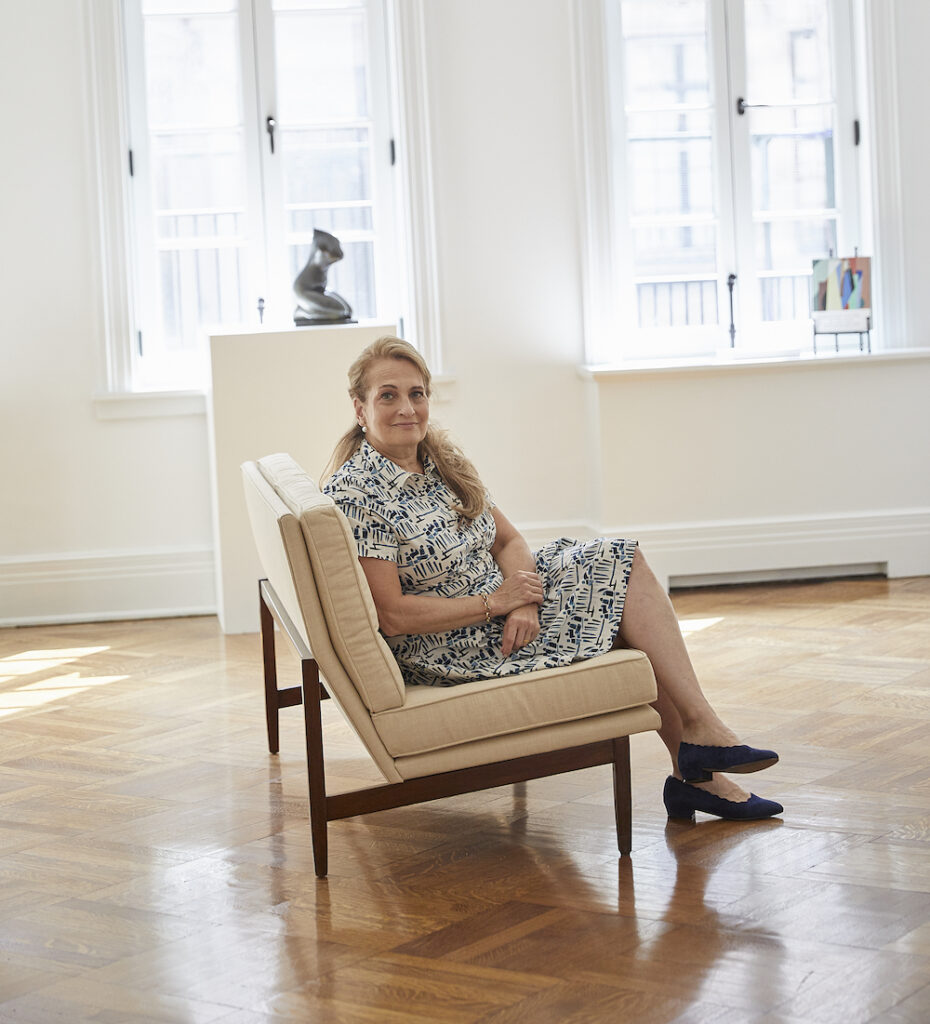 After Paul relocated to America in 1940, her own father, Alexandre, after serving with the Free French during World War II, arrived in 1946 and ran the place for forty years. Now, the lineage is continued by Marianne, whose tastes are rather more contemporary — a recent exhibition featured the work of Vietnamese painter Nguyen Cam.
THE BREUER BUILDING
What to call the Brutalist concrete structure on the corner of East 75th Street is a vexing question. Completed in 1966 by famed Bauhaus architect Marcel Breuer, the building signaled the arrival of the Whitney Museum of Art into the neighborhood and the ascendance of Madison Avenue as the center of New York's artistic ferment.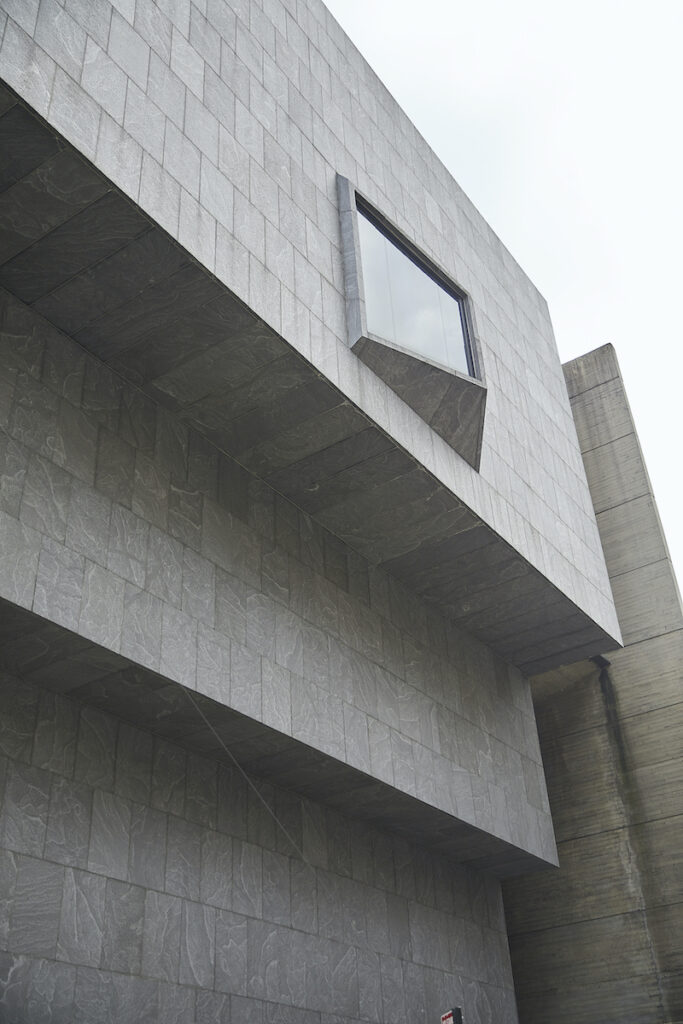 The Whitney left in 2014, returning to its downtown roots in a shimmering Renzo Piano building, and was replaced the following year by an extension of the Metropolitan Museum of Art. But, after that august institution closed in March due to COVID-19 restrictions, the nearby Frick Collection announced it would be taking up residence next year while its landmark Fifth Avenue mansion undergoes years long renovations.
Perhaps, therefore, it is wisest to call the building after its founder. For that will never change — plus, he deserves the credit. The building itself, which replaced a series of 1880s row houses, is a study in bold design and imposing angles, as cogent an argument as any that the tony precincts of the Upper East Side don't preclude gutsy experimentation.
PERESS OF MADISON AVENUE
The Peress family's roots in retail stretch back to Baghdad, where the business's founder, Henry, was born and from whence he emigrated in 1926. Once here, he settled in the Bronx, selling silk stockings. Among his customers was his future wife, Elsie.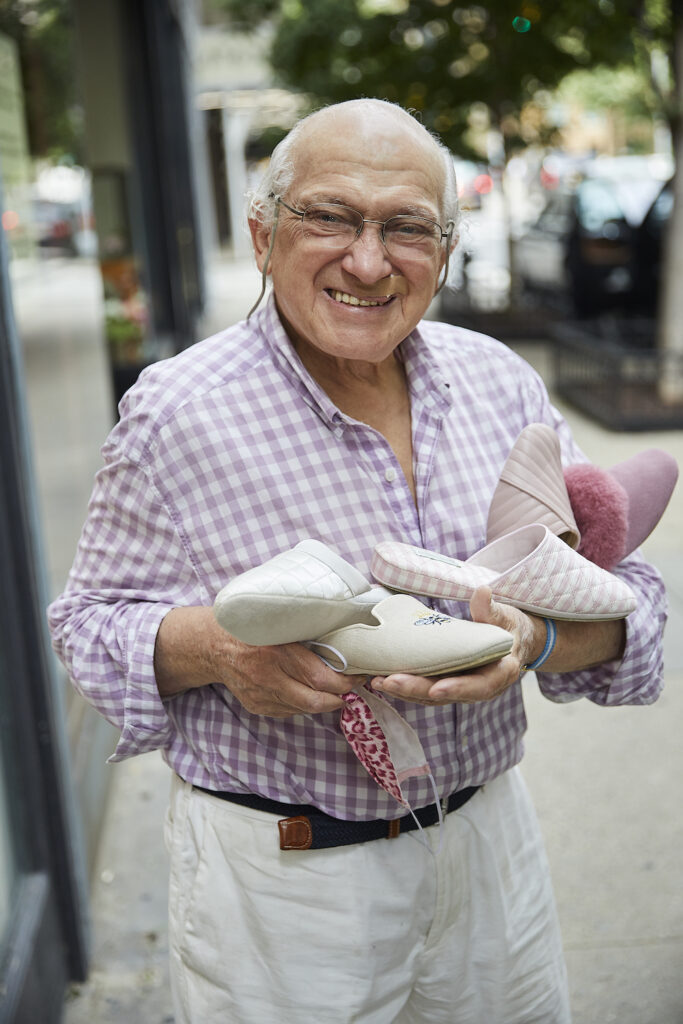 The Peress family gradually made their way to Madison Avenue in the 1950s, with merchandise that began with girdles and camisoles but now includes custom-made Italian nightshirts for gentlemen as well as the usual fine lingerie, cashmere socks, and the like. Its current owner is 85-year-old Herbert Peress, a former engineer who returned to the business, and its current location, between 80th and 81st, is its fifth location.
"We used to be where Chanel is now," says Peress, "But what Chanel wants, Chanel gets. So, we moved."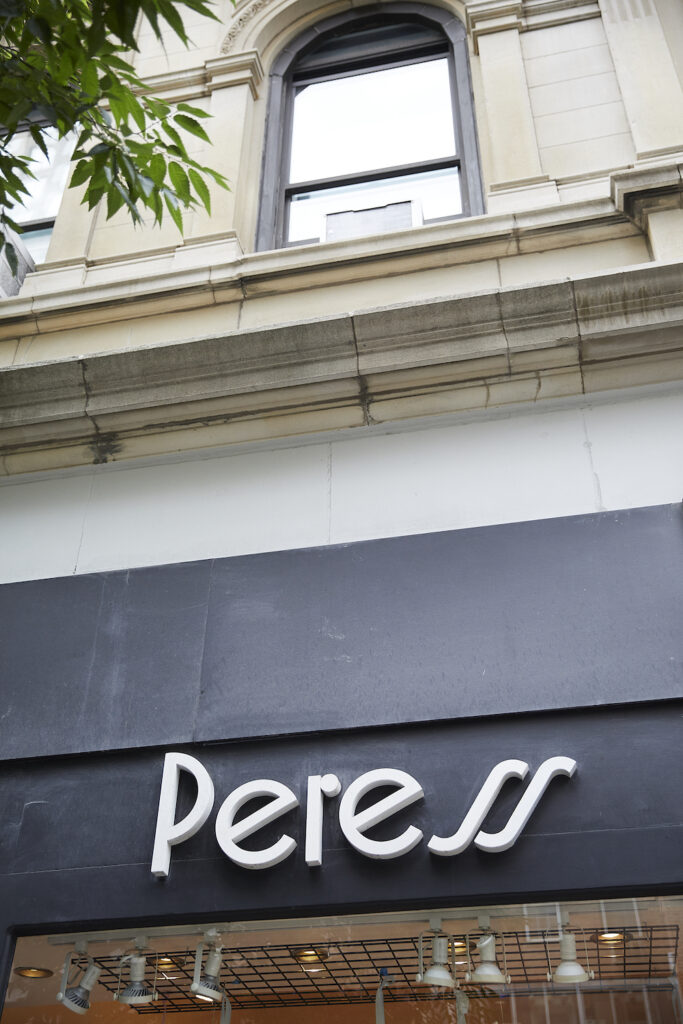 ZITOMER
News of the retail apocalypse apparently hasn't reached Zitomer, the long-standing three-story independent department store and pharmacy at 969 Madison Avenue. Founded in 1950 by Bernie Zitomer, today the store still caters to a neighborhood clientele — "It's where I get my medicine," says Herbert Peress — with everything from Marvis toothpaste to Mason Pearson hair brushes to Henri Bendel bags, an expansive selection of children's clothes, and, in a nod to these uncertain times, bejeweled face masks.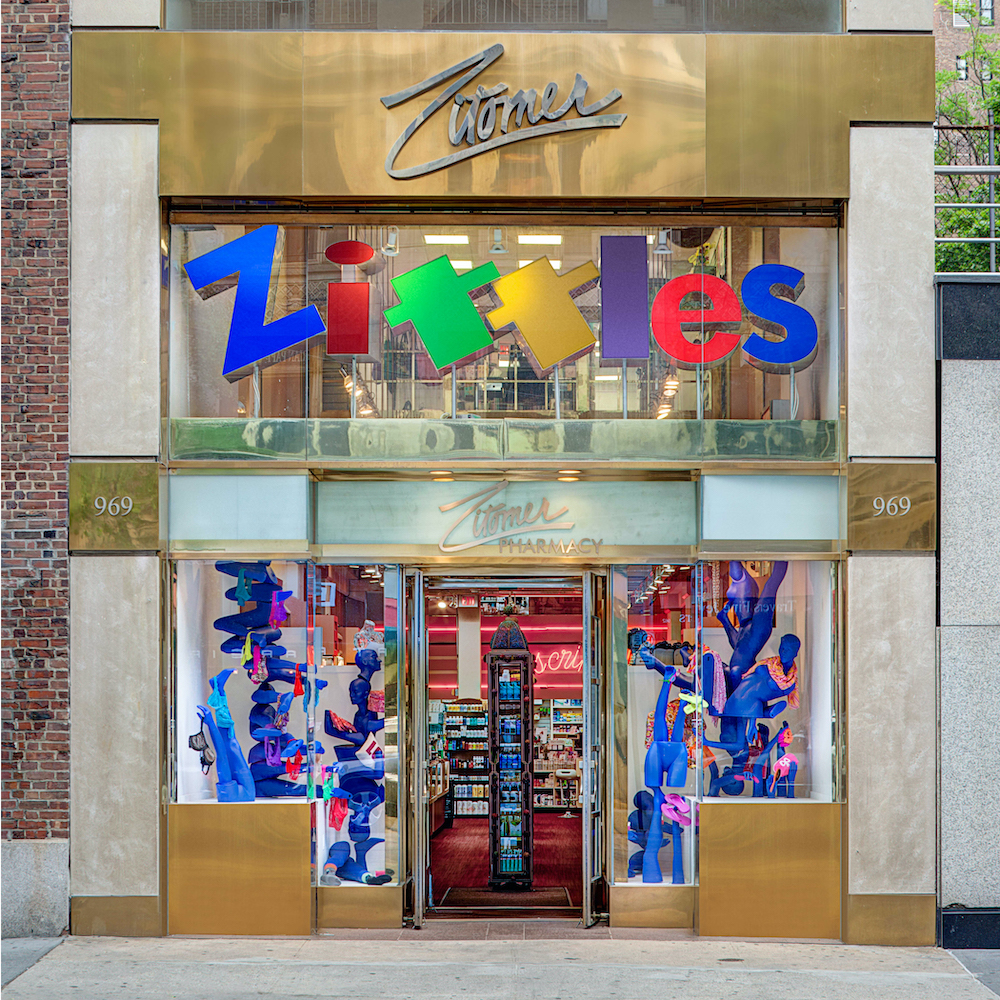 HERMÈS
For years, the low-rise neoclassical building by McKim, Mead & White, on the corner of 62nd housed Louis Sherry's eponymous restaurant, Sherry's. The place was a Dionysian temple of gustatory abandon, being a restaurant, a tearoom, and an ice cream parlor. After Sherry, one of New York's greatest restaurateurs, closed up shop, the building became home to the fast-casual brand The Limited but, in a sign of Madison Avenue's rising fortunes, in 2000 Hermès unveiled its flagship.
Today the windows are still filled, though this time by svelte mannequins, while, for those interested, Louis Sherry's grandson continues to make chocolate in lovely lavender tin boxes.
RALPH LAUREN
When, in 1983, Ralph Lauren acquired what was known as the Rhinelander Mansion on the corner of 72nd Street, the crown jewel of Madison Avenue was in a rough state. Built by the reclusive heiress Gertrude Rhinelander to recall the chateaux of the Loire Valley in the last years of the 19th century, she never took residence, instead choosing to live across the street.
Meanwhile, the spectacular house sat unoccupied but for a growing collection of European antiques. Over the years, it had been slowly degraded as florists, pharmacists, and deli men made their own use of the building. But in 1986, Lauren took control, restoring — or rather reimagining — the Rhinelander Mansion in his own image.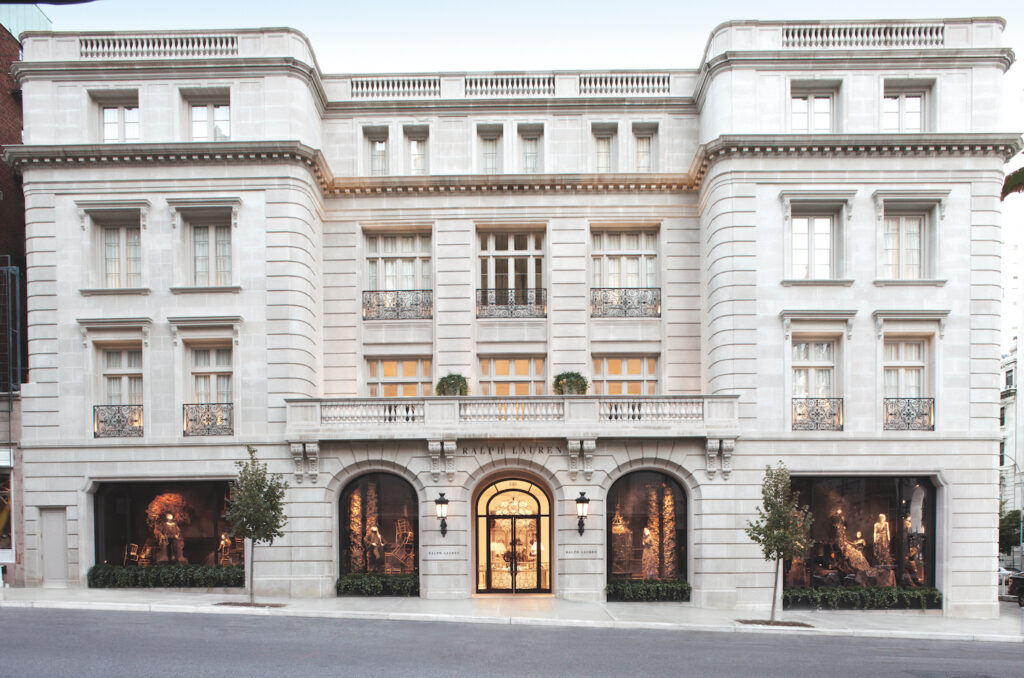 With 82,000 square feet of Honduran mahogany used in the staircase alone, Lauren borrowed from the great buildings of the world to create the club-like fantasy. (The staircase is, for example, an exact replica from London's Connaught hotel.) Today, the Rhinelander shines as Ralph Lauren's fantasy world made real, while across the street, at 888 Madison, the women and children's store occupies a ten-year-old Beaux Arts mansion that looks centuries older than its age.
HOTEL CARLYLE
Replacing more than a dozen houses on Madison as well as 76th and 77th Streets, the 40-story Carlyle Hotel towered above the avenue when it was built in 1930, and it still does. Today the luxury hotel is perhaps best known for Bemelmans Bar, with its famous mural by Ludwig Bemelmans (creator of the Madeline stories) and its gold leaf ceiling, and Café Carlyle, which continues to be one of the best rooms in New York (and that is to say the world) to see cabaret.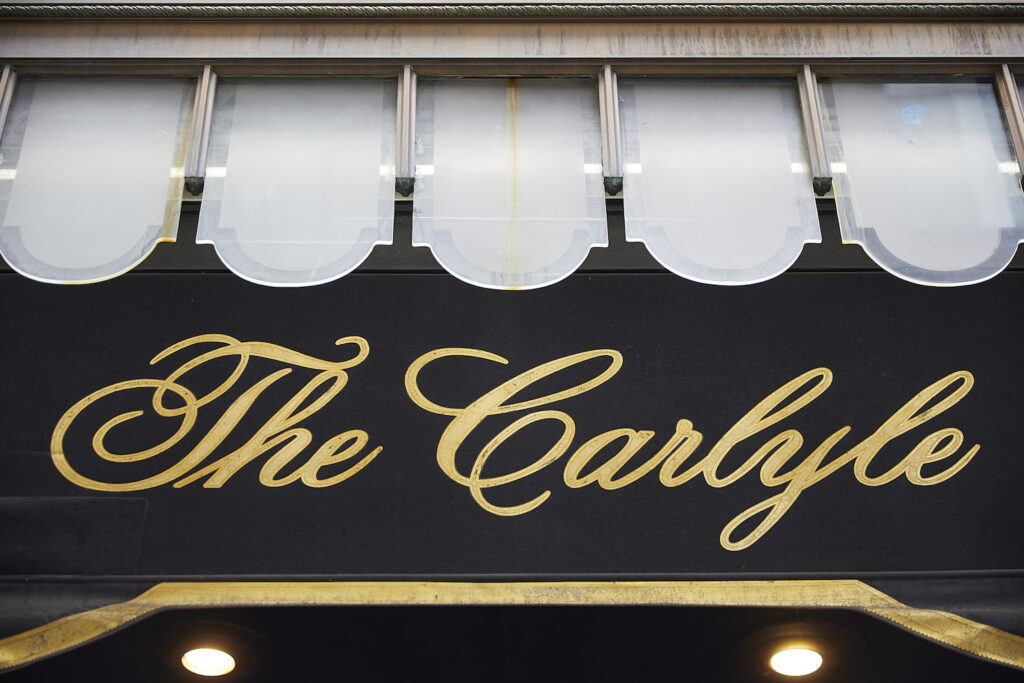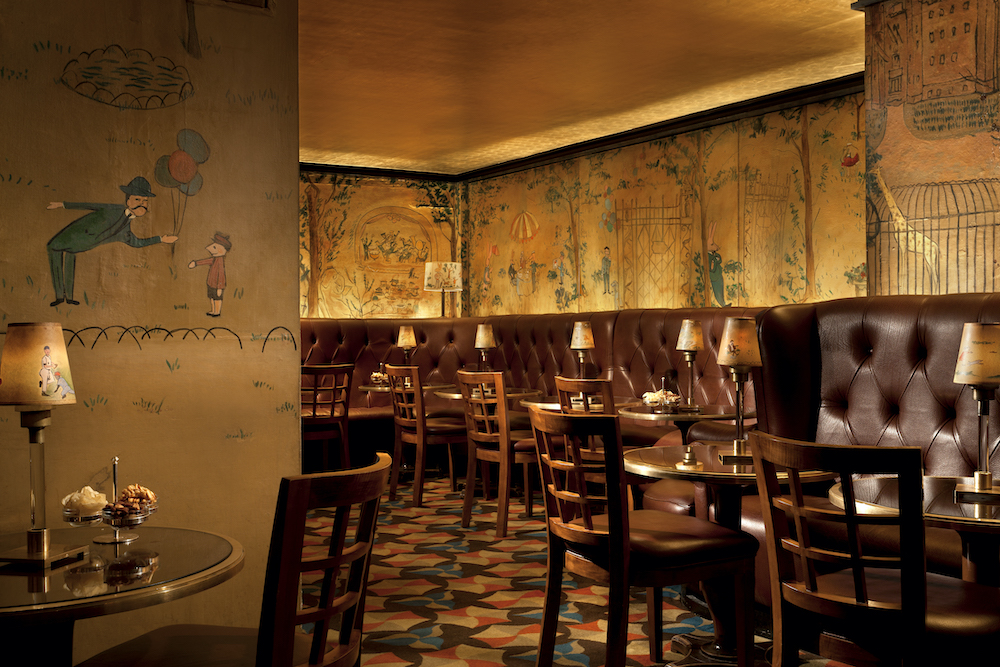 LÉVY GORVY GALLERY
Housed in an imposing four story neo-Federal brick building, Lévy Gorvy is the joint venture of two art world luminaries: Dominique Lévy, an internationally renowned gallerist, and Brett Gorvy, formerly the chairman and international head of postwar and con-temporary art at Christie's. Inside these brick walls in hushed rooms are displayed the work of some of the 20th century's most famous names: Basquiat, Calder, de Kooning, Picasso, Warhol, Clemente, and more. Here fortunes are made (and traded in return for canvases) so it is fitting that this building was once a branch of the Bank of New York.
GENTILE'S FINE FOODS
The obituary of the small gourmet greengrocer in New York City has been a work in progress for years. The disappearance of Dean & Deluca in 2019 seemed the coup de grâce. But that isn't considering the nearly century-old Gentile's Fine Food on Madison Avenue and 83rd Street. Founded in 1928 by Gennaro Gentile, an emigrant from Salerno, Gentile's Fine Foods has been coddling fruits, vegetables, and Madison Avenue shoppers for nearly a century.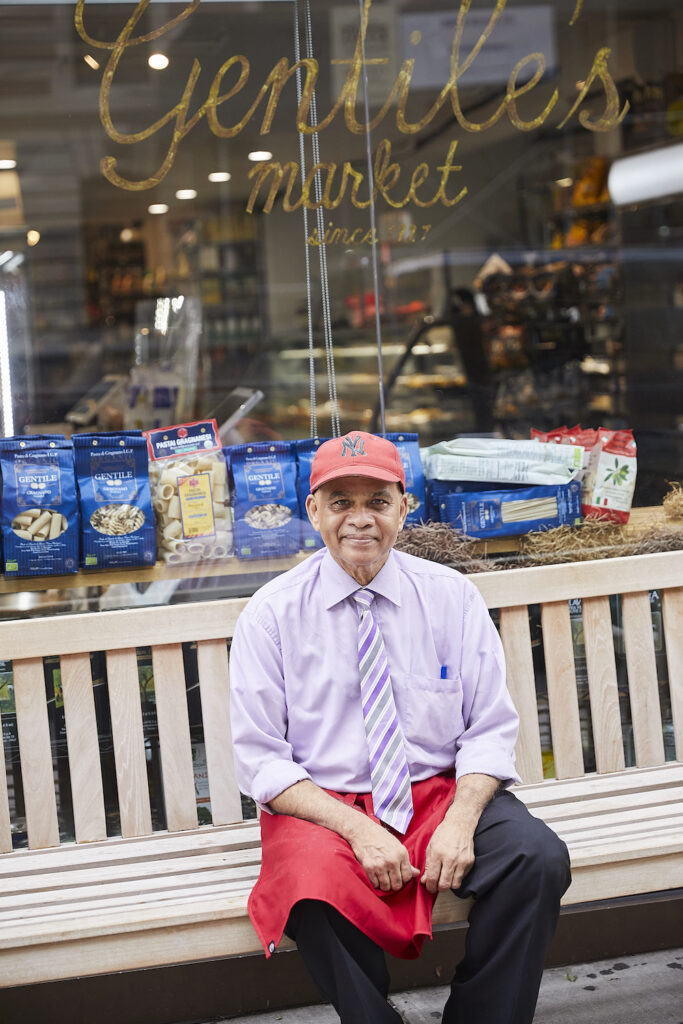 Today, the grocery store, which has hop-scotched up and down the avenue, is run by Anthony Gentile, Gennaro's grandson, and maintains the founder's impossibly high standards of service and quality. Fruit is individually wrapped and kept in trays; bushels of basil are hand selected. Famous for their roasted chicken and veal-and-pork meatballs (both family recipes), Gentile's staff will even shop at other neighborhood stores (like grabbing a loaf from Eli Zabar's E.A.T. across the street) to include in their customers' delivery orders. Where else offers service like that?