Even with Florida's unrivaled pastiche of powder-white beaches, iconic architecture, lush flora, and vibrant nightlife, there is invariably something new and shiny emerging at this time of year in its southern regions, adding momentum to our seasonal migration. This latest spate of offerings doesn't disappoint, and they're popping up in enclaves up and down the coast. Among them are newly developed and renovated luxury hotels, expanded shopping districts, robust cultural growth, and some of our favorite NYC restaurants now establishing outposts here, including Sant Ambroeus, and even a resurrected Swifty's (Mortimer's 3.0 for those of a certain age).
So what's behind this sudden flury of activity in the Sunshine State?
An influx of affluent newcomers from around the nation and around the world—and the investment and new development that invariably follows. Some of this is resulting in ground-up renovations of entire neighborhoods, and connecting it all is Brightline (soon to be renamed Virgin Trains USA), the ultra modern trainline ferrying tourists and locals alike between Miami, Fort Lauderdale, Boca Raton, and West Palm Beach. According to developers, north to Orlando, and potentially as far as Tampa are on the horizon. Henry Flagler, that champion of Florida's East Coast, would approve.
South Florida contains worlds within worlds, with its well-calibrated mix of lifestyles ranging from the laid-back surfer-chic of New Smyrna Beach to the tony, members-only Fisher Island. Travel down the peninsula, past orange groves and rockets poised on launchpads, and there is Jupiter Island and Hobe Sound, being made notorious by the tales of Mrs. Reed, a local doyenne who would knit a black sweater and have it delivered to your door if your presence was no longer considered necessary within the exclusive community. Fisher Island meanwhile is a place born of the kind of gentleman's swap that could only be found in the annals of local folklore: Carl Fisher made William Kissam Vanderbilt II a simple proposition, "My island for your boat." 
But those starchy days have retreated into lore, and the communities increasingly serve as beacons of welcome to the 200-mile stretch of Atlantic-lapped coast that meanders down through the marshy Everglades before arriving in the technicolor, easygoing Florida Keys, a "shoes-optional"
ecosystem of its own.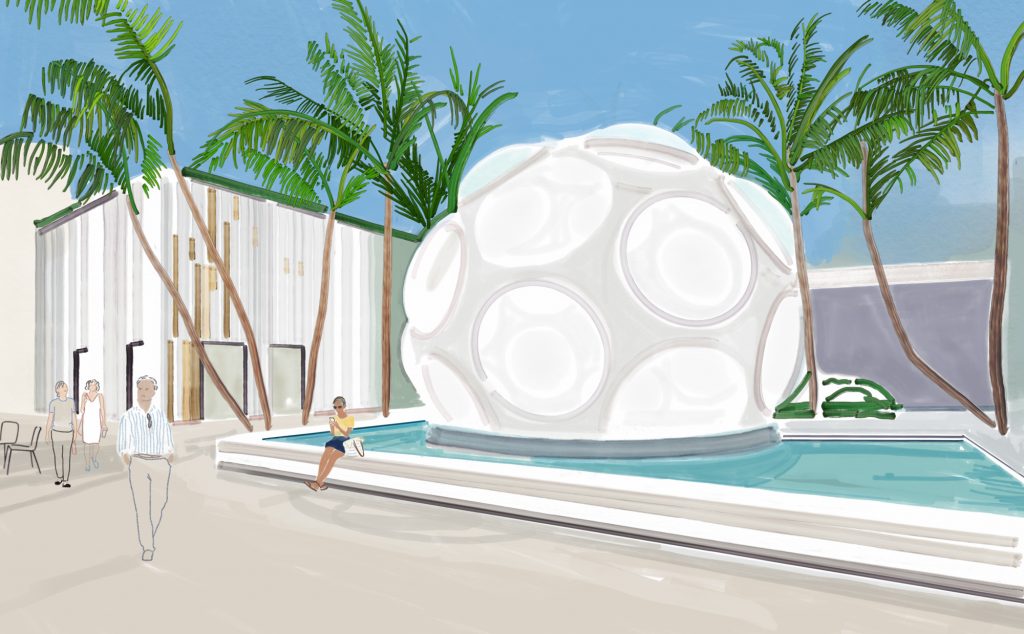 Offbeat and eclectic as it is, much of South Florida's character salsas with Miami, whose recent explosion has cemented its reputation as the state's cultural and culinary capital. In Miami Beach, a $500 million investment to mitigate rising sea levels has left the roadways repaved and protected from flooding—an especially welcome improvement in Sunset Harbor, where the tables of beloved locales like La Modina and Stilstville Fish Bar spill out onto the street. Meanwhile, the "Main Street" of Miami Beach, Lincoln Road, is awaiting 77 million dollars' worth of revitalizations, proposed by James Corner Field Operations, who was responsible for New York's High Line and Brooklyn's Domino Park. Once finished, the Lincoln Road District will
reclaim its status as a hub of arts, culture, and fashion. 
The ever-evolving metropolis has long drawn some of the world's most creative citizens, and now finds itself home to a new generation of talented chefs. Restaurateur Stephen Starr has opened Upland in Miami Beach in collaboration with chef Justin Smillie, marking the first time Starr has launched a New York eatery in this part of the world. Ian Schrager's Edition hotel in Miami Beach is a go-to for Jean-Georges Vongerichten's extraordinary Matador Room. Argentinian celebrity chef, author, and restaurateur Francis Mallmann (whose namesake restaurant in the town of Garzón in Uruguay draws diners from across South America) serves up arguably the best bone-out rib eye anywhere off the island at Los Fuegos. Other notables include Le Sirenuse, nested in the Four SeasonsÅf Surf Club, and chic newcomer Leynia, at the Delano Hotel. 
New York's Gitano is landing imminently while the newly renovated Surf Club is in good company within the ranks of such effortlessly cool South Beach hotels as André Balazs's The Standard, and Soho Beach House from London club mogul Nick Jones.
A little beyond the South Beach set is Miami Beach's Faena District, a bourgeoning neighborhood rooted in the arts—and a flair for the dramatic statement. Stretching north from 32nd to 36th Streets, residences, hotels, and high-end shopping merge with innovative arts venues, including a bazaar and a circular forum for artists, clothing designers, and the like. Together it forms an intact neighborhood of offbeat culture, an artsy niche within the existing fuss of the Beaches. In November 2016, Len Blavatnik and Alan Faena celebrated the completion of the Faena District, a $1 billion project spanning five blocks of Collins Avenue in Miami Beach, anchored with Faena Forum and Faena Park. Both structures were designed in collaboration with OMA, the firm founded by Rem Koolhaas. Faena Park is a 28,000-foot parking area with a façade that references modern South American architecture, while Faena Forum has 43,000 square feet of performance spaces, designed to accommodate everything from culinary pop-ups to concerts, fashion shows, design exhibitions, and private parties.
For the transformation of Faena Hotel Miami Beach, Alan Faena, an Argentine developer and hotelier, transformed the storied Saxony Hotel, built in 1947, which had its heyday in the 50s and 60s when Frank Sinatra, Dean Martin, and Marilyn Monroe performed there. The hotel's 13 penthouse residences are designed by film director Baz Luhrmann and his costume designer wife, Catherine Martin, in collaboration with the hip Antwerp firm, Studio Job. The high-octane confection includes red and turquoise color schemes unapologetically cohabitating alongside animal prints and gilded chandeliers in the lobby. Not so unlike Alan Faena's signature regalia of all-white suits and a Panama hat, the hotel is a Miami Beach surprise that somehow, inscrutably, just works.
Miami has cemented its reputation as the state's cultural and culinary capital.
At the Beaches' northern boundary, the 70-year-old village of Bal Harbour remains relevant, particularly with the introduction of its own culinary festival and the experiential, fashion-focused events and art programming at Bal Harbour Shops. Locally dubbed the "theater of shopping" (and the topic of a tell-all tome published last spring), the retail behemoth debuted in 1965 to great skepticism about the viability of an open-air luxury shopping mall. Real estate developer Stanley Whitman is said to have lamented, "Only my mother believed in my plan." But opening with 30 tenants (mostly New York-based), however, the prototype proved a success. It quickly drew Stanley Marcus to open the first Neiman Marcus outside Texas and lured such brands as Louis Vuitton, Prada, and Sergio Rossi to launch American ventures outside New York for the first time. A 350,000-square-foot expansion, sanctioned by a recent $550 million construction loan, is under way to make room for 70 more designer boutiques, most of them long wait-listed for the full-occupancy shop spaces. The expansion is scheduled to be completed in the next five years, and it joins Bal Harbour's emerging Kosher restaurant scene in beckoning the Miami of tomorrow.
The story of Coconut Grove also speaks to Florida's new tropical game. The original mid-80s Art Deco renaissance of South Beach and Brickell may have passed up the Grove, but the city's oldest neighborhood is now getting its moment with a robust revival, including an impressive refurbishment of the Grove's waterfront, and a demolition and ground-up renovation of its open-air mall CocoWalk. Driving the culinary scene are such new dining destinations as Glass & Vine, from Miami chef Giorgio Rapicavoli, and Harry's Pizzeria, owned by James Beard award-winning chef Michael Schwartz. Sprucing up the shopping scene is a slew of offbeat storefronts such as the forthcoming Portland's Salt & Straw and Botanico Gin & Cookhouse, where the pièce de résistance is a bar born of the global gin revival. 
The Grove is also benefiting from a confluence of new architectural developments: the boutique hotel Mr C., designed by Miami's Arquitectonica, rises on stilts on McFarlane Road, while an influx of new luxury condos include the two twisting towers of Grand Bay, designed by Dutch architect Bjarke Ingels.
But the most startling Miami of the moment is popping up in places that were once decidedly not visited. Miami à la mode is Downtown and north to the Design District. Eyebrows were raised when Brightline announced plans to place a station in the once underdeveloped (arguably seedy) Downtown. But as high-rises have ascended and investment has pooled, the station is now poised centrally among Miami's most attractive destinations—second only to the Beaches as Miami's most-visited neighborhood.  
Carl Fisher made William K. Vanderbilt II a simple proposition: "My island for your boat."
A population boom and tourism surge have fueled developments like the neighborhood's Brickell City Centre, a mixed-use behemoth spanning three city blocks (and soon, potentially, four). It's anchored on one side by a massive Saks Fifth Avenue and on the other by a luxury cinema, with offices, shopping, and an Italian food hall. The 45-floor residential towers rise in between. Also located in Miami's booming Brickell neighborhood is East, the first American outpost of Swire Hotels, with spectacular 360-degree views of Biscayne Bay.
Next on the docket to change the face of Downtown is Miami Worldcenter, a Hudson Yardsesque "city within a city" that is set to swallow almost 30 acres (and $4 billion). It will encourage the already steady incoming wave of restaurants, stores, bars, clubs, event spaces, food halls, lounges, and entertainment venues that comprise the Downtown and Brickell areas today.
Just outside colorful Wynwood, whose mural-soaked walls have become a spectacle favored by the Instagram crowd, lies a playground for the fashion-forward: Miami's Design District. For years this was a maze of construction zones and it is now home to a growing number of high-end flagship stores. The world-class dining here starts with an outpost of the famed L'Atelier de Joël Robuchon as well as a veggie-driven concept by a Robuchon protégé. Flame-happy Brad Kilgore's two restaurants, Kaide and Ember, bookend the plaza; fire-roasted lasagna, anyone?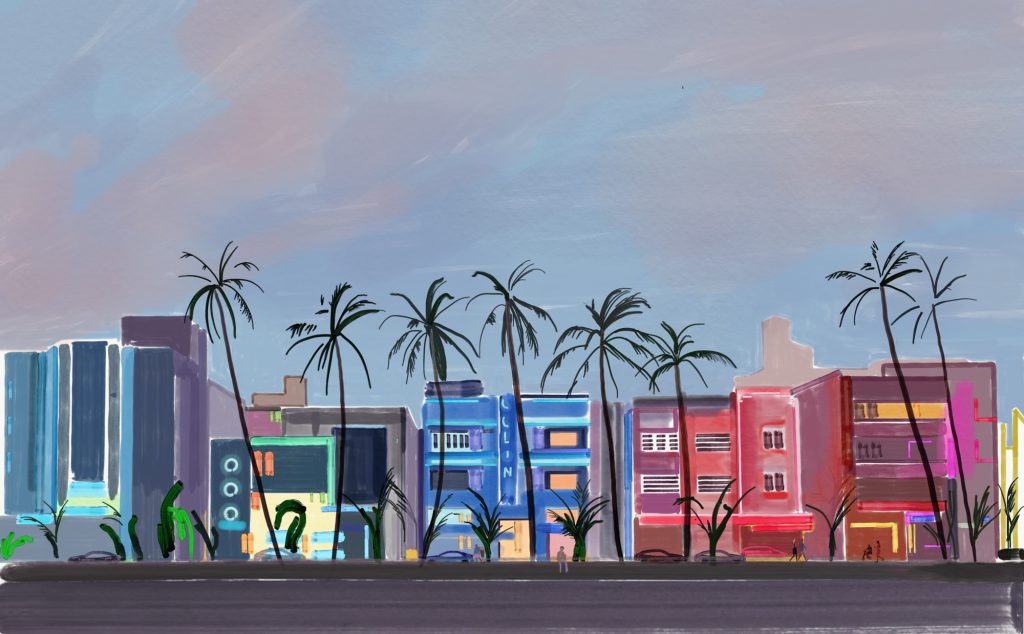 Similarly seismic forces here have benefited the art community: the annual Art Basel Miami Beach fair is now complemented by other cultural institutions that have poured into the region, including new museums like Frost Science downtown, The Pérez Art Museum Miami and The Institute of Contemporary Art. 
Meanwhile, on February 2, Superbowl LIV will take place at the Hard Rock Stadium (its 11th time here at the home of the Miami Dolphins) and this March the Miami Open will be played here for a second time. The ATP 1000 tennis tournament was beloved for, among other reasons, its intimate, palm-tree dotted Key Biscayne site, but Stephen Ross, owner of the Dolphins, has spent $72 million transforming the football stadium into a state-of-the-art tennis venue. Those missing the intimate setting of the old Key Biscayne setting should head to the Delray Beach Open, located an hour's drive north in the coastal town of Delray, a gem of a tennis tournament, without a bad seat in the house. Players competing this February at the ATP 250 include Del Potro, Nishikori, Kyrgios, and Delray Beach's own Coco Gauff. 
A scant hour north of Miami is Palm Beach, where, generation after generation, not a lot changes in the pastel-hued city. The hedges are still tall and meticulously trimmed, seemingly with nail clippers; Easter shades are standard fare for both décor and attire, and good tables in season are still hard to come by. But arrive here expecting the starchy Palm Beach of years past and you may find that you no longer know your way around. The recent youth quake among year-rounders has made its impact on the community and chic retail and dining has taken note.
Though Worth Avenue has always drawn a fashionable crowd, Palm Beach's more traditional retail is making room for a new, more variegated generation of shoppers. Such additions as Kirna Zabête and Gwyneth Paltrow's Goop are now augmenting mainstays Lilly Pulitzer, Aerin, Stubbs & Wootton, Ralph Lauren, and J.McLaughlin. Dan Ponton's Club Colette still gathers the island's best crowd, and epitomizing Palm Beach's shiny new chapter is the revitalized Royal Poinciana Plaza. Close on its heels is 2020's Via Flagler development. 
With the polish recently restored on John Volk's original design from 1950, the Royal Poinciana Plaza is now more than just a retail comeback story; Hillstone's Palm Beach Grill is still here, but they've spruced things up by adding Honor Bar, a more casual pocket concept around back. There's now an outpost of trendy Wynwood staple Coyo Taco, and New York has given the island its own Tracy Anderson Studio. The dining draws visitors here, as does Pilates at Squeeze, and some 50 stores run the gamut from Oscar de la Renta and goop to Assouline and Kiton, to LoveShackFancy and Sydney's beloved Zimmermann.
The renovated drag along nearby Royal Poinciana Way will further change the face of Palm Beach: when it debuts, Via Flagler will be home to a flagship restaurant, Henry's, shopping, and private residences in the heart of the island's original Main Street, on a mission to realize Henry Flagler's original vision of a Parisian boulevard-type entry to the island. Walkable and welcoming, the ground-floor restaurant and retail spaces will be operated by The Breakers. 
A mainstay of quintessential Palm Beach, The Colony has been a hotel hideaway for the rich and revered ever since its 1947 debut. But, now dressed in a pale pink façade, the 89-room hotel is now equally appealing to the Instagram set. Its modern verve—there's a frosé dispenser at the outdoor Bimini Bar, banana leaf wallpaper, and a palette of sunny pastels is used throughout—carries through to the backyard pool, which is surrounded by tropical foliage and a perfectly clipped carpet of grass. One of Manhattan's most beloved (and missed) restaurants, Swifty's, is popping up at the Colony this season and Robert Caravaggi's loyal following has already begun phoning in their congratulations, and reservations. For those thinking this is reason enough to book in for a month-long visit, private villas are available across from the main hotel, including one recently redesigned by Palm Beach Lately and Serena & Lily, the latter of whom just opened their own design shop in town. 
South Florida's singular mix of sports, shopping, dining, and sunshine is tonic to the plumeting temperatures and snowstorm you're currently tracking on the Weather Channel. You love New York City as much as we do, and if you decide to slip off to the airport and return a few days later with a tan and more buoyant temperament for your efforts, then you're still every inch a New Yorker; chasing the sun on a year-round basis is baked into that definition. Keep up with the breakneck pace of the region's new openings on our website and social media.