As scandalous ancestors go, Col. Henry Huddleston Rogers II would have been enough for most families. But then he had a daughter. The colonel's namesake father, a partner in Standard Oil and noted "robber baron" of the Gilded Age, was one of the wealthiest men of his day.
Amassing an estimated $100 million fortune, Rogers senior also acquired the nickname "Hell Hound" for his rapacious ways. It was meant as a compliment.
Alas, young Harry was spoiled by his father's money. As he aged into adulthood, after receiving his inheritance in 1910, various sources describe him as ruthless, or a bully, or a ruthless bully.
In 1914 he used some of the money to build Black Point, the family's summer estate in Southampton, also known as the "Beach House," adding a hunting lodge in nearby North Sea in the 1920s. The colonel commissioned John Russell Pope, the architect responsible for the National Gallery of Art in Washington, D.C., to design his shooting box overlooking Scallop Pond.
The Sag Harbor Express reported that, at the time, it "encompassed 2,000 acres on both sides of the pond and was the largest privately-owned estate on Long Island."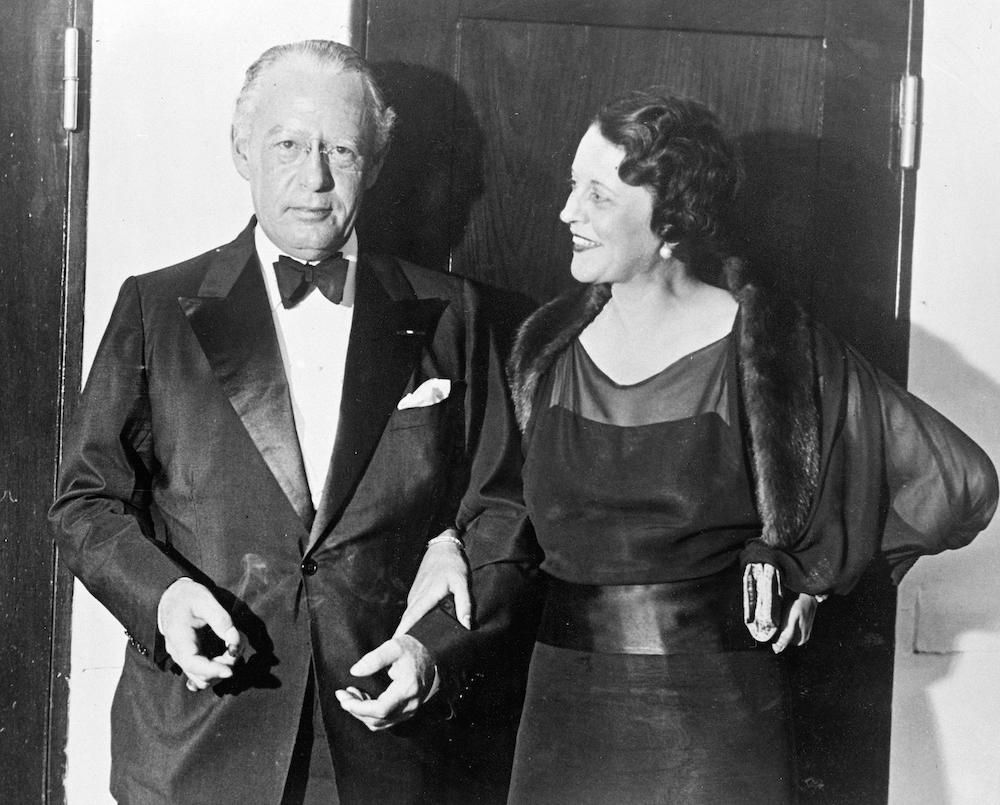 By all accounts, the Port of Missing Men (as it was dubbed) offered the proverbial good time that was had by all. One rumor is that he had duck blinds installed on the water that were wired directly to Wall Street. The colonel's guests were able to remain unreachable to their wives but connected to the trading floor.
Meanwhile, during Prohibition, there was a major liquor drop-off point conveniently close by, at the end of North Sea Road. Later, the drop-off point would become a notorious cathouse.
The colonel and his wife, the former Mary Benjamin, had a daughter in 1902: Mary Millicent Abigail Rogers. The artistically inclined Millicent would go on to run through three husbands, plus Clark Gable. In 2011, her rich life became the subject of a biography, Searching for Beauty: The Life of Millicent Rogers, the American Heiress Who Taught the World About Style, by Cherie Burns.
Millicent, who recovered from a near-fatal bout of rheumatic fever at age eight, blossomed into a great beauty. According to her biographer, the Jazz Age debutante danced with the Prince of Wales on his celebrated tour of America in the early 1920s, and dated some of the America's most eligible bachelors.
Although her parents had a list of approved suitors, Millicent had other plans. In January 1924, at age 20, she eloped with Ludwig von Salm-Hoogstraeten, a penniless Austrian count nearly twice her age. With her allowance cut off, the titled couple danced their way across Europe, performing onstage in an attempt to keep their pockets full.
Furious, the colonel eventually lured his daughter (who was pregnant with a son) back with a $300,000 divorce settlement to the count, which sparked a media uproar.
Millicent quickly married again, in 1927, to the Argentine aristocrat Arturo Peralta-Ramos. That contentious union lasted eight years, producing two more sons. Finding herself ill-suited to motherhood, she sent her three boys away to boarding schools in Europe.
Col H.H. Rogers died in 1935, still immensely wealthy despite having squandered most of the family fortune. The following year, Millicent married her third husband, American stockbroker Ronald Balcom, in Vienna. The couple lived as expats in Austria, but the marriage ended after five years, with no children.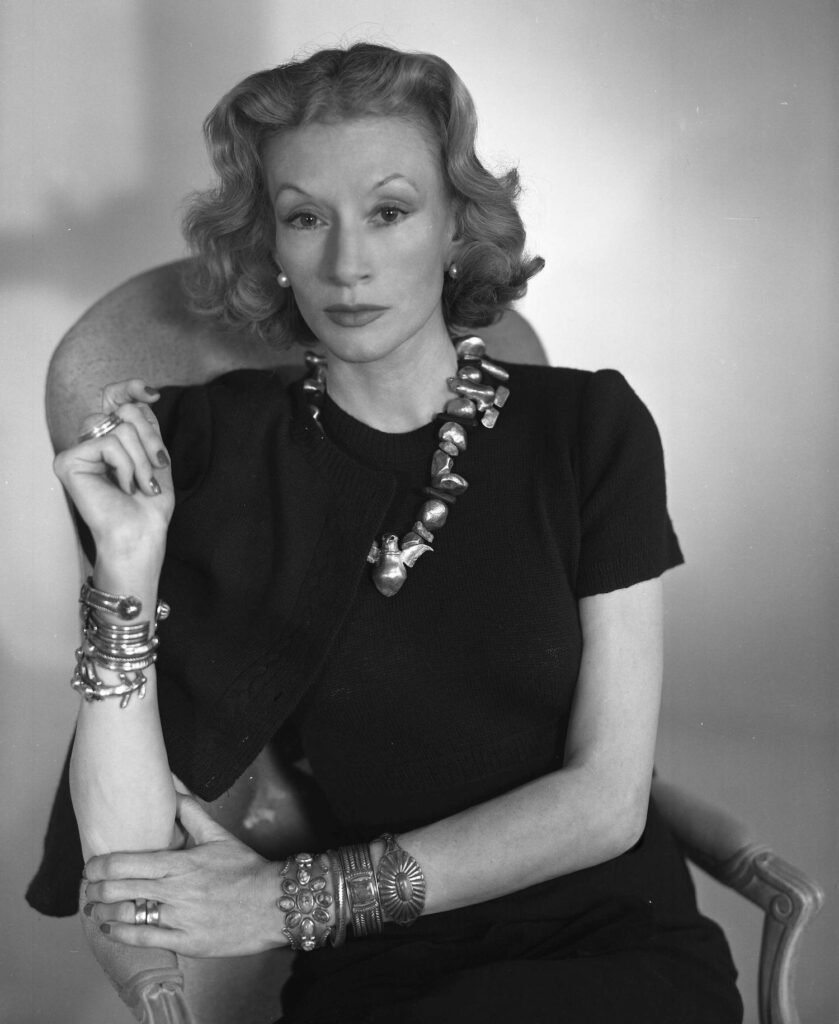 It was during this time, however, that Rogers became aware of the plight of Jews living under the Nazis. By 1938 she had begun helping friends escape by bribing Swiss border guards for their safe passage.
Returning to the States on the eve of World War II, Rogers bought the 300-acre Claremont Manor estate in Virgina, where she began a series of affairs with men working in nearby Washington, D.C. Notable paramours included the writers Ian Fleming and Roald Dahl, as well as Undersecretary of the Navy James Forrestal.
In the late 1940s Millicent ventured to Hollywood, where she pursued the actor Clark Gable. But their affair went nowhere and she left California with a broken heart.
Nevertheless, she looked great doing it, racking up multiple nominations to the best-dressed list and appearing regularly in Vogue and Harper's Bazaar. She had a penchant for Mainbocher, Schiaparelli, and Charles James couture.
In 1949 her gowns were presented to the Brooklyn Museum's costume collection. Today she is remembered as a versatile style icon of the 20th century. In Austria, there were the Tyrolean outfits; later in Taos, New Mexico, where she spent her final years, she dressed in broomstick skirts with Charles James blouses, often ordering 48 of them at a clip.
She also became intrigued with the jewelry of the Navajo nation, which she wore regularly, and later designed her own pieces in turquoise and silver. Elsa Schiaparelli observed, "Her jewels were of rare beauty and strange design… if she had not been so terribly rich, she might, with her vast talent and unlimited generosity, have become a great artist."
Millicent — still compromised by her childhood illness — died in 1953 in New Mexico, aged just 50. She left the Port of Missing Men to her eldest son, Peter, and today it is owned by his widow, the Countess Wiltraud (Willa) von Salm-Hoogstraeten, who sometimes makes it available for fundraising events.
In fact, some of her deceased in-laws might still be in residence. As she told the Sag Harbor Express during a rare tour last year: "All my guests have seen a ghost in there."