Sometimes a meal or dining experience is just so fabulous you have to mark it with an Instagram post. If you're Food Network and Amazon food host Skyler Bouchard Oppenheim, you have over 177,000 followers on Instagram waiting for your restaurant recommendations. That's why we decided to ask Skyler for her take on the most Instagram-worthy restaurants with delicious food options in New York, from spots appropriate for date night to a casual slice of pizza and just about everything in between.
I Sodi
"I Sodi hits two nails on the head for me–it's all over Instagram and it's a really good date spot," Skyler reveals of the Greenwich Village eatery. The authentic Italian menu features Tuscan-style staples, so you can expect rich and highly photogenic dishes.
I Sodi at 105 Christopher Street
Miss Lily's
If you're looking for a taste of the Caribbean in New York, Miss Lily's in SoHo should be on your list. Skyler recommends the top-notch cocktail menu, along with the delicious Jamaican menu options. "You have to get the jerk chicken and the rum punch," she told Avenue.

Miss Lily's in SoHo at 132 W Houston Street or in the East Village at 109 Avenue A
Don Angie
This hotspot in the West Village is known for its chic interiors and Italian American cuisine. "Don Angie is Instagrammed every day, multiple times per day," Skyler said. "They have a roll up lasagna which is beautiful and really delicious as well."

Don Angie at 103 Greenwich Avenue
Pietro Nolita
"All pink everything," Skyler said as she described Pietro Nolita, which is known for its bright pink exterior and matching interior. "It's really good for a girl's night dinner." Don't miss the supremely photogenic cocktails and classic Italian menu.

Pietro Nolita at 174 Elizabeth Street
Buvette
A visit to Buvette will transport you to a Parisian café, with an Instagram-worthy interior and a menu filled with French classics. While the eatery is open for breakfast, lunch, and dinner, Skyler notes that their brunch is truly outstanding. "This is a classic French brunch–so scrambled eggs with cured meats and bread," Skyler said.

Buvette at 42 Grove Street
Thursday Kitchen
Thursday Kitchen, a Korean tapas restaurant in the East Village, is known for their photo-friendly food, but Skyler notes their drink options are also memorable. "They have these light-up glow in the dark Capri Sun cocktails that are actually delicious," Skyler said. "It's all very creative and visual, and it's a really fun spot."

Thursday Kitchen at 424 East 9th Street
Carbone
Elevated Italian staples are taken to a new level at Carbone, Major Food Group's celebrated restaurant. "Carbone is the epitome of a splurge that is Instagrammable," Skyler said. "It's very coveted, it's hard to get a reservation, and it's expensive, but so good."

Carbone at 181 Thompson Street
Prince St. Pizza
You've likely seen Prince St. Pizza on Instagram without even realizing it: the restaurant's square pepperoni slice has a cult-like following on social media. "Prince St. Pizza has the most Instagrammed slice in New York City," Skyler said. "Their pepperoni slice has been on the 'gram so many times it's insane."

Prince St. Pizza at 27 Prince Street
Quality Eats
Quality Eats is a meat-lover's paradise: the modern steakhouse has an array of steaks on the menu, along with a ribeye burger and lemon-charred chicken. "Quality Eats has American influence comfort-food," Skyler explains. "It's very eclectic and their desserts are really cool."

Quality Eats locations are in the West Village at 19 Greenwich Avenue, in Nomad at 3 East 28th Street, and on the Upper East Side at 1496 Second Avenue
The Wild Son
Located in the heart of the Meatpacking District, The Wild Son has an American-focused menu and an innovative cocktail list. "This is one of my favorites for brunch or dinner," Skyler said. "They have really good food and a great vibe."

The Wild Son at 53 Little West 12th Street
Red Rooster Harlem
Marcus Samuelsson's acclaimed restaurant in Harlem is another must-visit spot for an Instagram-worthy meal. "Red Rooster has authentic Southern-style cooking and the space is incredible," Skyler said. "It's such a great time with the music jazz, and you'll eat delicious comfort food."

Red Rooster Harlem at 310 Lenox Avenue
Freemans
The photo-ready experience at Freemans actually begins before you even step inside the restaurant: it's situated at the end of an alley on the Lower East Side, a prime spot to take a few snaps before heading inside. "It's at the end of a really quaint street and it has a very cool and cozy vibe," Skyler said.

Freemans is located at the end of Freemans Alley, off Rivington Street between Chrystie and the Bowery
Clinton Street Baking Company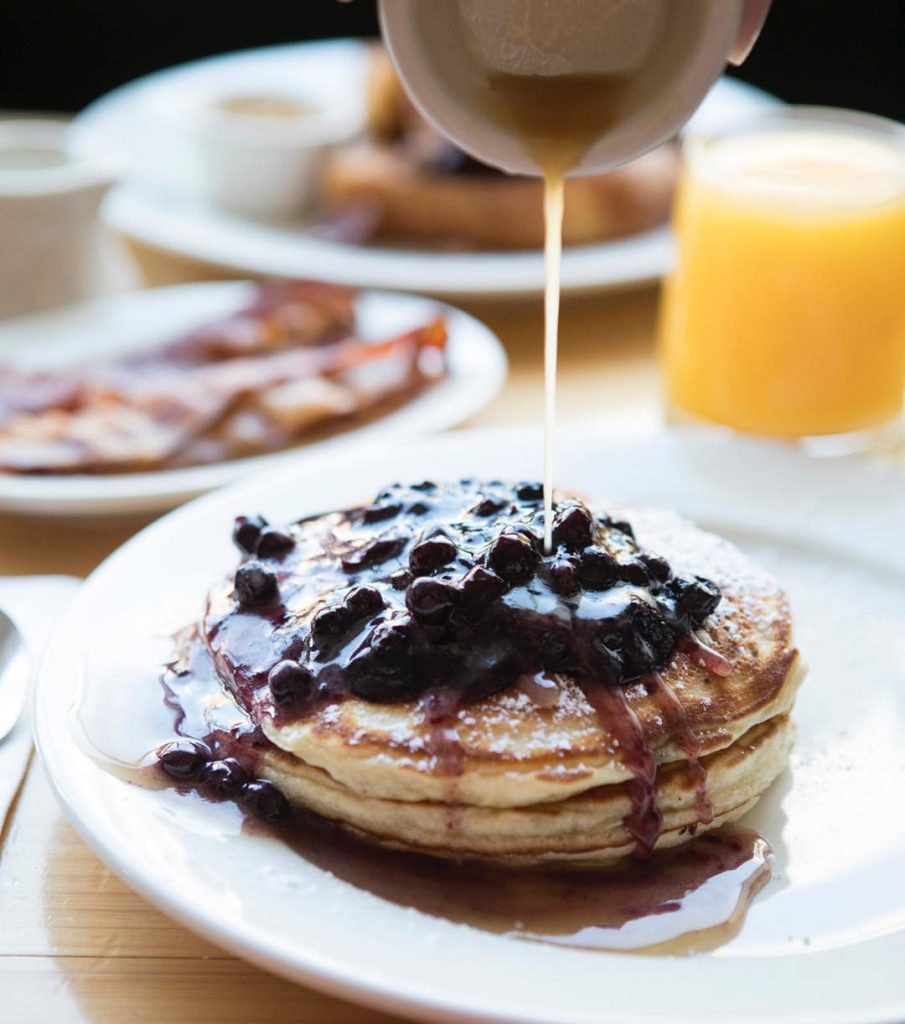 "If you want to Instagram pancakes, Clinton Street Baking Company is the place to go," Skyler said. The Lower East Side spot is famous for their weekend brunch–and sadly no, they don't take reservations–but the delectable menu and famous pancakes are worth the wait.

Clinton Street Baking Company at 4 Clinton Street
Emily and Emmy Squared
The Pizza Loves Emily restaurant group, which runs Emily and Emmy Squared restaurants around NYC, has developed a passionate following thanks to their photo-ready burgers and pizzas. Skyler notes that Emily is "all over Instagram," and the team is expanding their reach with new locations of Emmy Squared on the Upper East Side, and in Nashville, Philadelphia, and Washington D.C.

Emily restaurants are located in Clinton Hill at 919 Fulton Street and the West Village at 35 Downing Street. Emmy Squared restaurants are located in Williamsburg at 364 Grand Street, in the East Village at 83 First Avenue, and on the Upper East Side at 1426 Third Avenue.