Mantis shrimp are small, technicolor, ferociously carnivorous crustaceans native to the waters of the East and Mediterranean. They are fascinating creatures, who spend their lives in burrows, are highly equipped for close combat, with a specially evolved appendage that punches their adversaries, and possess flesh sweeter than lobster.
For our purposes, however, what is most salient about the order Stomatopoda is that, whereas humans have only three channels through which to process color, mantis shrimp have 12. They see, therefore, almost infinite gradations of hue for which we have neither the ability to perceive nor to imagine. A Rothko is a rainbow if a mantis shrimp ever made it to MoMA.
The French are the mantis shrimp of eating out. Whereas we see an undifferentiated field of restaurants, the French perceive an ecosystem of bars, cafés, bistros, brasseries, restaurants, and gastronomic eateries. In Paris and the rest of the Francophonie, this goes unremarked upon just as one mantis shrimp is unlikely to comment to his compadre on the thousand blues of the ocean water. But in New York and the rest of Francophilia, this subtle taxonomy should be rejoiced, for perceiving these distinctions allows us to enjoy each gradation more intensely. Happily, a new bistro, a new brasserie, and a new restaurant show that not only have we cottoned on to French distinctions, but we excel in them too.
To be fair, both the brasserie, Brasserie Fouquet's, and the restaurant, Essential by Christophe, are French imports. But the bistro, Petite Patate, is an all-American affair. (One suspects it might not be the work of a Frenchman by the ungrammatical elision of the prerequisite article.) La-lessness notwithstanding, Petite Patate is headed by Greg Baxtrom, a chef who has thus far specialized in archly American cuisine at his fine-dining restaurant Olmsted, his newest effort Five Acres at Rockefeller Center, and Patti Ann's, a Midwest comfort food spot named after his mother. Petite Patate, a long, narrow room on Vanderbilt Avenue in Brooklyn, occupies the former home of Maison Yaki, Baxtrom's attempt to fuse Japanese and French cooking into a French yakitori. The restaurant had a cadre of devotees, drawn to its beef tongue sandwich with a sauce gribiche and duck tsukune à l'orange skewers. But it proved challenging for the neighborhood, which by and large is inhabited by culinarily unadventurous bourgeoisie. A bistro, on the other hand, traffics in precisely the sort of homey comfort food even the most feckless burgher could eat every day of the week. This doesn't necessarily mean boring, but often does. Bistros trot out the same score of classics, exactly as enjoyable as a greatest hits album of Billy Joel or Charles Aznavour.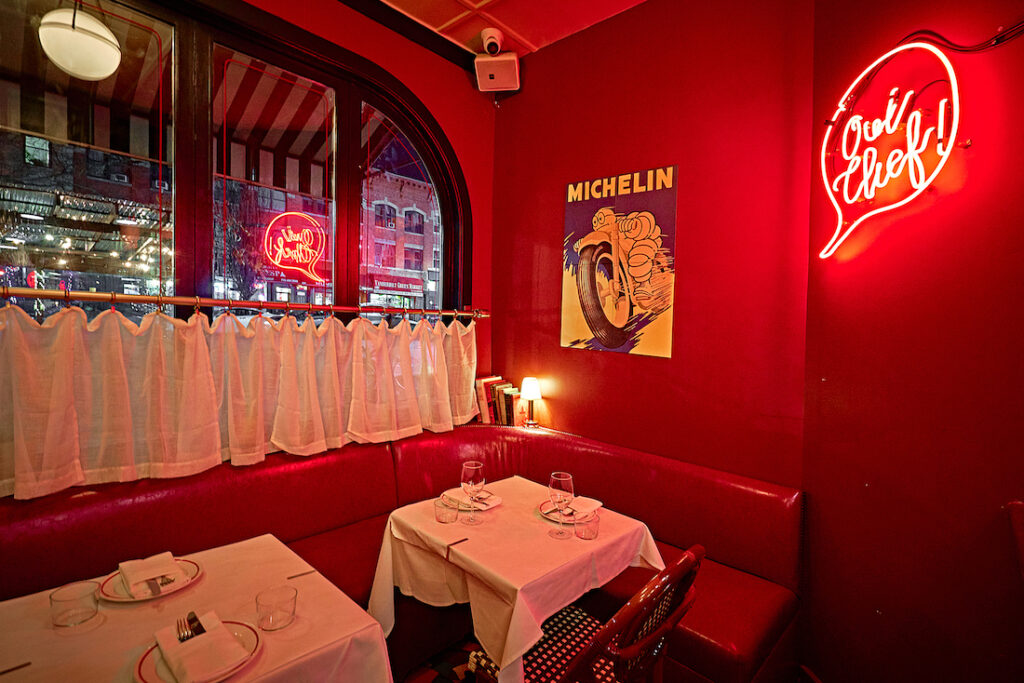 What makes Petite Patate a bistro par excellence is that Baxtrom excels, and always has, at remixing the classics. From the crab rangoon wontons at Olmsted to a deconstructed s'more served under a cloche at Five Acres, much of Baxtrom's oeuvre is a détournement of the humble into something much more fine. So it is at Petite Patate. On a recent Friday night, I sat at the back bar of Petite Patate watching the five cooks in the open kitchen weave their way around each other like a corps de ballet. Baxtrom, a tall man with the energy of an intense golden retriever, stood expediting. Sherry Cardoso, his assassin's right hand, was dropping cornichons into the fryer with one hand, tossing finished golden pommes frites in fleur de sel with the other, simultaneously crumbling blue cheese upon a glistening burger patty and shooting raclette foam from a compressed air canister. She is Shiva, Lord of Service. On the plancha, steaks are charring. They'll be plated with a porcini and bone marrow glaçage, a swift kick of umami right in the buds. Cornichons are emerging from the fryer, with a golden coat so airy it looks like a halo. French onion soup, a burnt onion soup not to be trifled with, is topped with Gruyère foam, but Baxtrom also wisely lines the bottom of the tureen with more Gruyère. A French onion soup without a cheese pull is like a shower without a curtain. His duck coq au vin takes duck, Baxtrom's favorite bird, as a coq, turns it into a ragu, pairs it with pasta, and comes out the other side with a deeply flavored, comforting pasta. The fat of that poor duck, in turn, is used to confit small potatoes into crispy orbs of immense flavor.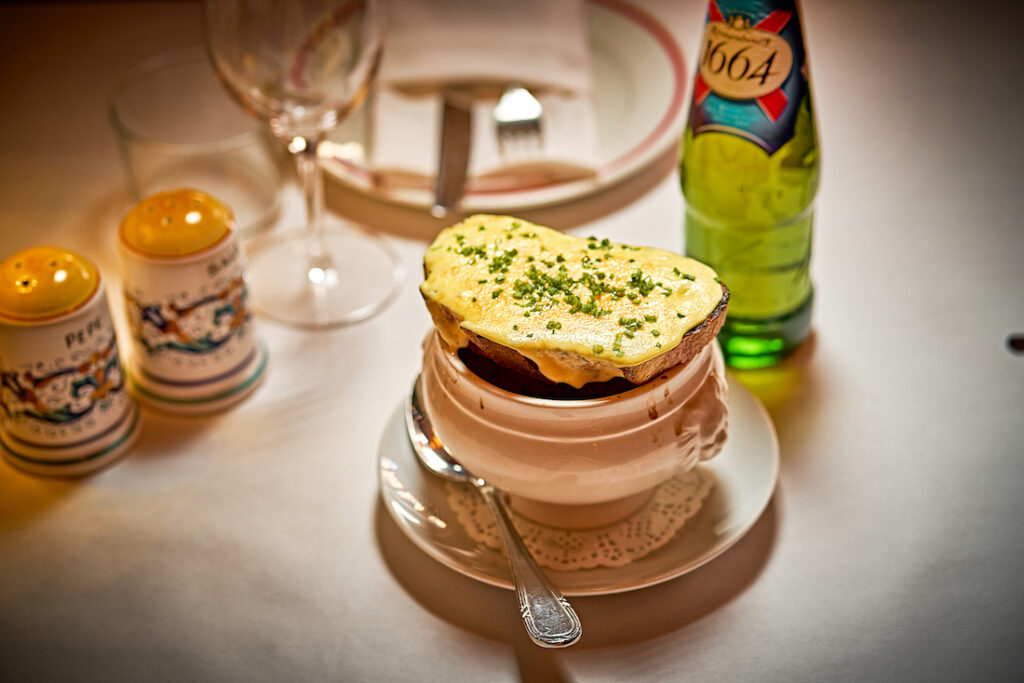 As with any French restaurant, but especially here, a canny visitor eyes the gravy boats. There's the archly pepper au poivre sauce for the burger; the well-mounted Dijon and tarragon cream sauce for the tender chicken paillard; hell, even the chocolate sauce for the profiteroles. There's no saucier at Petite Patate. There's hardly even a full brigade. And yet, the restaurant turns small potatoes into something much more grand.
At Petite Patate, my view was the kitchen. Seated in the power booth at Brasserie Fouquet's, the new Manhattan outpost from the hallowed French hotel brand Barrière, recently opened in Tribeca, the entire gilded room was my purview. And what a pure view it was, an encapsulation of how the glamorous and scabrous dine downtown. Much of the excellent meal was taken up with speculation as to the exact relationship amongst the three-top before me and my companion. Was the woman — blonde of hair, fake of lip, plastic of breast, tan of skin — the lover, girlfriend, friend-friend, employee, daughter of the man — thinning domed, aged, bespectacled, face like drapes? And what of her friend, back towards us (but what a back!)? We watched as he ordered three servings of caviar (28 grams of osetra for $180 each) and showed them pictures (of what?) on his phone. They barely feigned interest, not that that seemed to deter him.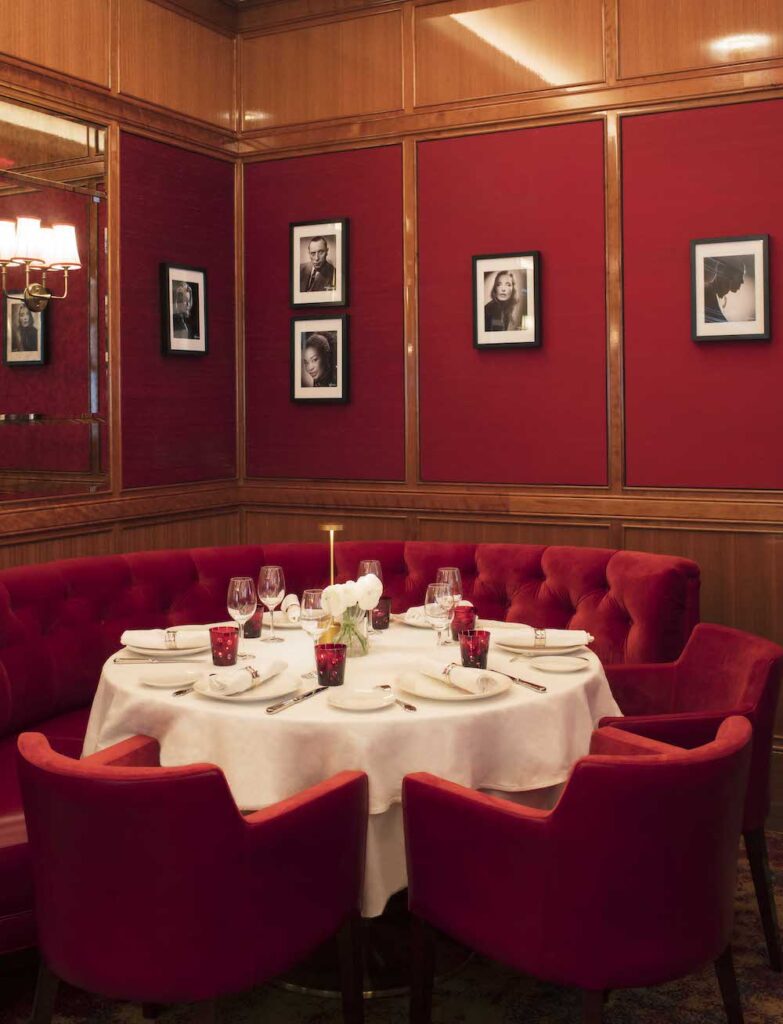 Periodically we tore our prying eyes away and directed our attention to the menu. Like a bistro, a brasserie is a recitation of classics but of a higher nature. Unlike Petite Patate, I would not say reinvention or remixes are of concern here. Rather, it's a high-fidelity recording of what one might find at the original Brasserie Fouquet's, open since 1899 on the Champs-Élysées. Just like the original, this new Fouquet's menu is overseen "in collaboration with" the eminence grise of French cuisine, Pierre Gagnaire. It is, supposedly, two-thirds devoted to classics and one-third devoted to its new home, New York. But from what I could tell, it's très classique par cœur. That's exactly what one wants, for little could be done to improve the Dover sole meunière, whose golden skin sat atop a filet of fish, flesh so tender, so white, it seemed downright erotic. No innovation is called for when the lamb chops arrive, well-Frenched, in a vervy and herbaceous tabbouleh. And little about the French onion soup — in case you couldn't tell, my favorite thing in the world — was either new or imperfect. It's a tale as old as time: a blanket of gooey Comté cheese atop a broth so dark it seemed like a tiger's eye. Just like my caviar-eating friend, I know it is not virtuous to slurp and yet I could not help but surrender to the pure, sensuous, fleetingly delectable pleasure.
At the peak of the pyramid of French cuisine — the gastronomic restaurant — we find perhaps the most Frenchy French of the French: Essential by Christophe. Everything about the restaurant, from the wispy modern font of the name to the "X by X" formulation screams unrepentant, unadulterated modern French.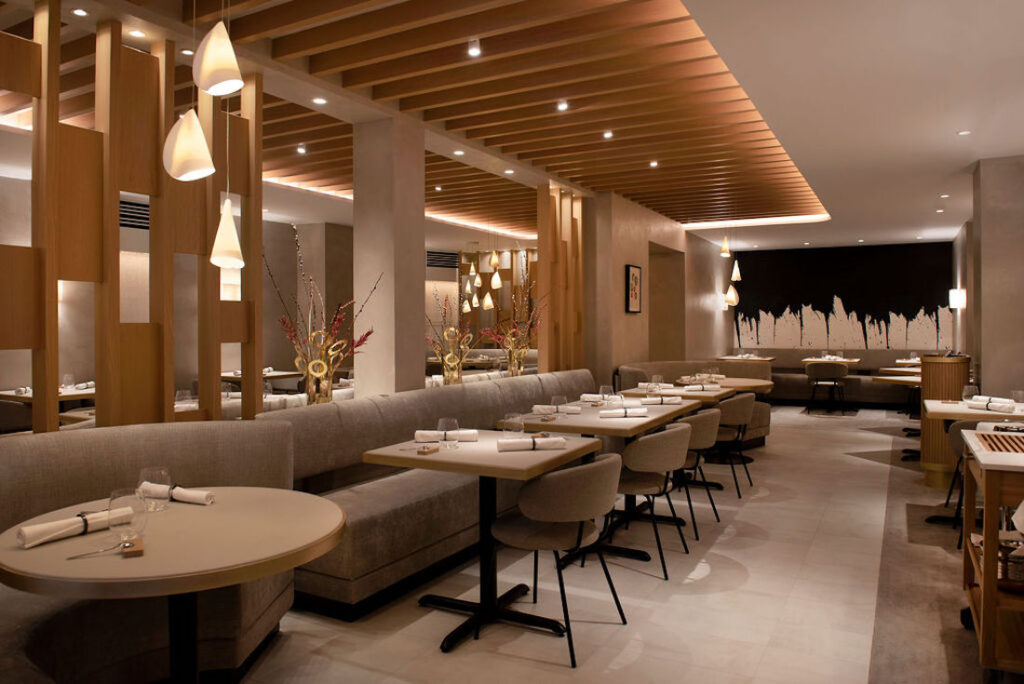 This is the culture of the embassy, not of the coin. This isn't the nostalgic French of pétanque and stripes, but of Macron and Le Bon Marché. Christophe Bellanca, who labored for years under the demanding genius Joël Robuchon, is staking his flag in the ground with Essential. The menu, divided into three parts — Un, Deux, Trois, in case you didn't realize you were in a French restaurant — is riven with luxurious foodstuffs like foie gras, imperial caviar, blue prawns from New Caledonia, hiramasa from Denmark, and skate from New Jersey. Bellanca has never met a ring mold he didn't love nor a truffle he doesn't shave. Each dish, whether first, second, or third, arrives as an impeccable supersaturated snapshot. An amuse-bouche, a sweet potato royale and mushroom cappuccino, is slid silently across the white tablecloth. A Japanese brioche — a.k.a. "bao" — looks like a plump Birkin bag, stuffed with tofu and vegetables, finished with a chamomile emulsion. A perfect circle of beet tartare, topped with avocado, rises from a crimson borscht like an alien island. A perfect circle of foie gras torchon sits atop a straw-colored gel made from Pineau des Charentes, a French aperitif. This is studium food, not punctus, meaning it can be appreciated with knowledge and cultural context but rarely pierces the senses.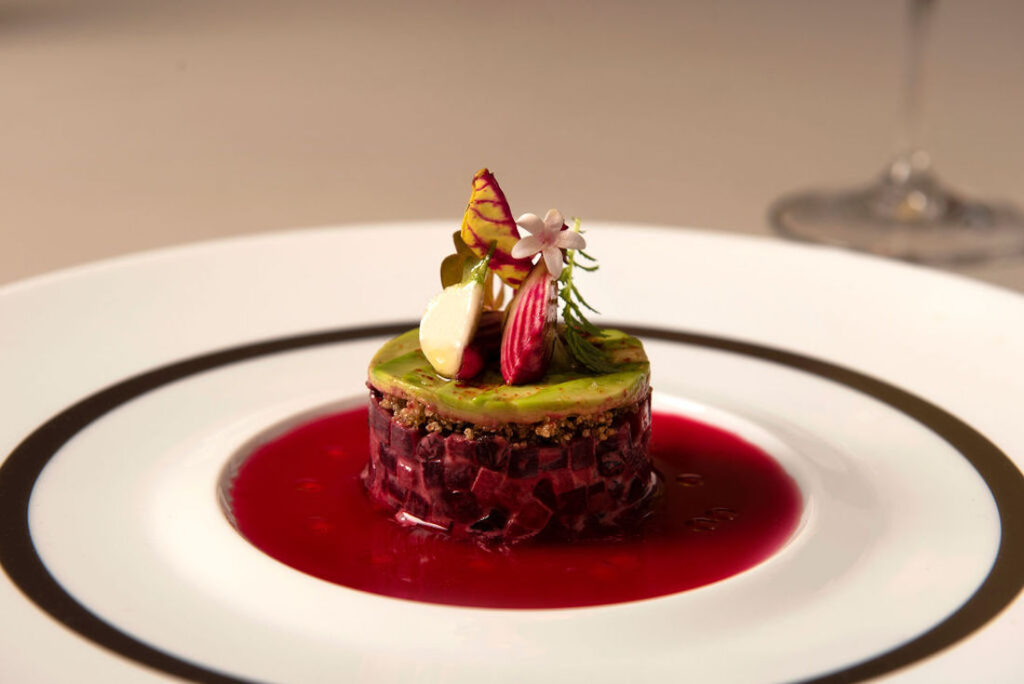 This tameness is a bit surprising since Bellanca is a man of passion, a Bruce Springsteen fan — a mural in the back of the restaurant is somehow an homage to the Boss, I'm told — a mountain man from the Auvergne. And in the best moments of the menu — a lusty herb-stuffed chicken in albufera sauce with morels and foie gras butter; a striated lily-white skate with gremolata, croutons, and a gloriously unrestrained brown butter sauce — Bellanca harnesses his fine-dining skills to the yoke of immediate pleasure. For if the French have taught us anything at all, though technique is delightful, it's pleasure that is truly essential.