Interiors editor Cynthia Frank found Paris near Central Park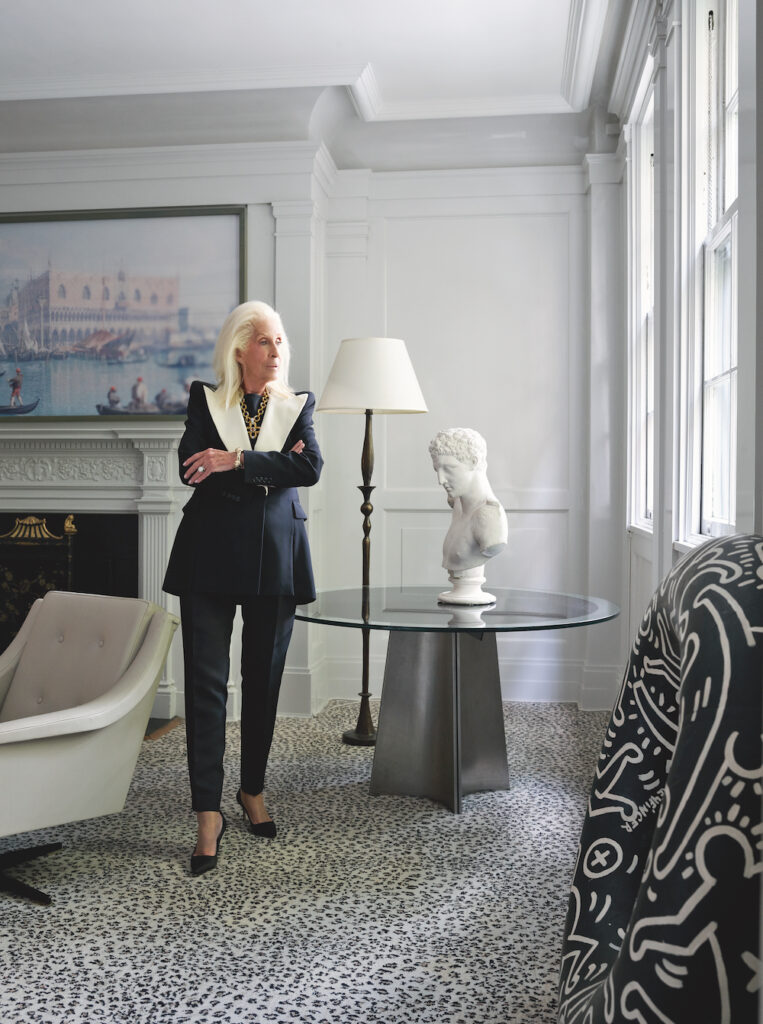 I had been using the apartment I had in Sutton Place before my husband, Donald, and I were married as a city pied-à-terre. By the late 1990s the children had grown up and left home and I felt such an overwhelming desire for a change of scene that Donald agreed to reverse commute to his neurosurgery practice, which was located outside New York City. I must have looked at 200 apartments with my real estate friend Patricia Patterson, and thought that I would never find the one for me. And then there was this one…
Situated just one block from Central Park, the building was constructed in 1907, at the same time as the Dakota building, and has an elevator that takes you up into each individual apartment. When the doors opened, the apartment literally spoke to me. I bought it that very same day! Today, all these years later, it very much reflects who I am: endless rooms with no apparent purpose, five working fireplaces, high ceilings, and original moldings, which I either restored or re-created, with support and advice from my great friends [the architect and designer] Timothy Haynes and Kevin Roberts.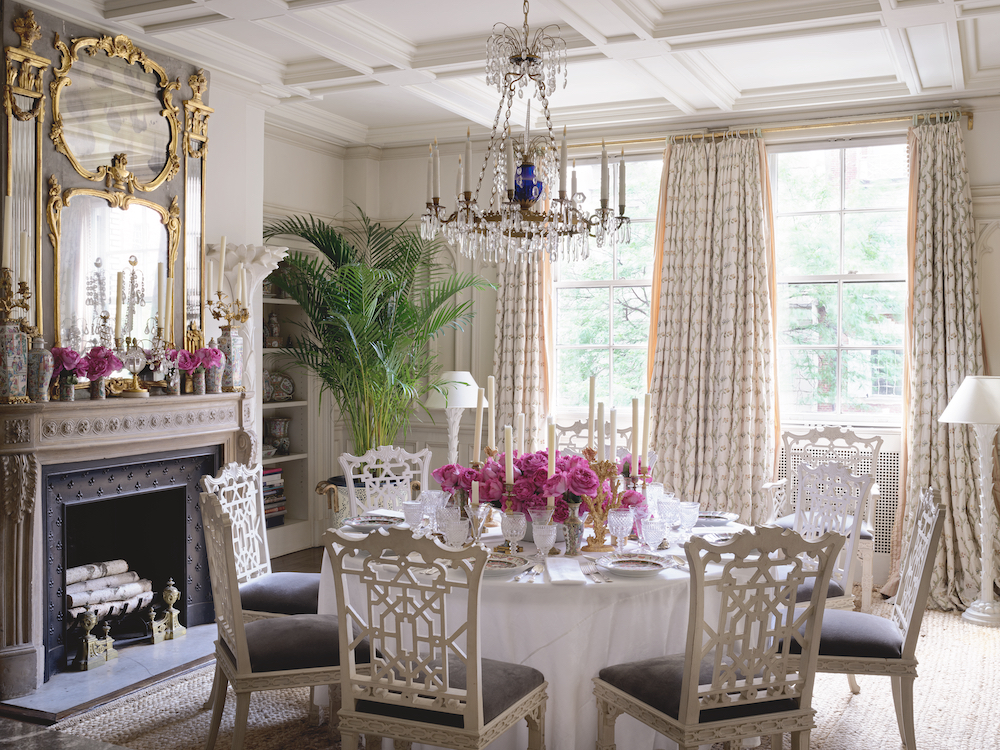 I was barely 20 when I married and went to live in Paris. It was the 1960s and Paris was the most romantic and amazing place to be. It was there that I developed a love of antiques, already fostered by my father, and got to know all the lea markets. When I returned to New York a few years later, I got sucked into the fashion industry, working with Harper's Bazaar, and became a regular visitor to Paris for the shows. I had found my destiny!
As an enthusiastic host, the dining room has to be my favorite room in the apartment, with its original gothic paneling and the brass-legged Maison Jansen dining table that I've owned forever. I am also especially fond of the 1970s Ado Chale table on the mezzanine and the pair of vintage Serge Roche console tables in the entrance hall. For me, the apartment is more about the furniture than the art, but my most important piece hangs in the drawing room, a contemporary work by Albert Gleizes.
The apartment has turned out to be the happiest place in my world!
Art adviser Will Kopelman goes home to the Upper East Side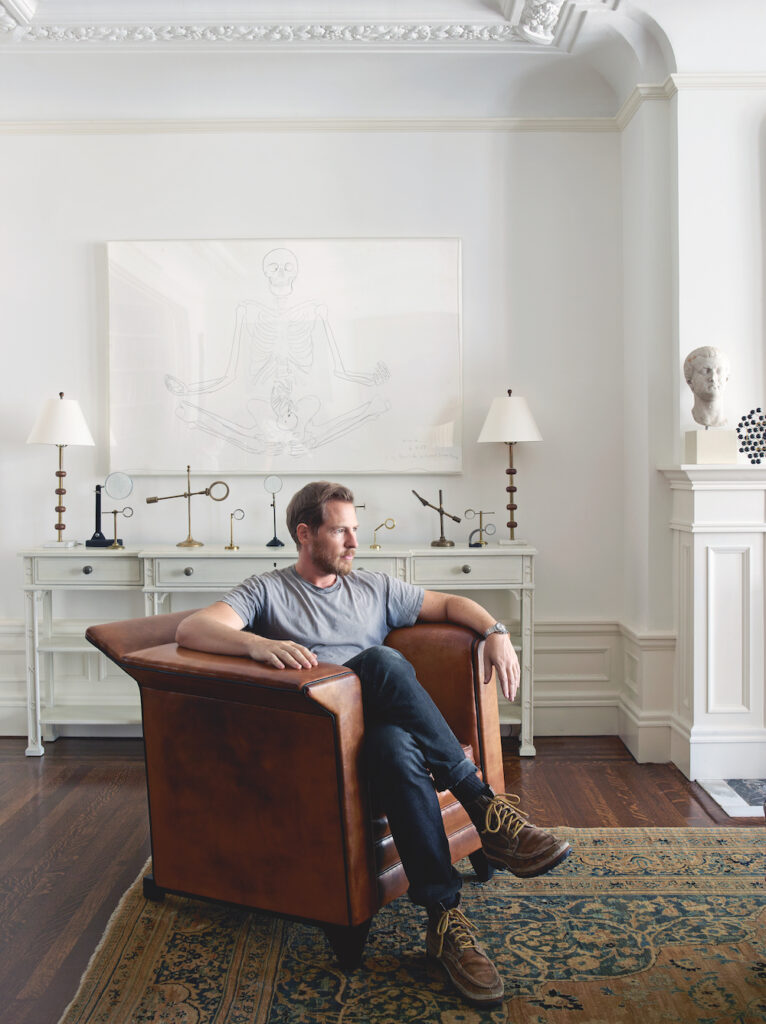 Many landmark buildings on New York's Upper East Side represent the early glory days of Manhattan, where the grand, prewar condos were built in the economic boom of the 1920s, mostly by the five major architectural firms of the day. They were designed to be "contained homes," so architects didn't skimp on materials, ceiling height, or scale. This particular building was completed in 1918 and is a solid construction of steel, brick, and concrete, with great details and moldings throughout. As a result of this old-world construction, I don't hear my neighbors and they don't hear me (or the kids!).
I love cooking, so a livable kitchen/family room in the apartment was of the utmost importance, and I knew I wanted certain special inclusions, like a big La Cornue range and a wine cellar. To facilitate this, I teamed up with architect Gil Schafer, whom I had recently met at a wedding and we fast became friends; I have a huge passion for classic American architecture, and we are both rabid sticklers for detail. Gil and I worked to combine the existing kitchen, formal dining room, and laundry to create one big communal space. The floors are all original — a mixture of quarter-sawn oak, and the trim is a combination of cherry wood, oak, and pine — so I simply re-varnished them with a clear coat and then ebonized the rest. The metal-framed glass doors have become a significant design point in the apartment; I often work in the living room and wanted to be able to see the kids wherever they were playing.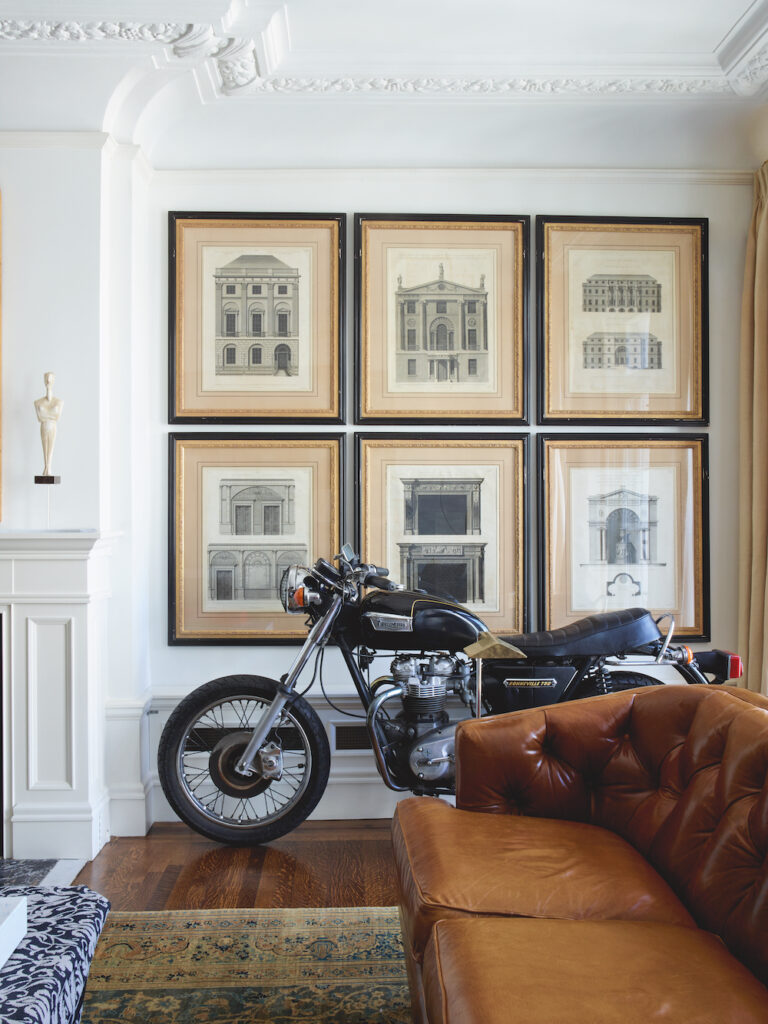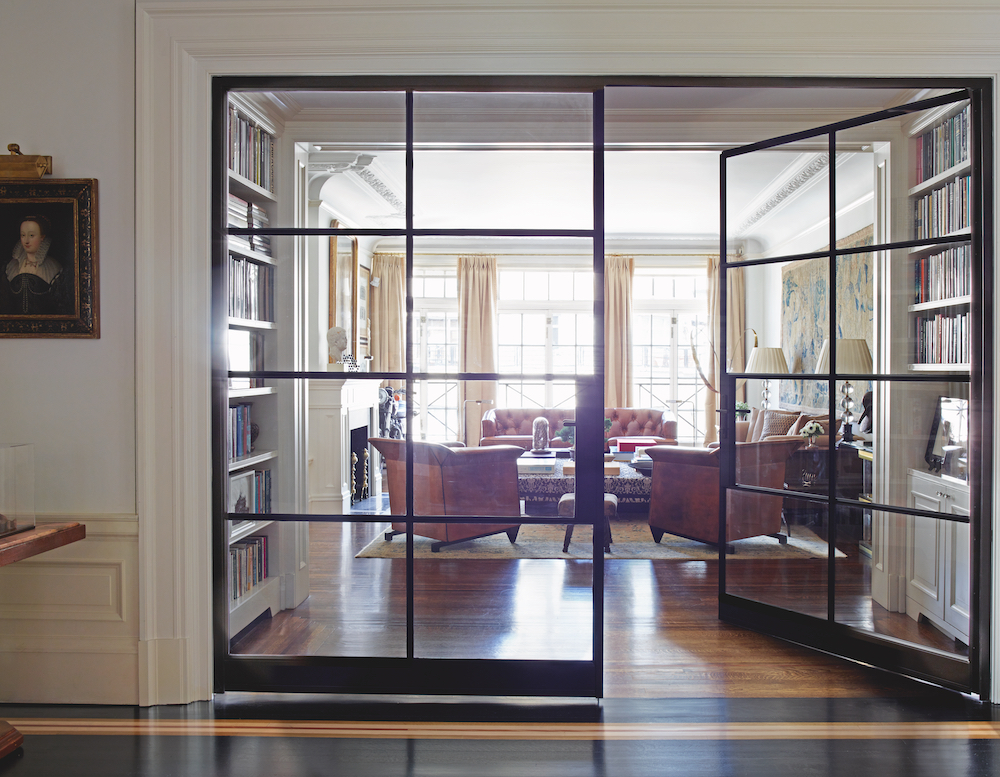 I was born and raised on the Upper East Side and have always loved New York, but what carries the most meaning for me now is that my girls are playing in the same area of Central Park as I did when I was their age. My parents still live here, and my sister and her family too, and I moved back from LA and found this apartment about eight years ago. I fell for the soft whites and natural earth tones, and just added to it over time, trying to achieve a sweet spot between maximalism and minimalism. What is meaningful for me is utility… beautiful designs always have superior functionality, and that's always been the cornerstone of my approach.
Buying objects you love should be instinctual. My instinct is eclectic for sure, but I wouldn't have it any other way. People like Albert Barnes understood that the sum is greater than its parts. I love old master paintings, folk art, outsider art, African tribal art, pre-Columbian, Greco-Roman, and Egyptian antiquities, Flemish tapestries… and I mix all of that with some of my favorite contemporary artists. I even have my old motorcycle in my living room — a 1977 Triumph Bonneville 750, made the month and year I was born. It holds a special place in my heart, so I keep it there. To me, if it has meaning, it stays.
Interior designer Alfredo Paredes loves family life in the East Village
For years, I lived in Tribeca, and though I loved all the old industrial buildings there, it never felt like home. So, after ten years, I started looking around. I found this place in 2009 and it really captured my imagination. It had been renovated a decade or more earlier and needed lots of work, but there was just something special about the place — I couldn't stop thinking about it. I came to see it four times over several months before making an offer. It wasn't just the 14-foot ceilings, the abundance of natural light, and the large terrace that got me (though they were big selling points).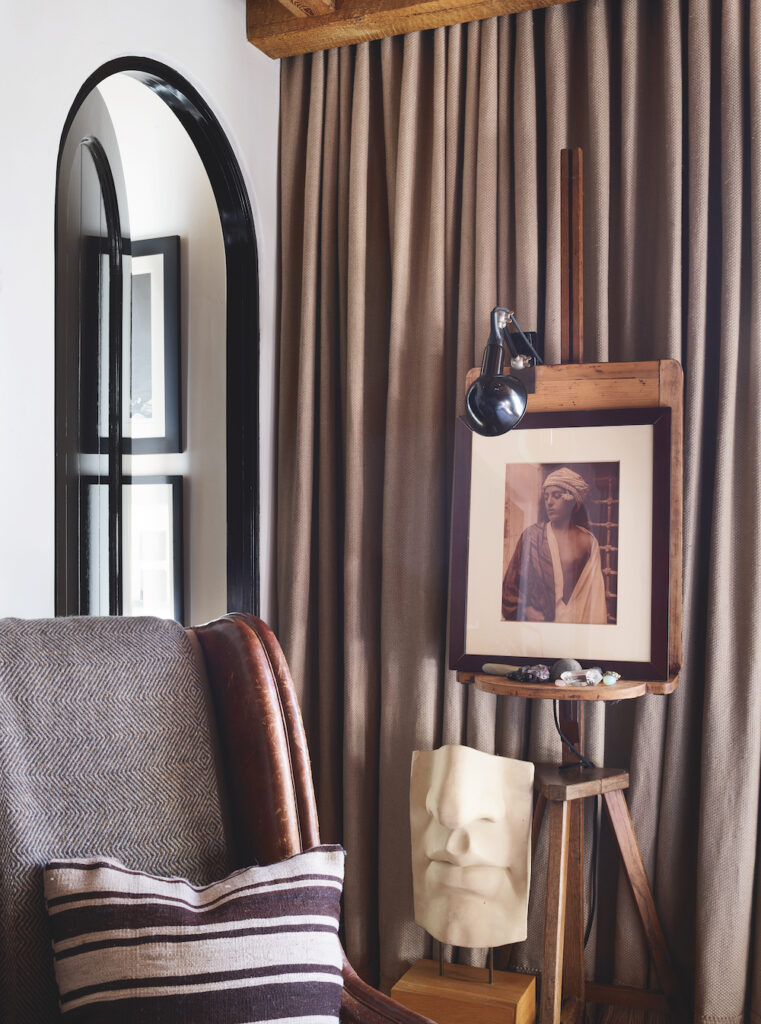 Somehow, I saw a long future here. It took about 18 months to pull it all together; basically, I took the place down to its concrete shell and started over. While I wanted to create the overall impression that the apartment had existed in its present form forever, much of it is brand-new, including the stone staircase, the casement windows, and the distressed oak walls. In other areas we used salvaged materials, such as the fireplace mantel sourced from an old residence on the Upper East Side, and the wood for the beamed ceiling, which came from an old barn, and which we stained a darker color. I worked on the structural side with Michael Neumann Architecture, but the vision for the space is entirely my own, with inspiration from the work of Axel Vervoordt. Given my background at Ralph Lauren, I'm accustomed to creating evocative environments, but this was the first time I'd really been able to do it in a major way for myself and my family. Even though there are loads of great places to eat in the East Village, almost immediately my husband and I found it more fun to eat at home, inviting friends to gather around the long table on the terrace or the circular table in the parlor. We've lived here for more than 10 years and I still love everything about the apartment, and the space inspired me to acquire some of my all-time favorite pieces, like the console table against the wall in the living area, and the glorious Pat Steir artwork — November Rain — that hangs above it. When we moved in, I never imagined it would accommodate not just us and our two dogs, but our two children as well. Today, it's become the heart of our family life.
New York Interiors by Simon Upton will be released in October, and is available for pre-order now.