Low interest rates and large inventory are combining with a strong stock market to make this into a compelling time to buy—inviting capital investment and a new wave of first-time buyers seeking attractive neighborhoods with even more attractive financing options. Prices have leveled off as the absorption of unsold homes continues, and commercial-to-residential conversions have developers shifting their focus toward adaptive reuse and sustainability. We've assembled a sampling of projects now underway:
"Low interest rates and large inventory are combining with a strong stock market to make this into A compelling time to buy."
Billionaire's Row
At the high end of the market, Billionaire's Row recently topped the list of the most expensive streets in the world: sales are strong at the Robert A.M. Stern-designed 18-story building at 220 Central Park South with 41 of its 118 units sold being valued at more than $25 million each, resulting in an average sale price of $38.5 million. These include a 3,114-square-foot penthouse, which sold for a record-setting price of $238 million to billionaire investor Ken Griffin. Even with such headline-grabbing deals, there are still opportunities on Billionaire's Row for discerning buyers in search of a tony address. 
East Side
After disrupting the Upper East Side for more than a decade of construction, the completed Second Avenue subway has been a boon to real estate well east of Midtown, which is now witnessing a host of visionary development projects, such as Icon Realty Management's two high-end condo towers: Beckford House and Beckford Tower on 81st Street and on 80th Street at Second Avenue.
Having undergone a major transformation, the Lower East Side is also an area to watch, and consider for investment. Notable projects include the relatively affordable One Manhattan Square and Essex Crossing, the latter offering an abundance of retail, entertainment, and housing options, both rental and condo. As an example of the prices there, 242 Broome Street is more than 80 percent sold, with units there averaging $2,000 per square foot.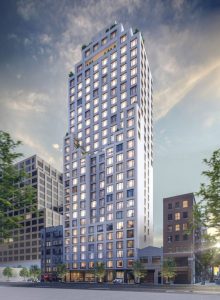 West Side
On the West Side, Hudson Yards has sparked a neighborhood reboot, attracting a growing list of notable companies such as Amazon. Active listings at 15 Hudson Yards average $3,720 a square foot, while those at 35 Hudson Yards average $4,255 a square foot. Just south of Hudson Yards, increased development around the urban oasis that is the High Line has given buyers plenty of options in Chelsea. Hudson Square—aka West SoHo—has seen an abundance of new development in this small neighborhood, bolstered by the arrival of Google and Disney, both of which have set up their New York headquarters there. Proximity to the Holland Tunnel, and abundant retail and restaurant options, all make this a prime future location for both residential and commercial investment. (See the article in this issue on Aaron Burr and the history of Hudson Square.) To gauge the market with a sampling of prices: Greenwich West is averaging $2,200 per square foot for active listings, while the high-profile Renzo Piano-designed building at 565 Broome Street is averaging nearly $3,000.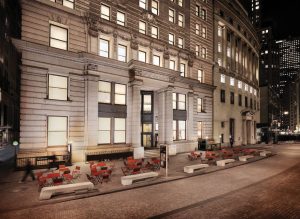 The Financial District
While the Financial District (FiDi) has long been a hub of commerce, the number of new condos has brought value to the area, at addresses such as 77 Greenwich and The Broad Exchange Building. A major draw is its walkability, which is complemented by great restaurants, shops, and nightlife. With a major surge of new construction coming onto the marketplace, buyers have a wide range of choices at relatively affordable prices.
Uptown
With value pricing still available in Harlem, and Columbia University setting the robust pace on building, developers have been drawn to Harlem with pristine homes available for under $1 million. Homes in contract at the Rennie, for instance, are averaging $1,200 per square foot, while residences at the recently opened Eleven Hancock, launched in August, are nearly 20 percent sold, prices averaging $1,400 per square foot. (For good reasons to buy in Harlem, see the 4,000-word feature on the community in this issue.)
Adrienne Albert is a nationally recognized expert in residential real estate marketing and sales. Over the past three decades she and her firm, The Marketing Directors, have marketed and sold more than $30 billion worth of residential property.