What is a life in New York, our ever-changing, still-the-same home, but a very long Mad Libs?
I left (a new restaurant) that night, wandering down the (adjective) block, (existential state). I think I saw (celebrity) on (street name). I'm sure I saw a guy (inappropriate verb) on the subway platform. Throwing open the door to my (type of dwelling), I was greeted by my (most intimate relationship). I gave her (love language) and we watched (favorite show) together. I fell asleep with thoughts of (two favorite restaurants), (a former lover), (a favorite actor), and (a former acquaintance), of (a thing you cannot escape) and the (thing you cannot inhabit) colliding in my consciousness. God, I love New York. Repeat this a couple thousand times and that is a kalpa. The point is some things stay the same in this city of eight million stories: most of the buildings, the city grid, our great attractions like the Met, Central Park, and even traffic. These are the constants of our city. Other things change: what is in the buildings, how our streets are used, what businesses, dreams, and fantasies fill the storefronts. What makes the passage of time at all bearable is the sheer excitement of proper nouns that come and go, like a school of fish flitting just below the water's surface. The particulars change but the syntax remains constant.
Back in 2009, the Ace Hotel in the Flatiron District was still under construction when I sat down with Robin Standefer and Stephen Alesch, the designers behind Roman and Williams, in an unfinished booth, F-209, at what would become the Breslin Bar & Dining Room. Ken Friedman, the star restaurateur, was there too. The result would be my first piece in The New York Times, penned for a blog they had dubbed "The Moment." (The word "blog" was au courant at the time.)
Painstakingly — and, even then, in purple prose — I described the intense attention to detail the group paid to the table in that booth. The issue was that it was about ten inches too long. "The two contemplate the ten inches glumly; never before has ten inches been so glumly contemplated," I wrote. Friedman was very excited, meanwhile, by a nook in the wall. "You can put your BlackBerrys in here to charge." When the Breslin opened to breathless meat-eating, mouth-breathing excitement a few weeks later, the table had been cut down to size. The space, paneled with wood painted dark green and littered with gastropub ephemera, felt both of the moment and timeless. Standefer, who had told me, "What I like about the space is that people come in here and think it's always been like this," had done well.
I went to search for that booth recently. So much has changed in the intervening 13 years. Ken Friedman has fallen from grace. The Breslin's chef April Bloomfield has too been cast into the wilderness. BlackBerrys are extinct. After Friedman's downfall in 2017, the Breslin writhed around for a bit in extremis, dropping the "the" as if that could offer absolution, becoming a burger bar and trying on a few other identities. Eventually, though, it petered out.
In October, its replacement was unveiled. It is called Koloman, after Koloman Moser, the well-mustachioed founder of the Viennese Secession movement. The chef is Markus Glocker, himself an Austrian who has knocked around some of the best kitchens in the world (Bâtard, Augustine, Steirereck in Vienna). Gone is the dark wainscotting, replaced by a light palette of cream, gold, and burnished brass. The lighting fixtures are Moser's own. The wallpaper is hand-painted. The tables — and many of the plates — have been designed by Glocker himself. (Glocker, like Moser, is a proponent of Gesamtkunstwerk, wherein manifold media are used to create a total art experience.) The booth itself is still there, though now called "table 53" in the system. The dark wood of Breslin's backbar has been replaced by a massive modernist brass-and-mica clock, laden with eau-de-vie and Bloomfield's haute gastropub fare has been replaced by Glocker's refined Paris-via-Vienna technique, as neat and precise as the clicking (and correct) clock that keeps time above it.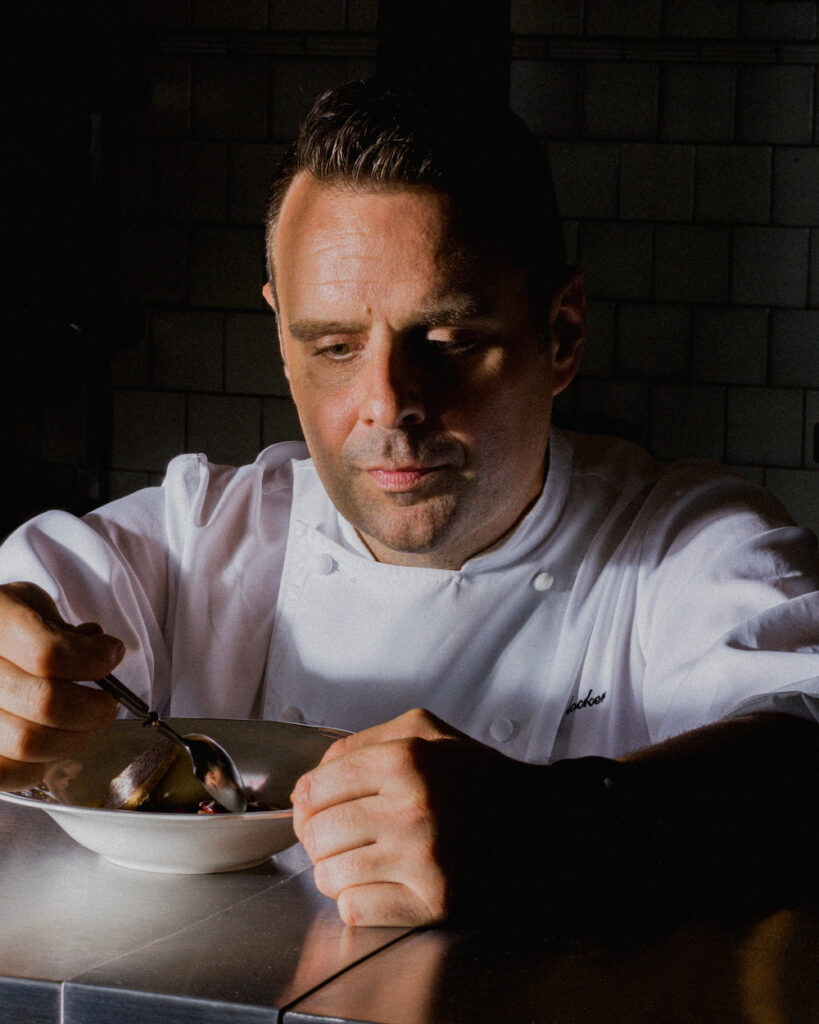 Glocker's deft Parisian touch anti-gravities classic Austrian cuisine, turning what bore a bad rap as leaden ethereal. A triple-crème cheese soufflé doesn't so much land on the table but rather alights, as if a songbird. Salmon en croûte, too often soggy salmon in a bready death mask, is reimagined as a silken salt-cured salmon sandwich. The croûte is a crackly carapace. The flavors of a Linzer torte — red currants, hazelnut, and orange — are parlayed into a beet salad "Linzer." Both the Linzer and the beets are ennobled by their cross-pollination. But the Austrian-ness isn't overbearing, more like an air to which Glocker's French techniques play. The oysters, Fine de Claire and flown in from France, are given a spritz of Austrian asparagus vinegar in place of mignonette. Like everything else at Koloman, it's a subtle expert touch, as light as the Breslin was dark, as timely as the Breslin was timeless.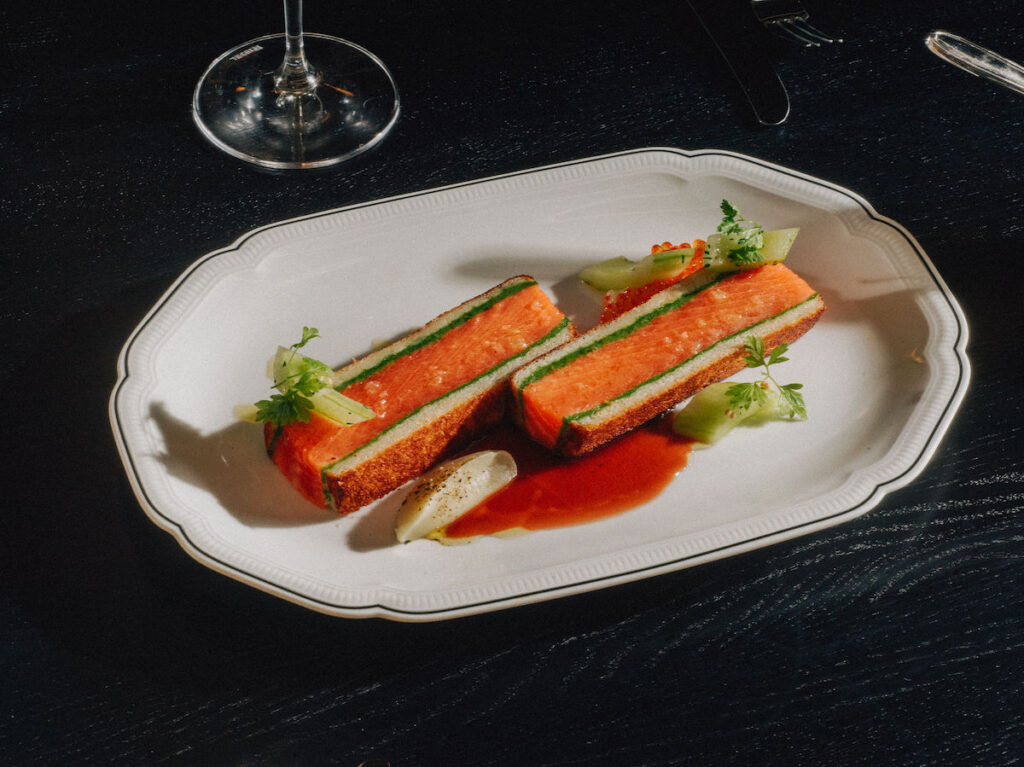 Not that every meal is steeped in memory. I don't think I had ever walked down East 50th and certainly had never, over the course of its 25-year long run, entered Maloney & Porcelli, a steakhouse best known for its Bronson Pinchot steak. "A 'real mans' steakhouse," according to a Yelper. "Draws inspiration from a simpler time when three-martini lunches were alive," according to its website. Those times are, evidently, no longer alive. Nor is the restaurant — though the website might be for perpetuity. What took the restaurant's place, Monterey, is nevertheless familiar. Opened by James Tracey, a talented chef who ran Tom Colicchio's Craft, Monterey is a golden glamorous restaurant, the kind that similarly draws inspiration from a simpler time. There are still martinis. In fact, there's a martini cart, helmed by a statuesque Russian so tall she looks like a Na'vi, behind similarly elongated bottles of vodka and gin. Small ramekins of onions and olives are arrayed before them. Instead of the Bronson Pinchot — a relative of the steak au poivre — being served from a guéridon, there's a prime rib cart too. This is a bit de trop, since the spectacular action is the simple cutting of meat. The meat is, by the way, a perfectly done prime rib but it is not well served by the dramaturgy around its preparation. In general, and I'm not exactly sure why, Tracey plays it exceedingly safe. If he wants to make his mark on the moment, he'll have to do more than simply channel the Greatest Hits of Fine Dining Past.
Though these changes are compressed by the corset of Manhattan's coast, they are not confined to the borough. Nor is the melancholy that these changes stir. I blame the nature of impermanence and, more saliently, Google Photos. Walking down Union Street in Brooklyn, I was feeling blue about a lover who had moved to Europe with her partner. Sometimes we still text but there's no future there. I was thinking of her, primarily, because Google Photos has a memory feature, which unexpectedly spews back photographs of one's past into one's present. Suddenly, my 10-year-old son as a toddler — before he hated me — appears in my digital frame. Suddenly, there's my face, 15 years younger and less wrinkled. Suddenly, there's Katherine — before she left — smiling on the patio of an Alsatian bistro called La Cigogne. It's my favorite picture of her and its unexpected arrival into my visual landscape is like a rock thrown in a body of water. Memories ripple, feelings are stirred. The other week, as winter's chill began to fall over Brooklyn, I was on that patio again except Katherine is in Amsterdam, where she bought an apartment, and La Cigogne is now Gus's Chop House. The loss of one I mourn but the sorrow is ameliorated by one of the best burgers I've ever eaten.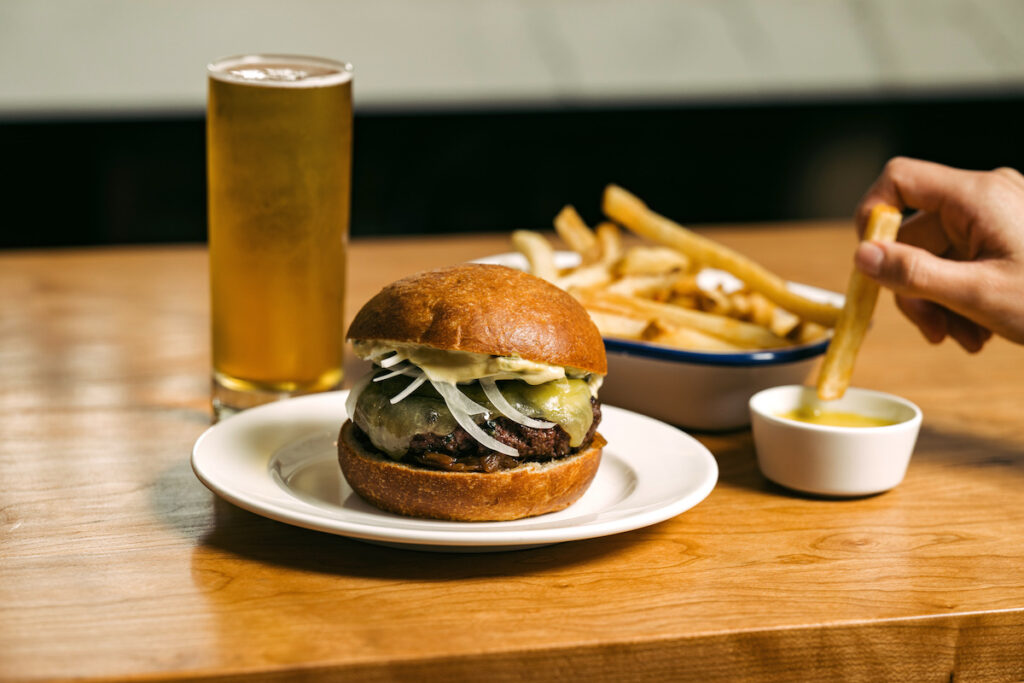 Chris McDade, who owns Gus's alongside James O'Brien, runs a cute Southern-Italian restaurant called Popina in Red Hook (that is, a restaurant in which the foodways of the American South intersect fruitfully with those of Italy). At Gus's, however, McDade has dedicated himself to the chop house, a deeply English antecedent of the American steakhouse. (One way to think about the chop house, at least as it exists in America, is a steakhouse without the trappings of toxic masculinity.) As is a current — and welcome — trend, dishes are significantly undersold. What's listed as simply brisket on the menu is a five-day brined brisket, braised in stock, reinforced with charred fennel and miso puree, and served with a classic gremolata. There is no better remedy for winter blahs or Brooklyn cold than this brisket, so satisfying, flavor-packed, and heart-warming. The cheeseburger — "cheeseburger" — is as fun as a house party and as juicy as gossip. It's got a red-carpet entourage: caramelized onion, aged cheddar, gherkins, raw onions, dijonnaise, and star potential. Too often a burger is defined by its char or its accoutrement. Here the flavor comes from the meat itself — 60% top round, 10% dry-aged strip with the balance made up of house-made pork lardo — that holds up to both the Maillard reaction and to the preponderance of onions.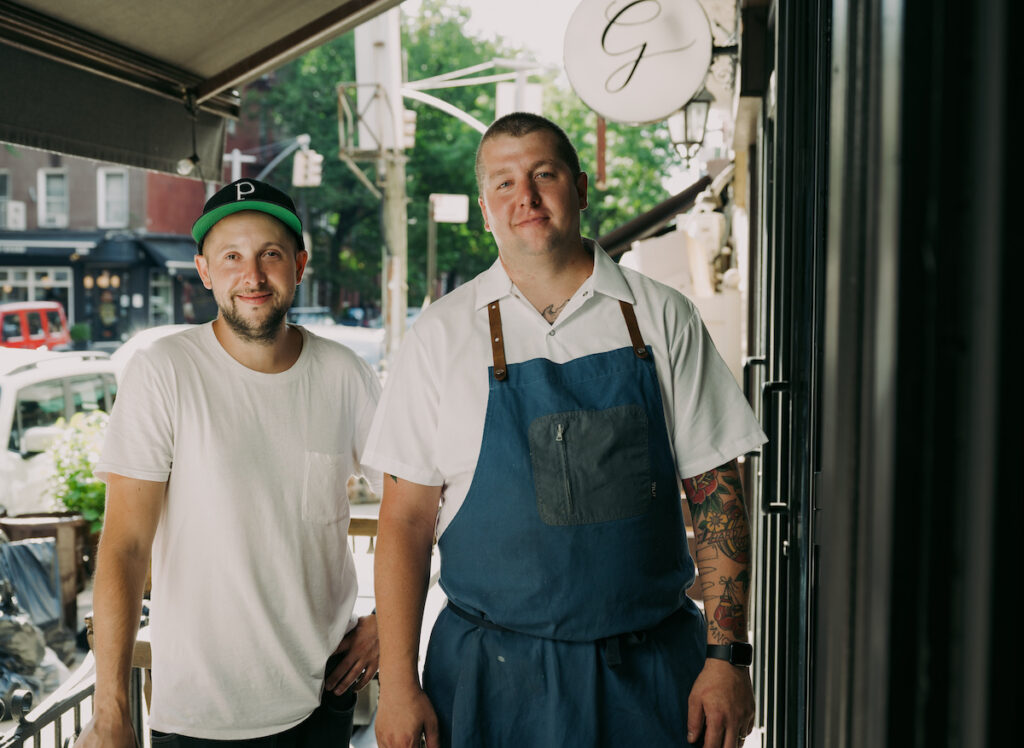 The litotes of the menu is even more apparent in the Bo Bo Chicken. Usually, when I see chicken on the menu, I have some vague notion that once there was a bird who became my dinner. But by and large, it has been abstracted beyond its corpse-like form. There is no pussyfooting around the thin barrier twixt life and death with this chicken. The bird comes entière, head and feet attached. It lies on its plate, bathed in a French onion jus, skin glistening from the fryer, in a pose so lifelike it looks like if Robert Capa did food photography. Chris tells me he gets requests from squeamish diners to remove the bird's extremities. He yearns to send the bird back, its feet and head on a plate. But so far hasn't. It is uncomfortable but feels vaguely virtuous to be held accountable (in some notional way) for the consequences of our appetite. But if you're going to precipitate moral crises, you best come correct with the chicken and, happily, McDade delivers. Just as he resists the chicken's estrangement from its chicken form, he resists its anonymization into protein. This chicken tastes like chicken, which is to say it is a slightly sweet meat with a full-throated flavor that almost makes its accusatory stare worthwhile.
I left Gus's that night, wandering down the quiet moonlit block, alone. I think I saw Keri Russell on Carroll Street. I'm sure I saw a guy urinating on the subway platform. Throwing open the door to my apartment, I was greeted by my dog, Hermione. I gave her the leftover brisket and we watched House of the Dragon together. I fell asleep with thoughts of Gus's and Koloman, of Katherine, Keri, and Ken, of the past and the present colliding in my consciousness. God, I love New York.