New Yorkers may be living through a challenging moment, but this is not the first time the music has stopped in our city. Revisiting fin de siècle fun from years gone by is a reminder that New York always bounces back, better than ever.
.
The Widener's Titanic Dinner Party
April 14, 1912
One chilly spring evening just over a hundred years ago, George and Eleanor Widener — a Philadelphia Mainline family whose wealth derived from streetcars — threw a dinner party that would go down in history for all the wrong reasons. It was held en route to New York City, in the Ritz a la carte restaurant of the RMS Titanic, in honor of its captain, Edward J. Smith.
For many of the nine guests — which included the Wideners' son, Harry; William Carter, heir to a vast coal and iron fortune, and his wife, Lucille; John Thayer, a vice president of the Pennsylvania Railroad Company, and his wife, Marian; and Major Archibald Butt, an aide to presidents Taft and Roosevelt — it would be their last meal.
No record of the menu survives. But a reminder of the night remains in Harvard University's Widener library, named after Harry and built with a gift from Eleanor, who lost both her husband and son in the disaster.
.
Truman Capote's Black and White Ball
November 28, 1966
Truman Capote threw what would be remembered as New York City's most legendary masquerade in the Grand Ballroom of the Plaza Hotel. Its nominal guest of honor was Katherine Graham, publisher of the Washington Post, but the party was really for himself, to celebrate the success of his so-called non-fiction novel, In Cold Blood.
The theme was a riff on the color scheme of the Royal Ascot scene in My Fair Lady, and attendees included Lauren Bacall, Jerome Robbins, Henry Fonda, Norman Mailer, Rose Kennedy, Lee Radziwill, Andy Warhol, Claudette Colbert, Oscar de la Renta, Tallulah Bankhead, Frank Sinatra and Mia Farrow, and the Maharajah and Maharani of Jaipur. CBS covered arrivals, live.
Although Capote would live another 18 years, he never recovered from being shunned by the society he so coveted after publishing his indiscreet roman-a-clef, La Cote Basque, in 1975. His Black and White Ball — endlessly imitated, but never rivaled — remains the high-water mark of mid-century Manhattan glamour.
.
Studio 54 Closing Night
February 2, 1980
The golden age of Studio 54, which opened in 1977, passed in a flash. But although its original incarnation was only open for barely two years, it lives on as the embodiment of the glitter-drenched disco decade.
Andy Warhol, Halston, and Grace Jones were among the few who could get passed the club's notoriously tough door. Bianca Jagger rode across the dancefloor on a white horse at her birthday party.
But when its founders, Steve Rubell and Ian Schrager, were charged with tax evasion, a final party was held on February 2, 1980. The farewell bash featured a performance by regulars Liza Minnelli and Diana Ross.
Although the space reopened more than once in the following years, club-goers lament that it was never the same after that night.
.
Talk Magazine Launch Party
August 2, 1999
The party to launch Tina Brown's short-lived Talk magazine was one for the ages. Hundreds of guests were ferried to Liberty Island in New York Harbor to enjoy a big-budget bacchanal, the likes of which has not been seen since.
"I have so many vivid memories of that night," says Avenue contributing editor, Horacio Silva. "Eating fried chicken within earshot of Madonna, drinking my weight in champagne, thinking that Charlie Hunnam was the most beautiful blonde I'd ever seen, seeing VIPs race to the top of the Statue of Liberty as though they were on a school field trip, dancing to Macy Gray — but most of all I remember ending up in hospital with a designer friend of mine who fell in an out of consciousness at one point and had to be taken to Bellevue for observation. Getting him off the island on a police boat without the paparazzi cottoning on took a lot of sweet-talking on my part."
The lavish Talk launch was the last such party the publishing industry would ever be able to afford. On its 10-year anniversary, David Carr at the New York Times called it the "omen no one saw."
.
Marc Jacobs' Spring 2002 Fashion Show
September 10, 2001
The after party for Marc Jacobs' Spring 2002 show seemed like a natural evolution of the over-the-top '90s New York fashion scene.
Avenue's editor-in-chief, Ben Widdicombe, recalled that the budget was especially high, due to it also being the launch of Jacobs' first fragrance. Among the hundreds of guests were Sarah Jessica Parker, David Copperfield, Natasha Lyonne, and Rosanna Arquette, as well as Donald Trump and his then-girlfriend, Melania Knauss.
"Even by the hyperbolic standards of New York Fashion Week, it was a star-studded room," he says. "There never had been a party like this, and as it turned out, there never would be again."
The Twin Towers fell the following day, beginning a decade of financial and technological disruption for the industry that meant New York Fashion Week would never be as influential again.
.
P. Diddy's Birthday
November 4, 2004
In the 2000s, nobody in New York threw parties like P. Diddy. Naturally, his 35th birthday was a well-attended affair.
Starting in 1998, the rap mogul (then known as Puff Daddy) threw the first of what would be, for a decade, one of the Hamptons' signature events: his annual Fourth of July White Party. Guests were instructed to wear all white, and it was said the slightest infraction would mean being turned away at the door.
His events perfectly summarized a moment when Ashton Kutcher was still married to Demi Moore, and Paris Hilton's plus-one was a then-unknown Kim Kardashian.
Although it was not a White Party, the nadir of all this silliness occurred during Diddy's 2004 birthday party, held at Cipriani Wall St. Tara Reid, a young actress known for her excesses, suffered an embarrassing "wardrobe malfunction" when her dress slipped beneath her bust on the red carpet, giving the attendant paparazzi multiple shots of a moment that defined the decadence of the decade.
.
Studio 54: Night Magic Opening Reception
March 11, 2020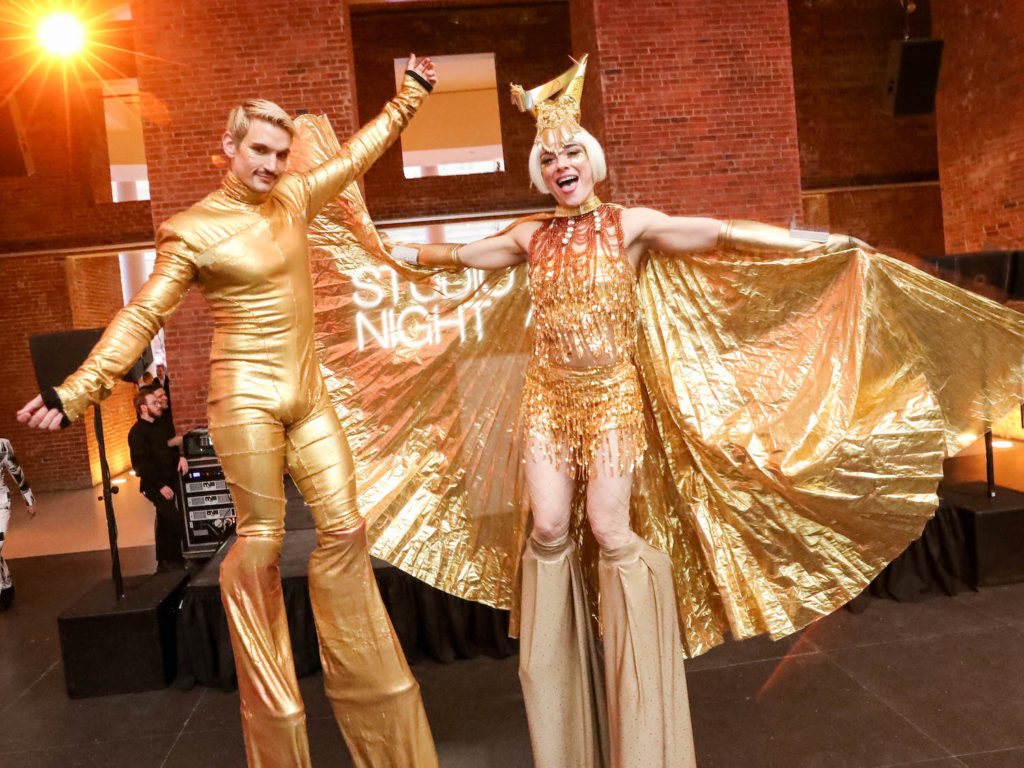 Is it too soon to say this bash — held at the Brooklyn Museum to open an exhibit dedicated to Studio 54 — is the end of an era? Maybe.
But with social gatherings around the world shut down and New Yorkers in isolation, it certainly feels like the party closed a pre-pandemic chapter. Broadway shows, and almost everything else, shut down the very next day.