Nikki Haskell has seen it all.
A graduate of Beverly Hills high school, she was one of the first women stock brokers on Wall Street. She also created and starred in a groundbreaking 1980s celebrity news and interview television program, The Nikki Haskell Show, where guests included of-the-moment celebrities including Michael Caine, Jeremy Irons, Sophia Loren, Diana Ross, Liza Minnelli, and Arnold Schwarzenegger.
A longtime entrepreneur, Haskell for years sold a line of diet pills called Star Caps, as well as related exercise equipment, such as a resistance band system called the Star Cruncher. For decades, she has divided her time between homes in New York and Los Angeles, where for almost as long she appeared on a series of Sunset Boulevard billboards promoting her wares.
She is a longtime friend of Joan Collins, Clive Davis, Donald and Ivana Trump and, of course, Avenue magazine.
Now, just in time for gift season, she has created the Star Shooterz, a combination phone stand and flattering ring-light, perfect for the self-obsessed social media generation.
"I like to do things that are all in one," she explained. "I don't want to have to get a light, and a plug, and a thing — too complicated for me." 
The product has multiple settings, with Haskell preferring the "Paparazzi" mode: a bright white light. However she finds the "soft effect" of the "Youthful" setting (pink and white lights) better for daytime. The other settings are "Party," multicolored lights which are great for shooting at night, and "Illuminating," a blue and white light combo.
We sat down with her for a demonstration.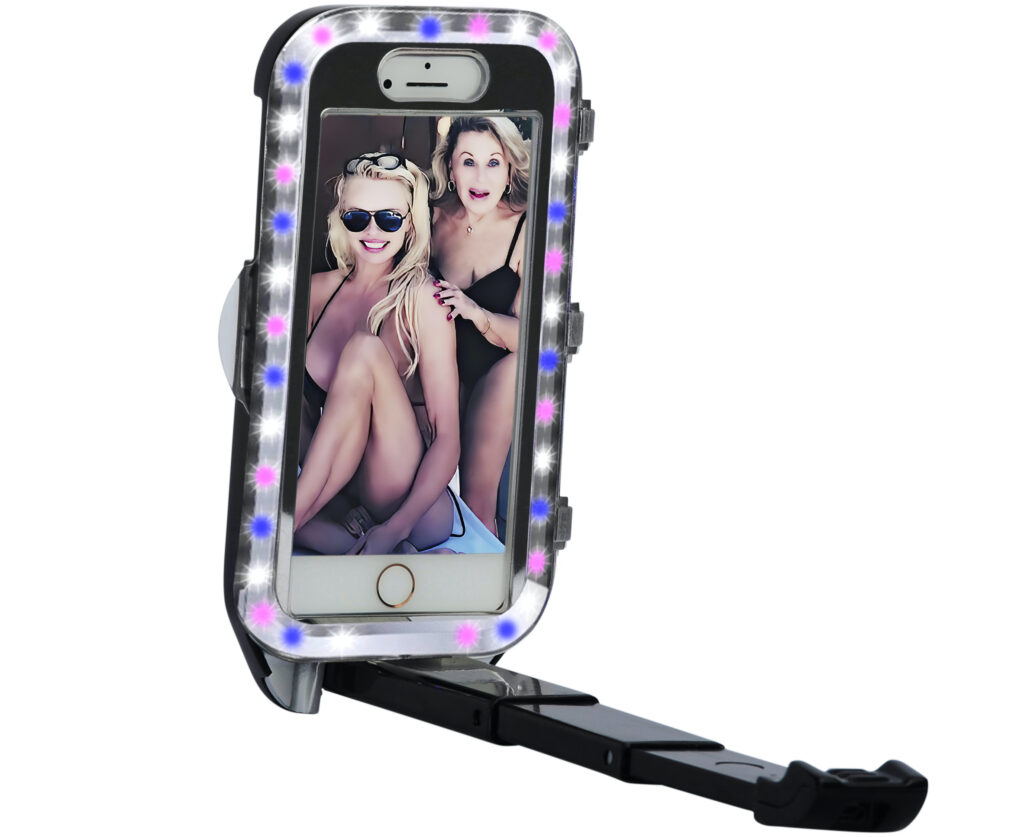 Do you have a preferred social media outlet?
I'm an Instagram girl. I started on Facebook. I don't know, they put in some kind of algorithm so even though I have 5,000 [friends], the maximum amount of people you could have, they've done something to the algorithm so you're getting much fewer people watching it. 
I like to do videos. I like to post things that are fun. I do cooking segments. I used to have a television show called The Nikki Haskell Show (it's on Amazon Prime now). I shot 300 shows in the '80s. I was the first person to shoot Studio 54 and Andy Warhol. It would have been so amazing if during those times I had this product. I would have been able to shoot all the time. So it fits into my lifestyle because I've been shooting things forever that would have made my life so easy. I do a lot of IGTV. I'm really having a great time with it.
How does your IGTV and Facebook work differ from when you had a television show?
I produced my own show. I shot, hosted, and edited my show. But in those days, you'd have to have a big film crew go with you. Then you'd have to go and edit it at editing facilities. And it was really complicated. Now, it's opened up such a great vista for people being able to use the internet to get your products out there. 
It's really been an amazing thing, the whole thing with these selfies and the way these different platforms are set up, making it very easy to tell your story. Before, either you had a television show or you didn't.
I was the first person that had a television show. The Nikki Haskell Show was a forerunner to Entertainment Tonight, The Lifestyles of the Rich and Famous. It was really complicated in those days. Went to Rio de Janeiro to shoot carnival I had to take 150 pieces of equipment and 11 people with me. Now you can just take your iPhone and you can shoot everything!
I was very lucky. I shot Andy Warhol, did a lot of fashion shows. I'm the first person to put fashion on television. I shot Calvin, Halston, and Oscar de la Renta, Carolina Herrera… it would just be so easy today. 
I did a documentary many years ago that I co-produced called Sunset Strip. When we did it, it was so complicated with the film crews and all the different sound people that you needed, and editing facilities that you had to go to. Now you can just edit it right on your phone. It's amazing the versatility and the different things that you can do.
Do you think we would have had a more accurate depiction or memory of the 80s had we been able to record it personally?
Yes, I do think so. It would have given people a much better look at the world if there had been a facility such as this during the 80s. The 80s were an amazing time. It was a groundbreaking era for fashion in the United States. Prior to that, fashion always came from Europe — from Italy and France. And the 80s all the designers really got a foothold in fashion here. I mean, I taped over 150 fashion shows.
I think Andy Warhol would have loved it more than anything because he walked around a camera at all times. He took pictures of everything. A lot of people did. Sammy Davis Jr. had an amazing collection of photography that he had done, because he always carried a camera with him. People like that were ahead of the time. But now it's just an everyday thing. It's not a challenge the way it was then.
If you could have one selfie from one of your friends from back then who would it be?
I would have loved to have an iPhone during the '80s shooting Studio 54. It's a miracle that I have all the footage that I have. Studio 54 only lasted 42 months. So if there was anything that you wanted to do, you had to do it right away, who knew it was only going to be there that short period of time. I was lucky that I got interviews with Steve Ravel and got interviews of the club and all the iconic, the moon and the spoon and everything, because nobody seems to have it.
What do you think the future of social media is?
It's all going to get bigger. It's a phenomenon. Once Instagram came in it was such a young exciting way to capture the world. Before it was a fad. And now it's an integral part of life. 
Everybody was forced into this quarantine. The only thing that really saved people from losing contact with the world was their phones, being able to contact their family, being able to work from home. Yes, the computer is great. But you can't take your computer with you wherever you go. If you're out someplace, on a trip or whatever, and you want to take pictures and send them to Instagram, or Facebook, or TikTok… there's so many outlets to get your story out there.