"The power lunch is making a comeback, but it is a lot more social, rather than just transactional, and more fun," declares Ahmass Fakahany, CEO of Altamarea Group—the team behind the award-winning Marea—of his newest Asian-inspired restaurant, 53.
What's also different, other than the clientele, is that today's generation of Midtown power lunch spots are veritable works of art before you even pick up a menu. The three-story space that 53 occupies sits underneath MoMA's new extended wing and looks like a painting itself, with a series of sweeping, colorful "blades" that flow from the ground floor into the cellar. The arty vibe goes one step further: diners are made to feel like they are on display, with downlights and pendants illuminating each table from above for dramatic effect.
Foodies fear not: the artistry continues with the dishes courtesy of Singaporean chef, Akmal Anuar. Lunch can be ordered prix fixe ($53 per person) or à la carte. Start with the "Duck Pie Tree," a one-bite treat that is an explosion of exotic flavors. The crispy wontons with shrimp were so addictive that my dining companion asked for a second order, as well as extra helpings of the sweet chili dipping sauce, a duck sauce of sorts that in lesser hands would be mundane, but here is made extraordinary with makrut lime leaves.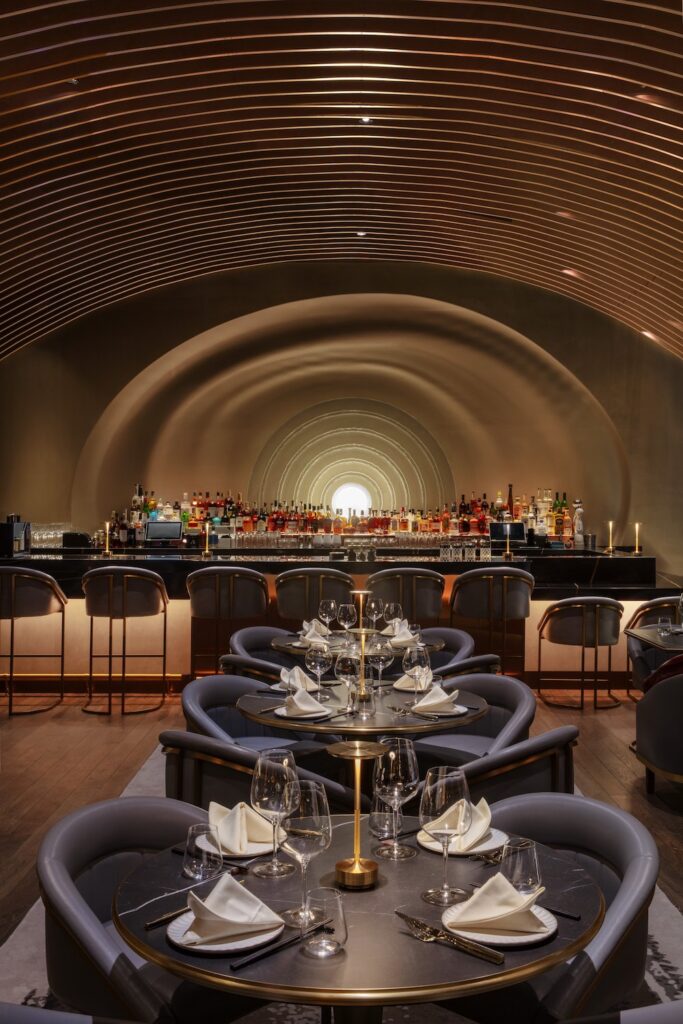 For the main course, we were blown away by the jalapeño miso-marinated black cod with ginger, cilantro, and scallion over crispy rice, which was cooked and served in a clay pot, allowing all the flavors to meld together, with Thai chili soy sauce poured over the dish as the waiter stirs the pot tableside. Another standout: the Hainanese chicken, modeled after Singaporean street food and now an instant signature dish. A beloved Southeast Asian classic that is poached to perfection, with ginger, scallion, and crispy skin. It's not on the lunch menu, but they'll gladly serve it if you ask nicely.
Don't leave without dessert, specifically the watermelon granita, an Italian ice-style confection with a yuzu crème fraîche sorbet at the bottom and a strawberry consummé poured on top. Also be sure to try the mango pudding with oro blanco (in the grapefruit family, I didn't know either), sago, and homemade Greek yogurt ice cream.
If you happen to live in the residences above the restaurant, at the luxury Jean Nouvel condominium tower 53 West 53, you arrive at the restaurant like the ultimate VIP, by a private elevator that bypasses the street entrance, giving a whole new meaning to the "power lunch."
Nostalgic for old-school Midtown power dining with a modern flair? Look no further than the chic Brazilian import Fasano, now in the former second home of the Four Seasons restaurant on East 49th Street. Given the pedigree, Fasano was destined to be a power spot. It's not the business suit haunt of your father. With a "healthy mix of expense accounts, socialites, and Latin American powerhouses, it's younger and chicer," reports the sommelier.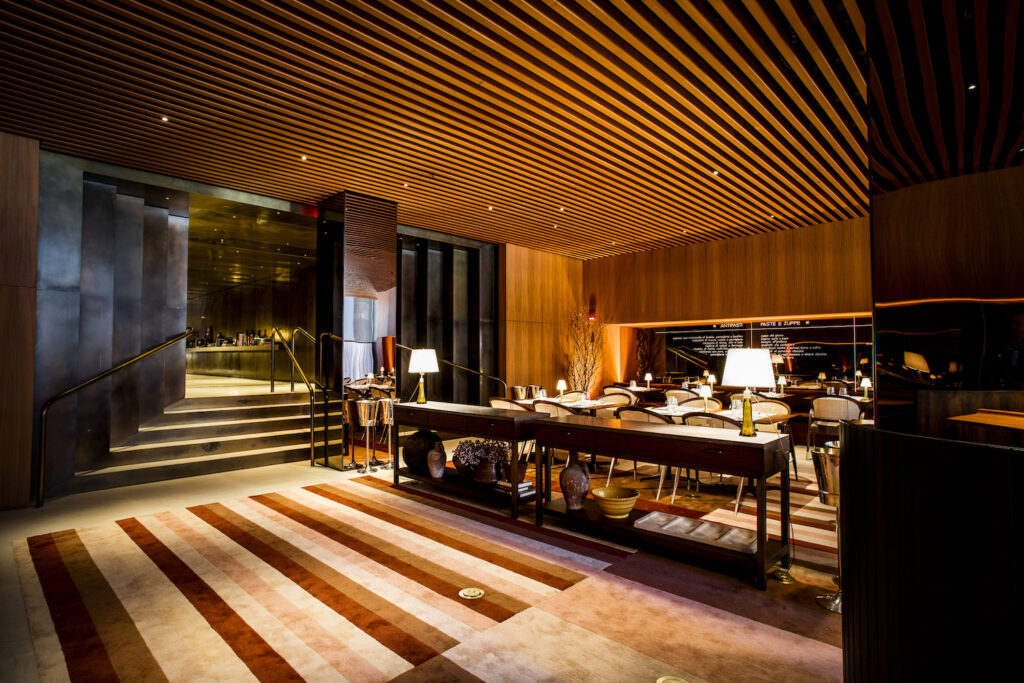 This is Fasano Group's first venture in the U.S., and the over-120-year-old lifestyle/hospitality company spared no expense in the design, courtesy of renowned Brazilian architect Isay Weinfeld, who also did the nearby Le Pavillon. From the large, widely spaced-out tables to the immaculately dressed staff and the dedicated handbag stools, you know you are somewhere expensive, and that doesn't include the prices (although it's still more affordable than its Brazilian counterparts).
Fasano serves northern Italian fare, with a three-course Restaurant Week lunch prix fixe option ($60) that is so popular that they plan to keep it on the menu indefinitely. We opted to empty our bank accounts and go à la carte, starting with the filet mignon carpaccio with taggiasche olives and pine nuts and the panzanella which, in my opinion, is the best version of the tomato, mozzarella, and bread salad in the city. This was followed by a midcourse of pastas. You can't go wrong with the spaghetti alla chitarra, with Sicilian Mazara del Vallo red shrimp and mullet bottarga. They will do half orders of their Primi Piattis by special request, so take advantage of that to try more than one. We had the ravioli ricotta e spinaci with parmigiano, a perfectly rendered version but one-upped with the addition of shaved black truffles on top (and white truffles in the winter). My dining companion, Marco Moreira, a well-traveled Michelin-starred chef, declared: "You can't find better, even in Italy."
Because it was lunch not dinner, we opted for the dover sole for two, which was filleted table-side with meunière sauce, and served with simple grilled asparagus. We were tempted by the Colorado-braised osso buco, enjoyed by the neighboring table, which came with a stunning-looking risotto alla Milanese, served with gremolata. We barely saved room for the signature desert: the gelato cremoso alla vaniglia, a homemade vanilla ice cream whose consistency was akin to eating a fluffy cloud, and came with meringue, candied almonds, pistachios, and hazelnuts on the side.
"Monday through Thursday are all the guys closing their multimillion deals. We are seeing the two-martini lunch, the two-bottle lunch all the time," says our sommelier, noting the restaurant's impressive 1,000 label wine program, consisting of a large selection of vintage Brunellos and Barolos, perfect for that closing toast. Fasano should have no problem filling every seat and might just need another dining room come 2025, when the new JPMorgan headquarters opens across the street, bringing an expected 14,000 employees.
No article on the Midtown power lunch is complete without mentioning Avra, the Greek stalwart that opened in 2000 on East 48th Street. After 16 years, they opened a second Avra on East 60th Street — Avra Madison— which immediately became a go-to for titans of business and celebrities. "If you are in real estate or finance," Stephen Kliegerman, the president of Brown Harris Stevens Development Marketing, says of the Madison Avenue location, "this is the place to see and be seen."
They can't do much wrong with the food at Avra. The seafood is so fresh it speaks for itself, perfectly grilled with lemon and extra-virgin olive oil. We ordered all the favorites, starting with the crispy zucchini and eggplant chips, served with a welcome platter of chickpea puree, olives, and grilled bread. Of course, it's obligatory to order the Greek salad, always with the most magnificent vine-ripened tomatoes, followed by the octopus, branzino, and Carabineros prawns. If you are in the mood for red meat, go for the lamb chops or côte de boeuf, but, then again, why would you when Avra has the best seafood in town?
With a three-course prix fixe of $36.50, seven days a week, Avra stands as a testament to the power of New Yorkers to eat themselves into a great deal, even if there isn't a great deal to celebrate. During Covid, Avra was always jam-packed and impossible to score a reservation at, even with the largest outdoor dining area in the city. And isn't that what NYC is all about?