Over the past year, families spending more time at home from the Hamptons to Palm Beach have been demanding a lot of their gardens — and garden designers.
Top landscape architects report requests for embellishments ranging from the baroque to the bizarre, including hobby alpaca farms; a nymphaeum with a shell-encrusted grotto and bubbling springs; private sports fields; and even sourcing weatherproof dishwashers for those outdoor kitchens that are now all the rage.
The most highly sought designers won't name their clients, of course, but what they will discuss is how private gardens have become sanctuaries. The garden is now an extended room of the house, a place to escape the anxieties of life and enjoy the healthful pleasures of living outdoors.
For Edmund Hollander, a New York–based landscape architect, the emphasis has been on home and family. "We are working on new gardens to be lived in by multigenerational families, as well as retrofitting existing properties," he says, noting that he has observed quite an adjustment. "Before, everyone had a media room inside," he says. "Now, we are challenged to find innovative ways of installing televisions and movie screens outside, so that clients can enjoy 'dinner and a movie' under the stars." The home spa, too, has moved outside. Hollander recently designed one with a hot tub, cold plunge pool, and massage terrace.
Perhaps the greatest change has been that once-seasonal landscapes are being used year-round, with clients demanding distinct outdoor areas where they can party, dine, read, walk, play chess, observe beehives, meditate, and grow food and flowers. "In short," he says, "the good life has been moved outside."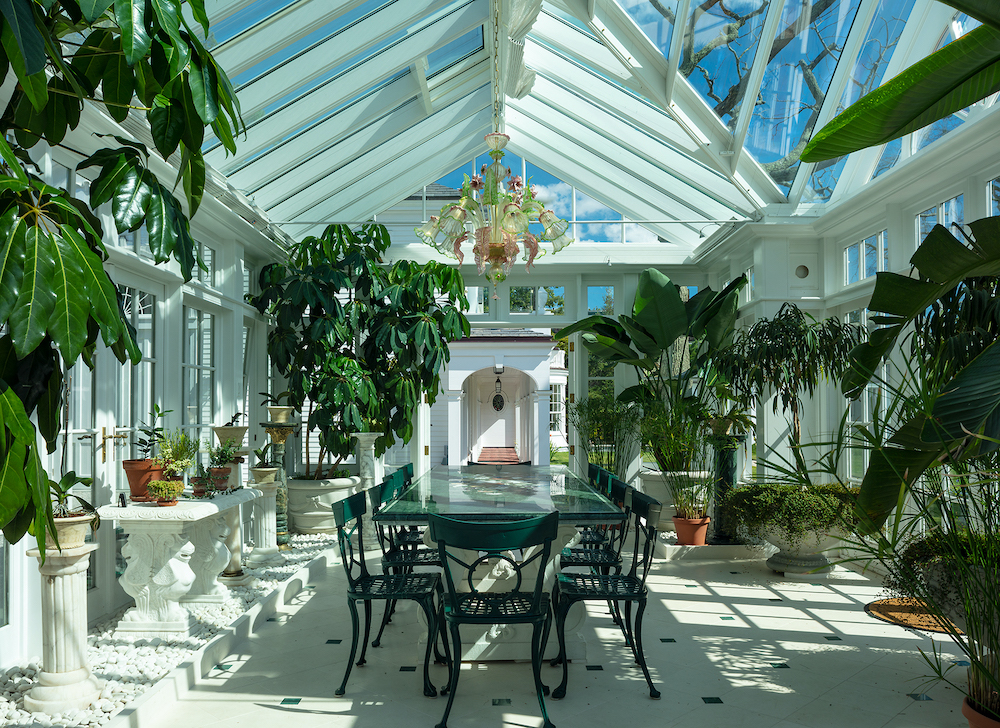 For ambitious homeowners with unlimited budgets who want to maximize their outdoor space, the open sky is the limit.
For example, Tom Kligerman of Ike Kligerman Barkley Architects of New York, who is known for mega-mansions, was recently commissioned to design a large greenhouse in Canada. "It's a conservatory with a kitchen and dining room," he says of the project, which, even at that scale, pales in comparison to what some New Yorkers are asking for.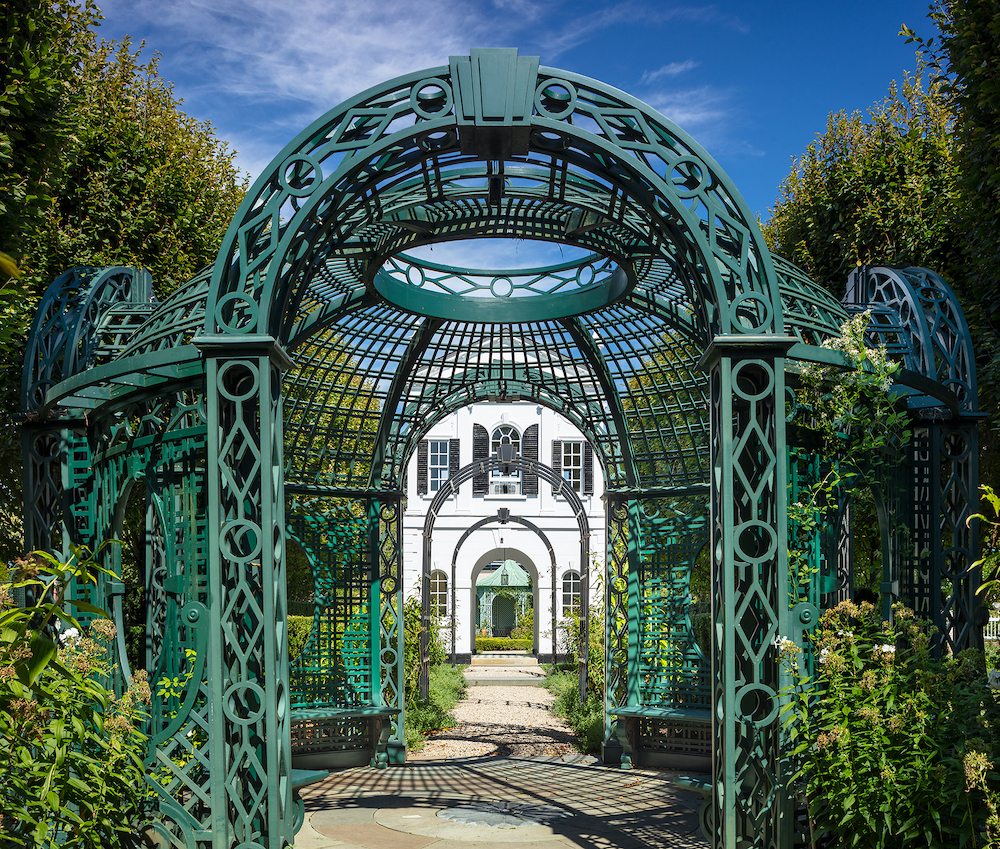 Architect Pietro Cicognani is building a "village" on one client's estate in Southampton, with several new structures. "One is just for reading and thinking while others include a carriage house, a guest house, a pool house, a garage apartment, and a pergola." Also under construction is a grotto that will be lined in Roman mosaics commissioned in Italy.
Chris LaGuardia of LaGuardia Design in Water Mill says he has experienced "an explosion" of work on the East End, since his clients now use their homes year-round.
(Like everyone interviewed here, he is turning down new clients every week.) One demand, he notes, is for what he calls "destination dining."
"People commissioned outdoor dining rooms under a grove of trees, with lights in the trees, music, water fountains — all the amenities."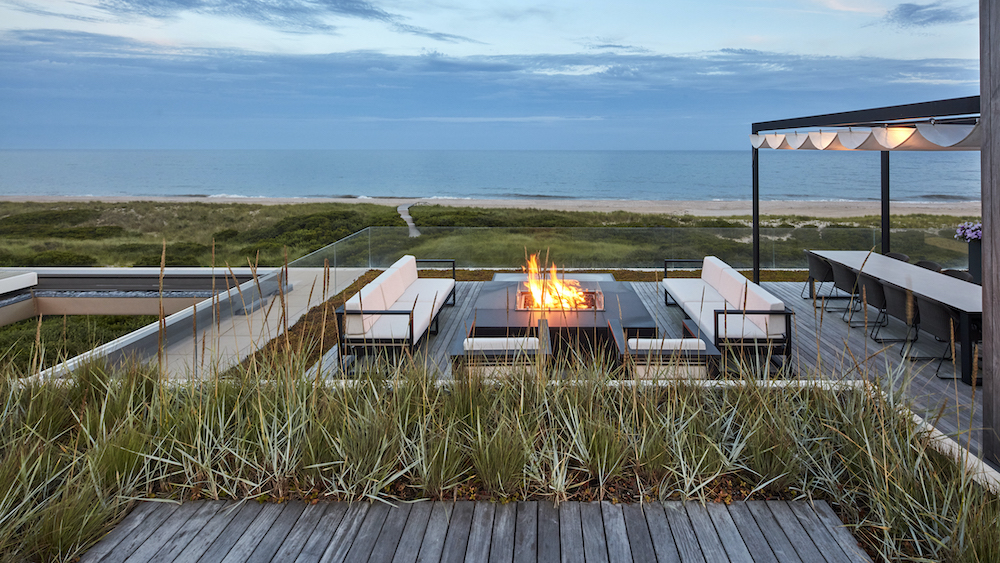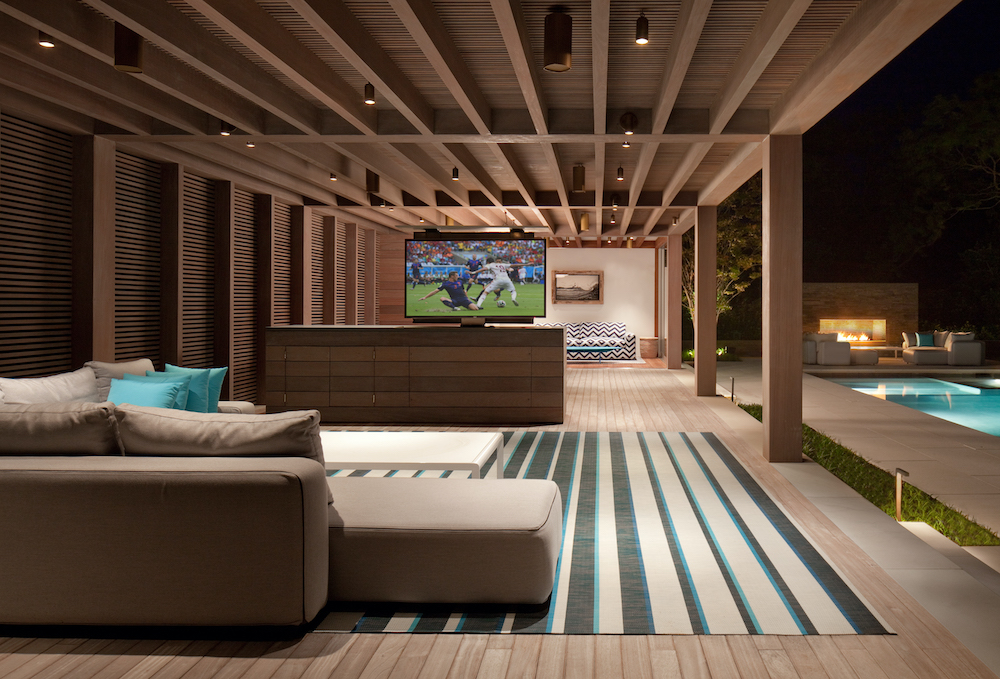 "Not only are clients using spaces year-round, they have also become more thoughtful about how they use their space outdoors," says Tom Volk of Summerhill Landscapes in Sag Harbor. "They want meditative spaces to return to nature, but also sports fields, he says, citing a recently installed bocce court for a cool $30,000. His clients asked for bespoke spaces for outdoor yoga and Pilates, putting greens, cutting gardens, and woodland walks. His firm has installed several edible gardens, including a designated "cocktail garden," with herbs like lemongrass, tarragon, and mint to garnish drinks.
Tony Piazza of Piazza Horticultural Group in Southampton adds, with understatement, "There has been major upgrading of vegetable gardens in the past year." One client had him install 22 COR-TEN steel raised planters, which "got very expensive when the client demanded their corner radius be that of an iPhone." Another boasted what Piazza calls a "highly evolved" private chef who came up with a list of esoteric vegetable varieties for him to plant.
"Our gardens aren't so ornamental now," he says. "They are more functional, with outdoor kitchens becoming a standard, complete with barbecue, refrigerator, woodburning pizza oven, and dishwasher." Like many of his colleagues, Piazza has been charged with designing innumerable outdoor firepits over the past year. One, on Shelter Island, for a couple with wilding 20-year-olds, was dug into a sandy patch with giant de-barked logs all around for seating. Next to it they parked a shiny new Airstream where the owners' children could quarantine for a fortnight after every escape to the city.
Not all projects have been so grand, but important to those that commission them, nonetheless.
New York and Palm Beach–based architects Anne Fairfax and Richard Sammons of Fairfax & Sammons are known for designing Georgian mansions. During the pandemic, however, Fairfax was asked to transform a tiny, overlooked Greenwich Village backyard into a viable garden room.
"Even in cold weather, clients working from home have been finding relief from being trapped inside by turning outdoor tables into impromptu offices," Fairfax says. Her firm also tucked a full outdoor kitchen, unobtrusively, into the interior of a neoclassical pool pavilion.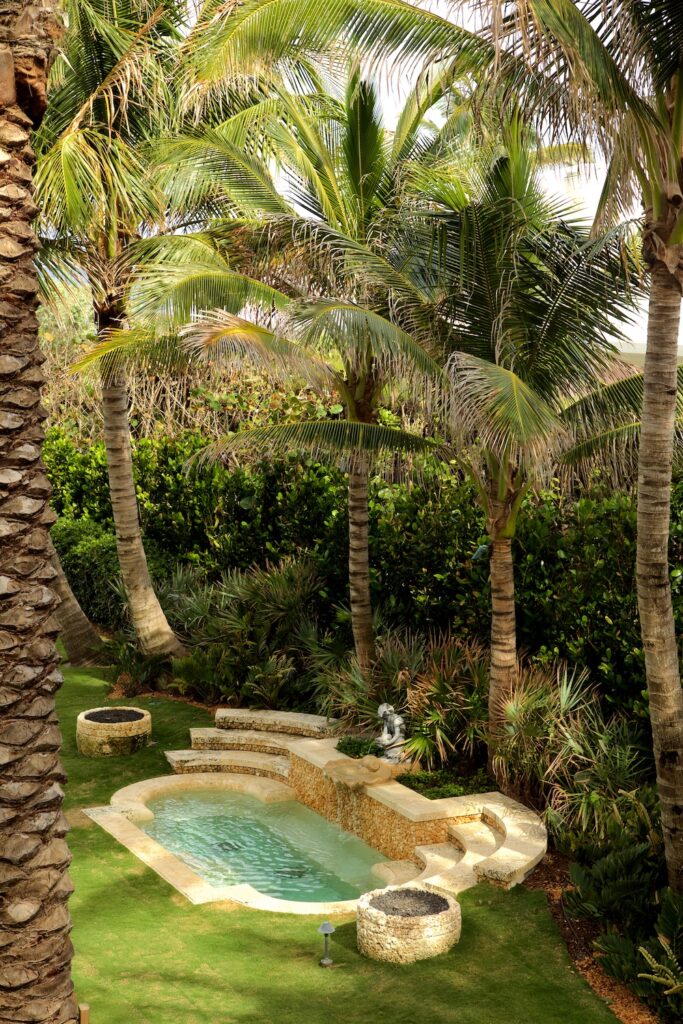 Last summer, an ophthalmologist in Riverdale doing daily, highly technical eye examinations on Zoom approached Bronx-based garden designer Rebecca Allan, founder of Painterly Gardens, to create a private place in her yard to rest and escape between calls. Allan planted a thick hedge of ilex and Pieris japonica, then added perennials like columbine and eastern bluestar. "There was almost a spiritual dimension to it," Allan explains. "That enclosure became more of a necessity than a luxury."
Perhaps the most unforeseen impact of the pandemic is a new embrace of sustainability."We are not purposefully xeriscaping" — the practice of landscaping to minimize water consumption — "but we are using a lot more native plants," says Mario Nievera of Nievera Williams Design of Palm Beach.
East Hampton landscape gardener Edwina von Gal is equally ecologically driven. She is currently promoting "Two Thirds for the Birds," an initiative to save wildlife by having people plant two native plants among every three added to their gardens. The Perfect Earth Project, a non-profit she organized years ago, calls for a ban on pesticides, fertilizers, and herbicides that are "dangerous for babies and contaminate the water table."
Garden designer Debra Yates and her son, Benjamin Burle, of Yates Burle Studio in Palm Beach, use native plants exclusively, organic fertilizers, and no pesticides. They recently created a private garden on the Atlantic Ocean with a unique palette of native wind- and salt-tolerant plants, including thatch palm, pigeon plum, sea oats, dune grasses, silver buttonwood, sea grape, and bay cedar.
"The pandemic made people realize how important it is to live in harmony with nature," Burle says. "Native plants may cost more at the nursery, but they are ultimately cost-saving because they require less water and maintenance. Sustainability is the wave of the future. As stewards of this land," he continues, "we need to plant trees that add value, bring harmony, and support pollinators, spiders, and the worms that feed our birds."
It is a point underscored by Hollander, who has installed wildflower meadows to attract butterflies and bees. "People want healthy environments now. If it's good for the honeybees, it's good for you."
Being in nature is lovely, of course, but some clients prefer to look at it from a distance.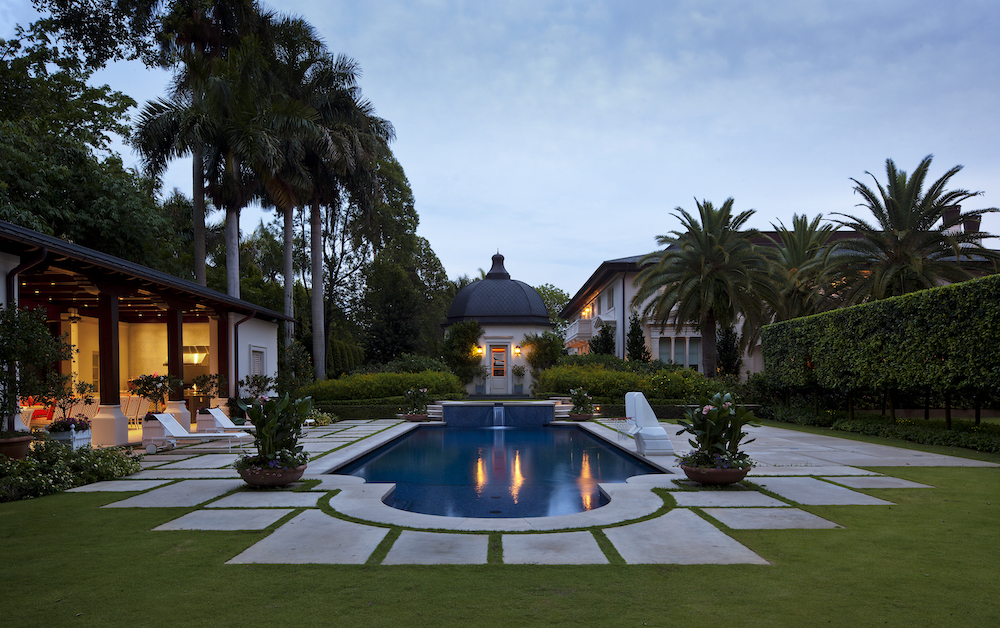 Charles Marder, the founder of Marders nursery in Bridgehampton, says that for the first time he is installing gardens meant to be experienced from the indoors. His typical client in the Hamptons is an investment banker who is now working full-time at home.
"When people built their homes, they did not expect to be stuck in home offices 24-7," he says. They call Marder because they don't like what they see. "Often, I'm being told to get rid of unsightly views, such as a neighbor's new construction." Sometimes, he is asked to bring more daylight into the office; more often than not, he is told to design a new "viewshed" from the office window. This has involved building new ponds, planting an allée of sycamores along the driveway, installing "trophy trees" like a 40-foot copper beech, importing gigantic boulders or — a Marders specialty — adding a picturesque potting shed to the landscape.
Jorge Sánchez of SMI Landscape Architecture in Palm Beach is known for the luxurious private gardens he has created for clients such as the late David Koch. For his own 750-acre ranch north-west of town, where he raises cattle and stables his horses, he has installed a 650-foot reflecting pool and a new organic vegetable garden whose planters are gabion walls made of stacked rocks covered in metal caging — their design inspired by Herzog & de Meuron's Dominus Winery in Napa.
"Creating outdoor spaces that can be enjoyed twelve months of the year is the next design frontier," says Adam Tihany, a New York architect whose focus is hospitality. "The big challenge is how you create such spaces, be it a restaurant, spa, or cruise ship."
Eighteen months ago, Tihany was asked to de-sign a lavish penthouse garden for the Hotel La Palma in Capri. Originally imagined for summer-time use only, the roof garden now has to function from March to November, adding three months to the season, Tihany explains. Additions included glass windbreaks, built-in outdoor heaters, and large awnings. "I was happy to do it, and the results are spectacular, albeit expensive."