In its more than 100 years of providing a tropical respite to the nation's richest families, Palm Beach has never been more relevant.
The 45th president of the United States, of course, attracted the world's attention to the island. But other factors, like the high concentration of billionaires who call it home, and a mass migration from the Northeast only accelerated by Covid-19, have also highlighted the 16-mile-long barrier island's natural beauty, glittering wealth, cultural amenities, and the relaxed lifestyle such an environment affords.
Palm Beach's monied tradition began in 1892 with the arrival of oil and railroad tycoon Henry Morrison Flagler, who first saw the potential in the sparsely inhabited island. Shortly thereafter, he raised the Royal Poinciana and the Palm Beach Inn, the latter of which would eventually become a little resort called the Breakers.
Flagler also constructed the Florida East Coast Railway and the Over-Sea Railroad, a rail line running from Jacksonville to Key West that transported Rockefellers, Vanderbilts, Astors, and the likes of J. P. Morgan, Andrew Carnegie, and William Randolph Hearst to his luxury Palm Beach resorts. Concurrently, the industrialist built his own Beaux Arts mansion on the island, Whitehall, which now offers visitors a glimpse into the glamour of the so-called Gilded Age as the Flagler Museum.
The Breakers was so hot that it burned to the ground, twice: once in 1903 and again in 1925. Determined to create the world's preeminent resort following the second fire, Flagler's heirs enlisted architectural firm Schultze and Weaver to raise a magnificent, Italian Renaissance-style hotel. The circa-1926 building, with its 200-foot-long lobby, significant for its hand-painted ceilings and Venetian glass chandeliers, is still regarded as Palm Beach's undisputed crown jewel. But the hotel is not content to rest on its laurels: like the grande dames it serves, it is constantly, if discreetly, having work done.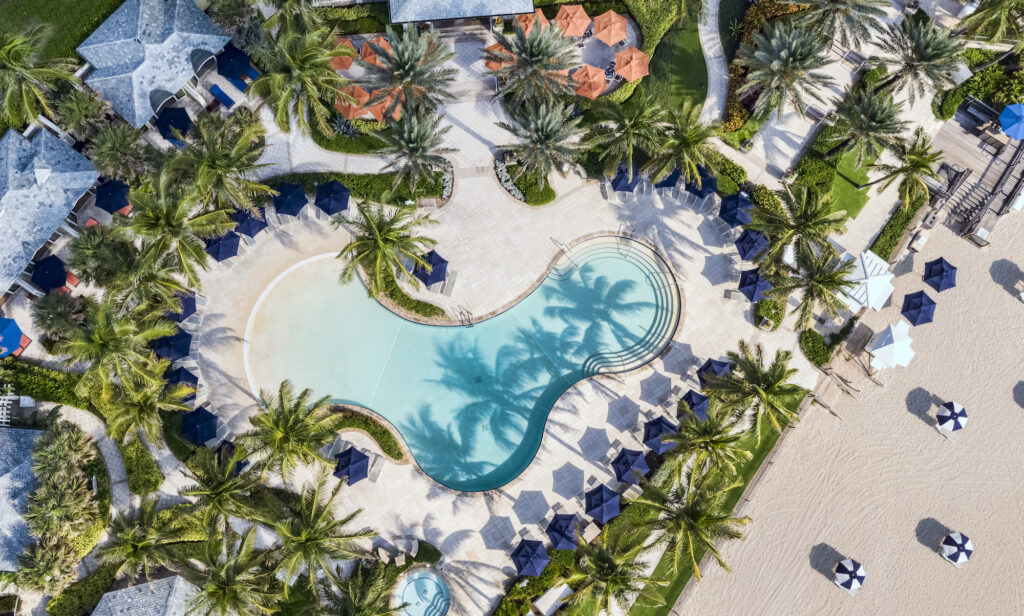 In the 1960s, Palm Beach became the winter home to President John F. Kennedy, Jackie Kennedy, and the First Lady's collection of Lilly Pulitzer shift dresses. Peanut Island, just off the North End of Palm Beach, remains the site of the former president's nuclear bunker. Now, it serves as a 79-acre public park that attracts boaters and snorkelers.
Even in the 21st century, Palm Beach persists as a beacon of old-world quality and qualities. Its European charm is evident at landmarks such as Worth Avenue, the town's commercial center lined with elegant shops, Addison Mizner's Spanish Revival architecture, and Mediterranean vias that reveal hidden courtyards.
Rolls-Royces are often referred to as the "Palm Beach Mercedes," and the "Season" (in normal times) consists of an endless string of galas that raise millions upon millions for local and national charities. Even the Publix grocery store resembles a Mizner mansion and boasts valet service. As a local billionaire's wife once said to me, "It's a very civilized place, isn't it?"
Palm Beach often feels like an impermeable safe haven, as if nothing rotten could possibly touch it. Though we know that's far from the truth — ahem, do the names Epstein and Madoff ring a bell? — it's easy to forget humanity is facing a global pandemic when you're watching the waves curl and crash at Flagpole Beach. And, because distractions are plentiful, it's possible to put our nation's unrest out of mind — until you drive past Mar-a-Lago or bump into the Secret Service, that is.
No doubt, this escapism adds to the island's allure. However, Palm Beach isn't the same vacation destination your grandmother remembers. The privacy and privilege that comes with the 33480 ZIP code now also comes with upgraded amenities and a refreshed, youthful energy thanks to new investment. —such as the revitalization of Royal Poinciana Way into the main street that Flagler envisioned — and the demands of a younger population. Couples with children in their 30s and 40s, who grew up visiting the area, are now making Palm Beach their own.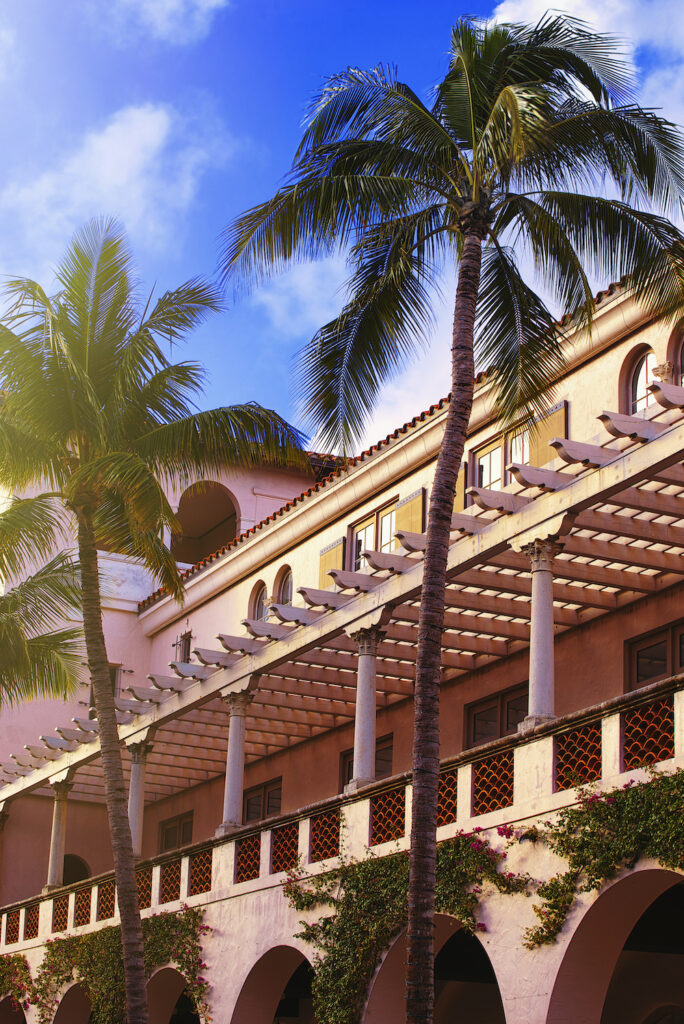 Behind the impeccably manicured hedges, Palm Beach is ultimately a small beach town where thirtysomething entrepreneurs, young families, and those in their golden years exist in harmony.
As such, stiff formality has given way to a more laid-back sophistication. You certainly won't see white tablecloths or stereotypical pearl clutching at Buccan or Imoto, the island's two reigning hot spots run by James Beard Award nominee Clay Conley. But you will find Chanel bags paired with denim and a local IPA on the same table as steak tartare with black truffle and a crispy cured egg yolk.
Beginning in 2011 with the opening of Conley's restaurants, Palm Beach's food scene has served to elevate the island's cachet. In 2019, Mauro Colagreco, the three-Michelin star chef who helms the top-rated Mirazur in France, put his name behind Florie's at the recently renovated Four Seasons Resort Palm Beach. Daniel Boulud's Café Boulud has been a longtime island resident, and as North-easterners flee south, many of the restaurants they frequent, such as Upper East Side favorites like La Goulue and Le Bilboquet and the Hamptons' beloved Almond, have followed.
"What I love about Palm Beach today is that there's still a nod to tradition and to the Old World — jackets, great shoes, pretty dresses," says Eric Lemonides, restaurateur and owner of Almond. "The only difference now is that there's a little more fun involved."
LOLA 41 AND THE WHITE ELEPHANT HOTEL
Working in Palm Beach in the '90s, restaurateur Marco Coelho remembers the days when there were only a handful of places to eat on the island.
"It was all the same food," he laments. "For something different, you had to cross the bridge."
Today, the PB location of his Nantucket restaurant LoLa 41 allows diners to cross continents without ever leaving its sultry lounge or intimate courtyard with towering poké "nachos," decadent burgers with foie gras sauce, and expertly prepared sushi. LoLa anchors the White Elephant Hotel — another Nantucket-based newcomer — inside of a whitewashed Mediterranean revival where the defunct Bradley Park Hotel once stood. With the most contemporary furnishings and art-work of any lodging in Palm Beach to date, the White Elephant is a breath of fresh air.
THE ROYAL POINCIANA PLAZA
Recent renovations and new tenants like Hermès, Oscar de la Renta, Kirna Zabête, Zimmerman, and LoveShackFancy have restored architect John Volk's 1950s outdoor plaza into a hip shopping mecca and community gathering space for Palm Beach's next generation. Make a day of it and visit public art exhibits from Pace Gallery, renowned for its contemporary collections worldwide, and Acquavella, a noted Upper East Side gallery that opens its first location outside Manhattan this season. Then, be sure to refuel with the crispy chicken sandwich at the Hillstone Restaurant Group outpost Honor Bar; Mexican street food and spicy margaritas at Coyo Taco, a favorite of Miami's Wynwood neighborhood; or the divine strawberry gelato from that purveyor of all things Italian and delicious, Sant Ambroeus.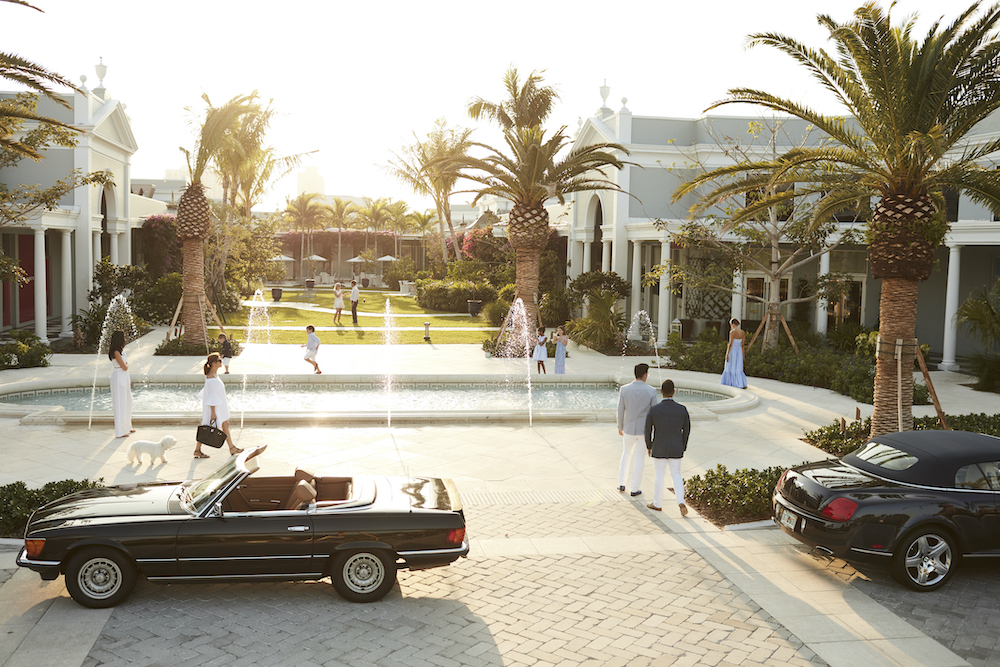 HENRY'S PALM BEACH
Everything the Breakers touches turns to gold, and Henry's is no exception. The resort's newest restaurant, located on Royal Poinciana Way, perfects the art of comfort food, elevating appetizers like pigs in pretzel dough blankets with Pilsner fondue, and serving true luxuries like stone crab claws and butter crumb Dover sole. An approachable yet posh interior designed by Adam Tihany and over-the-top touches like the leather-backed menus monogrammed with Henry M. Flagler's initials — truly, they could be mistaken for a Goyard clutch — go a long way with well-heeled Palm Beachers.
GREENMARKET
Pop over the bridge to visit the waterfront farmers market frequented by Dr. Oz and Martha Stewart. Located downtown with the Intracoastal as its backdrop, the West Palm Beach GreenMarket greets visitors with mimosas, the smell of cider doughnuts wafting in the air, and incredible dog watching. Discover the some of best croissants outside of France from Loïc Bakery and impressive single-origin brews from Pumphouse Coffee Roasters while shopping for the week's necessities: greens from Swank Specialty Produce, a fresh loaf from Bread by Johnny, and artisanal cheeses from La Montagne Des Saveurs.
SOCIETY OF THE FOUR ARTS
Beautiful days in Palm Beach start with a bike or walk along the Lake Trail, visiting the nearly 200-year-old giant kapok tree, and ending at the island's cultural hub — the Society of the Four Arts. Stroll through the tranquil gardens, where you'll discover a sculpture garden, tropical flora and fauna, and an installation from master glass artist Dale Chihuly arriving this spring. Or, venture indoors to attend a lecture, workshop, book discussion, concert, or exhibit. This season's remarkable lineup includes the "Charles and Jackson Pollock" exhibit, which will showcase 70 paintings and works on paper from Charles, the "elder Pollock," as well as a selection of Jackson's rarely seen works, from January 30 to March 28.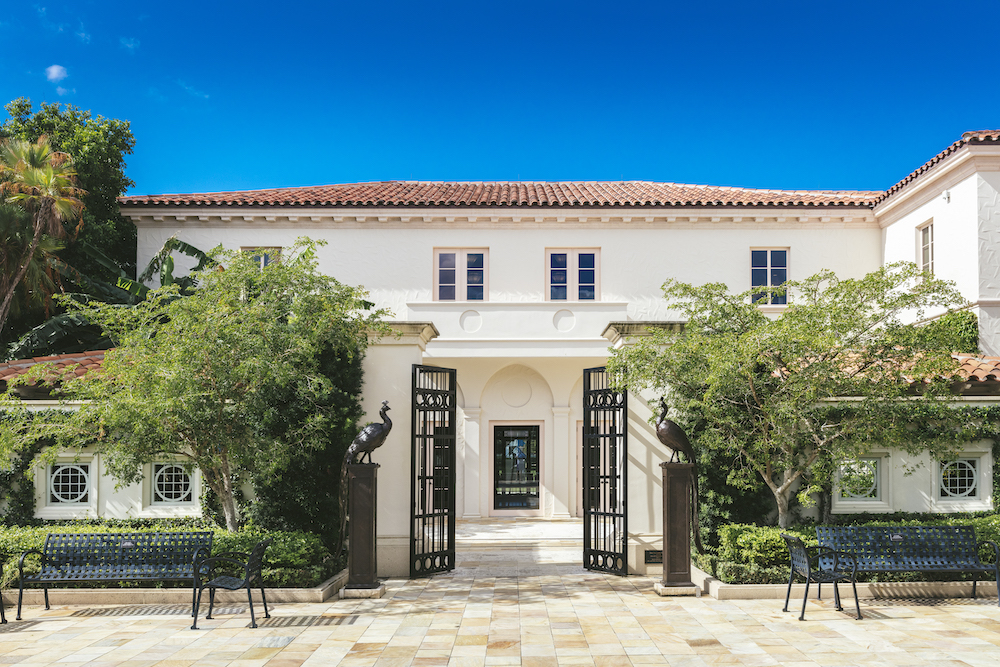 STUBBS & WOOTTON
Whether sporting a tuxedo at a charity gala, a sundress at brunch, or a bathrobe while quarantining at home, handmade smoking slippers in velvet, needlepoint, or raffia are required foot-wear in Palm Beach. Founded on the island in 1993, Stubbs & Wootton allows shoe lovers to create their own bespoke pair at its Worth Avenue location.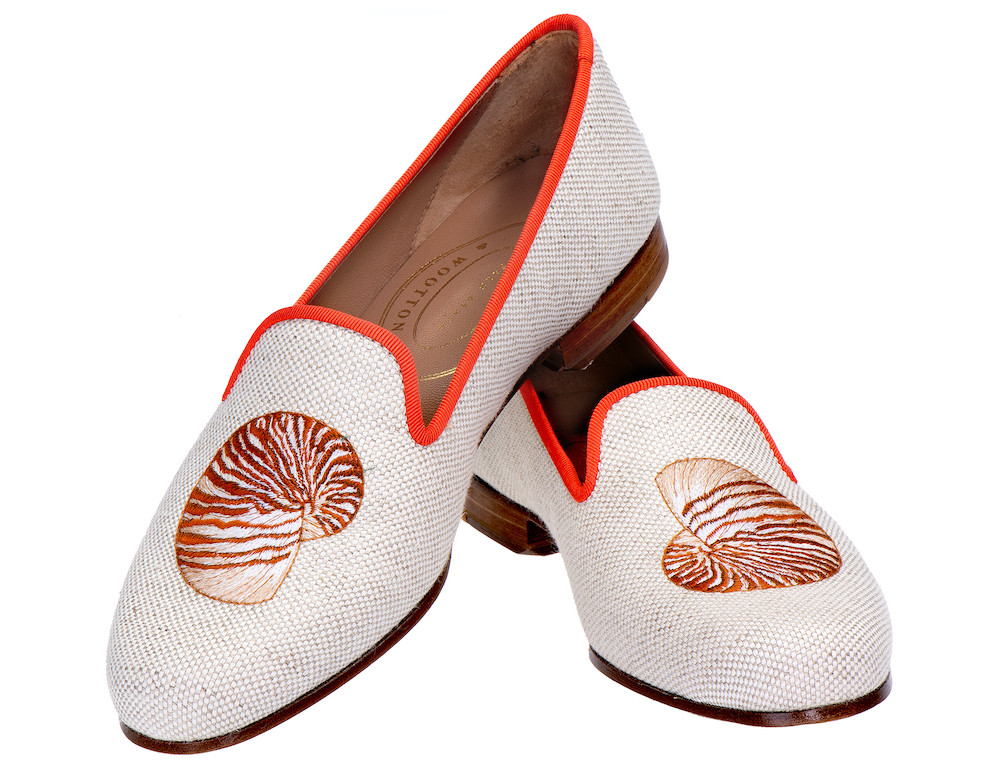 RAPTIS RARE BOOKS
Just down the avenue, New England transplants Adrienne and Matthew Raptis share their love for reading, history, collecting, and travel with the local bibliophile community at their antique bookshop and firm.
"Palm Beach has a unique cachet and population," says Adrienne. "We enjoy seeing people who appreciate arts and literature face-to-face."
Inspired by some of the couple's favorite European libraries, the brick and mortar's stately bookshelves house everything from a first edition of The Great Gatsby to handwritten Isaac Newton manuscripts, to a collection of original Harper Lee drawings and letters.
NORTON MUSEUM OF ART
Worth venturing over the bridge to see, the Norton will celebrate its 80th anniversary this year. Founded in 1941 by two art collectors, Chicago-born industrialist Ralph Hubbard Norton and his wife, Elizabeth Calhoun Norton, the museum has become a must-visit arts destination for its contemporary collections and work highlighting emerging mid-career artists. In 2019, a $100 million renovation led by famed architect Lord Norman Foster added 12,000 feet in gallery space and a striking entrance wrapping around a banyan tree. This year's provocative exhibits address issues surrounding immigration and racial injustice.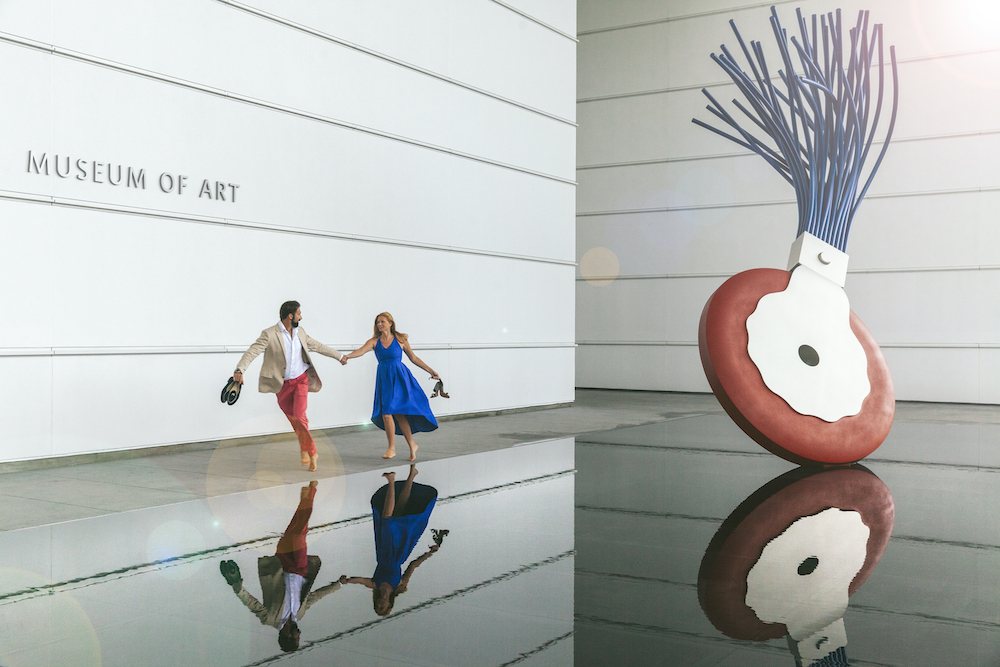 PALM BEACH OPERA
Palm Beach's professional opera company returns this season with its first-ever festival from February 19–27 at the outdoor iTHINK Financial Amphitheatre at the South Florida Fairgrounds. The opera will stage three popular pieces in a concert and semi-staged format: La Bohème, a romance set in 1830s Paris; Pagliacci, a tragic love-triangle tale; and Mozart's family-friendly Die Zauberflöte. Seats at the open-air, covered venue will be socially distanced, sanitized, and filled to only 30 percent capacity. Audiences can expect to hear some of the art's top performers.
"It's turning out to be a veritable who's who of the opera world," says general director David Walker. "It will be an artistic experience that we hope will deliver healing, hope, and excitement."
THE COLONY HOTEL
This landmarked property is a modern-day Slim Aarons paradise. Since purchasing the Colony in 2016, CEO Sarah Wetenhall and her husband, Andrew, have lovingly infused the boutique hotel with their playful flair. Under the Wetenhalls' watch, the former Polo Lounge was transformed into the bright and airy CPB, a restaurant led by chef Tom Whitaker that infuses Floridian fare with his British sensibility — something the Duke and Duchess of Windsor would have likely appreciated during their frequent stays way back when. Last season brought a well-received pop-up of Upper East Side icon Swifty's to the Colony, which will extend this year into Swifty's POOL for alfresco cocktails, dinner, and lunch beneath the hanging poolside garden. Finally, the arrival of Bluestone Lane will offer guests both grab-and-go and sit-down options for breakfast and lunch.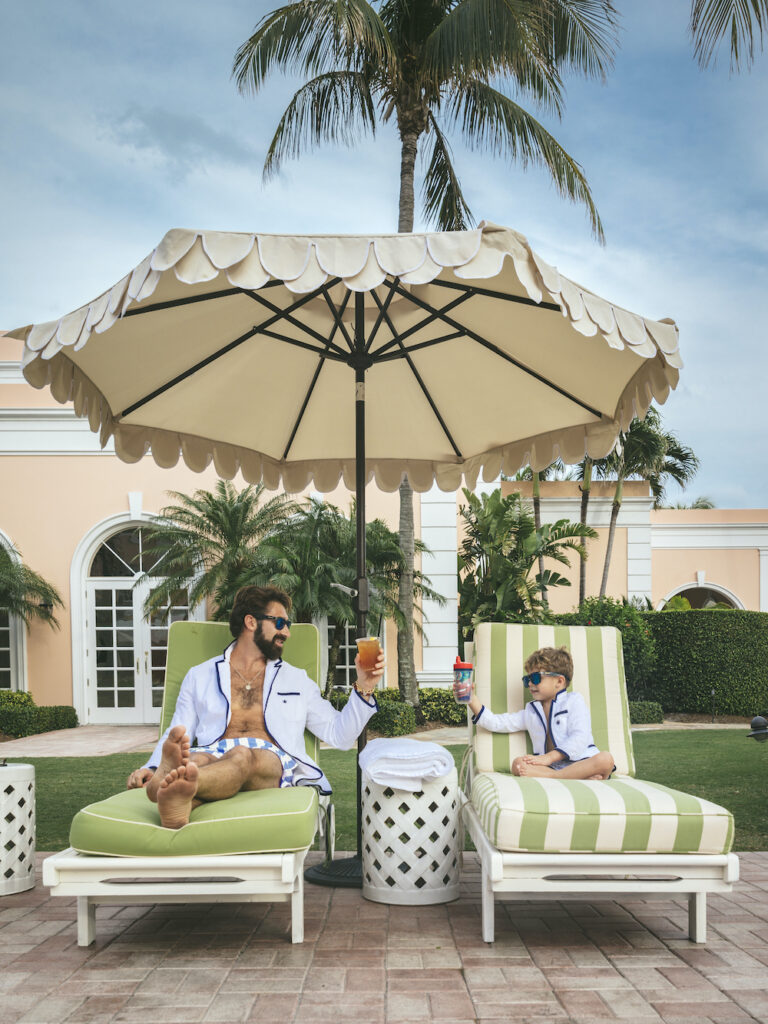 ALMOND
When restaurateur Eric Lemonides and chef Jason Weiner opened Almond's third location in the former Nick & Johnnie's space last year, the moody bistro with cozy booths and orange Scalamandré zebra wallpaper quickly became a neighborhood staple. Here, you're bound to bump into friends and old acquaintances who share the same sentiment about Lemonides's unfussy approach.
"This is the nightclub for my age group," says Lemonides. "People like me who grew up in the '80s and '90s still want sexy music and a great atmosphere, but we can't party like we used to. Instead, we want to drink a nice bottle of wine and enjoy a proper dinner."
Almond's menu is familiar, but interesting enough for a night on the town. The Brussels sprouts Caesar has a cult following, likewise the pork Milanese and halal cart-inspired roast lamb. It all showcases produce from the local farming community, just as the partners aim to do at their Bridgehampton and Manhattan locations.
"We all want informality," he says. "But everything still has to be perfect."