Cowboys and Indians," Madeleine Pickens responds with a girlish inflection, as though she's ready to bring down a trunk of Stetson hats and feathered headdresses from her attic. It's why she moved to the United States 50 years ago: "I've always dreamed of life on the frontier."
Born in the Middle East to British expat parents and raised in boarding schools in the UK, Pickens's pioneering spirit had her serving moist towelettes and cigarettes on Pan Am flights before starting her own business staffing private jets with elite crews. Today, she lives in Southern California (Bill and Melinda Gates bought her former oceanfront home for $43 million earlier this year) and counts both aviation magnate Allen Paulson and hedge fund tycoon T. Boone Pickens as ex-husbands.
Like Pickens, countless legions of Europeans have, over the centuries, heeded the call of the Wild West to manifest their destiny — a byword for what would later be rebranded as the American Dream. But along with their gold-digging trowels, these adventurists also carried with them the very European propensity to separate the haves from the have-nots. The dukes and earls of the old world found their equivalents in the magnates and tycoons of a modern nation where money — not family — formed its aristocracy.
Social stratification is as old as the Pyramids, of course. But it was perhaps starkest during the Middle Ages, when lords and ladies of the manor ruled over serfs who worked their land until the Black Death swept through Europe, breaking the yoke of cloistered servitude. Ironically, it's another pandemic that's reviving this way of life once again.
In today's nouveau feudalism, elites are gathering their staff and themselves safely behind the high walls of their fourth homes to keep themselves removed from modern threats.
Pickens would know — she owns Del Mar Country Club, a grassy enclave that sprawls across one of America's most affluent zip codes, close to San Diego. For the first time since the Great Recession, membership is noticeably up.
Pickens used to be wistful when she'd reminisce about life at the club before 2008 — the same twinges of longing when she imagines her frontier fantasies: the over-the-top galas, lavish weddings, and other such showboating of limitless wealth. But now, despite the Covid-related closure of the clubhouse, card carriers are once again lined up at the gates, clamoring to get in for brunch on the patio.
Further up the coast in Los Angeles, famed hotelier André Balazs announced this summer that he would turn Chateau Marmont into a completely private venue, with an eye on expanding into international markets like London, Paris, and Tokyo in the near future. Sure, VIP lists have kept the plebs outside of its velvet rope for years, but Covid has been the propellant to formalize the members-only experience as clientele now require safety just as much as they do privacy.
The property's top 100 guests generate the majority of its profits, so by knowing outright who the most valued patrons are, staff can more swiftly ensure their care.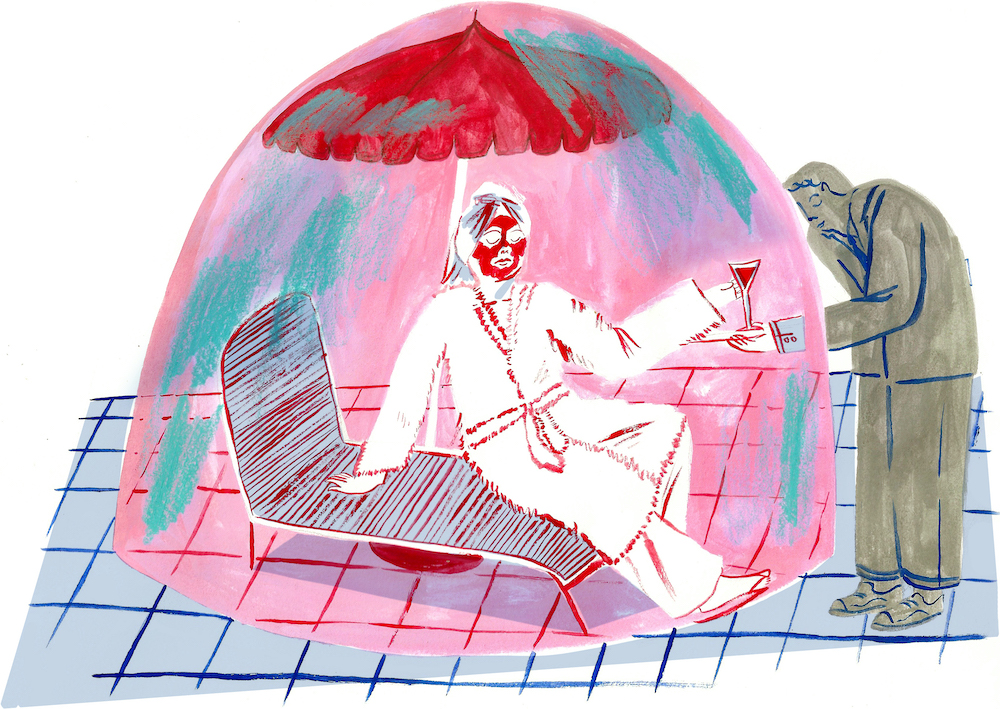 A private club may solve the recent quandary of where businessmen can execute their midday meals-and-deals. But what about the location dilemma for today's "ladies who lunch" — now "ladies who crunch"… their abdominals?
"I would say it was some time in the last two years that I started getting invited to Pilates classes rather than cocktail parties," says Jean Godfrey-June, beauty editor at Goop, Gwyneth Paltrow's lifestyle brand. Green juices and SoulCycle sweat sessions have replaced dirty martinis and lobster Cobbs.
"Wellness is the perfect outlet for those who have plenty of time and ample money," Godfrey-June notes, but unlike the hospitality business (where well-heeled diners can hopscotch between cordoned-off venues), fitness studios remain virus hot zones, which has forced the industry into the homes of its constituents — all of whom have been busily turning their extra bedrooms into spas and gyms with the same zeal as executives setting up home offices.
Since the pandemic started, Peloton's sales jumped 66% in its third fiscal quarter, Lululemon's online business leaped 70% in the early summer, and Goop can't keep its products stocked on their virtual shelves — infrared sauna blankets ($500) and gemstone heat therapy mats ($1,050) are selling out faster than a Taylor Swift concert once did.
"And our beauty products, too," Godfrey-June adds. "Women can't get their usual facials or treatments, so they're finding do-it-yourself substitutes instead." She recommends the Jillian Dempsey Gold Sculpting Bar (practically free at $195), which helps keep the face firm when your dermatologist's arsenal of injectables aren't at your disposal.
While the lion's share of high-net-worth individuals are working and welling from home (yes, it's a verb now), there's a subset of society that's found a more unconventional way to pull life's trappings into their quarantine bubble: five-star hotels.
"There are challenges with stand-alone villas and summer homes that hotels can easily solve," explains Julie Danziger, a managing partner of EMBARK Beyond, a luxury travel planning service based in New York City. After sending her clients on lavish summer getaways, they all came back in the fall wanting more.
"Having everything — a restaurant, fitness center, movie theater, medical care, and round-the-clock cleaning — at your fingertips is gold," Danziger says, "and resorts are adhering to the strictest sanitary guidelines in an attempt to garner guests."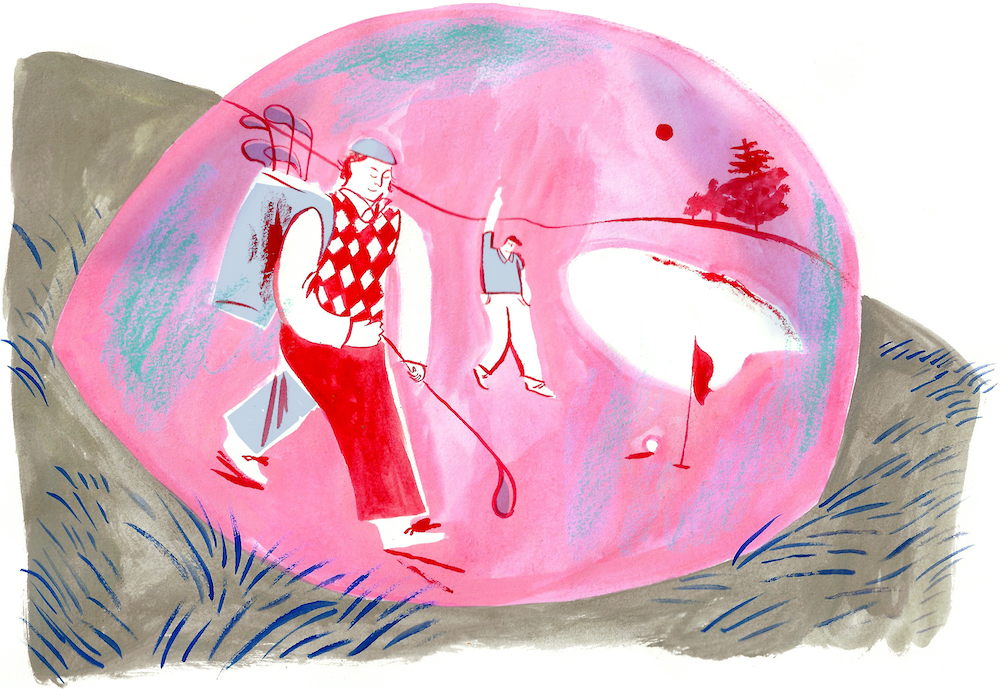 Transforming full-service properties into souped-up gated communities has become such a fruitful endeavor for Danziger that's she developed a special department — EMBARK Longer — to vet the surplus of long-stay requests. Dozens of hotels around the US and Caribbean are reporting three- to six-month stays, and most of the 63 rooms upstairs at the Chateau Marmont have been taken over by full-time guests who feel much safer on property than they do down the street in their own, fully staffed homes.
Whether sequestered at their weekend retreat, or hidden away at the Chateau, the haut monde has quickly adapted to the gated life by throwing gobs of money at each problem as they arise — dining, wellness, health, travel, and even education. There's just one conundrum that has yet to be adequately resolved: how do you put the "social" back in "socialite" when we're all relegated to Zoom?
Pickens believes she's found the answer.
"It's all about golf. You're outside in your pod of four or six and you can talk distantly as you walk between each hole." Interest in the sport may have been flagging before the pandemic, but Pickens ardently asserts that Covid has minted a new generation of enthusiasts who are now out on the greens and fairways, putting with their fathers — "it's almost impossible to get a tee-off time at Del Mar," she adds.
"The summer has really been a boon to our community," agrees Godfrey-June. "We've just taken our network outside."
Now, with the colder months upon us — as we coop ourselves back up in our gilded cages — Pickens is ready with another solution: the keys to Mustang Monument, her very own fiefdom in the high desert of northeast Nevada measuring 900 square miles, almost the size of Rhode Island. She purchased the land in 2010 in a bid to help save a thousand wild horses from slaughter, then conceived of an ecolodge to help defray its maintenance costs.
As Covid continues on, Pickens is leasing out her property wholesale to interested renters: you know, in case you want to live your dreams of frontier life too.