"I want more of those langoustines." This is my cousin Caite, and we're just finishing lunch at Le Bernardin. It is the best restaurant in New York, possibly the world; the French La Liste has consistently rated it in the top slot or at number two since it opened in 1986. And who knows better than the French?
The langoustines were sublime, warm and lightly cooked in a dashi broth, not so much poured as gently drizzled into the bowls, with exquisite finesse, from a little jug by one of the endlessly attentive staff.
Caite and I have come into the restaurant on a grimy, dank winter's day, escaping from 51st Street, in the middle of the busiest part of the city, where the traffic is crazy and the noise cacophonous — trucks honking, people yelling, office workers dripping hot sauce onto tacos from food trucks. Inside Le Bernardin is a different world. The French have a word for it: dépaysement. It means, literally, "out of the country," but the real sense of it means to be away, in another world, free of the quotidian.
Almost as soon as we are seated, a bowl of salmon rillettes and glasses of La Caravelle arrive at our table. As we sip our Champagne, waiters dance around, bringing the tray of bread — baby baguettes, dense dark pumpernickel slices, fennel and tomato rolls, walnut and raisin bread, all seemingly just out of the oven. The butter is soft and sweet, and when we help ourselves and our knives leave a tiny mark on the surface, the pot of butter is replaced with another one, the surface smooth: no dented butter for us, not at Le Bernardin.
This is dining on a grand scale. It belongs to the timeless New York of the dazzling skyline and the dry martini, the mythic city of the spectacular, of George Gershwin and Duke Ellington, of Jackie Kennedy, of Fred Astaire dancing in the dark in Central Park, of Hamilton on Broadway.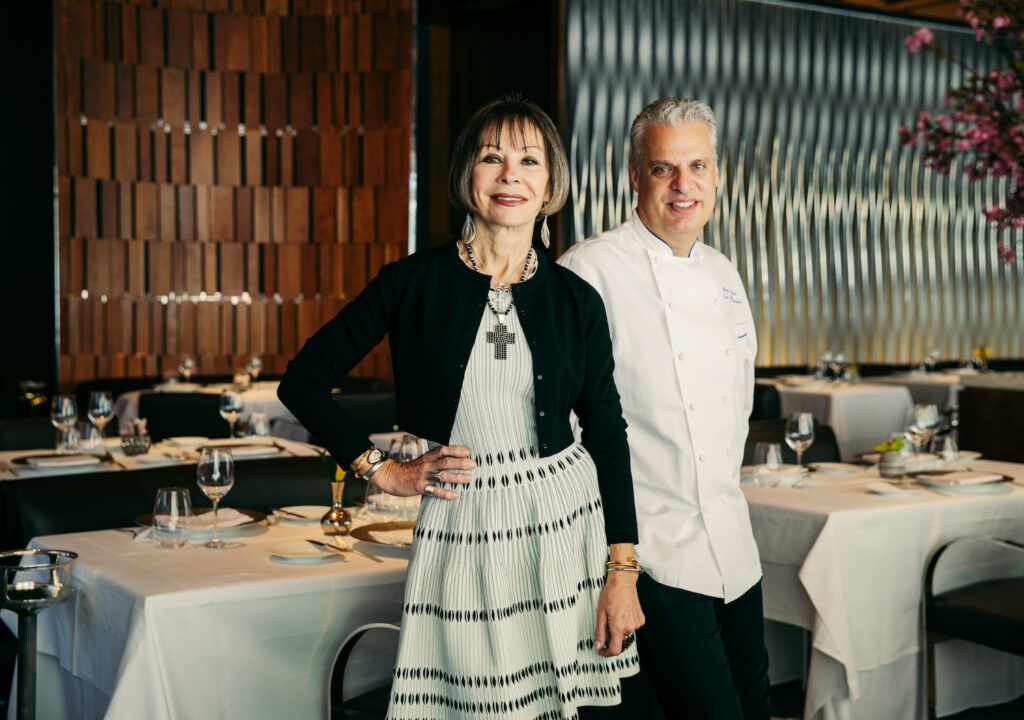 The glorious dining room is outfitted with orchids in glass holders and lavishly comfortable tables and chairs, a plush carpet, an immense painting of the sea, and exquisite service. Le Bernardin is elegant — palatial, even — but never pompous or grandiose or intimidating. Sleek, stylish, swanky, sexy, it all works because the food and wine are, simply put, beautiful — but without that "touch me not" quality. This is food to relish, to savor.
My most profoundly cosmopolitan friend, the journalist Vladimir Pozner, who is all at once Russian, French, and American, who has been everywhere and is a real connoisseur of food and wine, tells me, "Le Bernardin… say it slowly, say it again, savor it, let it roll off the tip of your tongue. For my money, this is the best restaurant in New York: The service is impeccable, the atmosphere breathes class, and the food is simple and therefore unbelievably difficult to master. It is always perfect, bursting with flavor."
Le Bernardin's roots are in Paris, where, in 1972, Gilbert Le Coze and his sister, Maguy Le Coze, started a restaurant called Les Moines de St. Bernardin. In 1986, soon after they got a third Michelin star in Paris, they moved to New York and opened Le Bernardin. Just eight years later, when he was only 49, Gilbert Le Coze suddenly died of a heart attack. Éric Ripert, who already worked at the restaurant, replaced Gilbert as chef and has worked with Maguy ever since.
As Caite and I have our lunch, Ripert passes through the dining room, greeting guests. He is charming, handsome, blue-eyed, perfectly French, and quite tall, but not at all intimidating. I met with him once in Le Bernardin's kitchen when I was writing a book about Balthazar, the downtown brasserie, and we sat drinking Coke Zero and talking about food. A pal of the late Anthony Bourdain's, Ripert has often been on television, and he is exactly the right French chef for Americans because he is startlingly unpretentious. (Ripert told me that, left to himself, he'd eat simple brasserie food every night, perhaps steak-frites.)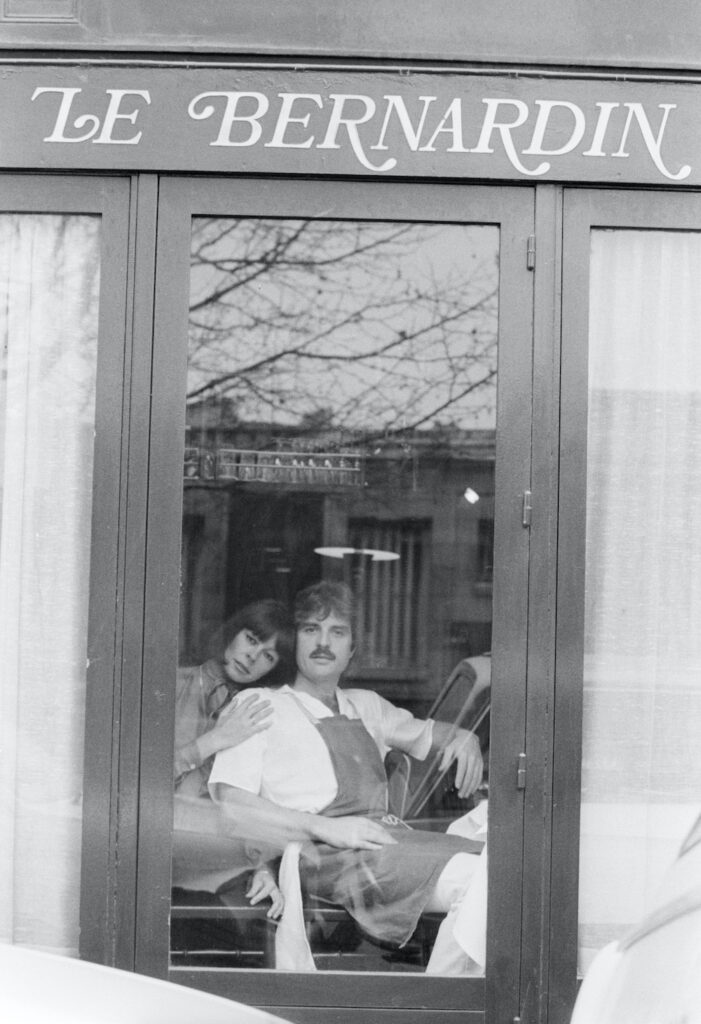 The lack of pomposity makes Le Bernardin a true New York restaurant of the best kind. There is no headwaiter looking you up and down when you arrive. There is never a sense that other guests are treated better than you. And, of course, the food is wonderful, and there's a staggering wine list.
When I was a kid and my parents were going out to dinner big-time, that meant eating French. And not just at a bistro in the Theater District (all of which seemed to be called Pierre au Tunnel or something like it) or a joint in the Village with maybe coq au vin and a smoky candle on the table. For my parents, to celebrate was to go to Le Chambertin, La Caravelle, La Grenouille, La Côte Basque, or, the most revered of all in its day, Le Pavillon. When my mother and father went out on the town, they dressed up, she in her black chiffon dress and satin pumps from Delman. The maître d' at Le Pavillon must have figured my ma was somebody, a star, a society babe, because he treated her beautifully. She basked in it all.
That's how I feel going to Le Bernardin. By the time Caite and I have finished the rillettes and moved on to those langoustines, we are not just eating but sighing.
The staff is formal, impeccable, but also warm and charming, a very hard act to accomplish. The more we eat and sigh and laugh, the happier they all seem, and there are plenty of them, waiters and managers and sommeliers. There is something luxurious about the fact that as soon as you've used your crisp white linen napkin once, it's whisked away and replaced.
Of the dishes, most of which are seafood, my favorite is the scallops, sheer and sumptuous as silk in a ginger and lemongrass broth. And the sautéed sepia "ribbons," cuttlefish with a saffron mussel broth. Then there is barely cooked Faroe Islands salmon; a seductive pink orange, this is salmon from another planet, as sensuous a dish as I've ever had.
We've had two glasses of Champagne, and now the handsome young sommelier in black with his silver tastevin (tasting cup) suggests a glass of white Burgundy. We've passed hour two. Bring on the Burgundy.
And then comes dessert. For Caite, there is a hazelnut sphere covered in real gold leaf, with Frangelico mousse and praline ice cream. For me, a sort of Mont Blanc made of a chestnut crémeux. Also, a pear sorbet nestled in a perfect meringue shell. And finally, a waiter brings what seems to be a pale brown eggshell with its top removed. "Put your spoon in, but don't mix it; just dig down into the layers and eat it," he cautions. Following his advice, we spoon up milk chocolate pot de crème, caramel foam, maple syrup. "What do you call this?" I ask Ripert. "What does it look like?" he asks with only the faintest French amusement.
"An egg?"
"We call it the egg," he replies.
And so, on to the espresso and the mignardises, the little sweets to go with it — a pear pâte de fruits, a coconut macaroon, something blissful in chocolate.
After three hours, Caite and I tumble laughing into the street as if we were in a 1930s comedy about the New York high life.
"You think, I'm here? Me? Oh my God." This is my cousin as we leave Le Bernardin. "This is a wow restaurant, this is something, this is" — she adds with a French flourish — "sensationnel."
From the book Marvelous Manhattan, by Reggie Nadelson; Copyright © 2021. Reprinted by arrangement with Artisan Books to be published in Avenue. All rights reserved.