There are few artists more in tune with the visitor's body than Rita McBride. For over 30 years, the interdisciplinary artist has been creating large-scale, architectural sculptures that distill, rethink, and propel the experiences of being human in the spaces we occupy. This summer, one of her most seminal works, Arena, 1997, will be on view at Dia's historic outpost in a former Nabisco box-printing factory in Beacon, New York, as part of a new solo show from the 63-year-old artist.
Acquired by the nonprofit foundation in 2021, McBride's 13-by-66-by-99-foot experiential sculpture looks more like a wooden riser one might find in a stadium or concert hall than a work on display in a gallery. The artist resists easy categorization, and Arena is no exception. Happening upon the structure constructed of Twaron fiber and wood, passersby are given the option to sit atop it or walk through the area it carves out within the gallery. As part of McBride's conceptual practice, the physical work becomes "activated" by its visitors and the movement of their bodies — but that's only one part of its overall piece.
Arena is "more a feeling I get on a molecular level," the artist explains to Avenue. "It's about many bodies reverberating. I feel the emptiness and the fullness, the spaces where air breezes through the structure, the yawing and pitching. I feel the movement of the structure itself, and the sound of the material stretching and compacting under the weight of the audience."
That concept is emblematic of its maker, who has had a long-standing interest in visual art, design, and architecture in relation to the human body and public spaces. Born in Des Moines, Iowa, and now living between Düsseldorf and Los Angeles, McBride often exaggerates objects — through unexpected materials, context, or scale — to reconsider form and function and challenge notions of industry, mass production, and modern systems. Collaboration is at the heart of her practice, and she frequently works with other artists, architects, performers, engineers, and, crucially, the people who experience her work.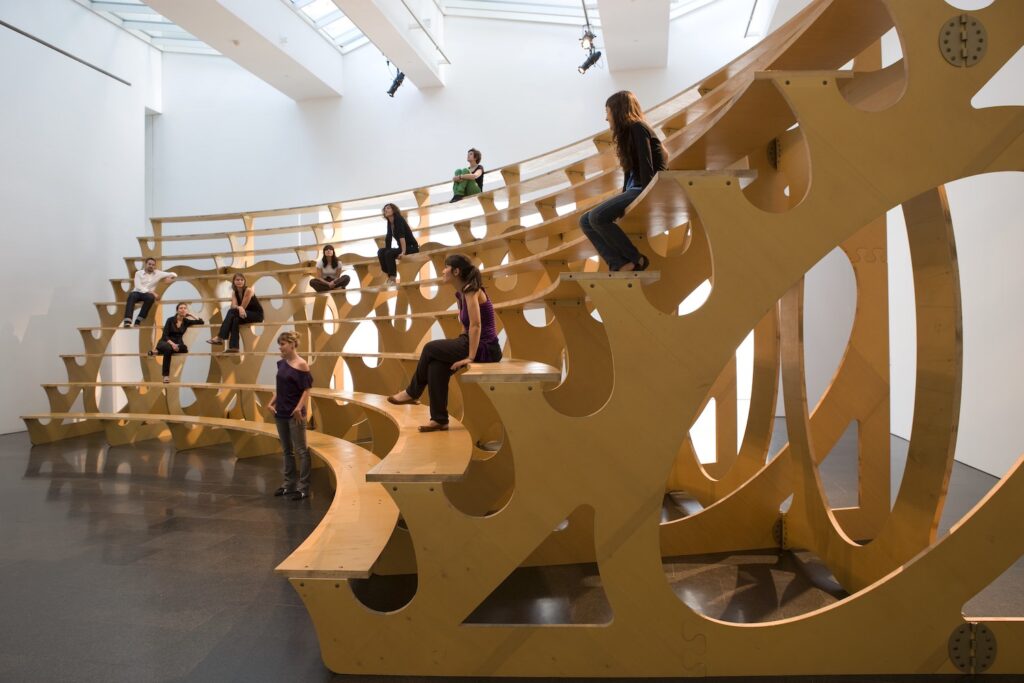 McBride also has a long history with Dia, including a previous exhibition of her science fiction-inspired installation of green lasers, Particulates, 2017, at its Chelsea location in 2017. "I've been struck for a long time by how Rita's work relates to the collection and history of Dia," says curator Alexis Lowry. "Rita's strategies and interest in the architecture of social space, bodies in space, and communal modes of working expanded my own understanding of conceptual and minimalist art. She thinks of the ways things exist, how information is produced, and how our bodies interact."
For Arena's recent acquisition, McBride transformed its original file into a copyleft license, which Dia will oversee and make available to anyone. The only stipulation? That all modified or extended iterations remain free. The decision parallels the work itself, pushing back against the idea of art as a finite, singular thing, and offering a glimpse of what its future may hold. "Arena evolved beyond its own physical structure into a more ethereal presence," the artist says. "As the world becomes more about illusion and fantasy, Arena should be able to move into a more meta level of existence."
Reflecting the expansive and collaborative nature of her practice, McBride's eponymous show will include a program of live and virtual activations collectively called "Momentum," developed with choreographer Alexandra Waierstall and the experimental collective Discoteca Flaming Star. "'Momentum' is pure duration," explains McBride. "It is timing, rhythm, and sporadic movement. It's dispersed and gathered energy and reverberations and resonances. All this visceral material is registered through the bodies sharing the structure that is Arena."
"Rita McBride" runs July 1, 2023–January 2025 at Dia Beacon.