As a young girl growing up in Chennai — the ancient, vibrant city on India's southeastern coast — Ritika Ravi's mind was always in overdrive. "I need constant stimulation and activity," she tells me one recent afternoon at Via Quadronno in New York. "I was always a different child. When I was two, the thing that would keep me occupied was a big box of crayons. Art and books kept me busy while the other kids wanted to run around and play and be mischievous." For young girls, a gift of jewelry marked big occasions like birthdays, but Ravi wasn't interested in the rings or necklaces she saw. Still, Ravi's mother encouraged her to wear at least one piece of jewelry. "I never found anything that I loved at a jewelry store." Finally, taking design into her own hands, Ravi created her first custom piece — a white gold eternity band with tiny diamonds — when she was just nine years old.
In India, jewelry is a symbol of great importance for young women. "It's such a big part of our culture," Ravi, 28, explains, "especially for the daughter of the house." But despite her mother's enviable collection, Ravi rejected wearing any jewelry herself. "I'm extremely picky. I never used to wear any jewelry — no rings, nothing on the neck, nothing at all. My granddad used to see me without any jewelry and get very stressed. He used to complain to my mom saying, 'Why is this child not wearing anything?'"
Ravi's thwarting of familial expectations continued when she decided to head to England to study fashion design at the London College of Fashion. "Most of my cousins are doctors, engineers, and lawyers. I'm the artist of the family," she says with a smile. Ravi's parents were open-minded and supported her decision but asked one thing of her. "My parents told me: 'Do what you like to do, but do it best.'"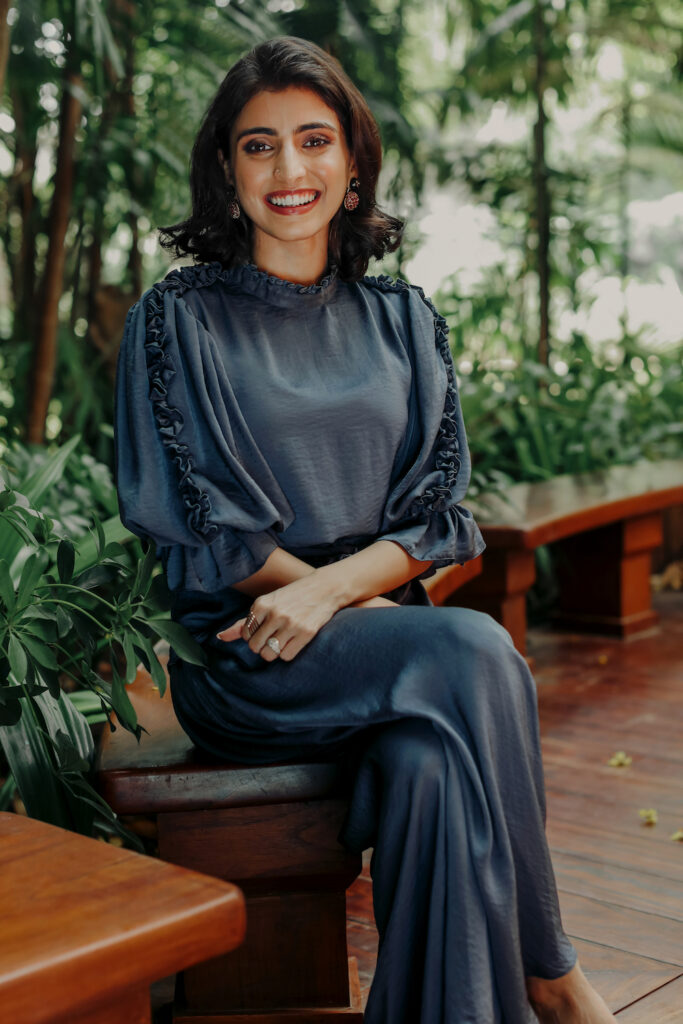 In London, Ravi found that fashion wasn't, after all, her true passion. Instead, it lay in jewelry design. "My professors said: 'Please don't go into women's wear, do jewelry.'" She moved back home to Chennai and started work on her first collection, which she named "10.18," after the month and year she launched her own jewelry brand, Ivar, a play on her father's name. Ravi began with a pop-up at the St. Regis Maldives Vommuli Resort (where she now has a permanent location) followed by more pop-ups in Dubai and Porto Cervo in Sardinia. Ravi was prepping Ivar to go global.
During the pandemic, Ravi noticed that she had a huge American clientele that was buying her jewelry online. So, she scoured the Upper East Side and found a prime location on 73rd Street and Madison Avenue for her first American boutique. "I jumped at the chance to open in New York. To make it in New York, you can make it anywhere," she says with a wink. Ivar now has three collections. The third is "Charu," the Sanskrit word for beautiful, which she named after her mother, while a fourth is launching on Valentine's Day.
Ravi's pieces are meant to be worn every day, a modern take on traditional Indian designs, which tend to be heavy and ornate. "I try to bridge the gap between where I come from and where I am right now," Ravi says of her designs, which are decidedly delicate and feature 18-karat gold pieces studded with gems from the "big three": rubies, sapphires, and emeralds. Each piece is made in India, and combines the coveted, impeccable traditional Indian craftsmanship with a contemporary feel. Ravi's beautiful designs appeal to a more modern customer, who wants to collect pieces that can be worn with anything from a beach sarong to an evening gown, yet are classic enough to be passed down for generations. "Ivar is accessible to so many women," she explains. "I wanted to make something global. Everyone is traveling these days to so many different cultures. Ivar represents that international world we now live in."
The Ivar boutique on the UES has a lush garden in the back and Ravi plans to host parties and charity events, as well as to nurture new talent by featuring young, emerging designers in the space. "It's so important to give back," she says. "That's something I've grown up with in my family and I want that as part of my business model."
After conquering New York, Ravi is now looking to the Middle East and Germany for her next boutiques. Restless since she was a child, she is plotting to take her brand all around the world. "I don't know how to chill," she laughs. "It's not something I understand."