Every summer the hamlets of Long Island's East End swell to almost four times their winter size as New Yorkers seek out their pristine beaches, gray-shingle mansions, verdant lawns, and the shimmering, silver light. And so lines form, traffic slows, and the mania of Manhattan takes over. And yet, one of its most beautiful corners, Shelter Island, remains barely touched by the gilded seasonal migration. Instead this sedate summer colony, a ten-minute ferry ride from Sag Harbor, resounds to not much more than birdsong and the odd thwack of a tennis ball, while its bucolic lanes and sandy shores remain, even in August, largely empty.
In attitude and aspect, Shelter Island is decidedly — and strategically — not the Hamptons. Accessible only by ferry, seaplane, or private boat (unless you count the odd twin engine plane that lands on the unpaved, privately owned airstrip), it has no train stations or Jitney stops, no traffic lights, no traffic jams or limousines disgorging day-trippers. "The world gets very small on Shelter Island," says Aandrea Carter, owner of the iconic Ram's Head Inn, which has its own harbormaster for guests who prefer to arrive by boat. "To come to Shelter Island is an expedition. That mentality of 'We're going on a journey' sets the stage for a different attitude."
But Shelter Island is not all languishing in hammocks and raising ensigns. This summer sees the reopening of a trifecta of century-old grande dame hotels after years-long renovations, properties that have historically been among the East End's greatest destinations. With the return of the Pridwin, with its signature white exterior and window casements painted hunter green, the legendary Chequit, in Shelter Island Heights, and the beautiful Ram's Head Inn on Ram Island, New Yorkers more used to the tony environs of the Hamptons are beginning to switch allegiance. As one Southampton resident who will be renting out his home this summer to stay on Shelter Island tells Avenue, "I'm looking forward to leaving as few times as I have to."
RAM'S HEAD INN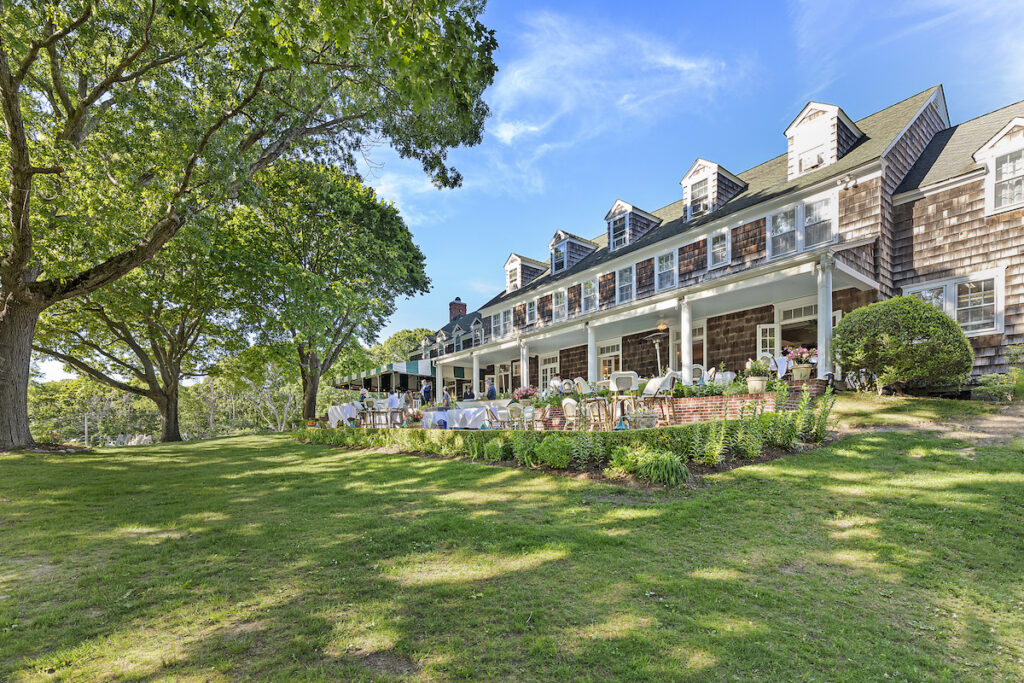 "Guests tell me all the time, 'This is just like the family resort in Dirty Dancing,'" quips Aandrea Carter, who took over as the owner of the Ram's Head Inn last year. "It's like a movie, with a number of different scenes going on at any one time." The four-and-a-half acre Colonial-style property with its wraparound porch and wide lawn with magnificent views across Coecles Harbor was built in the 1920s by Joan Covey of Great Neck, who ran it as an inn for a smart Gold Coast set, and possibly as a speakeasy. Since Carter bought the inn, she has overseen a careful refurbishment — "I wanted to keep the antique iconic feel; I didn't want to lose the charisma of this iconic old lady," she explains — with the restaurant and bar area, along with the 17 guest rooms, restored to their former glory, while the newly built organic garden supplies many of the dishes created by chef Joe Smith and the cocktails of mixologist Krista Porreca. Wellness is also on the menu, with innovations such as the "Retox to Detox" program led by wellness guru Troy Mills, with weekly classes of meditation and movement and three-day retreats. There is only one road in, along a narrow spit of land that can connects Shelter to Ram Island. An even more scenic route is to arrive by boat, radioing to Captain Graham, the inn's English harbormaster, who will help you moor and take you to shore by launch.
THE PRIDWIN HOTEL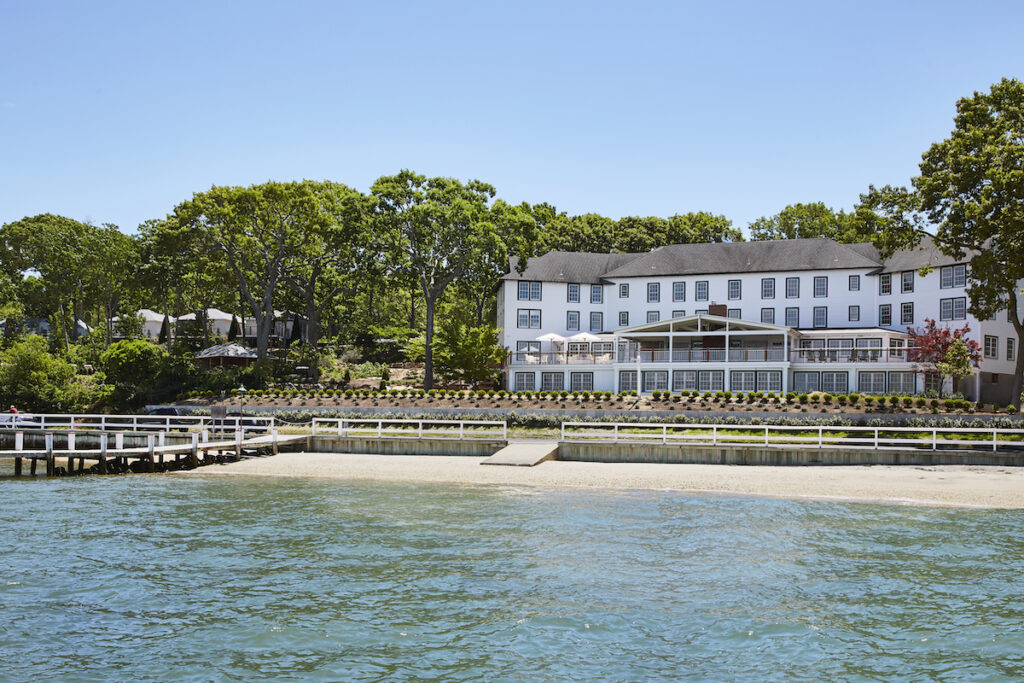 "Time stands still here. It's where people come to escape," says Glenn Petry of The Pridwin Hotel, the property he grew up in and which is reopening on July 15 on its 95th anniversary after a total rehaul. Everybody knows the Pridwin, which occupies one of the most beautiful settings on Shelter Island, stretching across seven acres overlooking Peconic Bay. The Petrys have owned and run the 30-room, four-floor hotel and its 16 cottages for six decades; now it has undergone a two-year renovation with the help of Cape Resorts, and the family is operating and running it in partnership with the investment and management company. "Every bit of plumbing and every electrical wire has been replaced," says Petry. "It's been an epic journey."
But if everything is now state-of-the-art and super-high-end it remains very much the Pridwin in attitude and spirit. "It hasn't turned into something else," says Petry, whose grandfather bought the property in 1961 after vacationing there with his family repeatedly. A lot of previous material has been salvaged and repurposed including the original wainscoting, three chandeliers from the 1920s dining room, and the original wicker furniture and china, while the original hotel fireplace is now surrounded by books and vintage ship models rescued from a former estate on Shelter. Meanwhile the restaurant will serve fresh, locally caught fish and shellfish, locally farmed organic produce, and wines from East End vineyards.
LÉON 1909
"It was something about the water everywhere which reminded us of the Riviera," says Valerie Mnuchin of why she and her father, the banker-turned-art-dealer Robert Mnuchin, chose Shelter to launch their new restaurant, Léon 1909. Named after Valerie's Belgian paternal grandfather, and inspired by her father's travels in Europe, the farm-to-table restaurant is, says Valerie, "a little bit of French Riviera, a little bit of Italy," with a chic and cozy interior and a central wood-burning open hearth which they built in homage to La Chaumière in France. The unfussy menu features the freshest local ingredients and one of the best burgers on the East End.
SALT
A favorite place for casual dining, Salt is a waterfront seafood restaurant converted from a vacant boatyard. The Shipwreck Bar, which sits on a converted 1928 scalloping ship, is a fiesta with live music and games. The restaurant is accessible by boat, with dock slips available on a first come, first served basis, and a ship-to-shore service available for yachties who wish to drop anchor and be motored in for lunch or dinner.
THE CHEQUIT
Built in 1872 as a Methodist retreat that by 1909 had turned into an inn, The Chequit is a landmark of Shelter Island Heights and one of the first sights you see as you drive off the ferry from the North Fork. This summer, which marks its 150th anniversary, the iconic hotel, which once played host to Marilyn Monroe and Arthur Miller, as well as members of the Kennedy clan when they sailed down from Massachusetts, reopens after a two-year restoration. It now has 19 guest rooms, a further 16 in two additional buildings, and three new restaurants run by Noah Schwartz — Weakfish Sushi & Noodle, including a sushi bar; Heights Cafe and Wine Bar, with a morning coffee shop; and The Tavern, with a farm-to-table menu created by the chef.
SUNSET BEACH HOTEL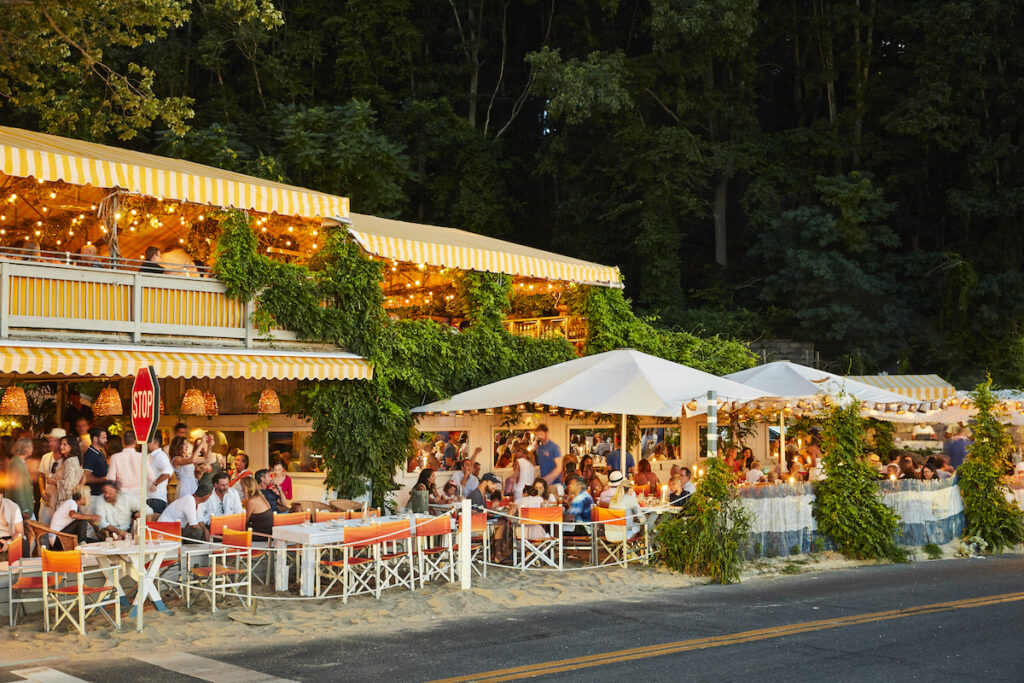 When Sunset Beach opened in 2014, it was greeted with hand-wringing from the old guard summer residents, who worried that the owner, Mercer Hotel founder André Balazs, would spoil the Shelter Island vibe. It's true it's now a destination restaurant for socials and celebrities, but that may not be a bad thing. The scene is lively, the food is great, the view is sublime, and if you want to show off, you can arrive by seaplane and walk straight onto the beach and up to the bar, where your martini will be waiting, shaken, not stirred.
VINE STREET CAFÉ
Fine dining enthusiasts on both the North and South Forks regularly beat a path to the doorway of Vine Street, such is the deliciousness of the food and rustic coziness of the atmosphere. The husband and wife team of chef Terry Harwood and pastry chef Lisa Murphy-Harwood, owners since 2003, use local farmers, fishermen, and winemakers to create a menu that includes bouillabaisse, steak frites, and an incredible strawberry cheesecake. Happily, it is open throughout the winter months, when the beams and classic wood bar bring to mind a Hornblower novel and locals such as Jonathan Adler and Simon Doonan can be spotted having dinner à deux. There is also a little shop, VSC Market, where you can buy edibles like a pint of chilled asparagus soup, herb vinaigrette, and country fried chicken.
MARIE EIFFEL MARKET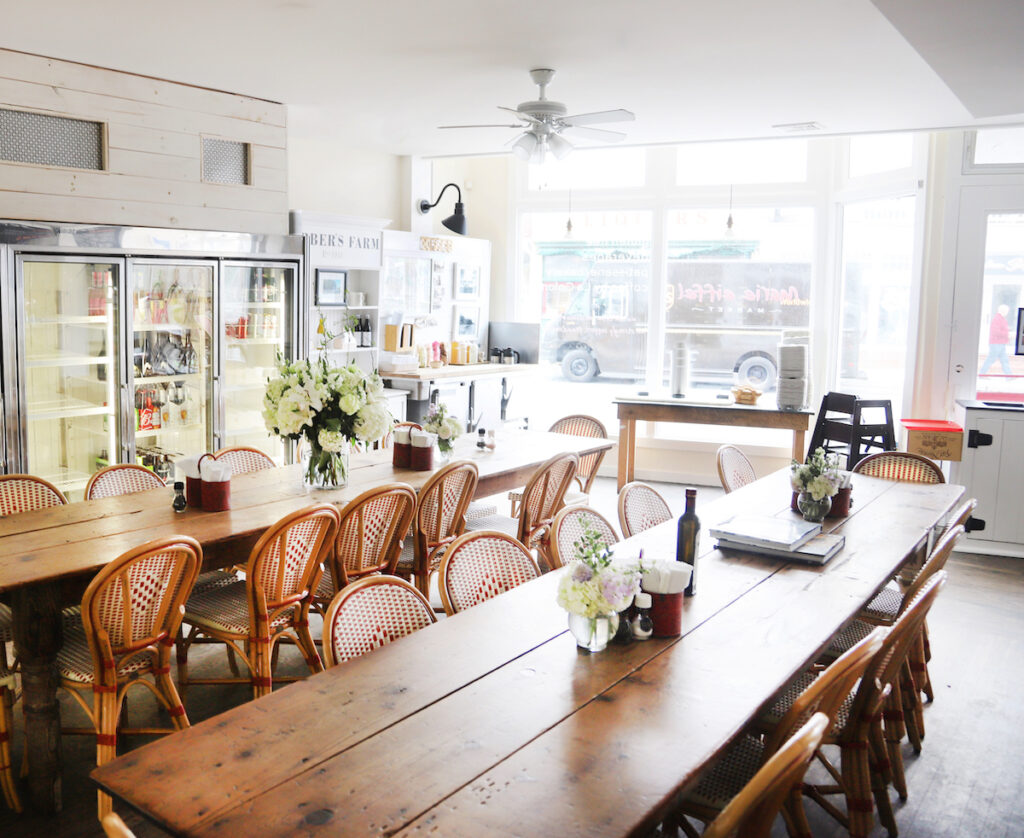 The organic market and restaurant owned and run by the beloved Marie Eiffel, formerly of Paris, is a social hub for the the East End's French diaspora and anyone who appreciates good conversation and the perfect croque monsieur in the morning. People motor over from Orient and Greenport to enjoy breakfast at the tables over-looking Dering Harbor.
MASHOMACK PRESERVE
Known as the "jewel of the Peconic," Shelter Island's cherished nature preserve is a 2,300-acre Eden of tidal creeks, salt marshes, meadows, pine swamps, mature oak and beech forests, rare plants, and coastal birds including ospreys and, since two summers ago, a pair of bald eagles. The preserve, which was first home to the Manhansett people (Mashomack means "where they go by water"), has had many owners and incarnations: like the island's 17th-century Sylvester Manor and farmland, now run as a nonprofit educational farm, it was at one time owned by Nathaniel Sylvester, a sugar merchant from Barbados. Mashomack has been farmed, fished, used as a hunting lodge, and has twice come within a hairbreadth of being turned into a housing development. In 1979, in a triumph of foresight and fundraising, the Nature Conservancy purchased the site, and today Mashomack has one of the most diverse habitats in the Northeast.
CH MARINE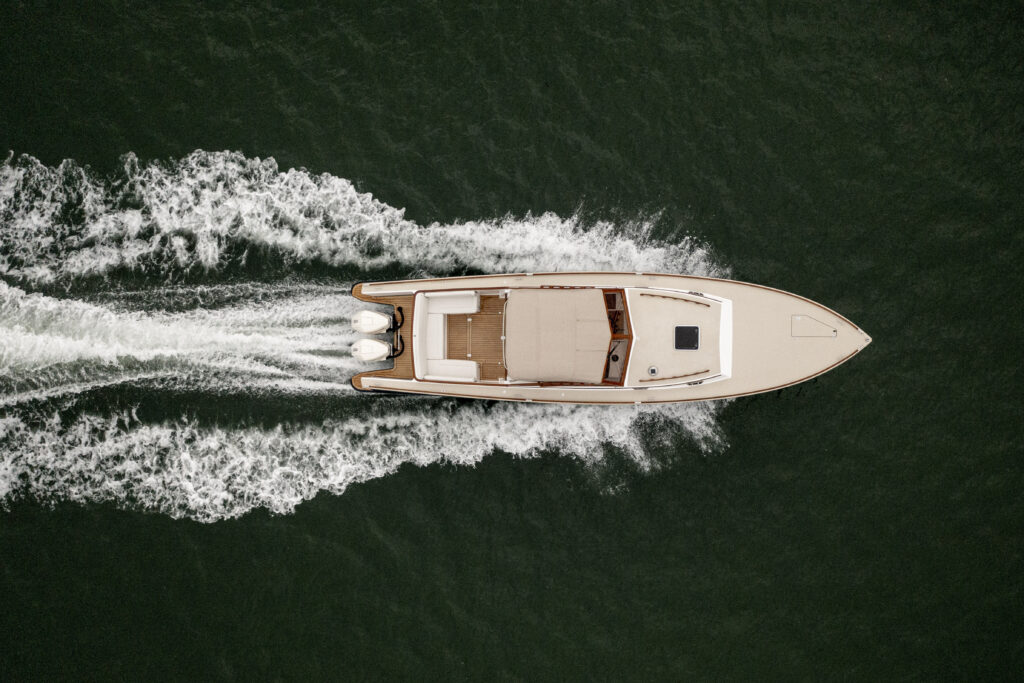 In the boating universe, the custom yachts that come out of the boat building workshop CH Marine and the adjoining Coecles Harbor Boatyard are legendary. The handcrafted boats have the refined beauty of traditional yachts (think Jack and Jackie sailing in Hyannis Port), but are built for speed. Billy Joel famously commissioned the prototype Shelter Island Runabout here, a 38-footer built by CH Marine's Peter Needham, a former spacecraft engineer, and designed by naval architect Doug Zurn. (The singer had stipulated that he wanted a "Newport-for-lunch" boat.) Be prepared to wait: CH Marine's team of craftsmen produce about one boat a year.
SHELTER ISLAND YACHT CLUB
Located in Dering Harbor, the SIYC, founded in 1886, is among the dozen oldest members-only clubs in America, and stepping into its elegant rooms has a time-bending quality; every day at sunset the naval tradition of evening colors is observed with the ringing of a bell. A member of the National Sailing Hall of Fame, it has a world-class junior sailing program, while some of the most beautiful yachts known to man — Hinckleys — as well as racing sloops and keelboats, can be seen here. An invitation to dine on the deck should be accepted immediately; the food deserves its reputation, and you will enjoy one of the prettiest harbor views of anywhere on the New England coast.