Elsa Schiaparelli (just so you know, it's SKAP-eh-REL-EE), the Italian-born French couturier (1890–1973), remains fashion's most formidable innovator. It would be a piece of gateau to fill this review with a list of her inventions: culottes, the wrap dress, drip-dry panties, trompe l'oeil everything, built-in bras, and on and on.
As we speak, there is something in your closet born from what Cocteau called her "devil's laboratory." See for yourself in Shocking! The Surreal World of Elsa Schiaparelli (Thames & Hudson), by Marie-Sophie Carron de la Carriere, the companion book to the eponymous blockbuster show currently at the Museé des Arts Décoratifs in Paris. One hundred and twenty designs and accessories are lavishly photographed in full color (oh, for that 1940 mega-pocket jacket on page 165!).
As for the surrealism that informed her work, Salvador Dalí, Jean Cocteau, Leonor Fini, the Giacomettis, Méret Oppenheim, Man Ray, and Marcel Vertès were some of the artist practitioners in her circle. Beginning with her fool-the-eye bow sweaters in 1927, "Schiap," as she preferred to be called, dominated couture, extending her brand before brands were called brands, into prêt-à-porter, makeup, eyeglasses, soap, textiles, shoes, girdles, lingerie, and a slew of perfumes starting with her lucky letter, "S." (When the scent Shocking was introduced in 1937, it soon outsold Chanel No. 5). After the Great War, when no one imagined there could ever be another, she read her time just right: people wanted gaiety, amusement, and, above all, beauty enough to astound and help them forget.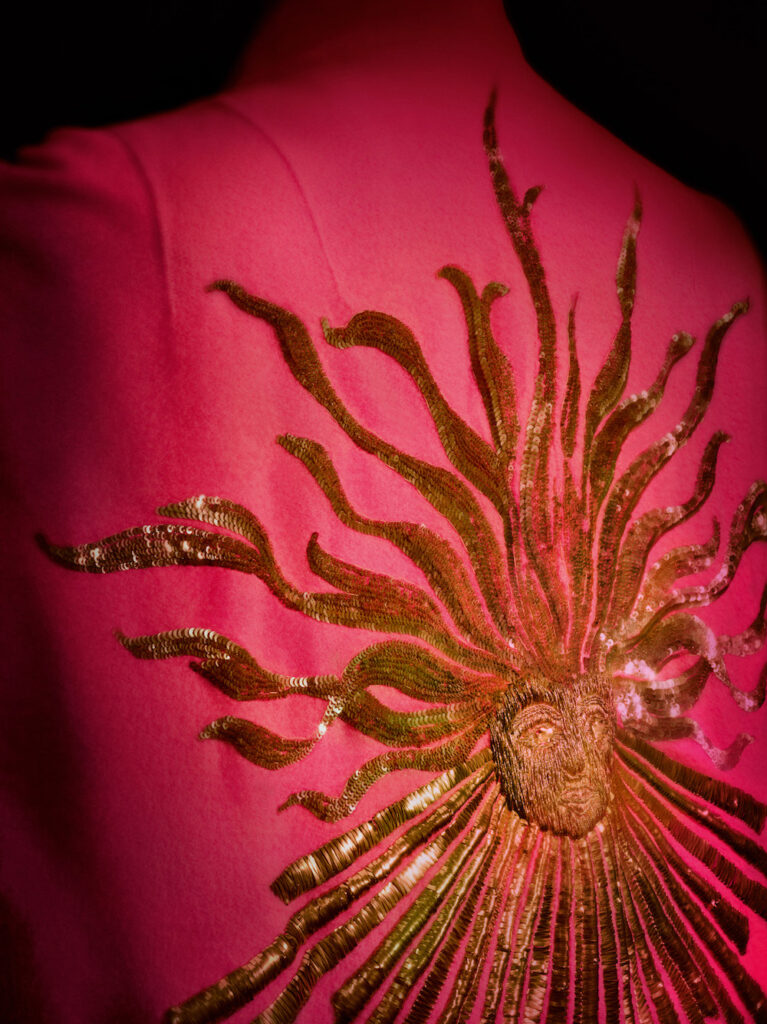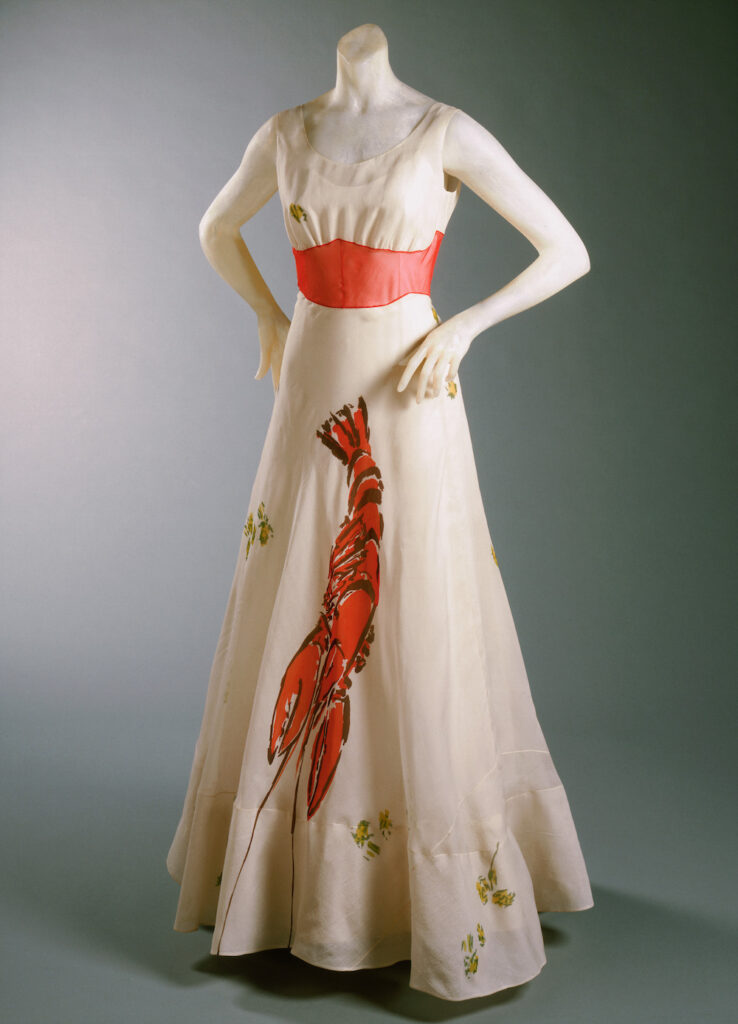 By her own admission, Schiap was "ugly." She had dark circles under her eyes, a ruinous underbite, and a face full of moles (which Man Ray retouched in his portraits of her). But who notices a face when you're wearing a dress that looks like torn flesh? To quote a former editor at Vogue: "A Schiaparelli customer did not have to worry as to whether she was beautiful… She was noticed wherever she went… It was like borrowing someone else's chic, and along with it, their assurance."
Of the five essays in Shocking!, one that is especially instructive is Dilys Blum on Schiap's early personal life as a grifter. There is also Emmanuelle de l'Ecotais on her "Dadaist taste for provocation" (note the vulvic hats). Turn the pages, and you will be struck by the breadth of Schiap's influence. Thierry Mugler, Christian Lacroix, Azzedine Alaïa, and Yves Saint Laurent have all acknowledged their debt. Her 1938 Skeleton Dress, in which trapunto quilting echoes the pelvis and ribcage, has been quoted by Alexander McQueen and John Galliano.
Essential reading is Hanya Yanagihara's interview with the current artistic director of Maison Schiaparelli, Daniel Roseberry (designer of the dress that Lady Gaga wore for the Biden inauguration). His psychosexually charged work pays homage to the House's history while nervily upping the emotion. For the Roseberry version of Schiap, head straight for the Schiaparelli boutique at Bergdorf Goodman, and prepare yourself for unmitigated awe.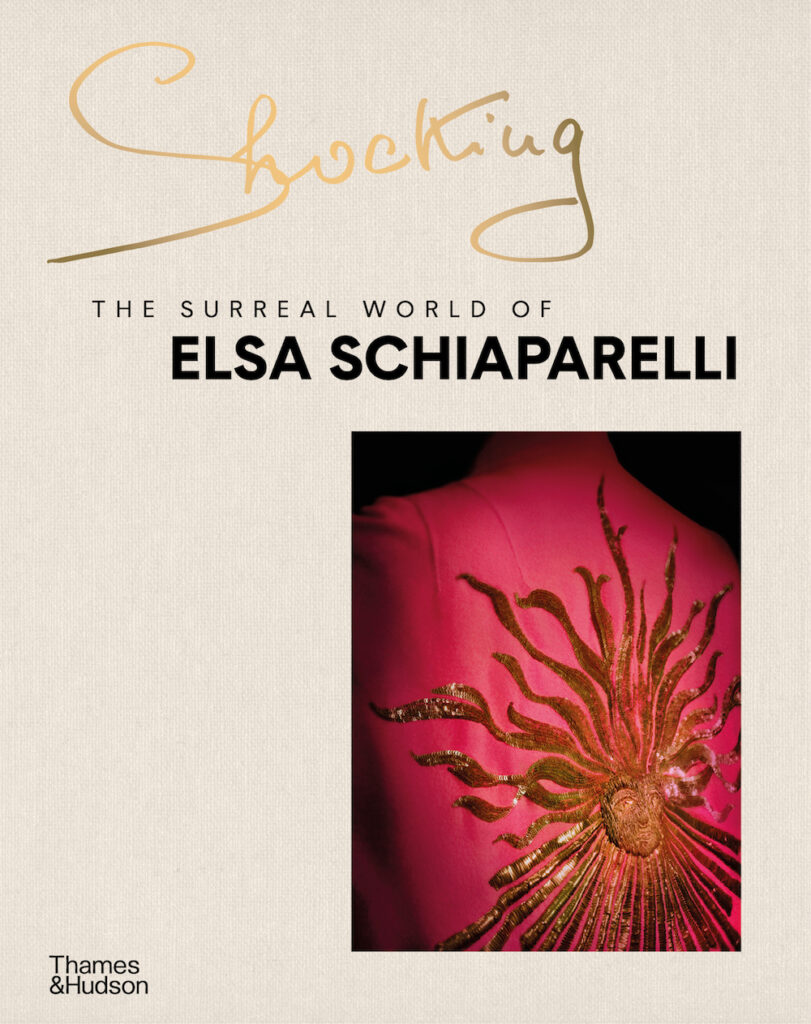 Shocking! The Surreal World of Elsa Schiaparelli (Thames & Hudson) is available online and in stores now.