Longtime New Yorker Sarah Flint knows something about wearing heels while navigating the cobblestone streets of her favorite neighborhood, Greenwich Village, the haven she describes as "cozy, eclectic, and peaceful." An increasing number of New Yorkers are doing likewise with the help of Flint's signature padded stilettos. According to a growing number of celebrities, models, and royalty, (and Flint's investor Cindy Crawford) the designer has managed to create shoes as comfortable as they are chic. Meghan, Duchess of Sussex, chose a pair of Sarah Flints for her first public appearance with Prince Harry in September 2017 and has been photographed wearing her flats, pumps, sandals, and boots since then. They're hand made in Italy but designed in Flint's New York studio. Here we've asked the taste-maker for her go-to spots in the neighborhood:
Claudette
The French restaurant just north of Washington Square Park is Flint's pick for favorite brunch spot. "Start with the basket of fresh pastries," she suggests, continuing that, "An ideal Sunday would include brunch at Claudette, an SLT class, and grocery shopping at Citarella."

Claudette, 24 Fifth Avenue
Jefferson Market Garden
"Jefferson Market Garden is such a relaxing place to sit, read, and enjoy the beautiful flowers that a group of dedicated neighborhood volunteers care for," Flint says. The urban garden is closed in the winter, but will reopen in time for the tulips to bloom this spring.

Jefferson Market Garden, Greenwich Avenue between Sixth Avenue and West 10th Street
Three Lives & Company
This historic bookstore in the heart of Greenwich Village was famously dubbed "the perfect New York bookstore" by T: New York Times Style Magazine last year. Flint loves "wandering through Three Lives & Company bookstore on the weekends."

Three Lives & Company, 154 West 10th Street
Washington Square Park
The beloved public park in the center of Greenwich Village is another one of Flint's favorite spots. "Washington Square Park is such an iconic place from a visual and cultural perspective," says Flint. It's also her go-to locale for prime people watching.

Washington Square Park is located at the intersection of Fifth Avenue, Waverly Place, West 4th Street, and MacDougal Street.
Rosecrans
This neighborhood gem is both a cafe and a florist–a gloriously unique combination that makes it an all-around cozy locale. "While I don't drink coffee, I love a good cup of tea from Rosecrans," Flint says. "It's part cafe, part flower shop and filled with beautiful antique furniture."

Rosecrans, 7 Greenwich Avenue
Mah-Ze-Dahr Bakery
Charming bakeries are a Village mainstay, but Flint insists that Mah-Ze-Dahr is a must-visit. "The banana bread at Ma-Za-Dar is my go-to," Flint said.

Mah-Ze-Dahr, 28 Greenwich Avenue
The Marlton Hotel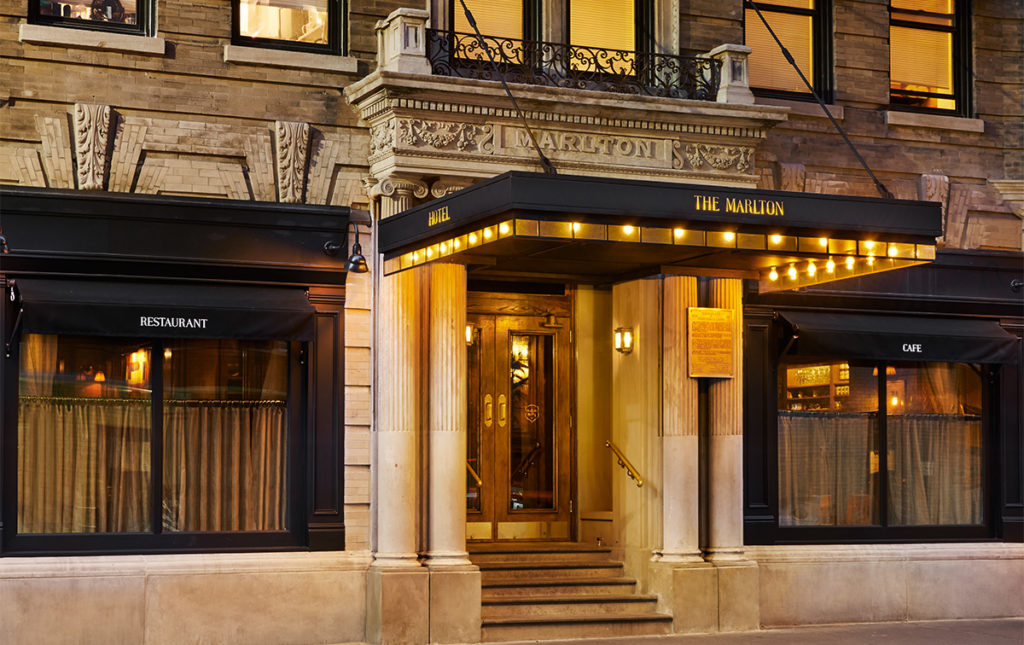 Flint recommends the Marlton Hotel, a cozy, chic hotel situated in a restored, landmark building. "The Marlton Hotel is utterly glamorous," the designer says.

The Marlton Hotel at 5 West 8th Street
Loring Place
The much-loved restaurant is one of Flint's favorite places for neighborhood dinner or drinks. Chef Dan Kluger created a menu focused on locally-grown ingredients, with seasonal dishes that were designed for sharing.

Loring Place, 21 West 8th Street
William-Wayne & Co.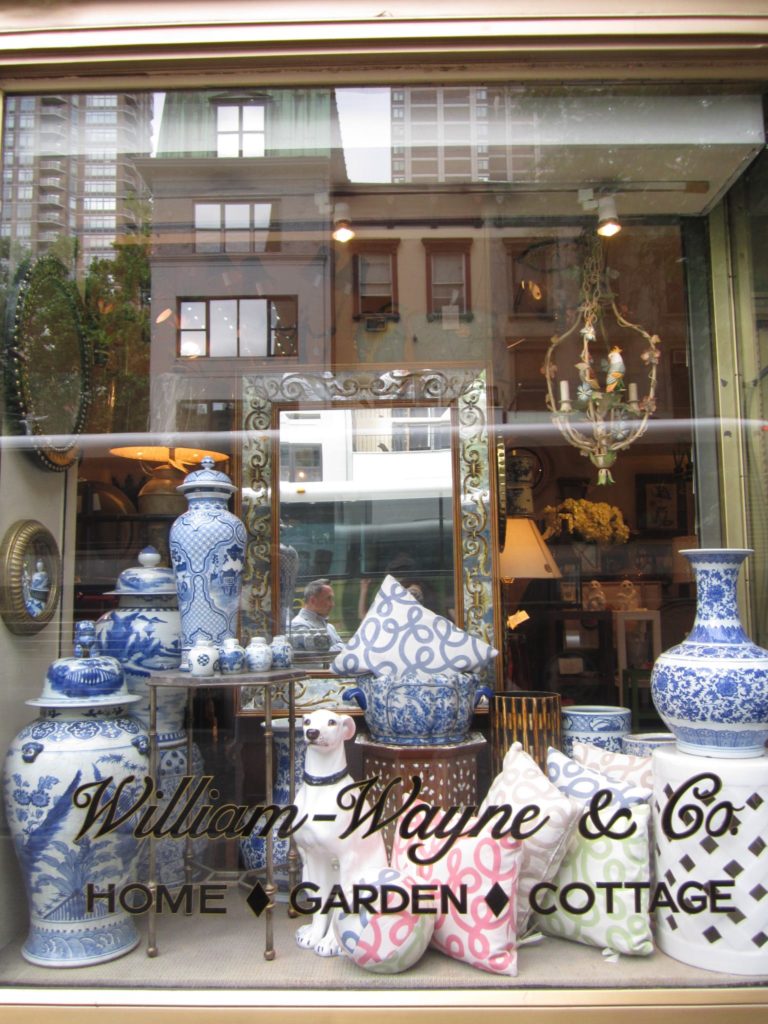 "William-Wayne & Co. is my favorite place for home decor and gifts," Flint says. The New York staple has two locations in the city–one on the Upper East Side and one in Greenwich Village.

William-Wayne & Co., 40 University Place at 9th Street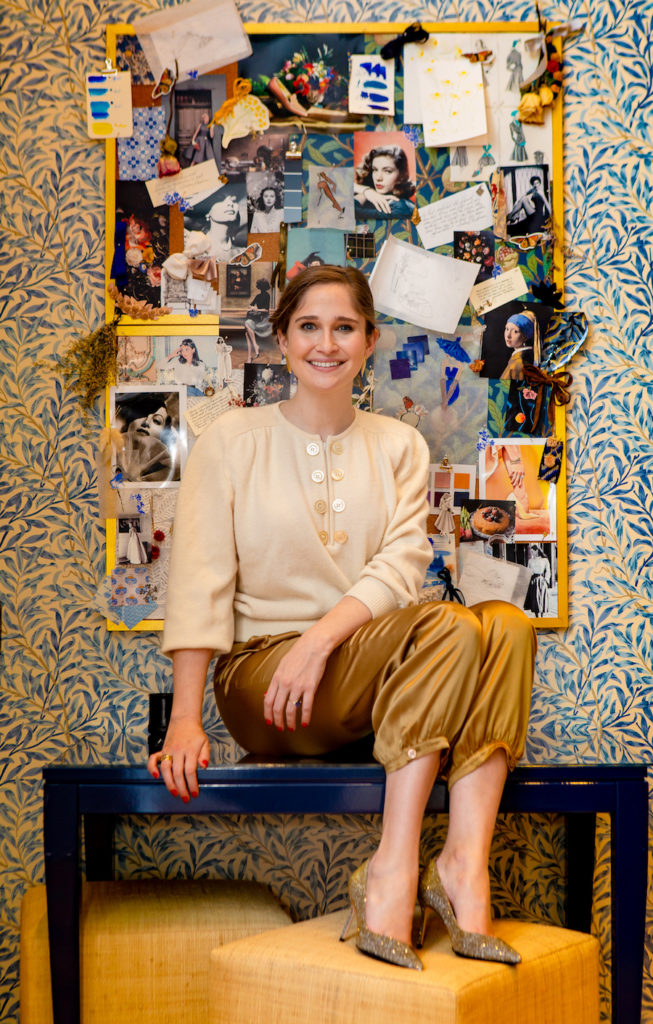 Shop Sarah Flint's handcrafted shoes here, and follow the designer on Instagram here.