Growing up visiting Southampton year-round, I was pretty sure I knew every corner out east. I'm also a bit of a Hamptons snob, preferring old-school spots like Sip'n Soda and Shippy's over newer establishments.
But, one late summer weekend, I was pleasantly surprised, if not astounded, to discover what could be the Hamptons' most hidden gem: the Shou Sugi Ban House, a spa and inn in Water Mill. My fiancé, Ted, and I zipped down Montauk Highway, past the über-modern Parrish Art Museum, missing the discreet driveway a few times. "I thought you knew this area," Ted groaned as I fumbled with the GPS. It's easy to pass by this well-camouflaged wellness paradise. Shou Sugi Ban House is guarded behind a long wooden gate, only opened for registered guests. Don't expect to just drop in without a reservation.
When we finally pulled up to ring the buzzer, it was like entering the Zen estate of a well-guarded movie star — which is the idea, as the spa is a favorite escape for the rich and/or famous. Enveloped by over 250 deciduous and evergreen trees, and 20,000 grasses of five different varieties, a large stone Buddha statue, hands clasped in prayer, greeted us as we arrived to the "Healing Arts Barn." Nam-myoho-renge-kyo rang through my ears as an attendant in flowing, gauzy, all-white garb greeted us with her own prayer-handed bow and serene smile. It all felt a little cultish. I almost expected Masha, Nicole Kidman's mushroom-taking wellness warrior from Nine Perfect Strangers, to pop out from behind a bush. As we walked to the long wooden barn with a treatment spa — a high-tech hydrotherapy circuit, thermal suite, and solarium — I decided this is the one cult worth considering (at least for the weekend).
Named for the ancient Japanese weathering technique of charring a wood surface, scraping it down, and then oiling it to make it more resistant to fire and decay, Shou Sugi Ban House is a minimalist's dream. Designed by Debbie Kropf of DSK Architects, it takes inspiration from Japanese culture and wabi-sabi principles. It's a worldview based on the acceptance of transience and imperfection, but there is nothing even slightly imperfect here.
As we walked around the lush property, it was easy to forget that we were even in the Hamptons — or America for that matter. The guest suites have floor-to-ceiling windows looking out onto a saltwater pool. As we unpacked, mellow, hypnotic music floated through the room, and I was officially under the Shou Sugi Ban spell. The Kobe-style bed, made by local design firm All Things Dirt, promised plenty of deep, restorative sleep. The color scheme, a stone and biscuit-hued palette, soothes the eyes, and no art decorates the walls. A gas fireplace sits adjacent to a tokonoma, a raised alcove which is a traditional fixture in Japanese houses. The bathroom is almost as big as the whole suite.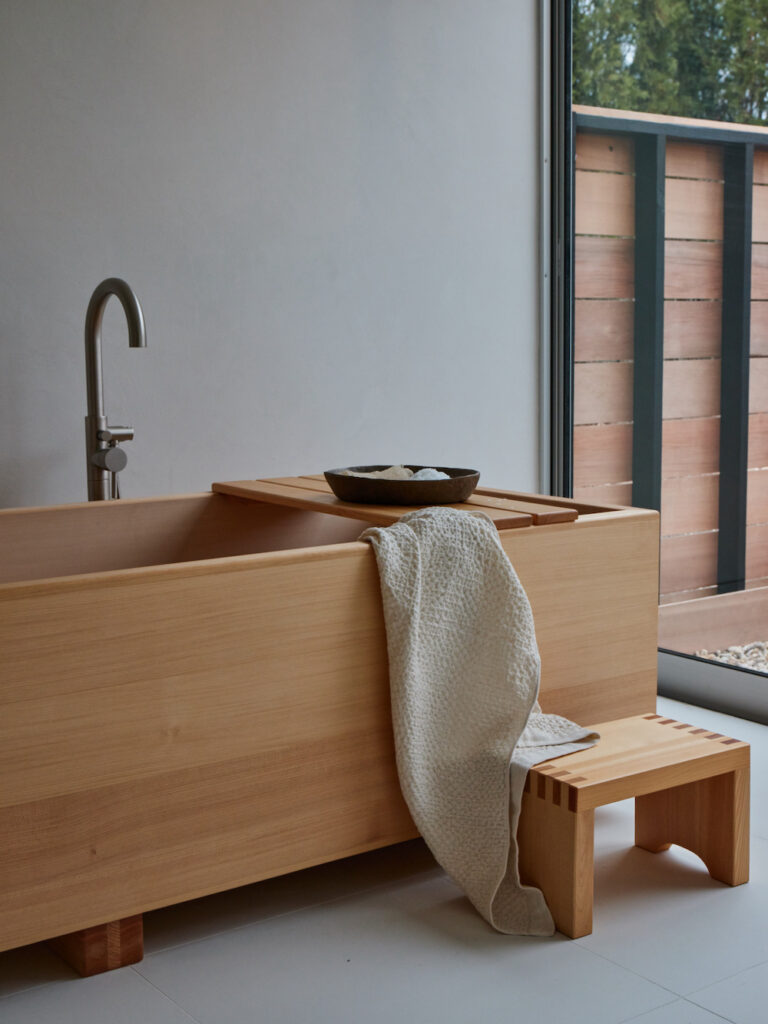 I slipped into the hinoki ofuro soaking tub (another nod to Japan), which replicates a hot spring experience, and gazed out at my private garden patio, covered in flora, where one can have a private massage or just meditate. After a bath, Ted and I donned Sasawashi slippers (which blend traditional Japanese paper and leaves from the kuma-zasa plant) and headed to the Healing Arts Barn. Wellness waits for no one.
We hit the thermal suite, which had instructions on the wall for a circuit: an infrared sauna (to detoxify the body); a dry sauna; a chromotherapy shower with colored LED lights and a cascading waterfall overhead (for stress relief); a eucalyptus steam room; then three Watsu hydrotherapy saltwater plunge pools outside (hot, warm, and ice cold), which boost circulation and dilate the vascular system. The whole process takes just over an hour. Afterwards, we strolled slowly over the pebble pathways back to our room, too chilled-out to even think about staying awake.
Shou Sugi Ban House's philosophy is grounded in nature, with a firm belief that food is medicine. We arrived for dinner, sitting at a wood table in a loft-like room. Black-and-white moving images of grass in the wind and rippling water were projected on a large white wall. In the nearby open demonstration kitchen, Chef Mads Refslund (a cofounder of Copenhagen's two-time Michelin-star restaurant, Noma) was busy preparing our meal. Periodically throughout the evening he visited our table to explain each dish, all of which were plant-rich, locally sourced, and presented like pieces of art. Like everything at the resort, the low timber of his voice is weirdly hypnotic. I never imagined being transfixed by new potatoes with dill and pickled cherry leaves. Having already decided on a digital cleanse for the weekend, I didn't snap pics of the tuna on a thin bed of seaweed with citrus and chili that resembled a Helen Frankenthaler painting. The main course of dry-aged ribeye with chimichurri came with a side of the sweetest corn I have ever bitten into, wrapped with koji and toasted kelp. For dessert, Chef Refslund brought out a fluffy chocolate mousse that felt like eating sweet brown clouds. As much as I craved the greasy burgers and sugary ice cream at Sip'n Soda, the cuisine here was hands down the best I've ever eaten out east — if not the world.
The next morning was all about movement. We walked to an open-air pavilion facing a ceremonial fire circle for a yoga class. There were only three other guests on the mats. A brass gong sat at the front of the long room. Our young instructor's soothing voice led us through the poses. Afterwards, we headed next door for a breakfast of coconut yogurt (I am hooked on this stuff), fresh berries from the farm stand down the road, and house-made granola. If food is medicine, I felt like I was being cured, vowing to quit my Haribo gummy bear habit for good.
The resort also has a state-of-the-art fitness center, but I was way too relaxed from yoga and the subtle symphony of seagrass blowing in the wind to even entertain the idea of a treadmill or lifting weights. Instead, we lounged around the pool, letting the sea salt soak up the toxins from the weekend before, filled with fatty foods and cocktail parties.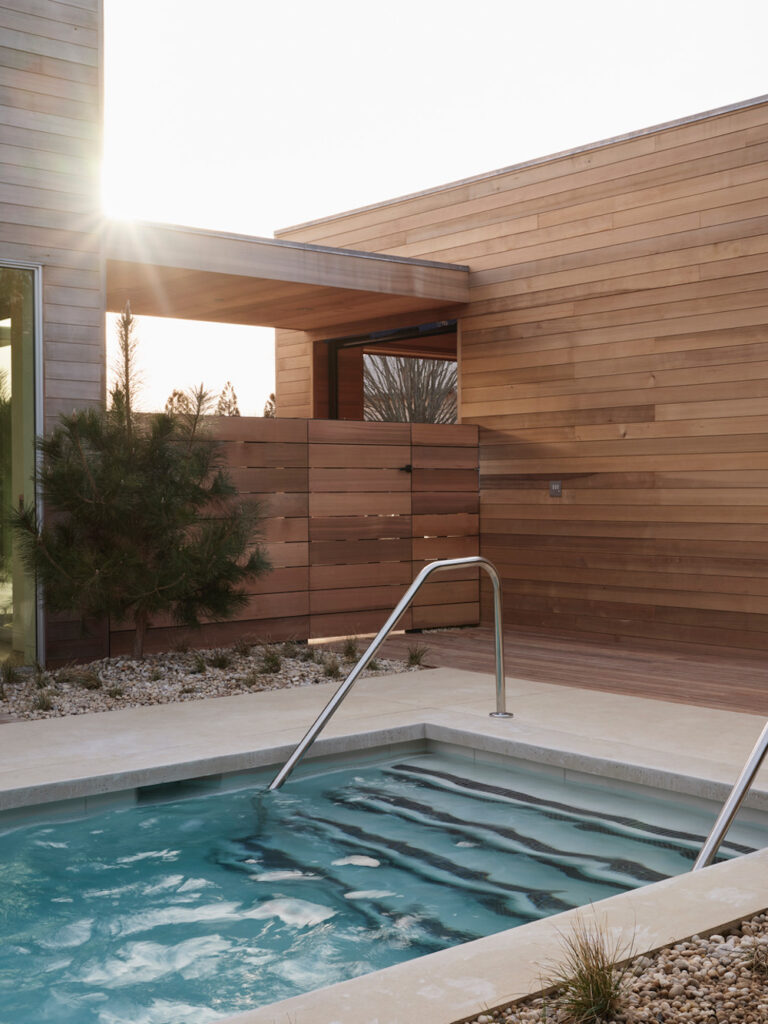 The next day, Ted decided to try cupping. He returned to our suite with a back full of large red circles that resembled a fiery moon chart. "I am not sure what just happened," he confessed as I broke my iPhone detox to photograph his back. "But I feel amazing." The Healing Arts menu at Shou Sugi Ban House is extensive. There are crystal journeys (sacred crystals are chosen and placed on the body to open inner pathways), "Shamanic Healing" sessions, and craniosacral therapy, to name just a few. I am not one for body rubs or scrubs or mystical spa treatments (I once ended a fancy massage in Bali after five minutes because I felt too exposed) but I refused to depart this holistic heaven without experiencing something mind-blowingly transformational. So, I signed us up for a sound bath. Strapping on my Birkenstocks, a bathing suit, and T-shirt, we headed to the pavilion. Ted and I lay on yoga mats like small children while an instructor handed us black eye masks. The room became dark and filled with a 360-degree concert of sound as our instructor weaved together a composition of tuning forks, gongs, and Himalayan and crystal bowls. "It's ok if you fall asleep," she said. Within minutes, the pings of a tuning fork were interrupted by Ted's snoring. After an hour of absorbing the sound waves, which we were told created a vibrational frequency that heals the body, my brain felt relaxed and recharged. This is all supposed to help clear blockages and restore inner balance. If that translates to feeling so Zen-full that it's hard to imagine ever leaving my yoga mat, then it's a major win.
We were so relaxed during our final meal that Ted and I barely spoke while eating perfectly grilled chicken with fresh lemon and thyme, with house-made ricotta and avocado on rye bread. I couldn't stop thinking about the sound bath and the completely immersive and therapeutic experience of our stay. As we walked back to our suite, I told Ted that if Shou Sugi Ban House is a cult after all, I am more than happy to be a lifelong member.