The "rich kids of Instagram" are so last year. Today's teens-of-means are flocking to TikTok — a short-format video platform available in the United States since 2018, where the young flaunt their wealth.
Wildly popular hashtags like #daddysmoney and #privateschool direct the app's reported 800 million users to 15-second loops of predominantly high-school and college-aged kids showing off expensive homes, watches, and jewelry, and sometimes just wads of cash.
Search on any of the popular "rich check" hashtags — which include #richboycheck, #rich-girlcheck, and #richparentcheck — and you'll find thousands of videos in an established format. The soundtrack is always Luigi Boccherini's 1771 Minuetto, a syrupy cello piece that instantly evokes pinky-raised privilege. It will play over shaky, hand-held footage of private wine cellars, well-equipped home gyms, or European sports cars lined up in the driveway.
Among young TikTokers, these videos are considered harmless, even if intentionally envy-inducing, fun. Their families, however, may be more alert to the dangers, which can range from subjects being targeted by criminals, to mental health issues arising from the constant pressure to present oneself as effortlessly young, rich, and carefree.
For parents, the challenge is how to protect their children in a world where every teenager has become a media brand.
"People have always been curious about how 'the rich and famous' live [and]… social media allows people to present a constructed identity," Dr. Pamela Rutledge, director of the Media Psychology Research Center, tells Avenue. "Images allow for a more vicarious experience than text, so TikTok, Instagram, and YouTube will be popular places to flex."
For young people glued to videos of their peers living in luxury, the appeal is easy to explain.
"The hot new thing on TikTok is bragging about money," Lucas Cruikshank, a 26-year-old influencer whose YouTube channel has more than three million subscribers, explains in a video. "Which I love — if somebody's entire social media personality is 'I'm rich, I have so much money,' I'll follow them. Because it's just entertaining, and I like seeing the life they live."
Unfortunately, among those flaunting their wealth on social media, there have been some ugly cautionary tales.
In 2016, Kim Kardashian West was tied up in her rented a home in Paris and robbed of jewelry worth a reported $5.6 million. Authorities believe the fact that she displayed one of the stolen items — a $4-million diamond ring — on Instagram just a week before the home invasion may have motivated the crime.
"She gives information on social media all the time," Paris police chief Christian Sainte said during the investigation.
In 2018, a nine-year-old influencer named Lil Tay became infamous for posing at home in Gucci and Louis Vuitton accessories surrounded by stacks of $100 bills. Even by social media standards, it was a vulgar spectacle, made all the more distasteful by the revelation she was being "managed" by her 16-year-old brother.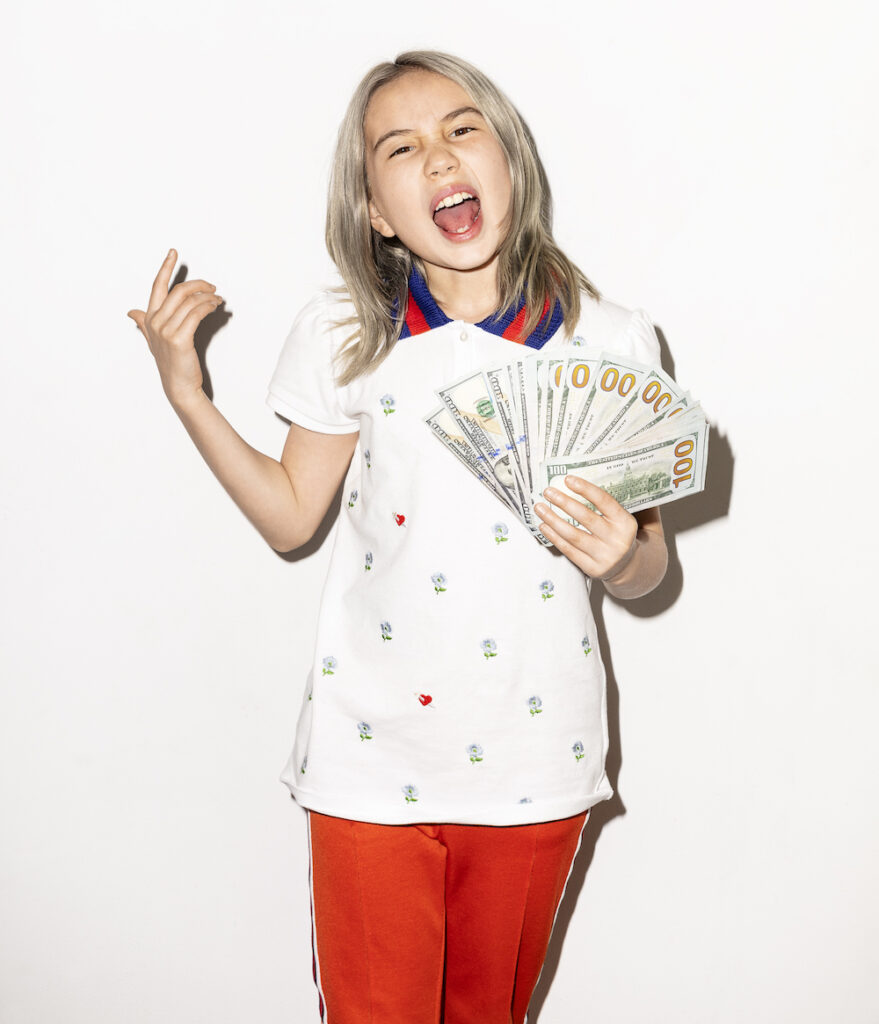 When the façade finally collapsed, it was revealed that her alleged "Beverly Hills penthouse" was really an unsold property in Vancouver represented by her real estate agent mother, who was fired after also using her boss's red Mercedes-AMG as a lifestyle prop. Lil Tay was driven from YouTube in disgrace.
Most recently, in June, an 18-year-old TikTok star named Josh Richards issued an apology (through his public relations firm, naturally) in the wake of an unflattering New York Times article portraying his party lifestyle as one of a number of young social media stars sharing a "collab house" in the tony Los Angeles community of Bel Air.
The statement, although vaguely worded and unclear about what, exactly, he was apologizing for, did include a link to the shopping site for his branded hoodies and other merchandise. A week later the Hype House, another well-known Los Angeles group home for TikTokers, was burglarized by "fans" who allegedly stole clothes and personal possessions belonging to their idols. Naturally, the intruders posted videos of the whole caper on TikTok.
Even though platforms like Instagram, YouTube, and TikTok have exacerbated such material exhibitionism, however, Dr. Rutledge cautions: "Social media is not the sole source of pressure. Research has shown that affluence has its own set of psychological challenges — wealthy kids can suffer from insecure attachments if parents were absent a great deal, and then there's the stress of trying to match up to the family standards of success. Being 'Insta-famous' may feel as if it fills some of the emotional void of isolation, even though it's a temporary fix, just like the accumulation of pricey possessions."
Something not lost on the current generation of influencers, however, is that being Insta-famous can not only fill an emotional void, but also a wallet.
"Social media fame often has monetary benefits — attracting thousands of followers can result in sponsorships and promotional income streams," Dr. Rutledge says. "So being famous for being rich can actually make someone richer."
Exactly how much money can influencers make?
Beca Alexander, the founder of Socialyte, an eight-year-old agency that represents more than 100 social media stars, says her top earners make in excess of $2 million a year.
"The average influencer on our roster is making between $350,000 and $400,000 a year, and they're mostly in their early- to mid-twenties," she tells Avenue. "And to them, they're not making enough money."
Alexander, not surprisingly, understands the phenomenon from the perspective of the youngsters who are thriving on the social media frontier. Some parents may be gnashing their teeth at the conspicuous materialism — but for Generation Z, amassing a following on social media is an obvious and desirable career path.
"That's why everyone and their mother is now trying to be an influencer," says Alexander. "Because you can go from [earning] nothing to a million dollars."
Dr. Rutledge advises parents who may be concerned about their children's online personas to concentrate on the root causes of their behavior.
"Wealth without effort can negatively impact [children's] self-esteem — it's hard to know who likes you for you," she says. "These factors make teens and young adults especially vulnerable to being 'liked' on social media."
Families anguished by the competitive materialism rampant on platforms such as TikTok, then, may do well to focus on core values.
"Parents shouldn't fall into the trap of thinking this is all because of social media," she says. "There is a continual struggle to raise children in affluence and to avoid a sense of entitlement that will mar their future relationships."