Mark Siddall, a curator at the American Museum of Natural History, is having a cocktail at the Explorers Club and holding forth about leeches. "The interesting thing about terrestrial leeches," explains the parasite specialist, who is days away from being back in the field in Madagascar, trolling the last remaining stands of old-growth forest, "is that we can extract the DNA of their last four hosts — which makes them a great information source for assessing elusive forest-animal populations."
It's a crisp winter evening on the Upper East Side, and it is clear that the rakish crew in the oak-paneled members lounge is equally comfortable in the Amazon jungle or at the North Pole. And not so unlike Jules Verne's Phileas Fogg, who decamped for his Around the World in Eighty Days journey direct from his club in London, Siddall is actually en route to the airport, his Patagonia pack parked in a corner, stuffed to capacity for the upcoming 17-day mission.
On hand for his send-off are the club's "Friday Frolic" regulars, an ad hoc tribe of adventurers, adrenaline junkies, and the intellectually insatiable who report here weekly to exchange tales of derring-do, commiserate about expedition mishaps, and drum up interest in projects still in the planning stages.
"Where else can you find friends who know the risk of losing toes to frostbite," muses Ken Kamler, a mountaineer, hand surgeon, and expedition medic who gained the moniker "Doctor on Everest" after forfeiting his own May 1996 summit bid to care for climbers caught in a whiteout on the world's highest peak. The disaster spotlighted the risk incurred by the burgeoning business of "commercial climbing," a euphemism for escorting inexperienced, deep-pocketed clients into Everest's "death zone" for a handsomely paid-for peak experience. The 1996 fiasco was the subject of Jon Krakauer's bestselling book, Into Thin Air, in which Kamler selflessly pivoted from his own priorities to those of others as he tended to the injured and dying, only personally acquainted with a few of the ten people he saved that fateful day.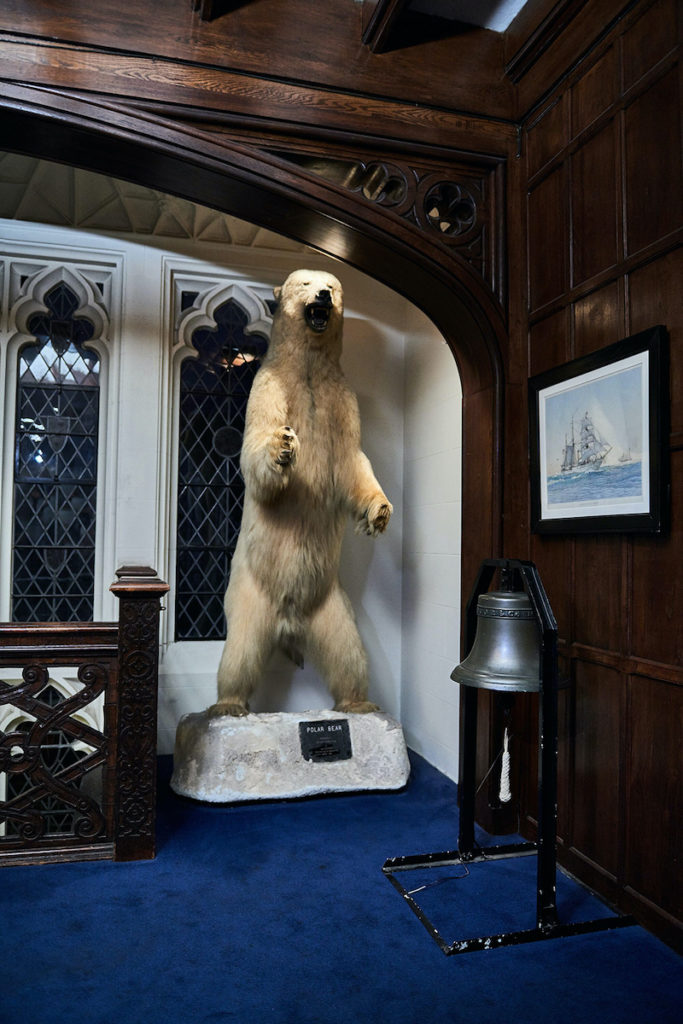 While risk is inherent to exploration, it is by no means the principal driver for those who continue to push the proverbial dragons off the map. Unflagging curiosity is more like it. "Sure, there is a thrill to blasting off into space and seeing the Earth from such a rarefied vantage point," says renowned game developer and second-generation astronaut Richard Garriott de Cayeux. "But the question remains: What did you discover once you got there?" The father of two traveled to the International Space Station in October 2008 (one of only seven private citizens ever to do so), with his 12-day Soyuz mission launching from the Baikonur Cosmodrome in Kazakhstan. While there, he carried out a suite of scientific experiments and educational programs with Explorers Club Flag No 189 in tow. Next up for "Lord British" (as he's known in his Ultima game series) is a trip to Nicaragua, where he's planning to rappel deep into the caldera of an active volcano, likely returning with new data on extremophile life in the process.
Garriott de Cayeux's plans were, of course, shared and fine-tuned at the members bar on the club's first floor. "What began some years back as a casual get-together among a few like-minded friends now attracts more than 50 on any given evening," says Carl Schuster, a principal player behind the weekly gathering when he's not enjoying life as a bush pilot, sailor, and diver determined to reconcile the cartographic history of Hudson Bay with its geophysical evolution in the wake of the last glaciation. "More important, our Friday Frolics have become an incubator for all manner of expeditions," he says smugly, citing a few such plans that were hatched here, including a multiyear project to map Scythian burial mounds in the Altai Mountains of Central Asia, an endeavor being carried out by two of the club's younger members, Swiss archaeologist Gino Caspari and documentary film- maker Trevor Wallace.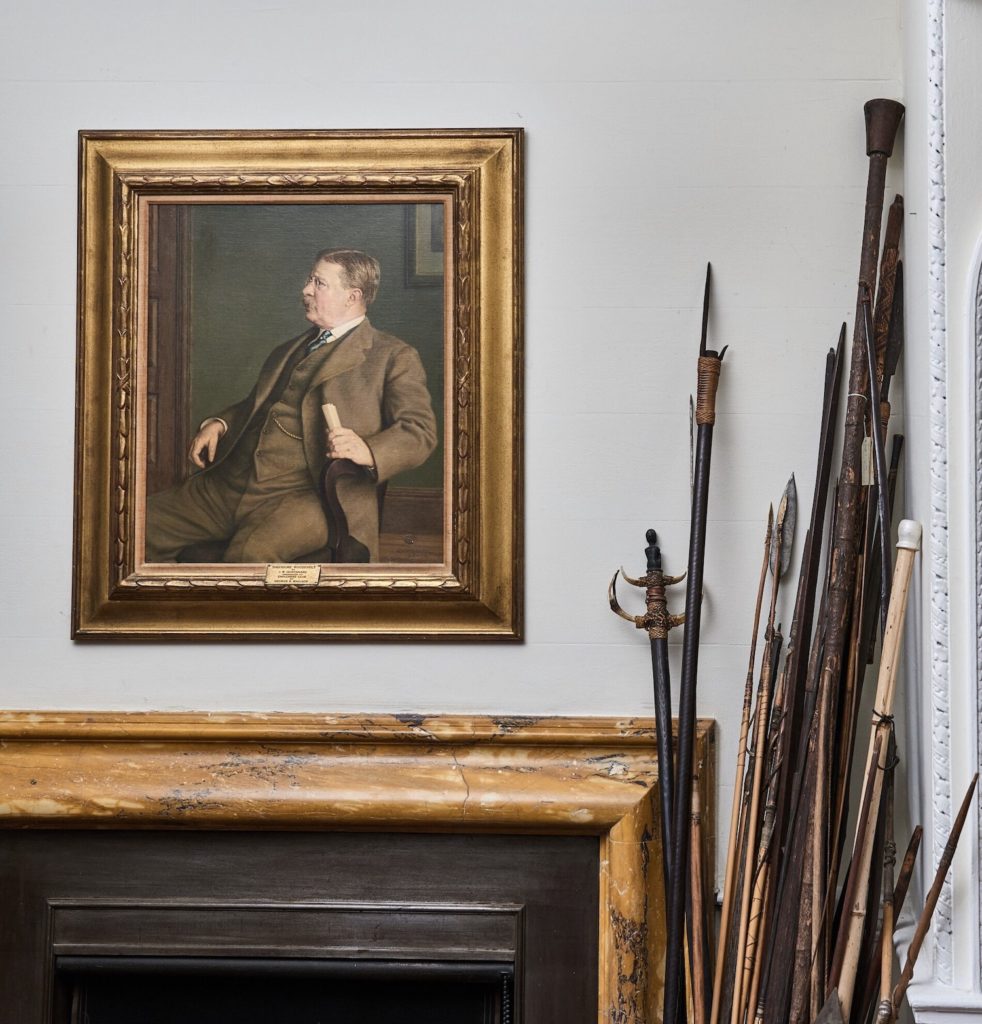 "For me it is all about the future of exploration," explains marine biologist and polymath David Gruber. "Having the ability to not only study marine life, but to actually engage with it on an inter-species level." Gruber's recent projects have included the development of "shark vision" camera lenses and robots with "fingers" so soft that they can stroke a jellyfish without causing harm. At the moment, he is also obsessed with the potential of harnessing advanced AI to decipher the language of sperm whales. (He is, of course, expecting to hear at least a few complaints from them about the current state of our oceans.)
Tonight Gruber has found a kindred spirit in the house: Fabien Cousteau, grandson of famed aquanaut Jacques-Yves Cousteau, who is busy raising capital for a state-of–the-art underwater research station he's building off the coast of Curaçao. While the particulars of its design remain under wraps until later this year, the facility will far surpass the capabilities of the 400-square-foot research station Aquarius, built in 1986 for the National Oceanic and Atmospheric Administration (NOAA) and anchored on a coral reef several miles off Key Largo. It is here that Cousteau spent 31 days in the summer of 2014, besting his grandfather's previous record in the process. (Inter-generational one-upmanship is kind of a thing here at the club.)
Since its founding in 1904, the Explorers Club has gained a reputation as a social club for the intrepid and the (somewhat) antisocial. These highly focused and motivated men and women are, in many ways, loners. They're prone to charting their own course — be it crossing an ocean or an ice cap, or summiting Everest unsupported and without oxygen. And yet they manage to find common ground within this community of restless iconoclasts. In the process of doing so, club members have notched a long list of notable firsts — first to the North and South Poles; the first to the top of Everest and to the bottom of Challenger Deep, some seven miles down in the Mariana Trench; and the first to set foot on the Moon. Among the more recent firsts is the first round-the-world flight in a solar-powered airplane, undertaken by Swiss visionaries Bertrand Piccard and André Borschberg, and the detection of gravitational waves, set off by the collision of two black holes. The latter discovery, made by Nobel laureate Rai Weiss and his team, has opened a window on to the origin of such heavy elements in our universe as gold and platinum, and demonstrated for the fist time that black holes tend to cozy up in pairs.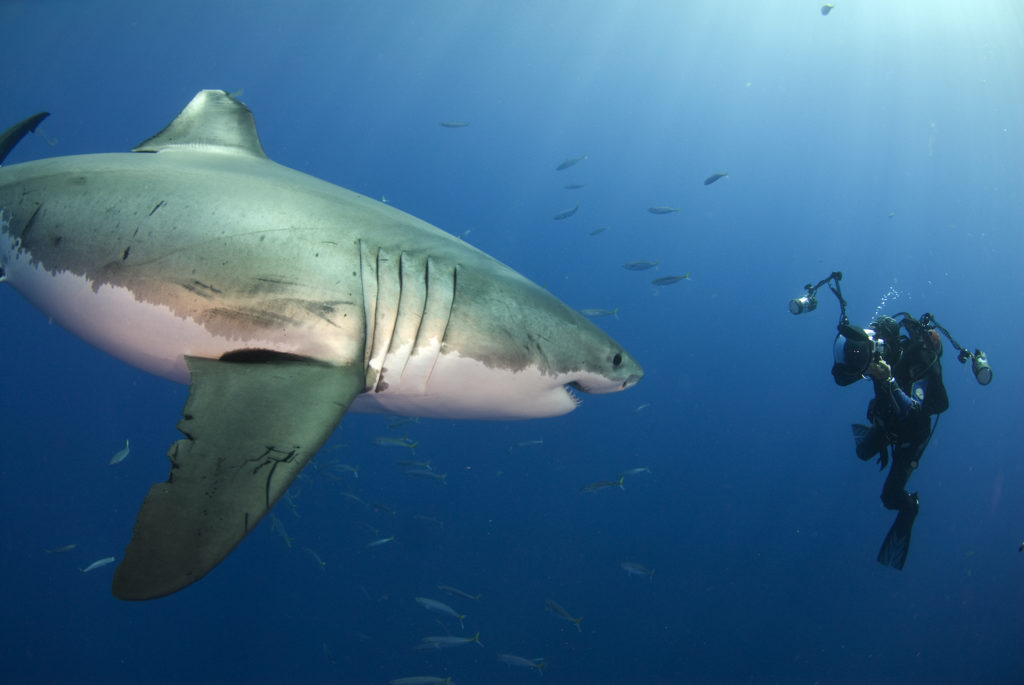 Members are also the prime instigators of several important commercial spaceflight ventures, including Blue Origin, a pet project of Amazon founder Jeff Bezos. In 2013, Bezos invited a few of his fellow club members on an ocean voyage to find and retrieve remains of the Saturn V's first-stage F1 engines, which had powered Apollo 11 and 12. Jettisoned once their fuel was spent, the F1s landed in more than 13,000 feet of water off the Florida coast. Bezos carried Explorers Club Flag No 132 on that mission. On a previous search for the engines in 2011, Bezos and expedition buddy David Concannon took along a rare unnumbered flag that Robert D. Ballard had with him when he discovered the RMS Titanic off the coast of Newfoundland in 1985. (There are 202 Explorers Club flags, each with its own storied, and ongoing, expedition history.)
In the 116 years since its founding, the society of explorers has made camp at six Manhattan addresses before it found a permanent home in 1965: a neo-Jacobean townhouse on East 70th Street named for broadcast journalist Lowell Thomas, who ponied up a significant portion of its purchase price. In his day, Thomas was best known for shining a spotlight on the exploits of T.E. Lawrence, aka "Lawrence of Arabia," filming him at breakneck pace across the Sinai Desert.
Commissioned in 1910 as a family home for Singer Sewing Machine magnate and art collector Stephen C. Clark, the five-story townhouse exudes an Old-World grandeur, appointed with stained glass windows and stone statues and columns plucked from medieval monasteries throughout the Low Countries and France. Among the latter is a formidable statue of Joan of Arc on horseback, which graces a massive mantel in the second-floor lecture hall. Many of the club's members find it ironic that St. Joan had presided over decades' worth of club meetings before women were admitted in 1981. That first class of women included the late primatologist Dian Fossey, oceanographer Sylvia "Her Deepness" Earle, and astronaut Kathryn Sullivan, who now serves as the club's honorary chairman.
The Lowell Thomas building houses more than 20,000 volumes chronicling major triumphs in all areas of exploration and a vast collection of artifacts: a sledge taken to the North Pole by Robert Peary and Matthew Henson in 1909; a miniature Explorers Club flag that accompanied Neil Armstrong, Buzz Aldrin, and Michael Collins on Apollo 11; and a pair of ice axes used by Sir Edmund Hillary and Tenzing Norgay on their historic first summiting of Everest in May of 1953.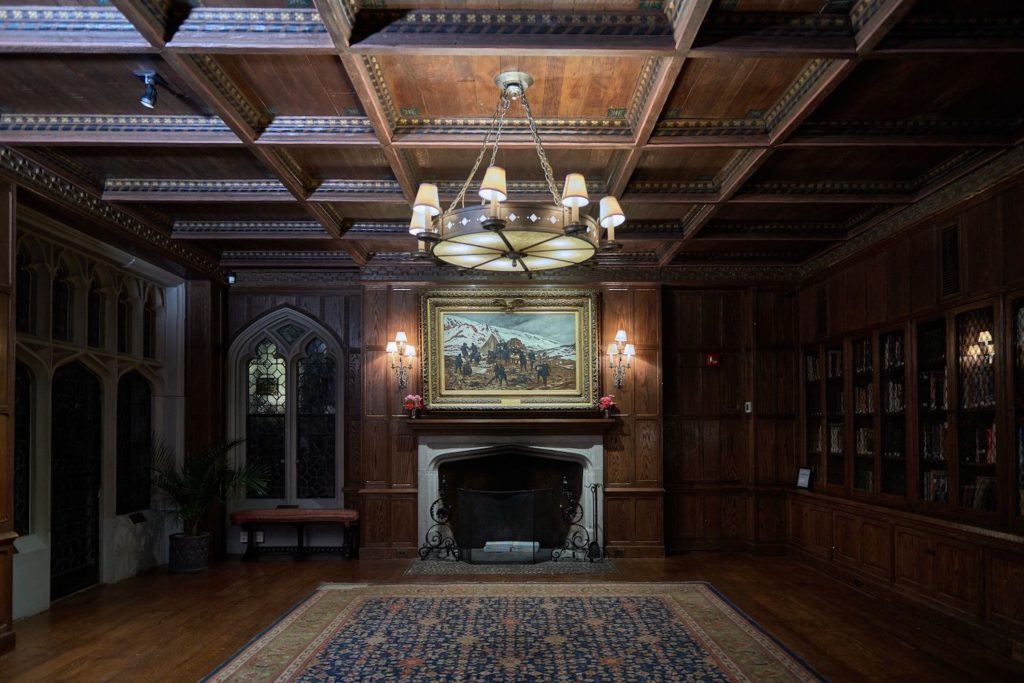 Among the other notable curiosities are a stuffed cheetah from Teddy Roosevelt's 1909 Smithsonian expedition; a globe upon which Thor Heyerdahl plotted the route for his 1947 voyage aboard Kon-Tiki; and the cartilage of a whale's penis, its size serving to keep a certain amount of club members' braggadocio in check. Lining the walls of the club's central staircase are William R. Leigh's plein air studies for the African dioramas at the American Museum of Natural History.
But not all elements in the club have such heady provenance, explains Schuster, noting that the bar itself has been a work in progress that began more than three decades ago, when Captain John Flint, a veteran of the Military Sealift Command Atlantic, spied its carved oak mass being loaded into a dumpster during the gutting of an Irish pub in Greenwich Village. He negotiated for its liberation on the spot and had it delivered to the club the same day. Over the course of a weekend, it was installed in what had previously been a service kitchen just off the members' lounge. Since then, the bar has taken on a timeless quality with the addition of paneling on the walls and glass display cases filled with scientific instruments.
Most recently, what had been a warren of offices beyond the bar area has been converted into the Apollo Room, with its oak paneling (a perfect match for that of the bar) acquired from the Horace Mann School when sections of it were being removed to make way for an impressive new science center. The Apollo Room project was spear- headed by the club's current president, Richard Wiese, the far-wandering host of the Emmy Award-winning program Born to Explore. A rather intimate space with a ceiling studded with stars, the Apollo Room will serve as a backdrop for still more expedition planning and related programming. (The president's latest project has been the negotiating of a lucrative — albeit controversial — sponsorship deal for the club with the Discovery Channel, the details of which will not be finalized until this summer.)
On any given night during the academic year, members and invited guests trade resources and stories over exotic cocktails and such bar food as dried, seasoned crickets. Club membership rolls stand at 3,500 worldwide, with 600 members based in the New York area, and the rest belonging to some 33 chapters, including the most recent addition, an outpost in Bhutan. Over the past decade, the club has seen a demographic shift downward in terms of the age of its members, with a number of young scientists and adventurers joining the fold — some of whom experienced the club for the first time as a Friday Frolic guest of a fellow researcher.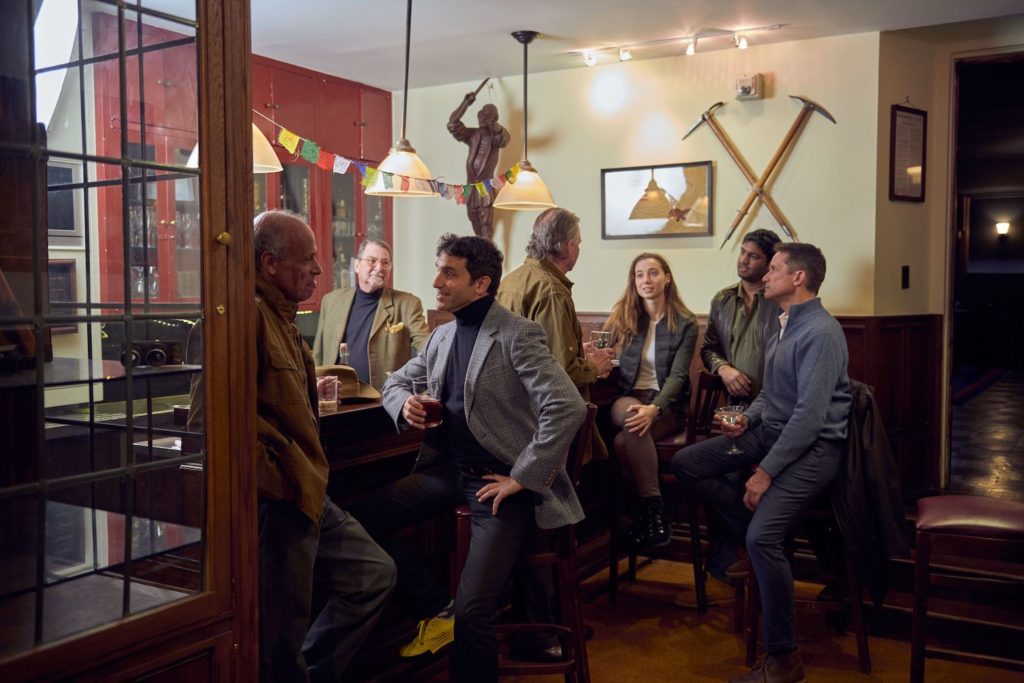 "Initially, our members were laser-focused on filling in the blank spaces on the map," says past president Ted Janulis. "And while that remains a core mission, these days many of them are engaged in projects aimed at studying and preserving those very spaces — from the Arctic to the Antarctic, and from the Amazon to the Everest massif — many of which are now under threat as humanity's footprint continues to expand across the globe."
A case in point is Challenger Deep in the Mariana Trench, some 200 miles southwest of Guam. Known as the deepest place on Earth, the geographical feature was first identified by the crew of the RMS Challenger in 1875, yet it would be more than a century before we had the technology to visit it first hand. On January 23, 1960, Navy lieutenant Don Walsh and Swiss engineer Jacques Piccard did just that: submerging 35,814 feet in the Trieste, a bathyscaphe designed by Piccard and his physicist father, Auguste Piccard. After a five-hour descent, Walsh and Piccard had clocked just 20 minutes on the sea- floor when they noticed tiny cracks beginning to develop in the port- holes. The disturbing observation prompted a return to the surface, which they made without incident in three hours and 15 minutes.
It would be more than a half-century before explorers returned to the Deep, despite a number of efforts by other expeditions. In March 2012, Explorers Club fellow and film director James Cameron of Titanic and Avatar fame became the third person to reach the Deep, piloting his Kawasaki green single-person submersible Deepsea Challenger to a depth of 35,756 feet. Cameron, who co-designed the craft, had planned to spend five or six hours on the bottom but wound up spending just three and a half — the dive cut short by a series of technical glitches, including the loss of three of the vehicle's 12 control thrusters. "Unfortunately," he laments, "the failed thrusters were all on one side, making the sub difficult to maneuver."
Nine months ago, Victor Vescovo (with encouragement and advice from fellow club member Don Walsh) bested Cameron's record dive by successfully reaching the Deep three times during a week's venture. He did so in his DSV Limiting Factor, a game-changing collaboration between Vescovo and Triton submarines; collectively, these dives now evince the robust two-person craft's capacity as a formidable research platform. But Vescovo also notes that technology cuts both ways: "It is clear we are having an impact on even the most inaccessible places on Earth," he says, referring to bits of human-generated trash that he found while collecting samples from the ocean floor.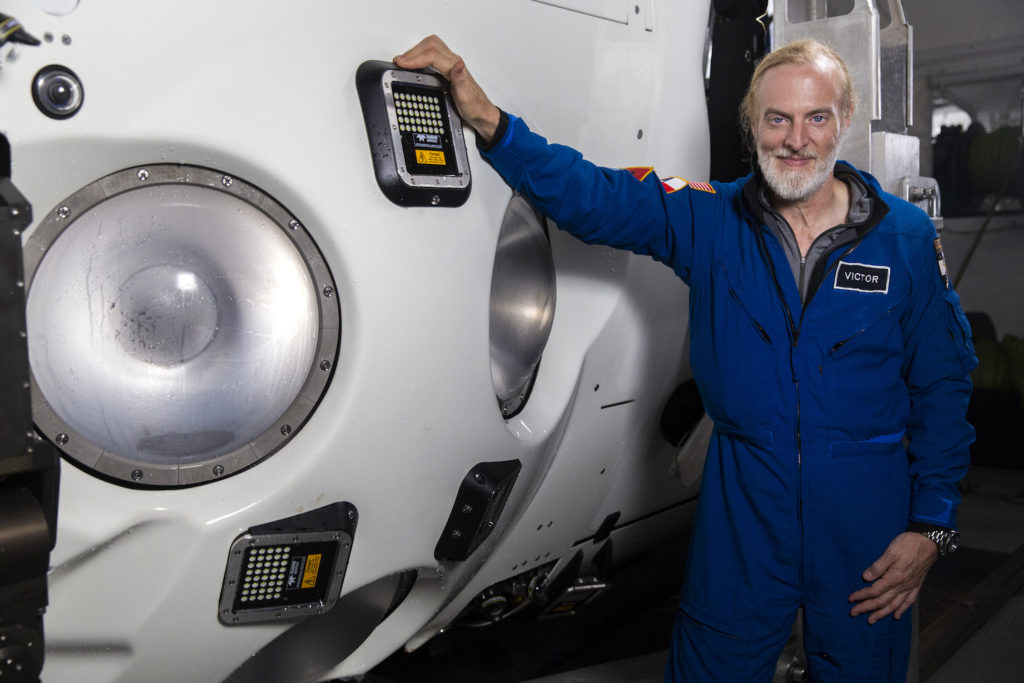 Elsewhere on the globe, club members are engaged in a range of projects aimed at mitigating human and wildlife conflict — from dealing with elephant populations in Burma and gorilla troops in Uganda, to unraveling several million years' worth of the Earth's climate history preserved in ice cores, the latter being extracted from polar regions first reached by fellow members a century ago. They are also pioneering more efficient methods for mapping places still unseen by human eyes: from the vast ocean depths to the topography of distant objects on the outer reaches of our solar system. Meanwhile, several members are developing technologies that will one day pave the way for a future on Mars.
Last year, the club marked the 50th anniversary of the first Moon landing by bringing eight of the surviving Apollo astronauts to the dinner, including Buzz Aldrin and Michael Collins of Apollo 11, a rare reunion memorialized in a stunning image taken by this article's photographer, Felix Kunze. Recounting the thrilling launch of Apollo 11 on July 16, 1969, Aldrin told the assembled fellow explorers, "Our Saturn V rocket rose with the force of 100,000 loco- motives, burning 5 million pounds of fuel in the first 150 seconds, getting a full five inches to the gallon." Yet liftoff was relatively easy. "The most dangerous part of our Moon landing, the descent to the lunar surface," he said, "was accomplished amid onboard computer failures, faltering telemetry, a field of boulders, and only seconds of remaining fuel — the latter of which prompted flight director Gene Kranz to quip at the time, "'You better remind them there ain't no damn gas stations on the Moon.'" In the half-century since that historic Moon mission, Aldrin has very publicly set his sights on the future, wearing a T-shirt of his own design bearing the slogan "Get Your Ass to Mars."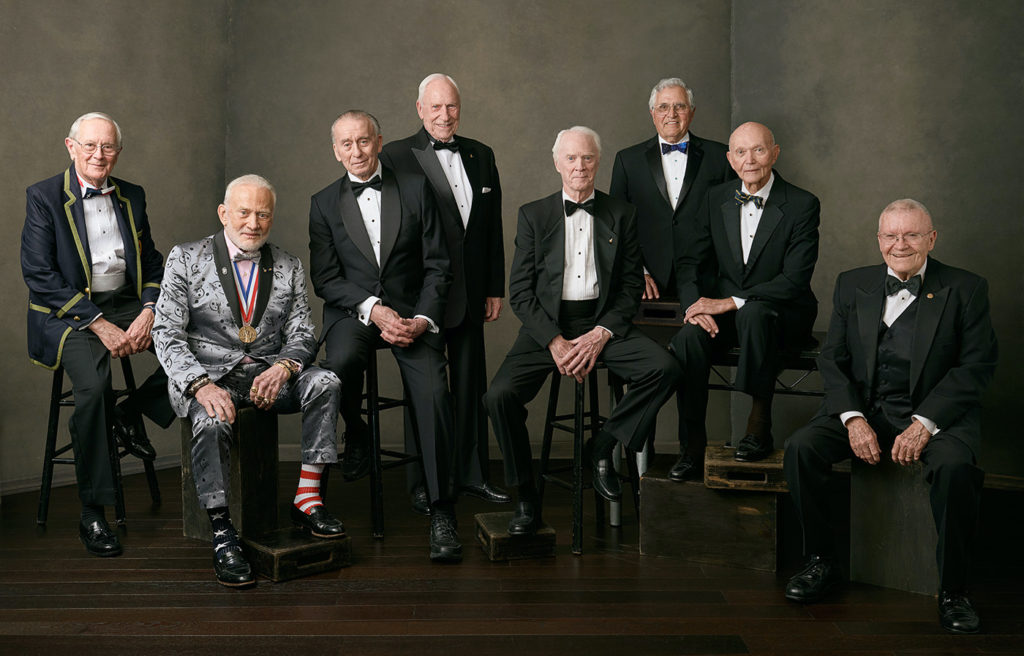 Now 90, Aldrin has profound insights into why explorers do what they do. Shortly after the loss of the space shuttle Columbia, which disintegrated upon reentry into Earth's atmosphere on February 1, 2003, The Explorers Journal reached out to the second man on the Moon for comment. He didn't even have to think about it: "Those who risk their lives to accomplish great ends, who have a vision of something larger than themselves, lift all of our lives to a higher level. All too often we forget that there can be no meaningful success without the opportunity to fail."
Accepting one last drink at the bar before his departure for Madagascar, Mark Siddall is pondering risk (and failure) in view of his upcoming mission. Designed especially for his bon voyage party by club bartender Sixto Acosta, the pisco-based drink being poured is called a "Vibrator." Its key ingredient is Acmella oleracea, a Madagascan plant whose distilled buds create a numbing, buzzing sensation on the lips. Mixed incorrectly, the drink could be as toxic as half the invertebrates Siddall stands to encounter in his coming trek. But it is assumed the evening's mixologist knows what he's doing, the Friday Night Frolickers accepting that there's no journey without a modicum of risk.