Clutch pearls! Tavi Gevinson, the fashion-writer wunderkind turned stage and screen actress, this week turned her righteous ire on shiny set staples Karlie Kloss and Derek Blasberg for what she sees as hypocritical support for the Black Lives Matter movement.
She even accused Blasberg, who has been close to Ivanka Trump, of having "neo fascist friends."
The social smackdown began when Kloss posted a quote by the poet Cleo Wade which advocates fighting racism through having conversations with family. Kloss is married to Josh Kushner, the brother of Ivanka Trump's husband Jared.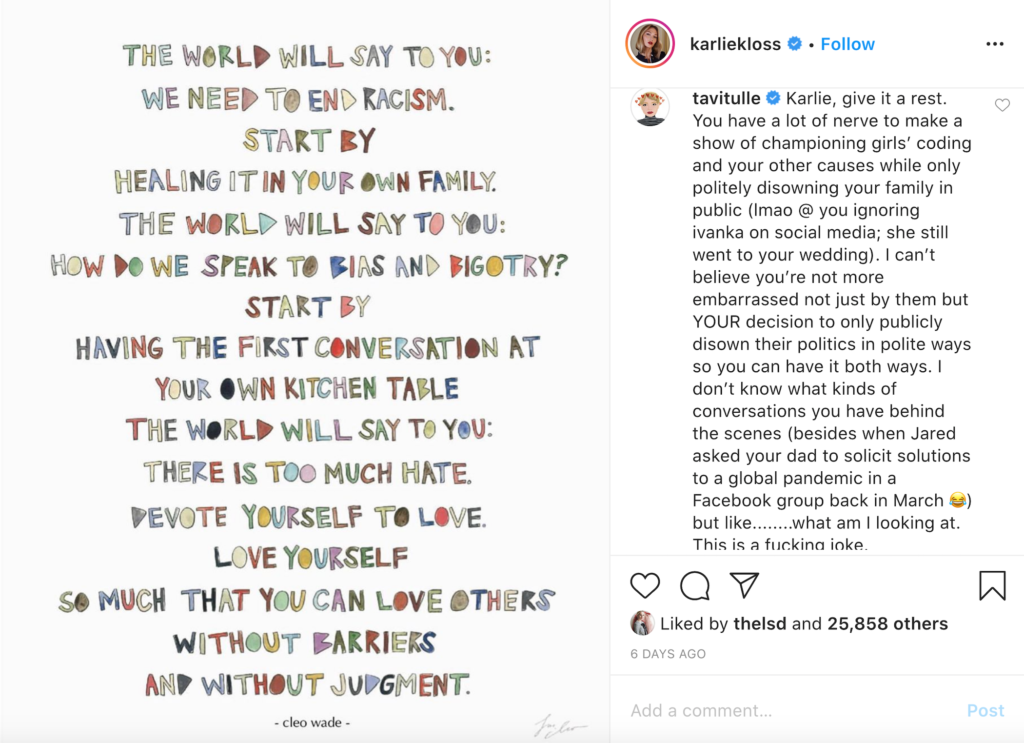 "You have a lot of nerve to make a show of championing girls' coding and your other causes while only politely disowning your family in public," Gevinson wrote. "I can't believe you're not more embarrassed not just by them but YOUR decision to only publicly disown their politics in polite ways so you can have it both ways."
Kloss usually stays quite on her in-laws and their politics, and at most has only alluded to ideological rifts.
 "I've chosen to be with the man I love despite the complications," she told Vogue in 2018. "It's frustrating, to be honest, that the spotlight is always shifted away from my career toward my relationship."
Kloss has not yet responded to Gevinson's words. Blasberg, on the other hand, snapped back.
Yesterday he posted video of himself at a protest, prompting Gevinson to comment: "Talk to your neo fascist friends ❤️"
"Hi Tavi! I'd like to think I don't have any neo fascist friends," he wrote. "Also, I'd like to think you would focus your activism on productive, constructive outreach. You're above trolling in the comments. I hope you're well and pls stay safe!"
Despite his retort, it appears Gevinson's words did get to him: Blasberg has unfollowed Ivanka Trump on Instagram.