"Where the heck is Umbria? Sounds like a drab paint color," my BFF Steven snips when I brag about my upcoming trip to the under-the-radar region in central Italy. I groan, then explain that Umbria is like Tuscany's reclusive, yet very fancy cousin. Recently the two neighboring regions in Italy — both just a car drive from Florence and Rome — have become luxury vacation rivals. Naturally, they share lots in common: sensational scenery (rolling hills, cypress trees, olive groves), storybook medieval towns, and incredible food. But, unlike the tourist-trodden Tuscan terrain, Umbria — known as Italy's "Green Heart" — remains untouched and itching to be discovered.
It's 7 AM and, after a bumpy eight-hour flight from JFK to Rome, my fiancé, Ted, and I are downing cappuccinos and devouring panino di prosciutto cotto e formaggio sandwiches from an Autogrill where we stop to gas up. "These are just as good, if not better, than Sant Ambroeus on Madison Avenue," Ted exclaims between bites with a tad too much cheery enthusiasm after a red eye. We speed (like everyone else in Italy) down the autostrada from Fiumicino airport towards the Tiber river valley. Our destination: Tenuta di Murlo, a five-star collection of private villas hidden in a lush valley surrounded by an ancient forest.
Ted likes to zip-line, skydive, and bungee jump, and has trouble sitting still for more than five minutes. He asks me what is on the agenda when we get to our remote villa. I politely suggest he pop a chill pill. This trip is all about embracing the ethos of slow travel: the lost art of doing nothing and taking everything in. For just over two hours we motor past postcard-pretty mountains, medieval chapels where Romeo and Juliet would feel at home, and charmingly dilapidated farmhouses. "I can't wait to unplug," I mention teasingly, sensing that Ted was going to ask if there was an Italian action park where we are going.
Located 20 minutes north of Perugia, the Umbrian capital founded by Etruscans, Tenuta di Murlo is a rambling estate owned and run by a stylish couple, Carlotta Carabba Tettamanti and her husband, Alessio. The sprawling 18,000-plus acre property (Manhattan is roughly 14,500 acres, to give some perspective) features lakes, waterfalls, rivers, and endless hiking trails. It's also dotted with over 80 dormant "ruins" (chapels, castles, farmhouses, stone mills) and has been in the family for over 700 years. Carlotta and Alessio, a lawyer in Rome, live in a castle on the estate with their five small children, all of whom were baptized in the property's private church. "It's like our chic Italian friends loaned us their villa for the week," I tell Ted as we pull up to the main building which has five guest rooms fronting a 60-foot pool and a restaurant called Il Caldaro.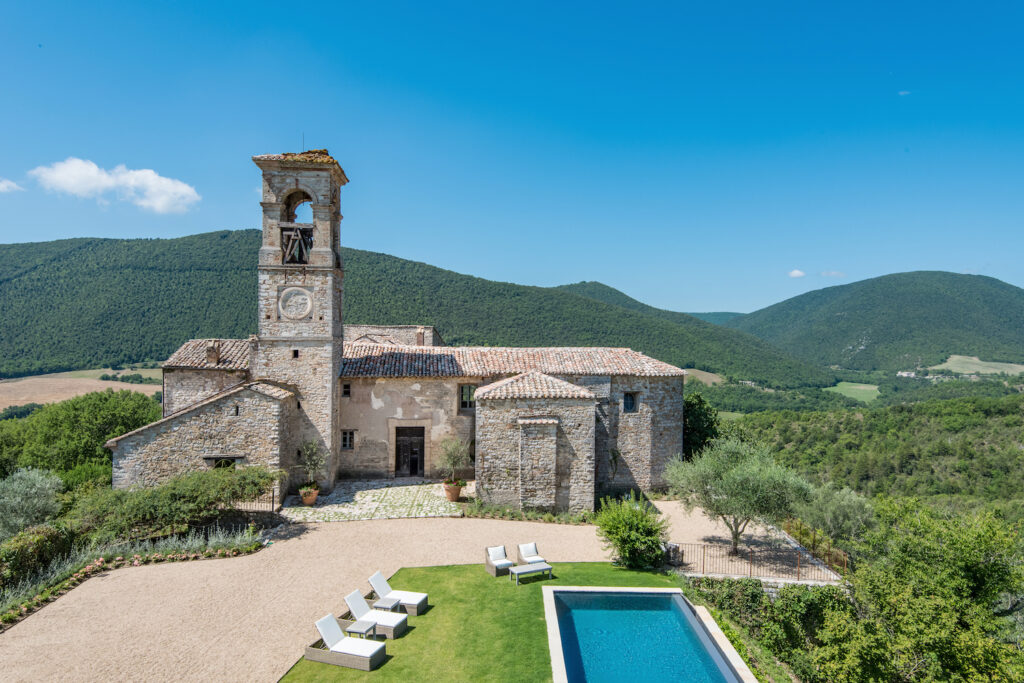 We link up with Carlotta, who is movie-star pretty and dressed in white skinny jeans, boots, and a striped fisherman sweater. We pile into her jeep and, as we venture up a rocky dirt road, she explains that over the past decade, the family has restored nine abandoned buildings into über-luxe villas that can be rented for a week or the whole summer. "We are transforming two more buildings at the moment," she adds as she slows the four-wheeler to let a herd of hairy wild boar cross. We pass a large stone farmhouse and Carlotta mentions it is being renovated to host experiences like cooking classes, wine tastings, and truffle-hunting excursions. There will also be a shop selling products from the farm, like wine, olive oil, honey, jams, handmade pastas, and fresh herbs from the garden. A terrace off the farmhouse will be used for cocktails and socializing.
"I think you'll be happy here," Carlotta says with a smile as we reach Villa Molinella, a two-bedroom retreat in the vault of a restored 13th-century water mill. Molinella, nestled by a stream, has a pool, an outdoor hot tub, a view of the 11th-century Murlo Castle, and the region's "curtain of hills."
Carlotta handled all the interior design herself. Her vibe is Bohemia luxuria — soft natural tones and warm honey walls; timber beams and patch worked stone walls; terracotta floors; wicker chairs; jewel-toned carpets from Morocco; and eclectic art and antiques the family has collected around the world. With the flick of a switch, a glass door opens in the living room floor to an underground Jacuzzi — a James-Bond-meets-Hugh-Hefner-like grotto fed with water from the outside which used to power the mill.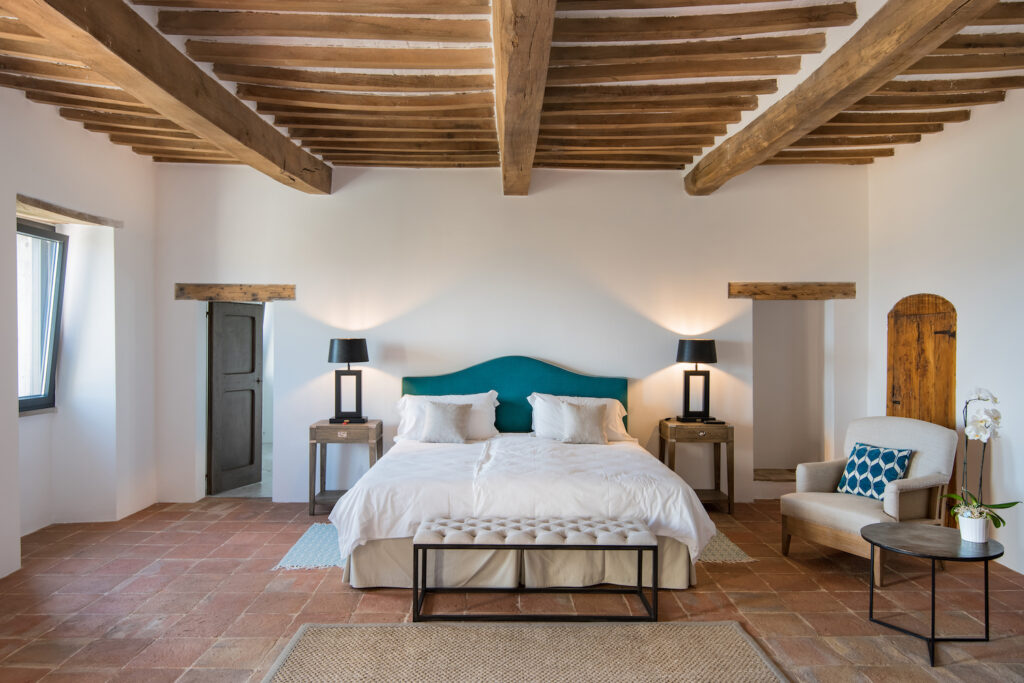 Under a dramatic vaulted ceiling upstairs, our bedroom has an oversized bed with a paisley print fabric headboard. French doors open to a terrace that leads down to the pool. The bathroom, the size of a studio apartment in Manhattan, has a rain shower, marble floors, and an enormous tub. To really make guests feel like they are in their own country estate, a private chef will come to the villa and cook whenever they want. In the kitchen, a wooden box filled with local cheeses, milk, snacks, and chocolate has already been delivered and seems to get magically replenished daily.
It's tempting to never leave Villa Molinella. One can spend a whole day shuffling from the bed to the kitchen, to the wood sauna next to the terrace, to the heated pool, then to the bubbling underground Jacuzzi — my definition of slow travel. But Ted is already antsy, so the next day at 8 AM we drive down the dirt road to the main house and have a perfect breakfast of juices, freshly baked bread, and jams with cured meats and cheese.
"I'm in a religious pilgrimage type of mood," I announce after finishing my espresso. Umbria has a few medieval towns with epic cathedrals worth visiting: Gubbio, Orvieto, Spello, and Todi, to name a few. But we decide to drive to Assisi, which is just 40 minutes from Tenuta di Murlo and the birthplace of Saint Francis, the founder of the Franciscan order of monks, one of the oldest Catholic orders. Perched high in the hills, the main event at Assisi is the Basilica of Saint Francis of Assisi, the mother church of the Roman Catholic Order of Friars Minor Conventual. The magnificent white church and monastery, commanding an enormous courtyard, is one of the most important places of Christian pilgrimage in Italy. Throngs of tourists wait in line to visit Saint Francis's crypt. By an arched entryway there is a huddle of friars in brown habits, ropes tied around their waists with three knots, symbolizing the three Franciscan vows of poverty, chastity, and obedience.
Unlike the patron saint of Italy, who was inspired to imitate Christ and lead a life of poverty, I like to shop. After a semi-grueling hike (Assisi is all uphill) to Rocca Maggiore, a gargantuan medieval castle at the top, I drag Ted back down to the town center where a small cooperative shop does Assisi embroidery techniques from the 13th century — a unique counted thread embroidery where the motifs are outlined in a double running stitch, leaving the interior void. I score a set of 12 pale blue napkins with a bee motif and then next door hire an embroiderer to stitch up bucket hats for everyone in our family with their names in Italian. The hats, with bold cursive red stitching, have a Wes Anderson feel. I leave wearing one that says "Teodoro" and Ted sports a blue lid that reads "Pietro."
That night we check out Il Caldaro, housed in an old farmhouse, for dinner. Dimly lit inside, with brown leather armchairs and copper-top tables, it feels like an Italian members' club. We dine al fresco under a blanket of stars, our table bordered by rows of fragrant rosemary bushes that perfume the crisp night air. Umbrian cuisine is carnivore heaven, known for pork, specifically porchetta, a salty roast. The chefs at Il Caldaro cook with all fresh produce and ingredients from the estate's farm, run by Gianni, the head gardener with thick white hair who always seems to have a mischievous grin. The eggs are from Murlo's chickens; the fresh cheeses are made with goat milk from the property's herd; the wine and olive oil are produced on-site; and the vegetables and fruit were picked that morning. Feeling adventurous, I order the uovo cremoso — a deliciously creamy egg with pecorino cheese foam and truffle — while Ted leans traditional with beef tartare served with Taggiasca olives, crunchy bread, mustard, and a honey sauce sourced from beehives Gianni tends to just up the road. For the pasta course, we share the popular "Carbonara 2.0" spaghettone (simple, yet perfect) and the robust homemade tagliatelle with white beef ragu. Post-pasta, I feel pigged-out, much like our wild boar pals. But I can't say no to grilled lamb with roasted potatoes and a plate of tender, juicy suckling pig which is both soft and crunchy and arrives with apple, salty caramel, and onions. After the last bite of panna cotta with tonka bean, passion fruit, coconut, and piña colada ice cream, I declare: "I can't move."
The next morning, we play with bees. It's drizzling, so truffle hunting in the forest is not an option. We meet Gianni and gear up in bright yellow hazmat-like suits, rubber gloves, and mesh masks. Gianni, a veritable bee-whisperer, explains through a translator how the estate produces its own honey, flavored by the various flowers growing around the barn. His deep voice speaking rapid Italian makes the whole experience just that much more exotic. He opens and closes wood and wire slides laden with buzzing bees, pointing out the queen, who is larger than the rest. We go inside a small building that is Gianni's bee laboratory with funnels and metal machines that separate pollen and honey and wax. He pours a shot glass of the sweet nectar, which we down in a few gulps. Gianni says honey is an anti-inflammatory, antioxidant, and antibacterial agent. He enjoys a cup of the sticky stuff every day.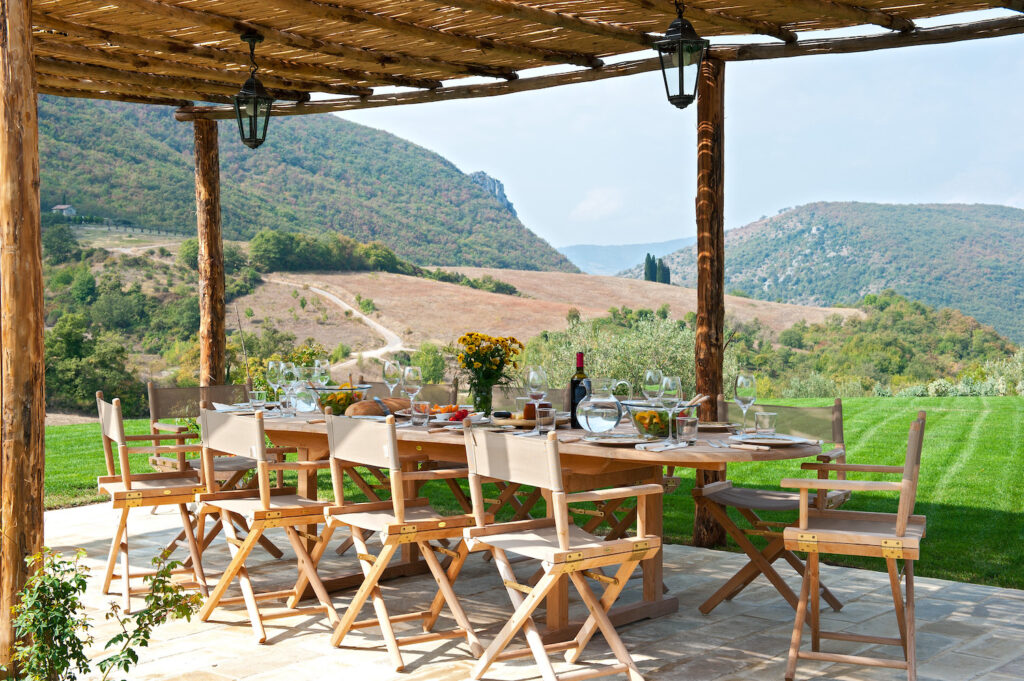 On our final day, we have breakfast delivered to our villa — which Tenuta di Murlo will do for any meal, offering a private chef to come to our kitchen and whip up an Italian feast with just a phone call. After a final dip in the Jacuzzi, we meet Carlotta, who takes us to Castiglione Ugolino, an 11th-century castle with an 80-seat church, an infinity pool, and 10 bedrooms. The castle, with landscaped gardens, vaulted ceilings, travertine marble stairs, and restored 13th-century frescoes, looks over acres of olive groves and endless hills and valleys. "We've hosted weddings and some great parties here," Carlotta says.
Afterwards, we drive to Perugia, built as a fortified medieval village, and surrounded by imposing defense walls. Perugia is a major cultural center, known for the Academy of Fine Arts Pietro Vannucci, which was founded in 1573 and is considered one of the best schools in Italy. Art is everywhere, from the monumental Fontana Maggiore in the center of Piazza IV Novembre to the nearby Galleria Nazionale dell'Umbria, housed in the Palazzo dei Priori, which is a must if only to see the famous polyptych by Piero della Francesca. Perugia is also called the "City of Chocolate" and we buy enough chocolate bars to open our own Willy Wonka factory.
That night we get dressed up for our farewell dinner at Il Caldaro of handmade gnocchi with guanciale and roast pork loin with pears and pecorino cheese. Around midnight, we slip into our enormous bed and sample the chocolate haul from the day while trying to follow an Italian soap opera on TV. We wake up at 6 AM to head to the airport. I roll over and Ted tells me my face is smeared with chocolate. Nibs of cocoa are everywhere, under the sheets, on the pillowcases. I panic that the maids will be upset that I've left a chocolate mess. "How sloppy and American," they will probably groan. But then I calm down and realize my chocolate disaster is simply a parting souvenir of the perfect Umbrian holiday.