Within Sag Harbor's two square miles lies a character-filled past that could rival any village in America. Founded in the mid-1700s as a shipping and whaling port, it was at one time second only to New York City. After whaling declined, other industries took over. And things are changing again.
The old Bulova watchcase factory is now a luxury condominium complex, fisherman have been replaced by celebrities, and real estate prices continue to soar.
The village is home to three African American beach communities, now historically registered, which were created as respites for minorities during segregation. Many notable Black leaders, including poet Langston Hughes, spent the seasons here. And Colson Whitehead's 2009 coming-of-age novel Sag Harbor, about an African American teenager spending the summer in the village's Black enclave, is being turned into an HBO Max series with Laurence Fishburne as executive producer. The once sleepy town has gone Hollywood.
A long history of literary greatness lives in Sag Harbor. The village is mentioned several times in Herman Melville's whaling classic, Moby-Dick. The opus is honored every year in June with a live reading, organized and held by Canio's Books.
John Steinbeck (whose 120th birthday was last February) summered in Sag Harbor from 1955 until his death in 1968. A waterfront cottage that the East of Eden author called, simply, "Eden," went up for sale last year and concerned locals galvanized together to turn the property into a writer's retreat. They formed the Steinbeck House Committee, with Colson Whitehead as the honorary chair. This year they raised $13.5 million to purchase the home. There is still the gazebo where Steinbeck wrote his final novel, The Winter of Our Discontent — set in a fictional town modeled on Sag Harbor.
Other writers who have called Sag Harbor home include Spalding Gray, whose Morning, Noon and Night detailed life in Sag Harbor village. Feminine Mystique author Betty Friedan lived down the street from E.L. Doctorow. Legend has it that The Silence of the Lambs author Thomas Harris couldn't find a quiet space to write at his family's home in Sag Harbor, so he rented a small apartment over Marty's barbershop on Main Street. Here, Hannibal Lecter was born. Down the street, former president Chester A. Arthur's stately home — his summer White House — occasionally hits the market, getting its asking price. Sag Harbor has become a year-round destination for all. As John Steinbeck suggests, summer is not just a season, but a feeling in the air. Nowhere can that feeling be felt more than in the village of Sag Harbor.
OLD WHALERS' CHURCH
44 Union Street, 631-725-0894
Rumored to be haunted, this historic First Presbyterian church dates from 1844 and is an amazing example of Egyptian Revival architecture. Designed by Minard Lafever, its original 185-foot steeple (which could be seen all the way to Montauk) was destroyed in the hurricane of 1938. It was modeled after Solomon's Temple, with the interior featuring the oldest pipe organ still in use in a church on Long Island. Sometimes it plays on its own.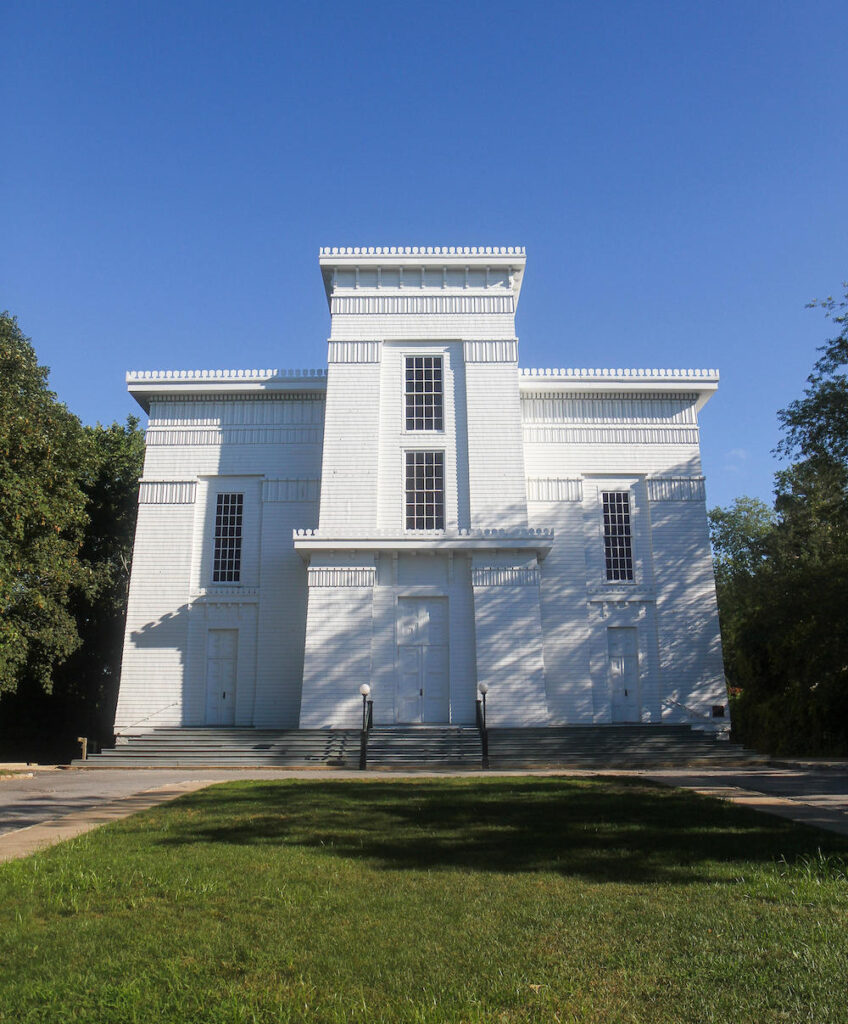 SAG HARBOR CINEMA
90 Main Street, 631-725-0010
In an example of community spirit, Sag Harbor Cinema was completely rebuilt following a fire in 2016. The famous red neon sign was saved, and the facade once again resembles the vaudeville and burlesque theater that was built in the 1890s. The work of the Sag Harbor Partnership, a nonprofit community organization led by locals including artists Eric Fischl and April Gornik, it has been reimagined as well. Today, the cinema is the pulse of the village, dedicated to presenting the past, present, and future of movies and educating guests about the film-going experience with three state-of-the-art theaters showing blockbusters, indie films, and student shorts. After the movie, head upstairs to the Green Room for a refreshing libation and some live music — the views of the bay from the François Truffaut Terrace are simply cinematic.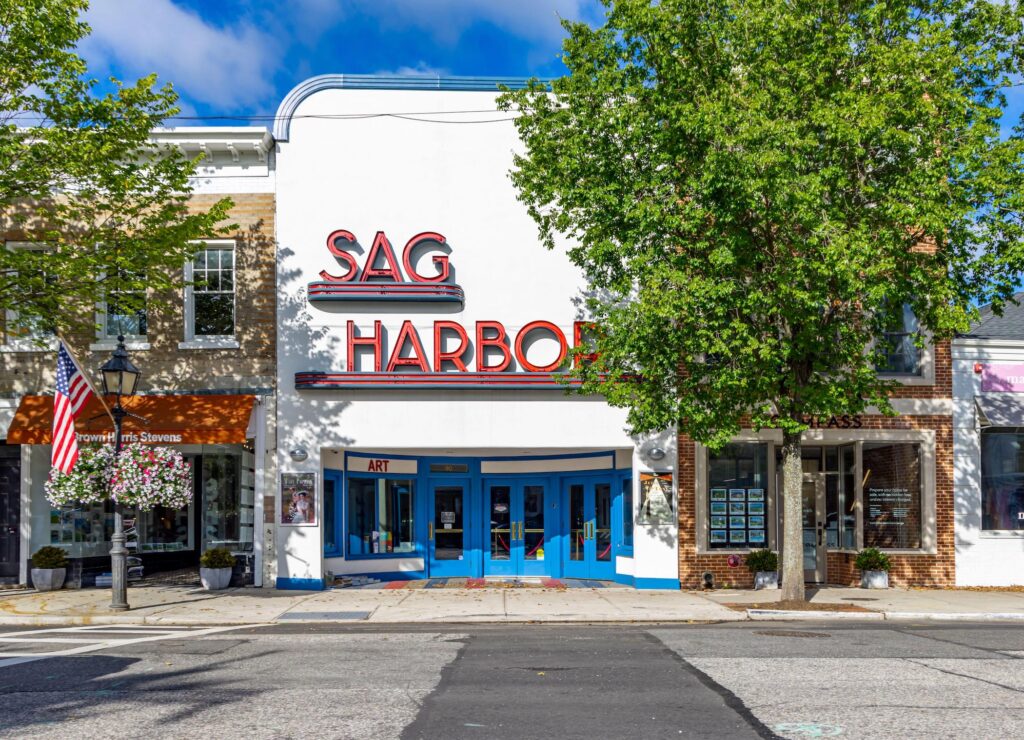 BAY STREET THEATER
1 Long Wharf (on the corner of Bay Street and Wharf), 631-725-9500
Bay Street Theater is regional theater at its best; many productions go on to Broadway and Off Broadway. The 299-seat theater attracts top talent — everyone from Julie Andrews to Alec Baldwin have graced the stage here. Jerry Seinfeld has been known to show up unannounced to perform stand-up. Founded in 1991 as a nightclub, Bay Street Theater also houses one of the last remaining puppet theaters, Goat on a Boat, and offers a schedule of workshops and classes for budding thespians.
LE BILBOQUET
1 Long Wharf, 631-808-3767
This Upper East Side import boasts the best views on the harbor and is a veritable see-and-be-seen spot. Insiders order the Cajun chicken, refer to the French eatery as "Bilbo," and always double air-kiss owner Philippe Delgrange who encourages table-hopping and champagne guzzling. Stay for the late-night DJ and dancing — you can sleep on the beach tomorrow.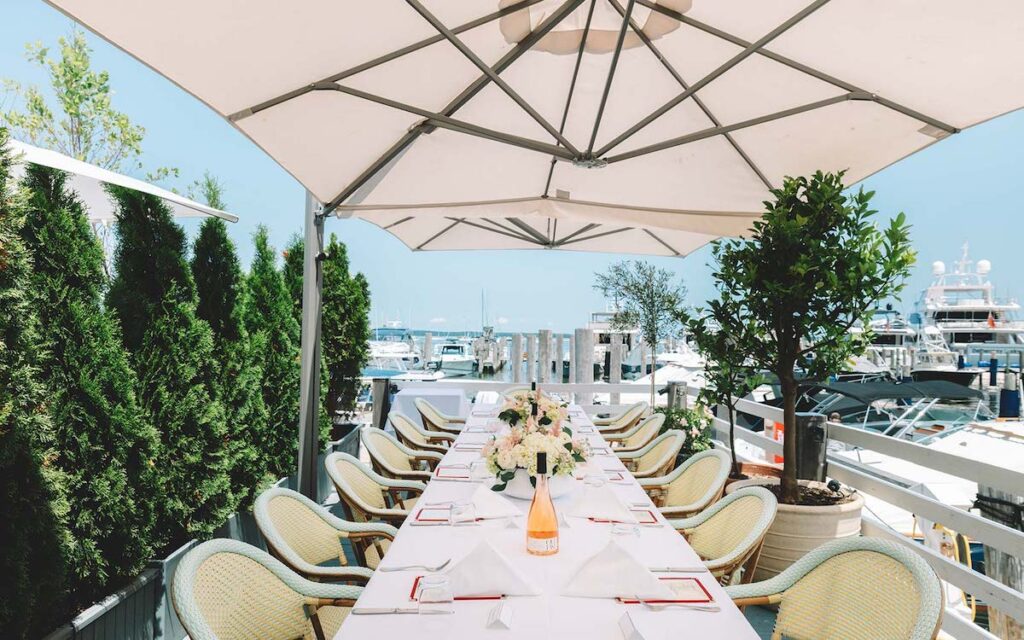 K PASA
2 Main Street, 631-800-8226
K Pasa isn't your typical Mexican joint. As the owners say, "We're just some locals who love tequila, tacos, and some spice in our lives." This modern taqueria features gluten-free tacos like lamb birria, salmon wonton, and octopus, plus healthy bowls and salads. Pair it with a flight of reposado, blanco or añejo — K Pasa has 64 different types of tequila on offer.
GRINDSTONE COFFEE & DONUTS
7 Main Street, 631-808-3370
Start your morning with a peppermint mocha or honey lavender latte at Kyle Shanahan's (stepson of TV chef Michael Symon) unique coffee and donut shop. The enormous donuts (pass the Ozempic!) change daily and flavors include toffee popcorn, thin mint, apple pie, Nutella s'mores, Linzer torte, sour cream, and chocolate chip cookie.
TUTTO IL GIORNO
16 Main Street, 631-919-5353
Gabby Karan de Felice and husband Gianpaolo de Felice's chic Italian eatery is always buzzing with bold-faced names. The décor by Gabby's mom, Donna Karan, who has an adjacent shop, is understated and elegant, with white walls and natural wood accents, while large windows let in gorgeous natural light.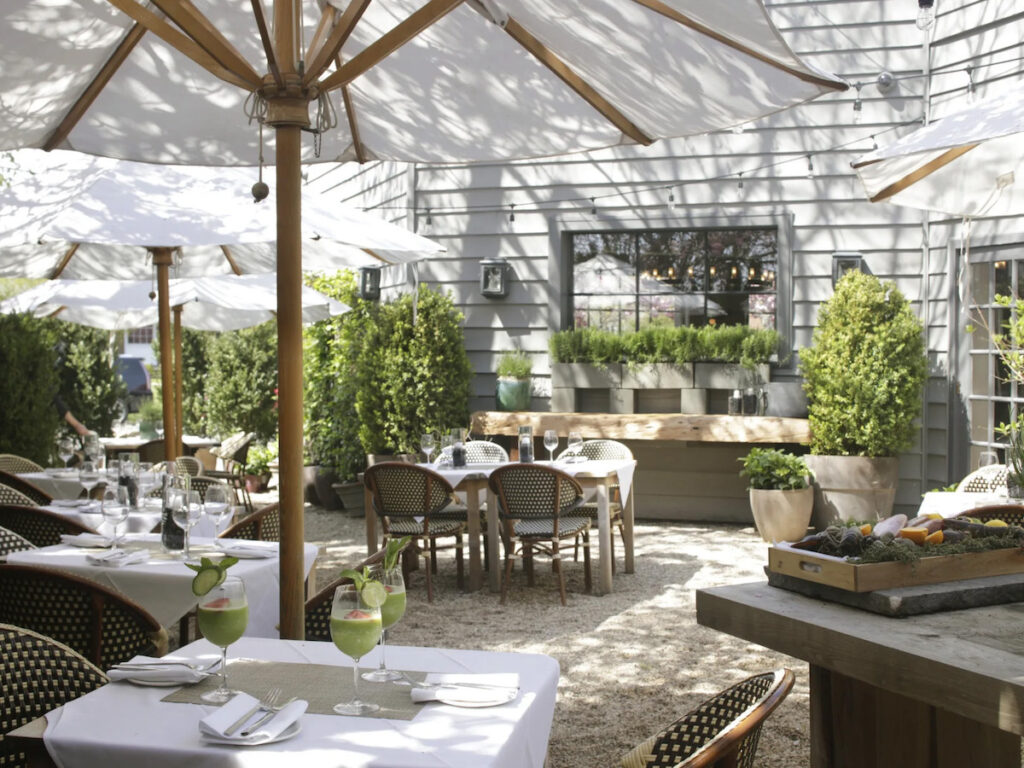 ESTIA'S LITTLE KITCHEN
1615 Bridgehampton-Sag Harbor Turnpike, 631-725-1045
Located just outside the village, this jewel box may look like a greasy spoon off a freeway, but it is the spot for Mexican and Mediterranean-influenced huevos rancheros, breakfast burritos, egg platters, and more. The parking lot is filled with Teslas and BMWs and fans are happy waiting a while for a table in the adjacent garden for the paella, made with local littleneck clams and freshly caught fish.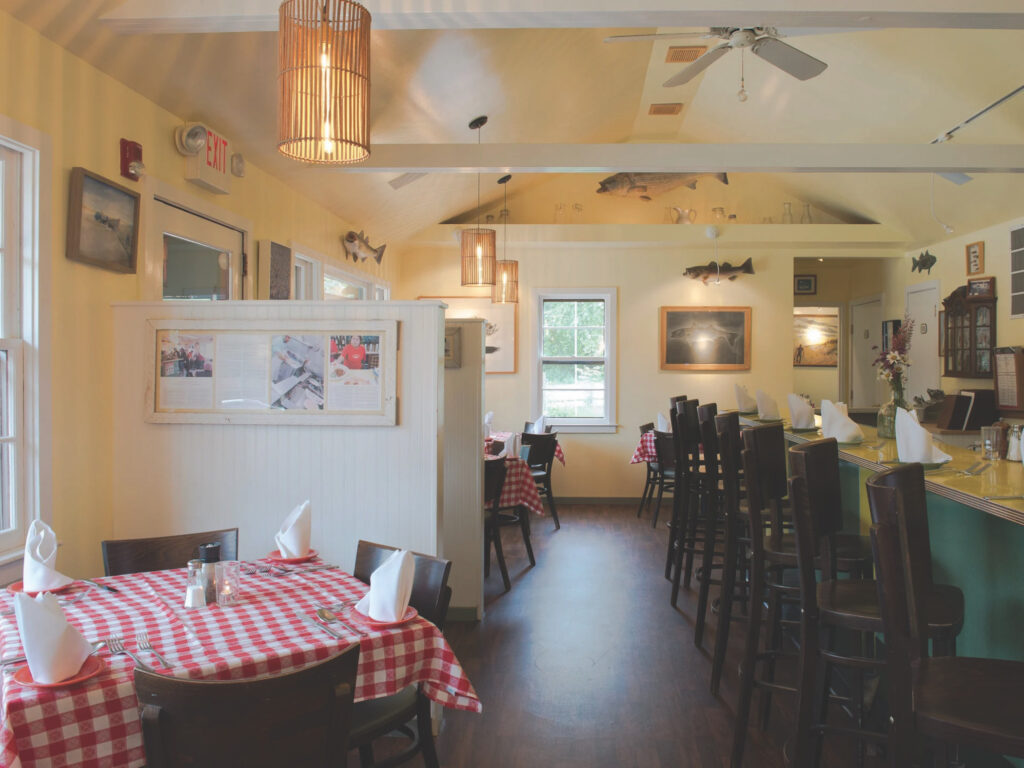 CARISSA'S BAKERY
3 Bay Street, 631-808-3633
With a cult following, Carissa's has queues down the block all day. The viennoiserie and vibrant cakes, all baked on-site, are worth the wait. Their chocolate flourless cakes are perfect to snap for your Instagram feed: topped with clouds of meringue, gold leaf, and organic, edible flower petals.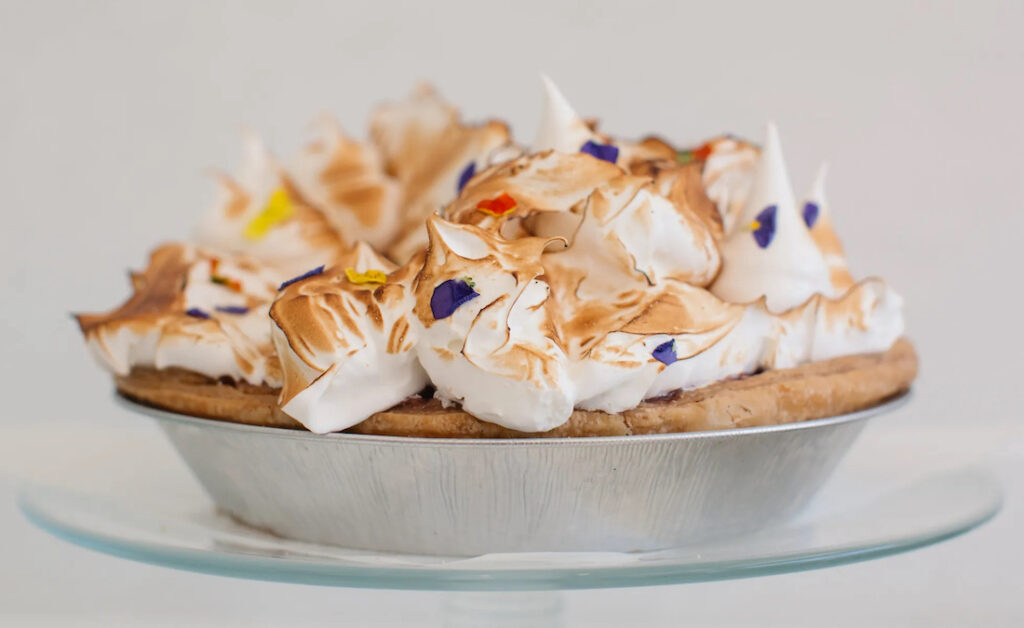 THE AMERICAN HOTEL
49 Main Street, 631-725-3535
Known to locals as "the center of the universe," this hotel, restaurant, and bar is more than the sum of its parts. Ted Conklin bought and restored the property in 1972, shoveling coal out of the basement himself (the current owner was sleeping in the dining room). With eight double rooms for rent, and an excellent restaurant with a spectacular wine list, the American Hotel is itself a character in the story of the village and if its walls could talk, what tales they'd tell. Ask Ted about his yacht for rent. "Vinny and Paul keep the bar the most convivial place on the East End," says Conklin, adding: "And if you have been overserved or you think you might be overserved, just reserve one of our cozy bedrooms and partake in a fantastic breakfast the next morning."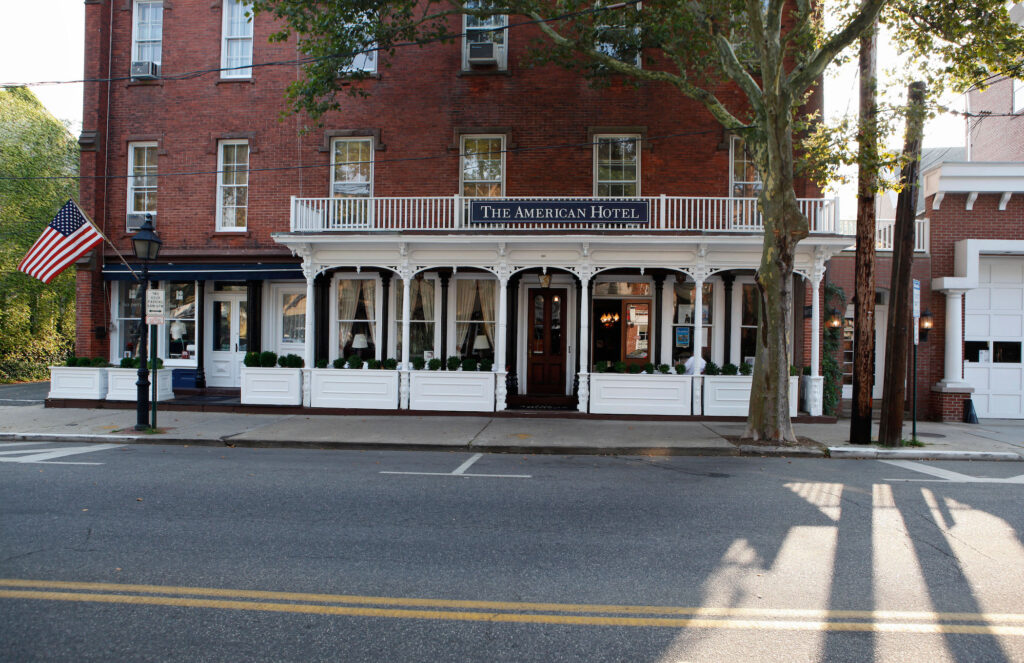 BARON'S COVE
31 West Water Street, 844-227-6672
Baron's Cove has been serving visitors and locals alike since the 1960s. The nautical-themed hotel has 67 rooms (some with private garden terraces) and harbor loft suites with balconies. The hotel was a regular haunt of a quite a few literary lions, including Truman Capote and Kurt Vonnegut. It was also John Steinbeck's favorite watering hole. Ask the bartender nicely and he'll make you Steinbeck's favorite drink: the Jack Rose.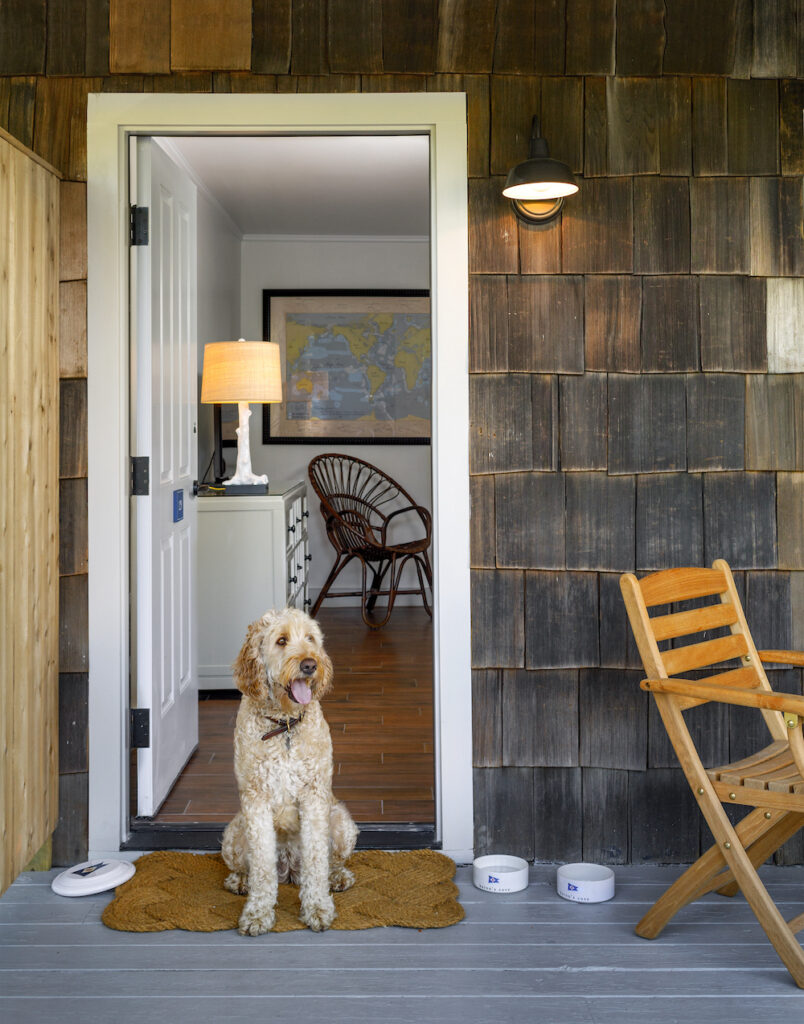 ONDA BEAUTY
42 Main Street, 631-899-3656
Onda's founders (Naomi Watts, for one) created the brand from a passion for natural beauty products and holistic health practices. The shop offers a carefully curated selection of skin care, makeup, hair care, and wellness products from coveted clean beauty brands like Costa Brazil, Tammy Fender, and Grown Alchemist. Onda is the go-to spot for clinical-strength, deep-cleaning, age-defying facials, restorative massages, as well as body exfoliation, dry brushing, and more. Onda even offers intuitive readings where you can get your "energy" analyzed.
GOOP
4 Bay Street, 631-808-3930
In their own words, this outpost is "goop's version of the world's chicest general store." Housed in a white-washed summer cottage, it's a one-stop shop for summer essentials, from G. Label apparel to curated handmade jewelry and Cynthia Rowley swimsuits. An array of Gwyneth Paltrow-approved beauty products, including goop's own line, means you'll never run out of "GOOPGENES All-in-One Super Nutrient Face Oil."
MONC XIII
40 Madison Street, 631-808-3333
"It's not just a store, it's a world," says Monc XIII's Natasha Esch of her design emporium. "The inspiration was to create a timeless environment that channels the atmosphere of a home." The shop has a kitchen and a spectacular garden where Esch, who is also an interior designer, hosts events. A favorite of Zac Posen's, the mix of vintage and contemporary furniture and accessories (including jewelry, lighting, and objets d'art) have been sourced from all over the globe. "Many customers come in and say, 'Can I move in?' which is the ultimate compliment."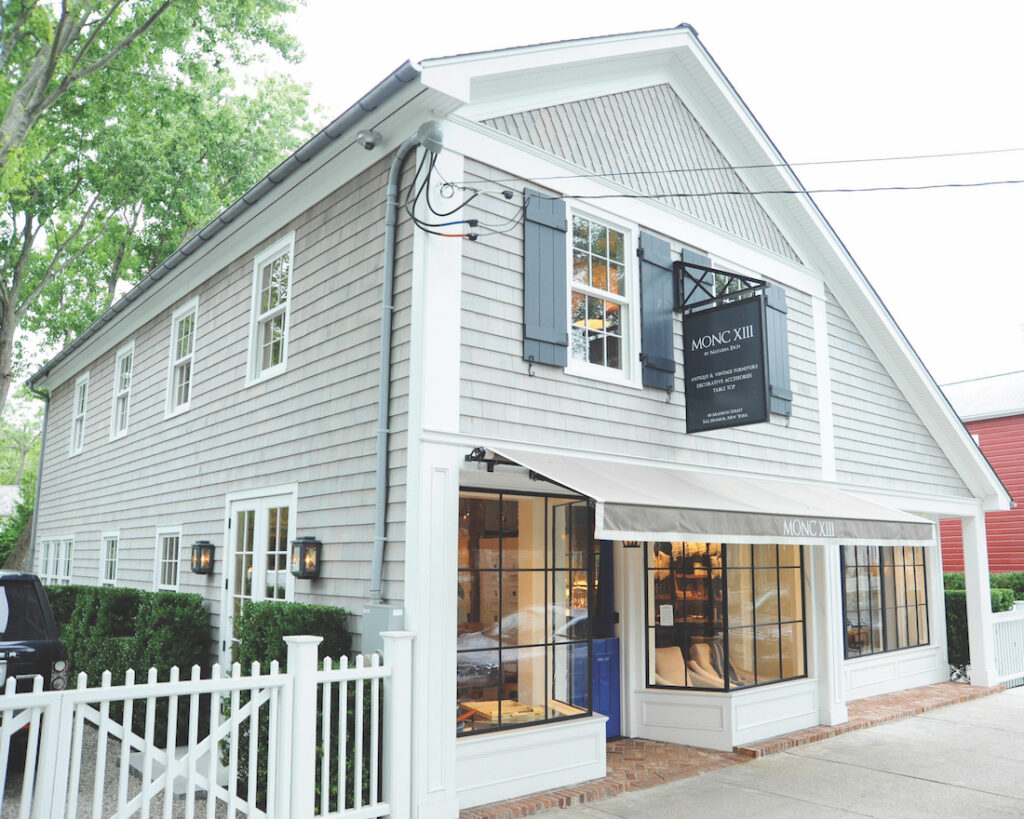 JOEY WOLFFER
11 Madison Street, 631-725-1436
"I am very aware of the footprint that fashion has on the environment," says winemaker and tastemaker Joey Wölffer of her eponymous boutique. "I am shifting the focus of the store to be more sustainable." Hard-to-find labels mix with Joey's own label Reworked, a collection of one-of-a-kind, reimagined womenswear. And for a style ace: this summer, Leallo's Megan Chiarello has teamed up with Wölffer to launch the lace-bibbed, tennis-inspired Joey Wölffer x Leallo Meadow Club sweatshirt, named after the ultra-exclusive, members-only Meadow Club in Southampton.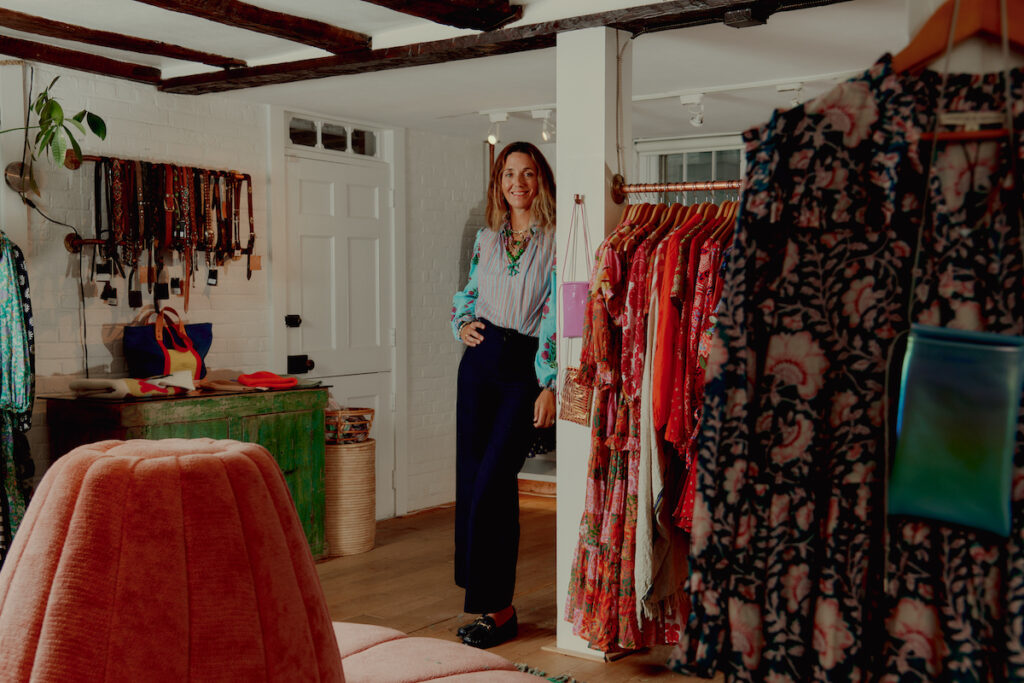 SAGE & MADISON
31 Madison Street, 631-530-0977
Built in 1797, Sage & Madison is listed on the National Register of Historic Places. Its current incarnation as a boutique and inn opened its barn doors in 2020 and features a curated selection of home and garden items, with a focus on local handmade and fair-trade goods. Upstairs, the Hall and Hatfield two-bedroom suites and the one-bedroom Madison Suite offer spacious accommodations, complete with luxe Ralph Lauren bedding.