"When I first started working in museums 35 years ago, fashion exhibits weren't big," says Matthew Yokobosky, senior curator of fashion and material culture at the Brooklyn Museum. "[Curators] were trying to make that art/fashion connection… that somehow it was going to increase its allure."
A few decades later, everything has changed. Fashion exhibits have become major attractions, and none more so than the traveling retrospective Thierry Mugler: Couturissime, a multimedia celebration of the genre-defying French fashion designer which arrives at the Brooklyn Museum this month. It's the fifth institution to stage the show since its debut in Montreal in 2019, and the first to display it since the designer's death, at the age of 73, in January. "Blockbuster" could not be a more apt phrase to describe it.
No one is better suited to a solo exhibition than Thierry Mugler, the wildly theatrical designer, photographer, and artist known for his over-the-top couture creations and fashion extravaganzas of the '80s and '90s. "It was just so much more about fantasy and extreme forms of beauty," explains Yokobosky of Mugler's creations. "He was working with people that did amazing beading, feather, and leather work. He even worked with industrial designers to complete the Chimère gown (pictured below), in which there are 3,000 differently sized scales that were individually cast. He took the art of fashion creation to the nth degree."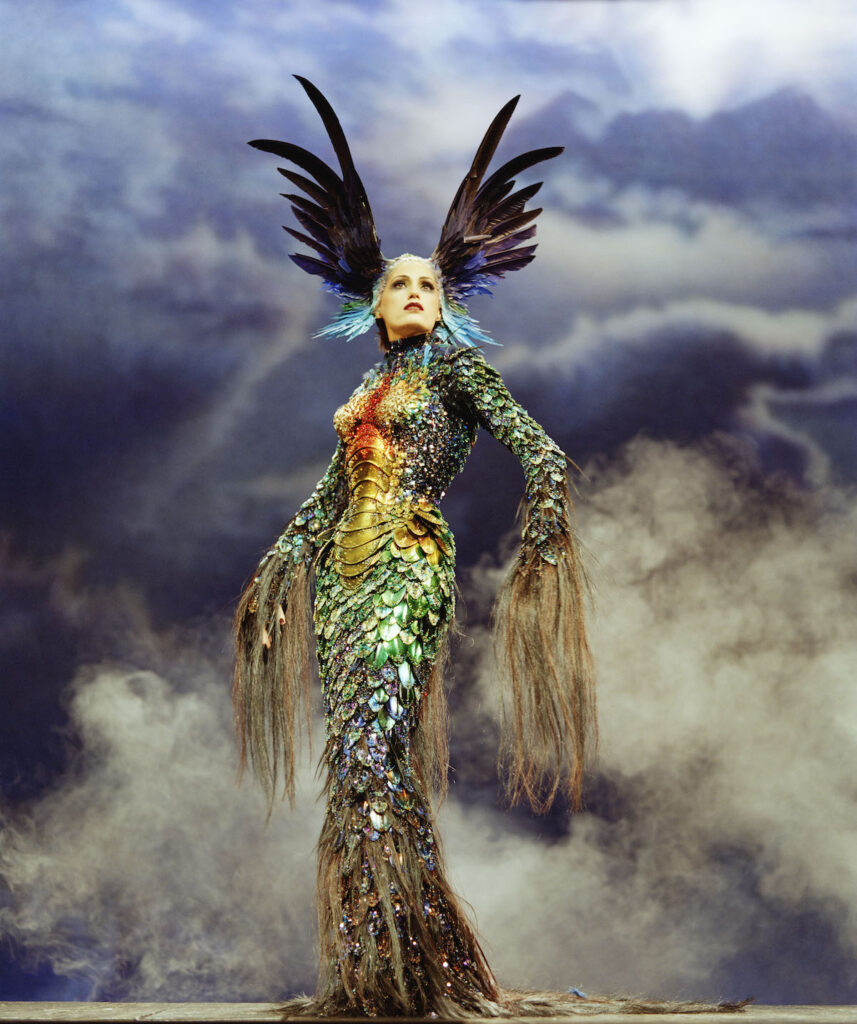 His runway shows were equally dazzling, blurring the lines between fashion and entertainment. A trained ballet dancer, Mugler directed his runway models to embody characters — a sharp contrast to what Yokobosky describes as the "military walk" popular today. "Everyone's walking and stomping down the runway so quickly, you're not looking at the fashion anymore," he says. "[Mugler's models] came out and presented the dress to the audience. It was theater — it was an unveiling."
Couturissime is a reminder of how audacious the French couturier's vision was. The show includes more than 130 outfits designed by Mugler from 1973 to 2014, which drew on a multiplicity of sources and influences, from science fiction and surrealism to comic books and cinema, and comprised every kind of material including rubber, resin, and plexiglass. As in past iterations, it features stage costumes and couture, as well as photography (both Mugler's own and from collaborators like Helmut Newton) and sketches. One gallery is entirely dedicated to George Michael's 1992 music video for "Too Funky," which Mugler outfitted and directed, while another is devoted to his first fragrance, Angel, celebrating its 30th anniversary this year. And true to his panache for sci-fi, the show opens with a life-size 3D hologram of Mugler's work for a 1985 stage production of La Tragédie de Macbeth.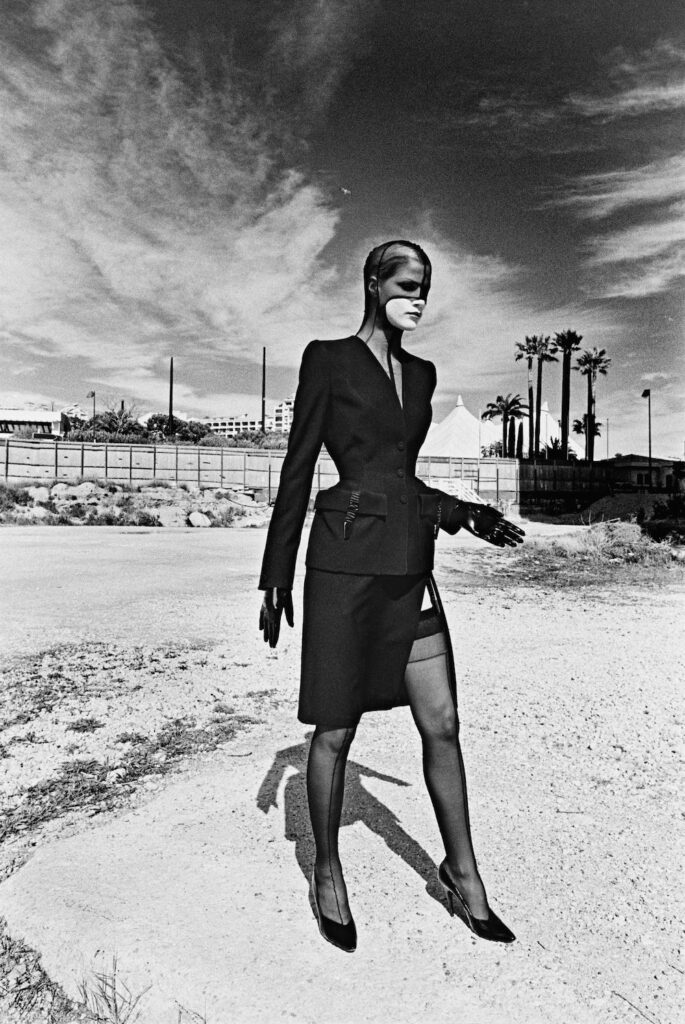 Though Mugler sold his namesake fashion house in 1997 and walked away from the fashion industry in 2002, he continued to design for productions like Cirque du Soleil's Zumanity and Beyoncé's I Am… world tour. (The Mugler label has since been revived and is currently helmed by Casey Cadwallader.) But in 2019, Couturissime brought his career rushing back into the public consciousness. The custom dress he created for Kim Kardashian at the 2019 Met Gala, as well as the multiple archival Mugler gowns Cardi B wore to the Grammys that year, went viral, generating days' worth of headlines. In an era driven by the internet's insatiable appetite for content, his work provided fodder.
There was nobody like Mugler, says his friend and muse, Stella Ellis; the perfectionism and showmanship embodied by the couturier is fading away. "Fashion [has] kind of lost its magic," she says. Ultimately, Ellis hopes museum patrons will walk away from Couturissime with a better sense of Mugler's unmatched creativity. "He put so much into his creation… he's not just a dressmaker. He's a couturier, he's a director, he's an artist, he's a photographer. He's a visionary. All of this goes into the clothing. It's everything."
Thierry Mugler: Coutureissime is on at the Brooklyn Museum from November 17 through May 7, 2023. Click here for tickets.