When I started out in oncology, the field was focused on attacking tumor cells. But over the past 20 years, we've learned to think of cancer as part of an ecosystem, and that ecosystem is the body. Simply put, if you have a healthy lifestyle, your ecosystem is more hostile to cancer cells and to illness in general. I think Covid-19 really showed that to us. People with underlying conditions suffered much more than those with a healthy and functioning ecosystem. Diet is, of course, a big part of that. But what I found was that after I explained the basic principles of a healthy diet — less sugar, less butter, less salt, less meat, more plants — my patients would say, "Great. But I need something specific. I need recipes."
I didn't pick up cooking until about ten years ago. Before that I was too busy with my residencies and studying for my MD, PhD. But once I did start, I found my knowledge of molecular biology extremely helpful. Cooking is just another form of chemistry. These recipes represent not just years of experimenting in the kitchen but also draw on my work as a doctor as well. They find ways to be delicious that don't harm the body. They are life-affirming and, because studies show that 40–60% of all cancers are related to lifestyle choices and 15–30% are linked to diet, they can literally be lifesaving too.
Nut Butter Multigrain Toast with Poached Fruits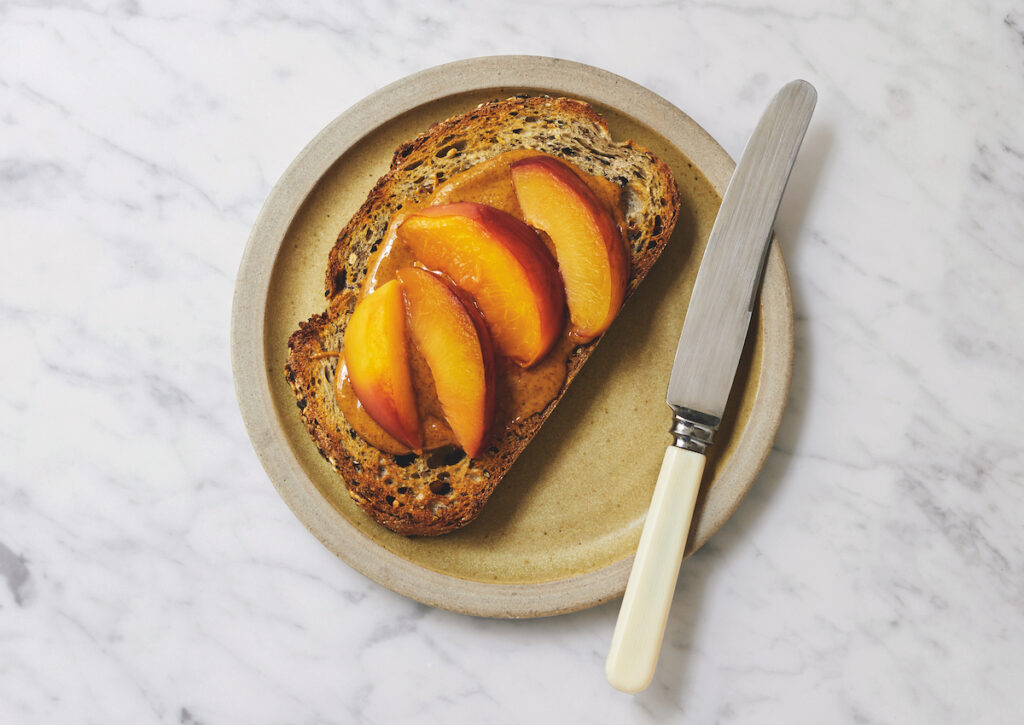 Toast is a staple breakfast food, but regular white bread toast with butter and jam is high in simple carbohydrates and saturated fat. I use multigrain to replace white bread, nut butter to replace cow's milk butter, and poached fruit to replace jam or jelly. The carbohydrates in white bread are mainly from white flour, but multigrain bread includes other grains and seeds, so it has more fiber, B vitamins, vitamin E, and minerals. Nut butter has more unsaturated fat than butter and is dairy-free. I like sunflower seed butter for its distinct taste, but use your favorite unsweetened nut butter. Finally, the quick-poached fruit I make here is sweetened by cooking it in its own juices, so it doesn't have any added sugar as both jam and jelly do.
Serves: 4
Ingredients
• 4 medium apples, pears, peaches, or plums (or a combination), unpeeled and cut into slices 1 inch (1.25 cm) thick
• 4 slices multigrain or whole wheat bread
• 4 tablespoons unsweetened nut or seed butter, such as sunflower seed butter, almond butter, or peanut butter
Instructions
In a medium saucepan, combine the sliced fruit with enough water to just barely cover the fruit. Bring to a boil, then reduce the heat to a simmer. Cover and cook until the fruit is tender and translucent, 7–10 minutes, depending on the fruit you've chosen. Drain off any excess water. Toast the bread to your desired doneness. Spread the nut butter on the toast, top with the poached fruit slices, and serve.
---
Aioli Shrimp with Walnuts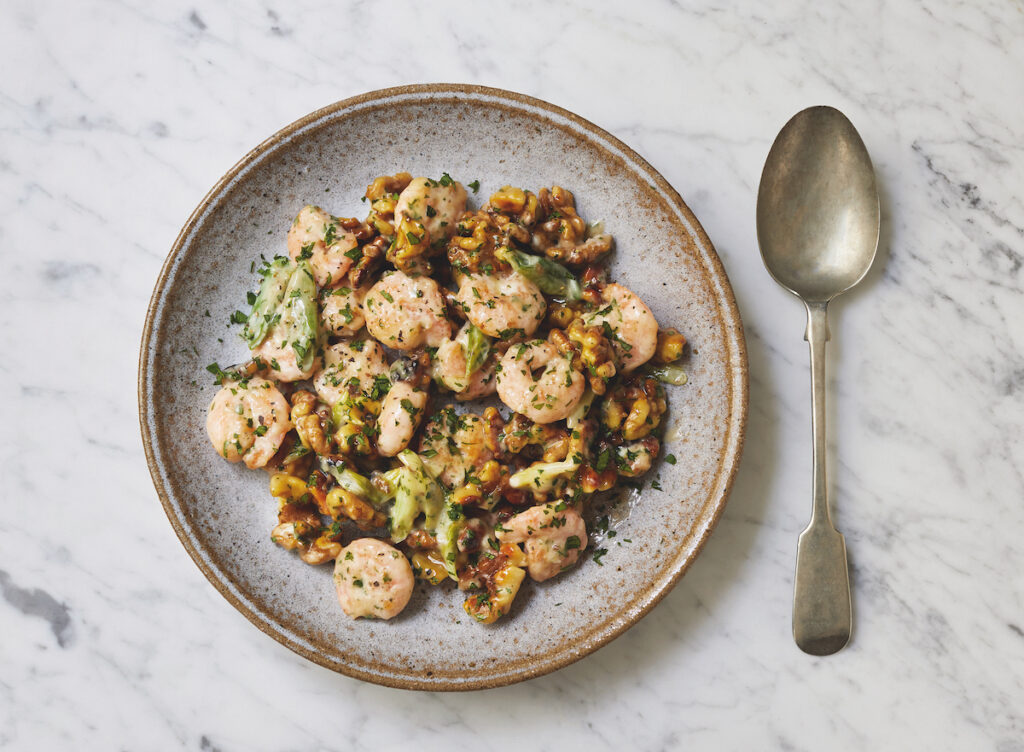 Shrimp (prawns) are a good source of marine protein, and walnuts are rich in plant protein and plant oil. This combination serves as a healthy protein dish that pairs well with light-tasting vegetables and carbohydrates. You may be aware that shrimp is high in cholesterol, but there is "bad" cholesterol (LDL, low-density lipoprotein), which can cause damage to the body, and "good" cholesterol (HDL, high-density lipoprotein), which helps the body remove the bad cholesterol. Shrimp in moderate amounts was found to actually raise the levels of good cholesterol (HDL) more than the bad cholesterol (LDL). Look for shrimp with translucent and firm flesh, which indicates freshness. It is easy to overcook shrimp, which will make them hard and dry. Shrimp that are fresh and properly cooked should feel almost crunchy when you eat them. In the dish, I prefer the healthier homemade aioli over mayonnaise because it uses olive oil. The milk powder adds creaminess to the dressing, but you can omit it if you don't have it.
Serves: 4
Ingredients
For dairy-free, omit the milk powder
• 16 shrimp, peeled and deveined
• 1 teaspoon kosher (flaked) salt
• 1 teaspoon cornstarch
• Pinch of freshly ground white pepper or black pepper
• ¼ cup (2 fl oz/60 ml) olive oil
• 1 cup (150 g) walnuts
• 2 tablespoons honey
• 2 scallions, cut into 1-inch (2.5-cm) lengths
• 2 tablespoons aioli or mayonnaise
• 1 teaspoon milk powder (optional)
• 2 tablespoons chopped parsley
Instructions
In a medium bowl, combine the shrimp, salt, cornstarch, and pepper. Mix well to coat each shrimp. In a large frying pan, heat the olive oil over medium-low heat. Add the walnuts and fry until lightly browned, stirring occasionally, about 2 minutes. Transfer the walnuts to a bowl, add the honey, and toss to coat the walnuts. Increase the heat under the frying pan to medium. Add the shrimp and scallion (spring onion) segments to the oil remaining in the pan. Cook, stirring occasionally, until opaque and cooked through, about 3 minutes. Remove to a serving bowl. Add the aioli to the bowl and sprinkle with the milk powder (if using). Toss to mix well. Add the walnuts and toss again. Sprinkle with the parsley.
---
Kiwi and Honeydew Sorbet with Cashew Milk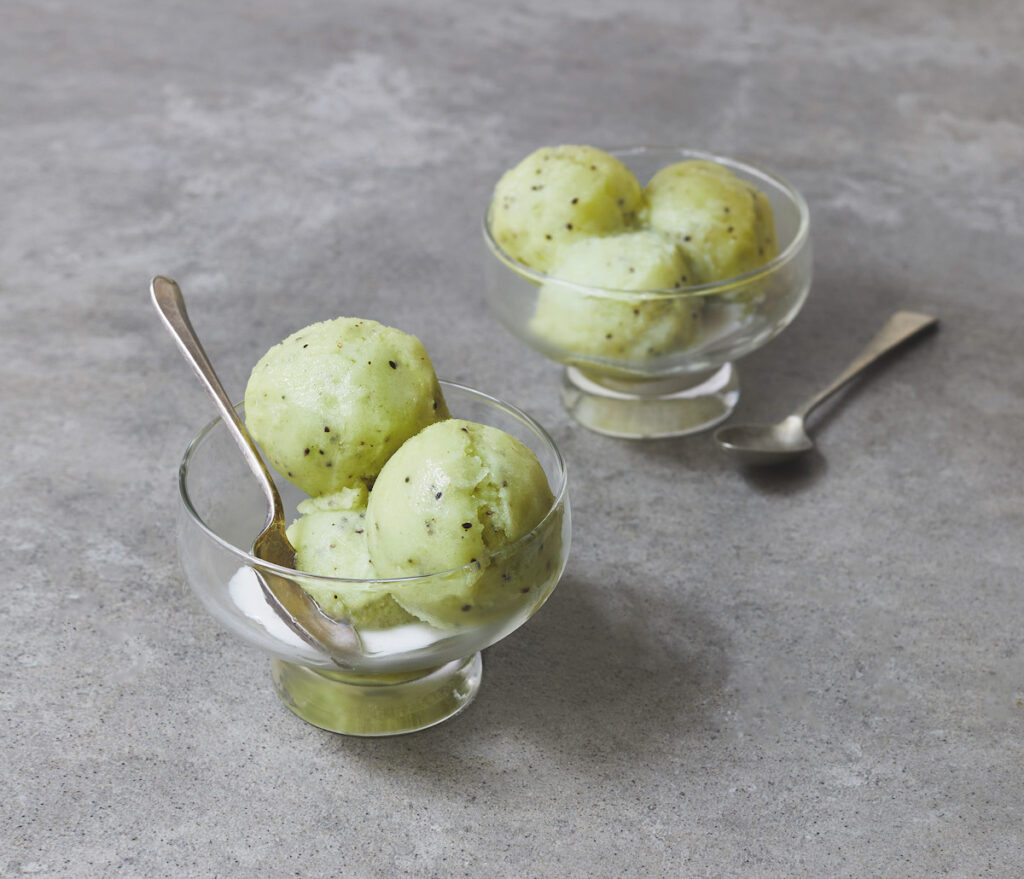 I typically look for dessert options other than ice cream, because of its cold temperature and high sugar content. Cold desserts chill the stomach, impeding digestive functions when you need them the most, after a meal. On those occasions when you really do want a cold dessert, eat this low-sugar, dairy-free fruit sorbet. You can replace the kiwi and melon with almost any other fruits, such as mangoes, raspberries, or peaches. You can also use frozen fruits.
Serves: 4
Ingredients
• 4 kiwifruits, peeled and cut in half
• 1 lb (450 g) honeydew melon, peeled and cut into ½-inch (1.25-cm) pieces
• 1 tablespoon honey
• 4 tablespoons unsweetened cashew milk
• 4 dashes of triple sec liqueur (optional)
Instructions
Arrange the fruit chunks on a baking sheet and freeze until solid, at least 1 hour. Meanwhile, chill a blender jar or the bowl of a food processor. (If you have a blender with a very narrow base, the food processor may be a better option here.) Put the frozen fruits and honey in the chilled blender or food processor. Pulse until the fruit is in tiny crystals and is light and fluffy. Divide among four glasses. Drizzle 1 tablespoon of cashew milk and a dash of triple sec (if using) over each serving.
Excerpted from The Wellness Principles: Cooking for a Healthy Life © 2022 by Gary Deng, MD, PhD. Reproduced by permission of Phaidon. All rights reserved