In our series, Interior Lives, Avenue profiles the new guard of interior design icons about redefining classics and bringing innovation — and beauty — to the industry.
About a year into his role as a senior designer for Shawn Henderson, Todd Raymond decided he wanted to do his own thing. The timing felt fortuitous: after graduating from Parsons School of Design in 2014, he made the rounds at firms like Tonychi Studio, Pembrooke & Ives, and Dan Fink Studio, eventually landing at Henderson's. Raymond gave him several months' notice of his departure, which would mean his last day would be in April of 2020. Global pandemic notwithstanding, he was still able to get his own residential design firm, Studio Todd Raymond, up and running in New York that same month. He describes this experience as one of those so-incredibly-unfortunate-you-just-have-to-laugh moments. But if there's some nugget of wisdom hidden in there, perhaps it's got something to do with trusting yourself — which Raymond is rather good at.
He believed in his talent enough to switch from hospitality design to residential design early on in his career when he realized the former doesn't allow for much client interaction. "When you work on a project for a big hotel," he explains, "there's a whole army of people all around the world working on this 65-story skyscraper. I just really craved the kinds of intimate connections you form with your clients in the residential design world." Most crucially, though, he trusted himself enough to pursue interior design in the first place; in his 20s, he went from managing restaurants to taking night classes at Parsons and working shifts at a furniture and fabric showroom during the days.
Now, over a decade after he made that initial jump, Raymond finds himself with a solid clientele base, a thriving business, and an impressive portfolio of residential projects in Palm Springs, Brooklyn, LA, upstate New York, and Manhattan. On the horizon: an apartment overlooking Central Park and a "really big" villa in Qatar.
"Our aesthetic is 'decidedly modern,'" Raymond notes, "but we like to juxtapose [modernity] with traditional elements." Case in point, a loft he worked on in SoHo in 2021. "The shell of the space was very traditional. There were French doors and a Juliet balcony, a very European feel," he says. "We [preserved those elements] but added things like modern furniture, applied moldings, and modern millwork throughout." Ditto the recent project down in Palm Springs, where Raymond infused modernity into the space by way of furniture and other details, while still maintaining the integrity (and "gorgeous stone fireplace") of the '70s-style home.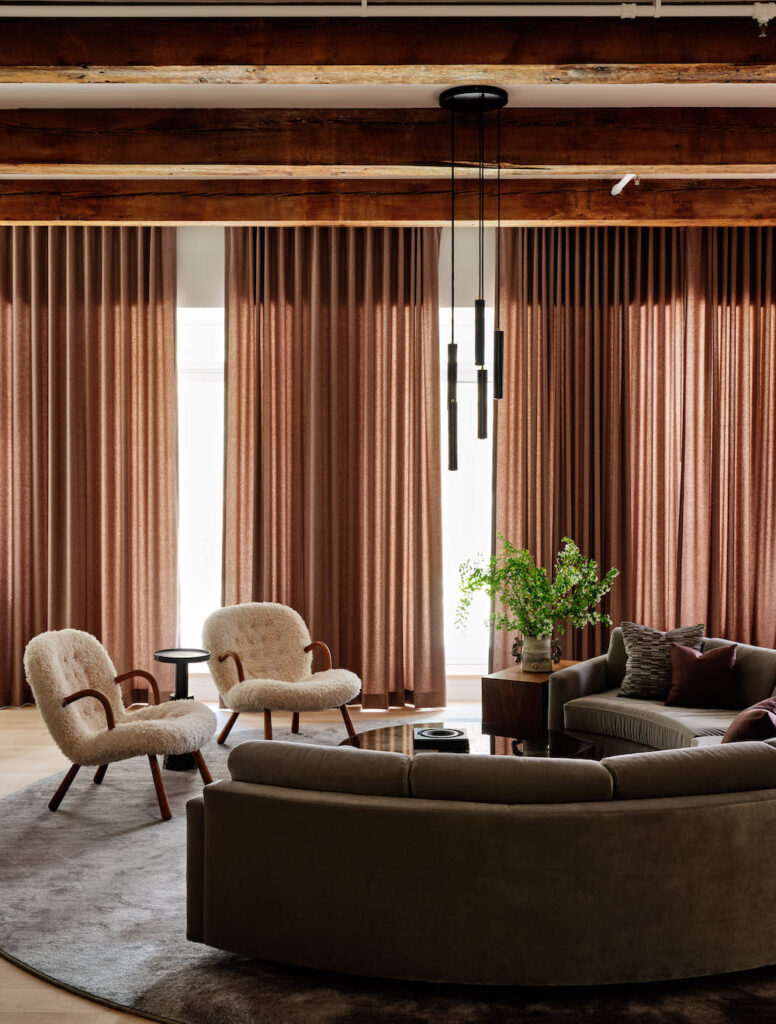 Inspiration, Raymond says, can strike from seemingly anywhere — a photograph, a sculpture, a city — and he's got a knack for incorporating those sources of inspiration into a space in a way that's clever, subtle, and delightfully unexpected at times. At a home he recently worked on in Manhattan's Upper East Side, for example, Raymond paid tribute to the client's Finnish heritage, an idea she was initially hesitant about. "She was like, 'It's going to be all Artek furniture. It's going to be so obvious.'" Instead, he added things like blown-glass fixtures ("The Finns are known for blowing glass," he says), vintage ceramics from the '60s and '70s from Finnish designers, and fabrics woven in Finland. "We wanted to include all these little nods to her heritage to make her feel very special, especially knowing that when she'd have friends over, she could introduce them to all these amazing Finnish artists," he says.
This thoughtfully subdued approach is perhaps most evident in the way Raymond utilizes color, or lack thereof. "Everyone jokes that we only do neutrals," he chuckles. "We do use color, but in a more natural way." (Don't dare ask about primary colors.) He uses green as an example: "Green will either be met with a beautiful gray undertone or maybe another shade of green. We like things monochromatic. But, in general, I prefer to play up textures rather than color. It's more fun."