Is it possible to separate ourselves from what we do? To slip into the anonymous unknown, if only for a wrinkle of a holiday? I recently pondered this idea of disconnection — at least in the creative sense — during my second vinyasa flow at Villa Lena when the yoga instructor, a nomad Swede by the name of Maria Kristensson, called me out. By some psychic feat she reminded me, along with my two fellow early-morning risers, to exhale all thoughts of home and focus on the moment at hand. Perched on a canopied wooden sundeck created by the designer Fred Rigby — with aromatic groves of olive trees on one side and Tuscany's Apennine mountains on the other — it was hard to disagree with her. I decided to save the thought for breakfast.
Villa Lena, where I found myself in such an existential debacle, is at the end of a more-or-less equidistant trip from the historic city of Florence and the much more efficient — and thus much less romantic — city of Pisa. If you're lucky, the car ride climaxes at just an hour. If not, you end up on on a tour of the canyons of the northern Italian countryside, dodging oncoming Fiats on a terrifyingly beautiful one-lane road, and feeling the sun smother every morsel of your being. The journey could not be more scenic. At the top of one particularly steep hill, the 1,235-acre property stands on an area known as San Michele. The land dates to the 19th century, when the aristocratic Del Frate family acquired it to construct an extravagant villa replete with wondrous frescos and an intimate chapel devoted to the eponymous archangel who famously slayed a seven-headed dragon. Over the last century, the property has passed through many hands, becoming grounds for socializing, hunting, and agriturismo, the Italian concept that marries nature with hospitality, which it remains today — at least partly.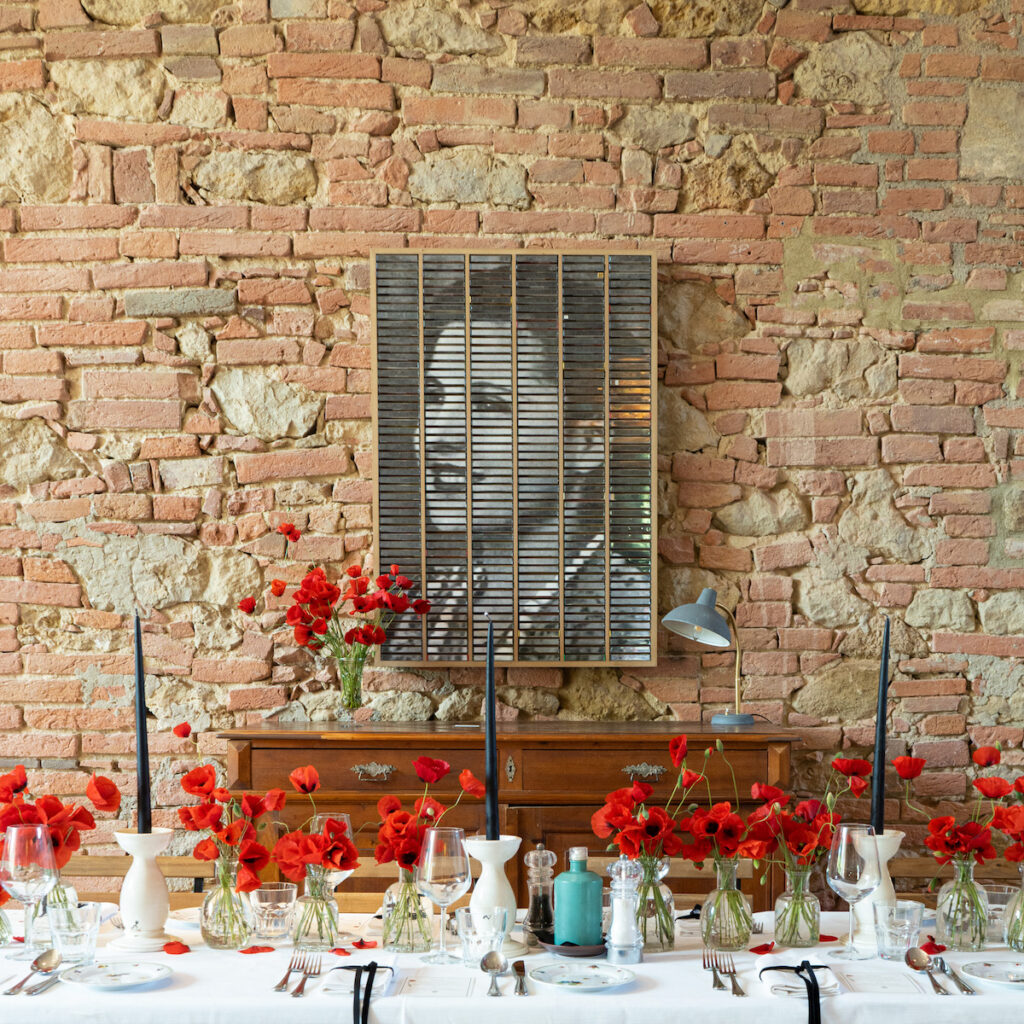 Its current and most progressive concept was established in 2014 by arts curator Lena Evstafieva, musician and producer Jérôme Hadey, and Parisian restaurateur Lionel Bensemoun. Under their guidance, Villa Lena encompasses many things. Upon first sight, it's a hotel, a design-friendly getaway far from Tuscany's expected bachelorette wine outings in Chianti and the group tours of the statue of David. In a former horse stable called Fattoria, renovated by the London studio Hesselbrand, my guest room was filled to the brim with Memphis Milano works of art. A monoazo yellow, seashell-shaped lounger as brilliant to look at as it was easy to lie on paired beautifully with the building's preserved oak floors, while a tangerine-hued, space-age lamp from the '60s was a mod contrast to the high-beamed walls and a floor-to-ceiling brick fireplace. A large vintage mobile overhead was nearly as impressive as another downstairs from the '70s in the hotel's reception by Carlo Scarpa, its rainbow-coated glass no doubt from Murano. Nearly all the furniture and décor were sourced from local flea markets and upcycled or commissioned from local artisans, such as basketry by Giotto Scaramelli of Scandicci or ceramics by Matteo Mirenda of Montelupo.
Just a few feet away, the design shifted dramatically. At the Florentine-style San Michele, six traditional guest rooms are as inviting as inviting as the rolling hills their French doors revealed. And atop the property's bar and provincial osteria, the ceilings were covered by what first seemed like ancient frescos — but, upon closer inspection, revealed themselves to be modern reinterpretations: words and scenes by the French graffiti artist Jay One Ramier created a clash of ideas, cultures, and images that long-standing guests have come to enjoy.
Ramier is just one of the many creatives who have called Villa Lena home, because — and here's the twist — the site is also a fully living, breathing artist's space. Every month, the hotel's arts foundation invites a range of cross-disciplinary artists from around the world to fill the neo-Renaissance villa's carefully preserved, historic halls. Artists live together in the central house, make art in their own studios — converted stone lodges once used for hunting and agriculture on the other end of the property — cook together, swim together, and yes, do yoga together. Not only do the artists engage collectively, but they also do some things — potentially everything — with the property's guests, too. It's an integration that is both inspiring and one that leaves the visitor with many questions about the line between work and leisure. The first of which for me was, "Where can I sign up?"
My spring visit to Villa Lena happened to overlap with the first week of a new batch of artist residents and the departure of the foundation's last batch. There was Jess Nicholas, a Bristol-born floral artist who lives in London but is debating an exit from the U.K. entirely. Villa Lena is not only her first time trying a residency, but it's also her attempt to dip her toes into determining where she wants to live next. "I'm tempted to stay here forever," she told me at her Villa Lena studio, where she led me in a one-on-one tablescape workshop, piecing together locally foraged flowers onto delicate beds of moss. "Maybe I will." (Many artists, like Nicholas, trade their time at the property for workshops and programming.) There was also Brendon Goodmurphy, a soft-spoken writer originally from Toronto who now lives in Berlin with his boyfriend, the Spanish ceramist and fellow seasonal Villa Lena guest Mauro Fariñas. Goodmurphy, who attended the yoga class with me, has already finished his first novel, and so this summer he's taking his time at Villa Lena to revisit it, as well as return to poetry. As we moved through our flow with Kristensson, the yogi-in-residence, I couldn't help but wonder if he was mulling over the same questions of vacation identity that I was. Or maybe — most likely — he was just thinking about the next lines he's yet to write.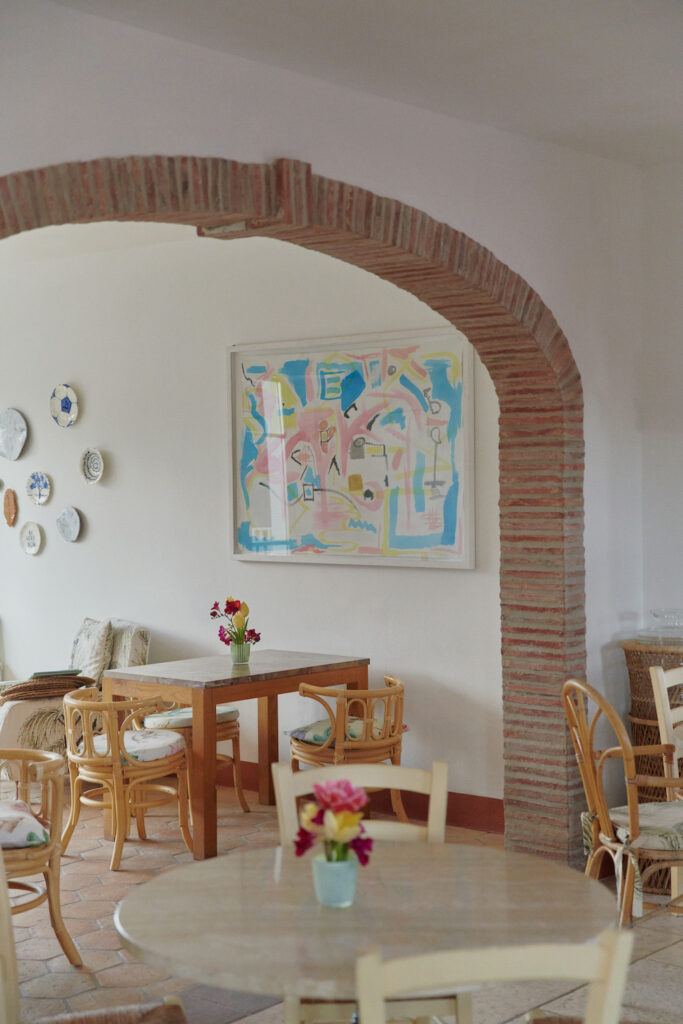 At the end of their stay, each artist is asked to leave a work they've created that is meaningful to Villa Lena, and Goodmurphy is considering framing a new poem. Per this tradition, Lena Evstafieva, the president of the property, has accumulated many parting gifts in the near decade since she left London's Pace Gallery for the villa. Some become part of the property forever, like the colorful textiles Nadine Goepfert designed — an abstract tablecloth, a whimsical napkin. Many keep a part of Villa Lena close when away — Evstafieva has a work by Bradley Kerl that she purchased for her home in Florence. "I always loved his style of painting," she gushes, explaining that his work is "a recreation of a recreation." The work has a villa-inspired backstory: the textile artist Tatiana Andersen Camre had been so taken by San Michele's landscape that she captured a photo of it with flowers framing her view. "Kerl saw the photo on Instagram, fell in love with it, and painted it," says Evstafieva. "Now it's mine."
In addition to the artist foundation and the expected luxuries of travel (two pools, secluded villas with private plunges, an impressive vineyard that renders two varying Sangioveses and one sparkling rosé, organic vegetable patches, flower gardens, and smart food snacks) there is an eye-catching light and rain pavilion at the far end of the Fattoria. A large skylight pours streams of sunrays on top of a bed of smooth water. Set before a dried flower installation delicately blowing in the Italian breeze, it's a serene space to reflect on the greater complications of life. Needing a vacation from a vacation is not an uncommon feeling while traveling, but here at Villa Lena — beside the bamboo forests, nibbling flakey focaccia soaked in the ground's fresh-pressed olive oil, and surrounded by artists — the thought never occurs to me. Even if you're working… no, never.