Unless you've invented something useful, or have $100 million kicking around in pocket change, the price tag of a home on the island of Palm Beach might seem to range from the exorbitant to the stratospheric. However, just across the bridge is the mainland, West Palm Beach, which has been undergoing its own renaissance of late. And so, for mere mortals who work at a hedge fund but don't own one, West Palm Beach seems to have become the new landing pad for erstwhile New Yorkers.
For those of us who have lived here since the '90s, we knew we were in trouble when West Palm Beachers started naming their neighborhoods. For many, the most desirable are clustered around Flagler Drive, including historic El Cid (which can rival Palm Beach for popularity, if not price tag, these days), the up-and-comer Northwood, and the already arrived SoSo (whereas SoHo is south of Houston, SoSo is south of Southern Boulevard). Meanwhile, College Park in Lake Worth, which borders the Southend, has become the Park Slope of Palm Beach.
Clematis Street
About 30 years ago, a revitalized Clematis Street, just at the center of West Palm, became a hub of retail activity, with a Saturday morning farmers market that's gaining a reputation for being one of the best in the country.
Predating this is Pioneer Linens, where islanders have been getting their luxury towels and tablecloths for the better part of a century, and whose owners have seen the ebb and flow — and the current massive tidal wave — that has brought people to Palm Beach. As told by Penny Murphy, the current owner, the store was started by Max Greenberg, an Austrian immigrant who came to the United States in 1905 and worked for a time in New York City. He had family in Daytona — where Henry Morrison Flagler had established one of his first resorts. When Greenberg discovered that they were giving away land in Lake Worth, he decided to open a hardware store there, living in a nearby tent. Between the hurricane of 1928, the crash of 1929, and some exercises in branding, West Palm Beach surpassed Lake Worth, and Greenberg's hardware store evolved into Pioneer Linens, which has remained in its current location since 1930. Murphy, Greenberg's granddaughter and current owner of Pioneer Linens, is the third-generation proprietor of the famed linen store (her daughters are the fourth generation involved in the business), and has observed the influx of New Yorkers who now call the Palm Beaches home. "Our secret is out," she said. "We have always had a very special place to live — not only do we have the beach and the ocean and the weather, but we have so much to offer. People are just discovering that."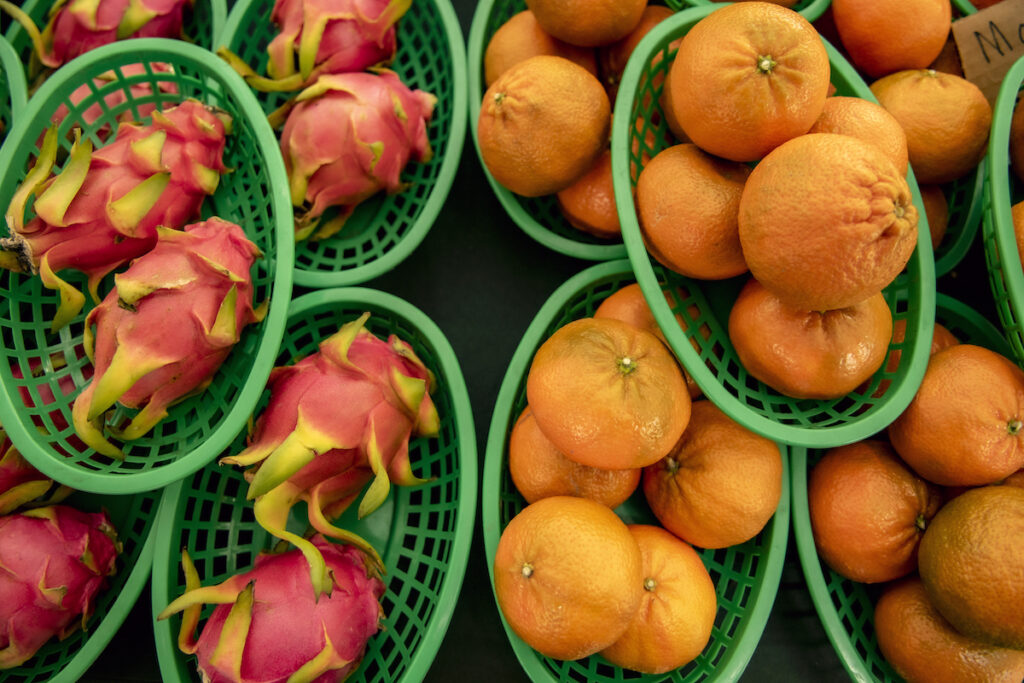 Antique Row
Among those discoveries is a stretch along Dixie Highway known as Antique Row, where stores such as Hive showcase everything from coastal to, well, modern coastal design. Mecox Gardens, an outpost of the Napa Valley, Hamptons, and Manhattan Mecox Gardens — and all points in between — is where many an islander not only gets their home goods, but also their floral arrangements. And nearby there's Aioli, where the owners have pioneered an industrial gourmet café, with pastries and cakes rivaling any found in New York, or indeed Paris. Chef Michael Hackman and his wife, Melanie, the duo behind the ever-popular restaurant, were quick to note the shift in the area. They founded their restaurant based on Michael's clientele on the island of Palm Beach where he worked as a private chef, and the restaurant's location, at the epicenter of West Palm Beach, seemed only natural. "There's been an influx from the Northeast," said Melanie. "We noticed during the middle of Covid, a large group of people stayed and liked it." Michael joked, "Some people say it's the sixth borough."
For people looking to be healthy healthy, Celis Juice Bar has filled our life with smoothies, shots, and juices — though the burgers at the nearby Dixie Grill & Brewery helps us cancel them out. And for anyone wanting slightly more formal fare, Kitchen, just off of Belvedere, specializes in American food presented with a fresh and sophisticated twist — the dream child of Chef Matthew Byrne, Tiger Woods' former personal chef — as an outpost of the original in Palm Beach Gardens.
Norton Museum of Art
Between all of this is the Norton Museum of Art, which is rapidly earning a reputation as one of the best museums in South Florida. Though the museum has been a mainstay since the '40s, the 2019 expansion — a bold, contemporary form framing an 80-year-old banyan tree — houses a permanent collection with more than 8,000 works of art, divided into European, American, Chinese, contemporary, and photography galleries. Modern masters range from Matisse and Monet to Georgia O'Keeffe and Jackson Pollock. This winter, for anyone missing their Met Costume Institute, A Personal View on High Fashion & Street Style: Photographs from the Nicola Erni Collection, 1930s to Now is on exhibition at the Norton Museum through February 12, while outside in the Pamela and Robert B. Goergen Sculpture Garden the 37,200-square-foot, Norman Foster-designed grounds showcase several works by artists such as Keith Haring, Antony Gormley, and Ugo Rondinone, all under a canopy of a tropical panoply.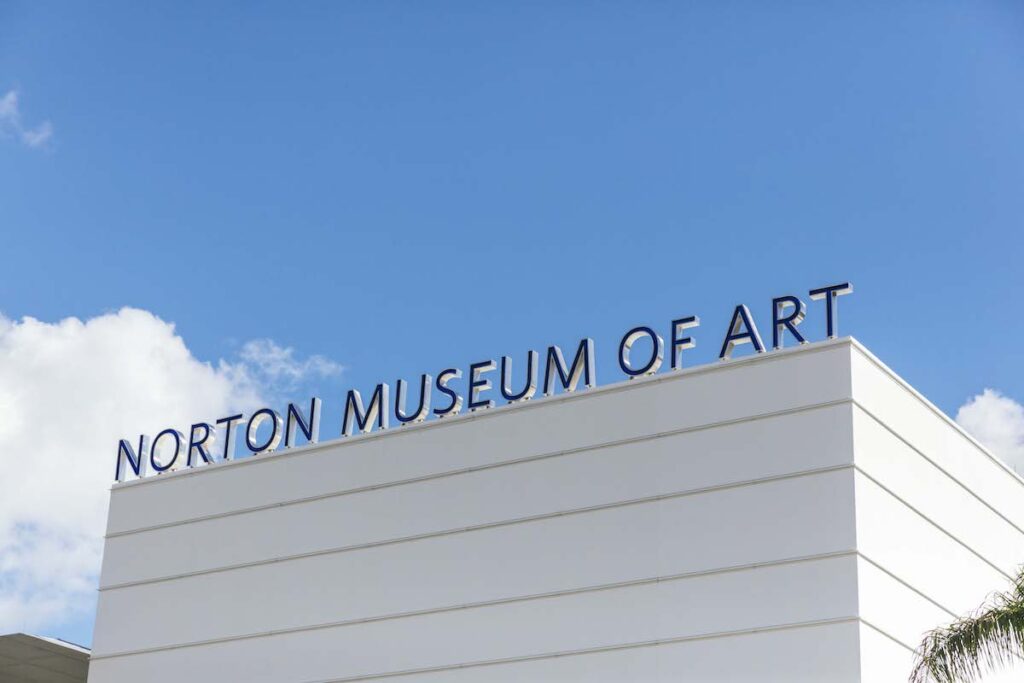 In addition to the Norton is the Bunker, a private art space in a 20,000-square-foot Art Deco building, formerly a toy factory. Here can be found the private collection of Beth Rudin DeWoody, an art visionary known for her passionate support of emerging and little-known artists. This season, DeWoody invited Thelma Golden, director and chief curator of the Studio Museum in Harlem, and the Brooklyn Museum director, Anne Pasternak, to reinstall the Bunker's largest space. Artists include Calida Rawles, Jay Lynn Gomez, Kennedy Yanko, and Jaune Quick-to-See Smith, all of whom were championed early in their careers by DeWoody.
Waterfront
The Ben is redefining the hotel experience, if not the skyline, in West Palm Beach. This boutique hotel, situated on the waterfront, is within walking distance of West Palm's main shopping streets, and has a rooftop bar with expansive views of the intracoastal waterway. With its modernist take and downtown vibe, it's quickly becoming popular with those visiting to dip their toes in the Palm Beach area. In terms of restaurants, anyone looking to get in touch with their inner islander need look no further than E.R. Bradley's, which has been around since 1984, on South Clematis Street. It takes its name from Colonel E.R. Bradley, who founded a casino on the island of Palm Beach. Whereas the original Bradley's was known for its good food and high-stakes gambling, the current outpost evokes a more laid-back vibe.