It is not often that the opening of a traveling museum exhibition — years, if not decades, in the making — is so well-timed that the curators and artists behind it might evince clairvoyancy. Yet that is clearly the case with Whitfield Lovell: Passages, a landmark show debuting at the Boca Raton Museum of Art, which brings together a suite of monumental installations by the artist that beckon viewers to contemplate the larger human quest for equality and the pursuit of a better life — aspirations that transcend time and geography. And while the work in the exhibition was created over the course of three decades, it has immediacy and resonance in the politically charged environment in which we find ourselves in this moment.
"Quite honestly, there are places I would like to boycott when it comes to exhibiting my work," Lovell tells Avenue, "yet, in many ways, it is all the more important that my work is seen in such places as it creates ample space for dialogue around issues that are weighing so heavily on so many of us, a place where people can express their emotions, their fears, and their anxieties about what's going on today." In 2007, the New York-based artist was awarded a MacArthur Foundation Fellowship, aka a "Genius Grant," in recognition of his thought-provoking oeuvre. He notes with amusement a bit of irony in the exhibition: the six venues on its current two-year itinerary all happen to be located in "red states."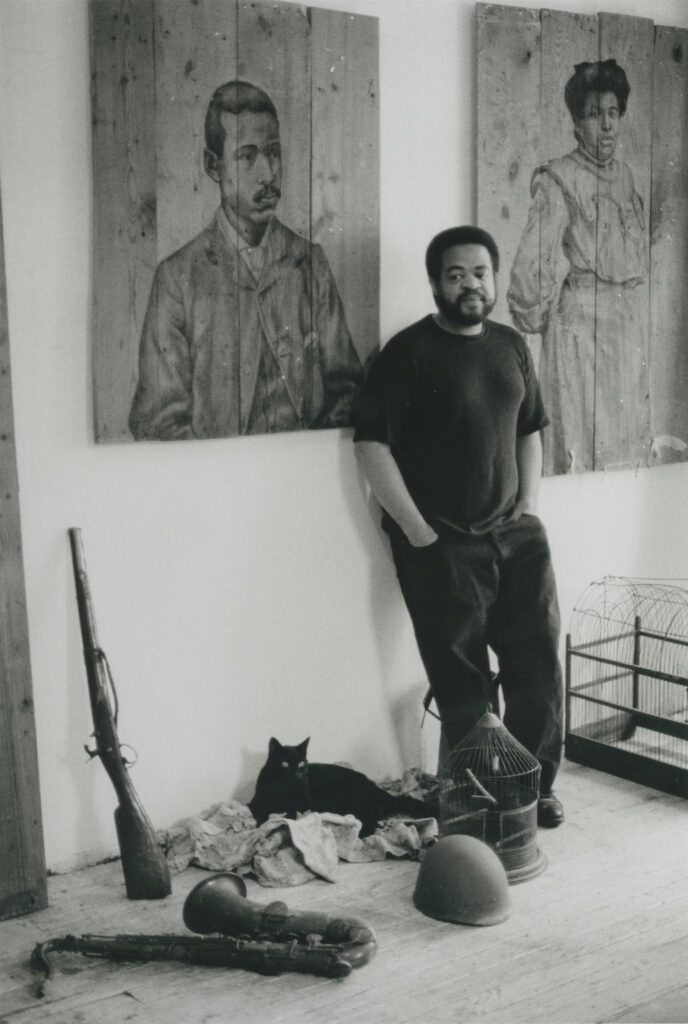 The immersive mixed-media sensory tableaux — drawings and found objects, accompanied by ambient soundscapes and the rich, earthy aroma of soil, pipe tobacco, and brandy wafting in the air — invite the viewer to look, think, feel, and question our notions of memory in the context of the present. The installation "Deep River," named after the famed Negro spiritual, says Lovell, "is an homage to the enslaved people who, during the Civil War years, embarked on a perilous journey across the Tennessee River in search of asylum at 'Camp Contraband,' a Union Army encampment in Chattanooga, where runaway slaves were given sanctuary." The 2013 multimedia presentation is composed of 56 wooden discs bearing portraits in charcoal and Conté crayon, along with found objects — a curated selection of potent mnemonic devices that tap deep into our collective psyche. The whole of the installation is enveloped in a video projection of a flowing river at night and is accompanied by a soundscape of lapping water. Notable in the work is "Flight," an installation within the installation, that features a stack of 33 leather suitcases, which emit the sound of chirping birds—emblematic of freedom and the gift of flight.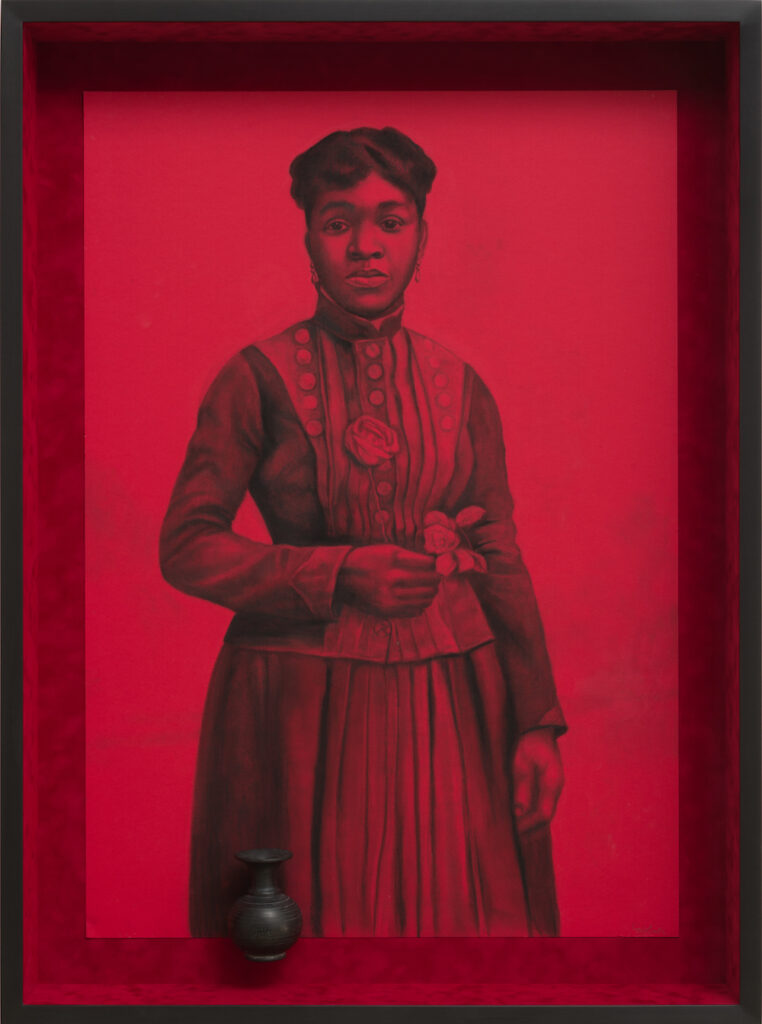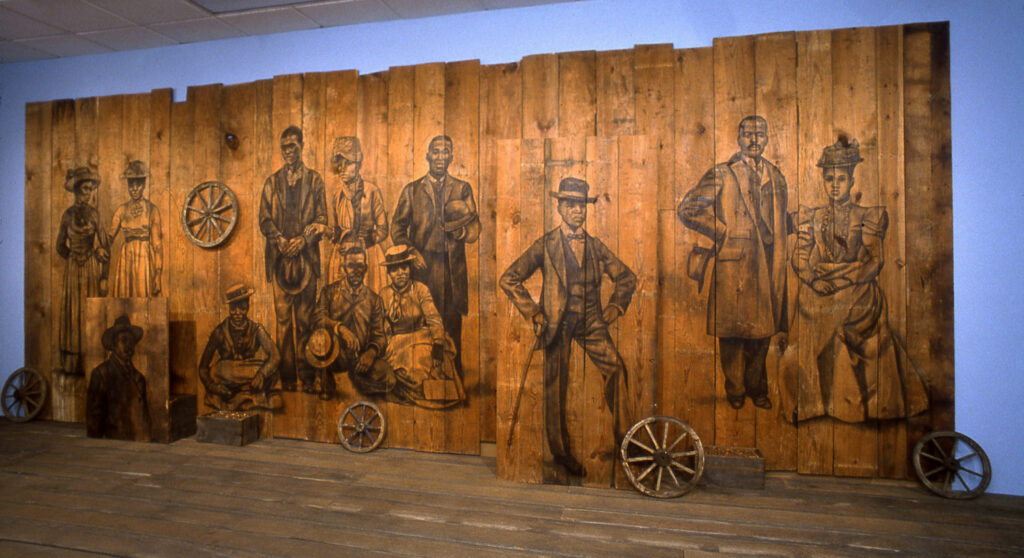 Other works include eight meticulously rendered portraits from Lovell's "Kin" series. Executed between 2008 and 2011, the portraits are drawn from the artist's collection of more than 3,000 government identification card photographs and photo-booth pictures taken between 1860 and 1950. Each is accompanied by a found object highly charged in meaning, which Lovell refers to as a "poetic attachment" — a model of a slave ship, a toy train, or a piece of driftwood.
"My work is very labor-intensive, but I've been making art since I was toddler, and I started studying seriously when I was 13, and I have not looked back since," says the Bronx-born Lovell, now 63. To create his art, he explains, he must enter "a trance state" of sorts, in which he is fully engaged in the moment as he listens to music — be it opera, blues, or jazz, most notably the ballads of Nina Simone, about whom the artist waxes eloquently. "When I was in college, Nina Simone actually helped me get through a very difficult year as a freshman — her music, that is. Some years later we became friends, and every time she came to perform in New York, she would invite me backstage. I felt that what she was doing with her music was what I wanted to do with my art. She has always been a sort of earth mother to me and has inspired my work." A case in point, Lovell says, is his handsomely scaled mixed-media piece, "Because I Wanna Fly" (2021), which was inspired by "Blackbird," a song she recorded in the 1960s, in which she sings, "So, why you wanna fly Blackbird? / You ain't ever gonna fly / You ain't got no one to hold you / You ain't got no one to care."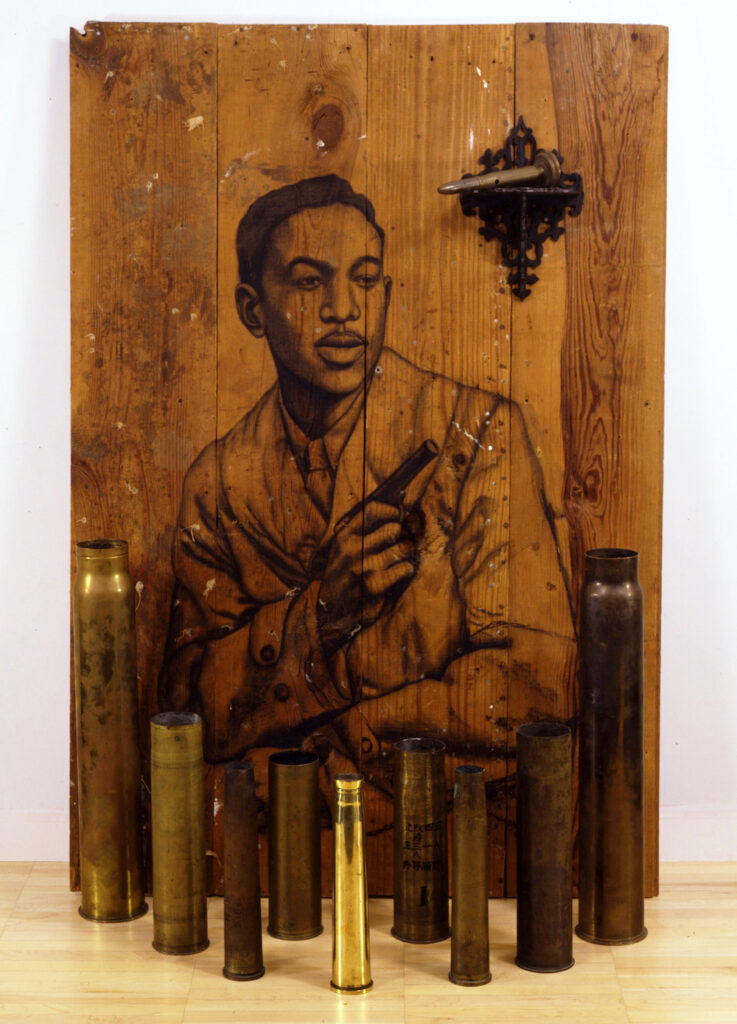 When asked what he hopes viewers take away from the exhibition, he muses: "Have you ever gone to the theater only to find yourself humming one of the tunes on the way home? That's what I want. I hope to reach people in such a way that they carry some of what they experienced away, that my work has a lasting effect beyond merely looking at something for three seconds and moving on." In that, Lovell has triumphed brilliantly.
Whitfield Lovell: Passages runs through May 21, after which it travels to the Virginia Museum of Fine Arts (June 17–September 10), the Arkansas Museum of Fine Arts (October 23–January 14, 2024), the Cincinnati Art Museum (March 1–May 26, 2024), the Mint Museum in Charlotte, NC (June 29–September 22, 2024), and the McNay Art Museum in San Antonio (October 26–January 19, 2025). An accompanying volume, Whitfield Lovell: Passages, is published by Rizzoli Electa.