Welcome to the new old Boston. The 'Quin House, once the Algonquin Club, is the beaux-arts McKim, Mead & White building on patrician Commonwealth Avenue that's suddenly one of the most stylish members clubs on the planet. Meanwhile, the grande dame formerly known as the Ritz overlooking Boston's Public Garden has been reimagined into the very hip, very luxe Newbury hotel. Together they are adding to Boston's modern luxury renaissance, spinning history and its charms seemingly overnight into an epicenter of style, art, and design with a chic social scene to match.
Boston power couple Paul and Sandra Edgerley (he's managing director of private equity shop VantEdge Partners, she's with high-end Hexagon Properties) scooped up the Algonquin for a cool $17.5 million in 2018, and have now, with the help of hospitality design guru Ken Fulk, rejiggered the old-line Brahmin hangout into a playground for the city's creative class. The website beckons you to "reinvent your social life" and the massive waiting list to join shows there are many who would like to. A quarter of the 'Quin's members are under 35, and everyone seems eager to hobnob behind its ornate 1886 limestone facade. The club, says Sandra Edgerley, is "a gathering place across generations, sectors, ethnicities, and points of view," and it's already being called Boston's answer to Annabel's in London. Members are accepted only after a personal referral and an exhaustive Zoom interview with a 'Quin "ambassador." Yearly dues, based on age, range from $2,000 to $4,000.
Fulk actually lived across the street from the Algonquin in his early 20s, but had never been inside, and jumped at the chance to reinvent the palatial six-floor, 56,000-square-foot landmark. "I wanted it to feel like a new generation had taken over the place rather than exalting it as a period piece," Fulk explains. "I refer to the aesthetic as 'the rockstars have taken over their grandfather's mansion' because we were respectful of the heritage, but also willing to push the boundaries of style and tradition." Once approved, members can socialize in four restaurants, and even more bars and hangout areas filled with star-quality art by Picasso, Warhol, and Kehinde Wiley, to name a few. "The art collection, as well as references from film, music, and literature, were absolutely part of the vision from the very start," Fulk says. The Dive Bar was informed by a single photograph, George Hoyningen-Huene's The Divers, Paris, 1930. There's a full roster of exclusive member events, the grand living room has kept its original marble columns, the hand-carved furniture mixes well with laptops, and the fitness center is state-of-the-art.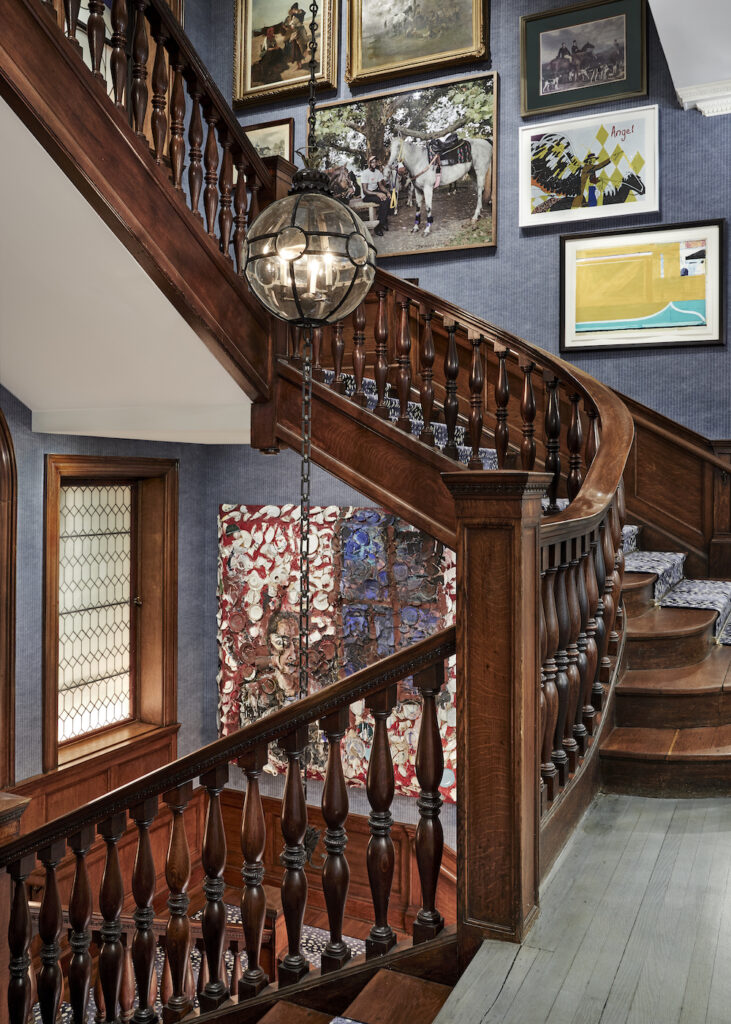 Culinary director Jean Paul Lourdes offers American gastropub fare at the Pub, Parisian-style plates at the Terrace, Mediterranean-influenced dishes at Café Q, and pan-Asian food with a New England twist at the 'Quin's star eatery Bondo, its majestic dining room a prime spot to see and be seen under a massive Donald Lipski chandelier fashioned from the roots and trunk of an enormous tree.
Another attraction is Scottie's, a louche Art Deco lounge with pale pink walls and buttons reading "Push for Champagne" for instant bubbly service. "The room takes its inspiration from F. Scott Fitzgerald who captured the champagne-soaked exuberance of the Jazz Age so beautifully," says Fulk. "We named the space after his and Zelda Fitzgerald's only daughter, Frances Scott 'Scottie' Fitzgerald." The Edgerleys are serious collectors of vintage vinyl records, and the Hideaway bar, accessed speakeasy-style behind a secret door, is an homage to Frank Sinatra. The Founders Room is restricted to founding members. "Boston has such deep traditions in thought leadership and innovation," Fulk says. "We wanted to set the stage as much for important conversations as memorable celebrations."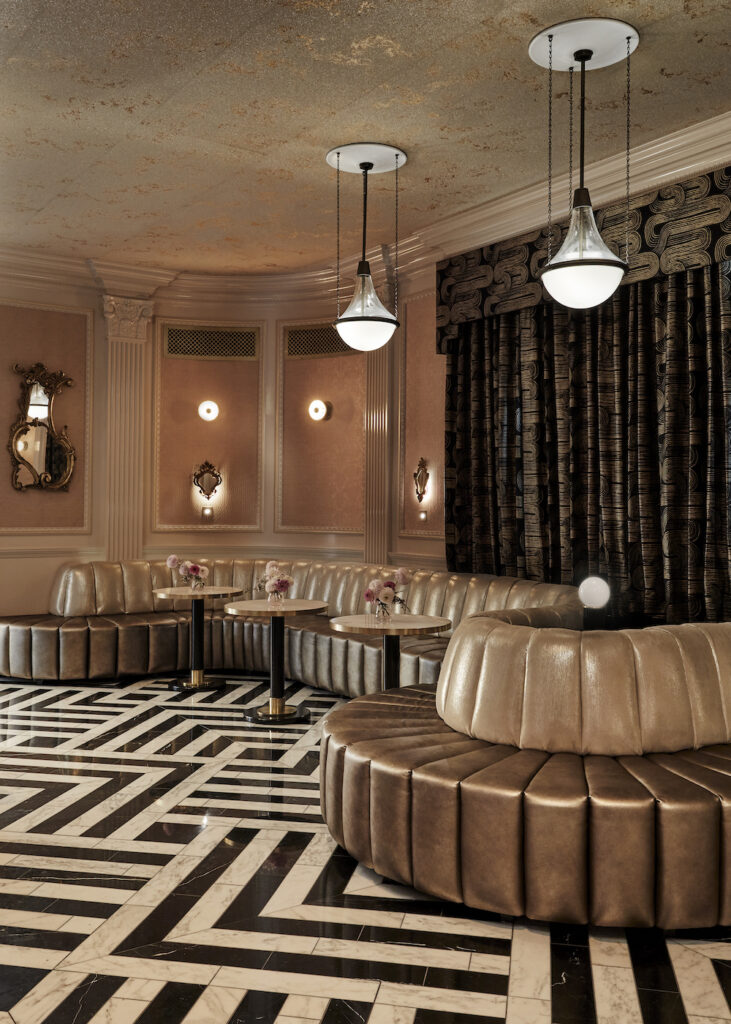 No photos allowed at the 'Quin, thank you very much. But Contessa, the glass-roofed northern Italian restaurant on the top floor of the nearby Newbury Boston, also designed by Fulk, has become the place to geotag on Instagram. The focal point of the Jazz Age relic that was once the Ritz, the latest from Major Food Group (which also boasts hot spots like Carbone, the Grill, and Sadelle's), it's Boston's toughest reservation to score. With the Boston Public Garden across the street, "We wanted it to feel like a secret garden in the sky," Fulk says. "We designed it like a grand conservatory with a glass roof and retractable panels for open-air dining." The design inflections are Art Deco and modernist. The Newbury's 286 rooms and 90 suites are in high demand, and not only come with working fireplaces, but fireplace butlers on call to help you choose your wood, then build you a roaring fire. The rooms' calming hues of blue, gray, and cream cast a residential mood over them, and from the blue-velvet window nooks there are sweeping views. The Mansion suite is VIP: at 1,925 square feet, it has a living room, a dining room, a butler's pantry, and a personal "attaché" to arrange en suite entertaining.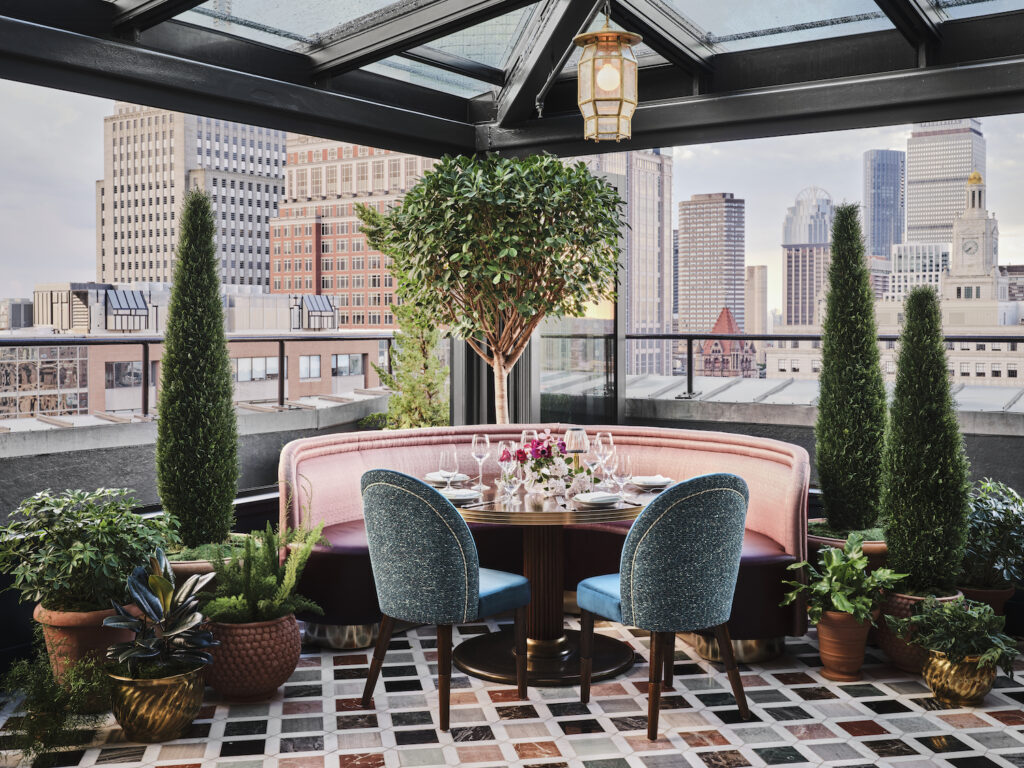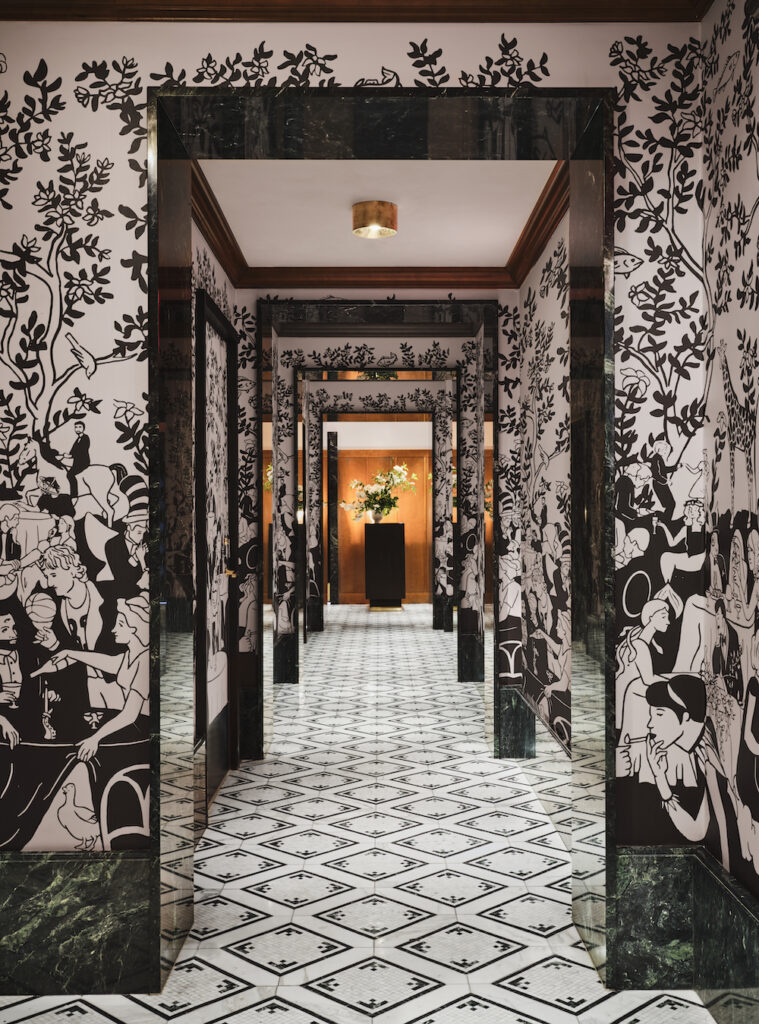 Art is everywhere at the Newbury, too. Mike Carroll, who owns the Schoolhouse Gallery in Provincetown, and Lynne Kortenhaus, one of his artists, have chosen an eclectic mix of art, from Yousuf Karsh portraits of creative icons like Martha Graham, I.M. Pei, and Jessye Norman in the clubby Library lounge to Jeannie Motherwell's trippy acrylic abstract paintings in the Street Bar and David Akiba's lush large-scale landscape prints in the Assembly foyer. Hanging over the grand staircase is a towering chrome chandelier by Brand van Egmond. The Garden Room still features the famous cobalt-blue chandeliers from the original Ritz. In 1927, some 200 guests gathered beneath them for the hotel's opening. They dined on a seven-course dinner of caviar imperial d'Astrakan, lobster au whiskey, and soufflé glacé Cyrano. Even Jimmy Walker, the mayor of New York, was there. Someone better alert Eric Adams.