In our series, Interior Lives, Avenue profiles the new guard of interior design icons redefining classics and bringing innovation — and beauty — to the industry.
There's not a single interior design trend that Young Huh won't embrace. "Everything has potential if it's done in a thoughtful way," she tells Avenue. On second thought, the modern farmhouse aesthetic — in all its rustic, Gaines-ian, barn door-infused glory — does drive her "a little nuts" at times, but only because of how mainstream it's become. (For what it's worth, she harbored similar feelings about the accent wall craze a few years ago.) "People just jump on a bandwagon, and it prevents them from thinking carefully, as individuals, about their home and the details in it." Creating real beauty, she adds, is complicated. "And beauty is so, so important."
It's an apt philosophy for Huh, who grew up in Detroit prior to settling in New York. Before her interior design work earned her numerous accolades (and precious real estate in some of the most well-known lifestyle glossies), she'd been reluctantly pursuing law. That is until one evening in 2001, when she chatted up an interior designer at a party and realized her life's true calling. (Huh describes this as her "lightbulb moment.") After that fortuitous encounter, Huh promptly ditched her burgeoning legal career and enrolled in interior design classes at Parsons School of Design, interning at different design firms and honing her craft along the way.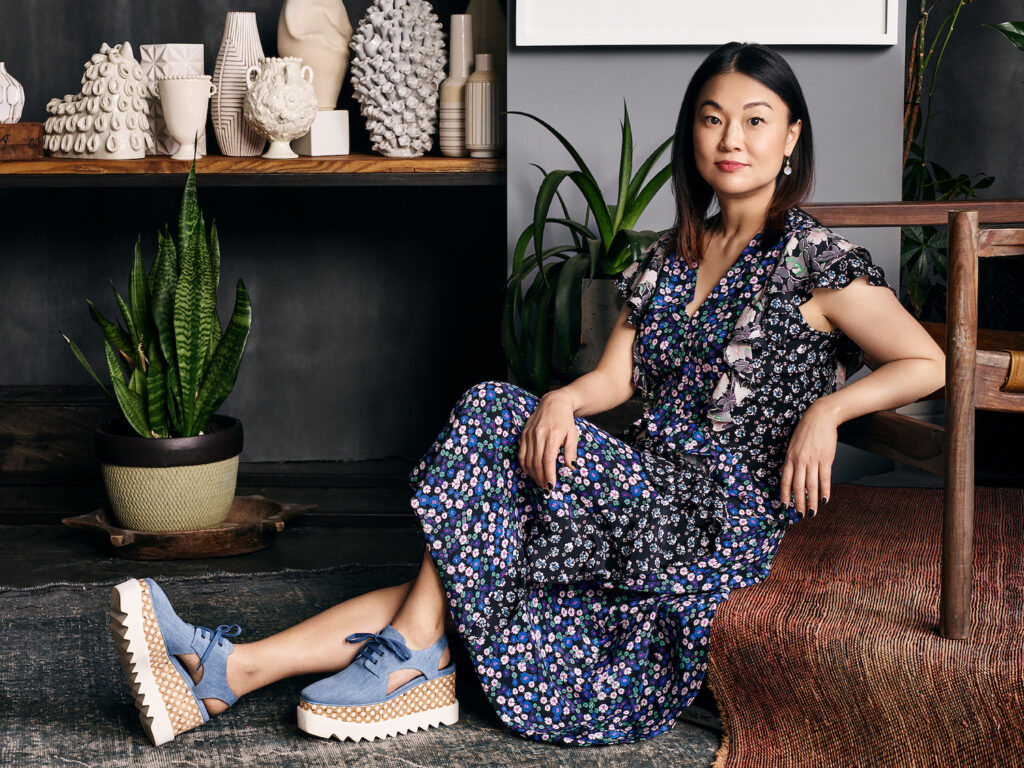 In 2007, she opened her own full-service firm in New York, where Huh and her team specialize in high-end residential and hospitality design all over the world, approaching each project with the kind of disciplined pragmatism of, well, a lawyer. (She embraces this overlap.) "We start with classic design principles, asking, 'Where is the symmetry? What are some of the architectural conditions we want to resolve? Do we need more light?'" Then, she says, comes the "fun" part: manipulating color and architecture and playing with things like interior details, texture, and negative space.
With several noteworthy projects under her belt, Huh cites much of her success to the Upper East Side loft she transformed in 2019 as part of the 47th annual Kips Bay Decorator Show House. (Huh, along with 21 other designers, was tasked with designing a room in an empty estate for a charitable cause.) With colorful, Braque-inspired wallpaper (custom from Fromental), a marble-topped antique table from the 1930s, a sprawling, six-foot-long brass chandelier, and other elements of worldly bohemia, Huh designed the space to be "a fantastical studio belonging to an eccentric artist who travels all over the world and does whatever she wants."
The project introduced a bigger part of the world to Huh's vision. She finds inspiration from the comingling of cultures, referencing the Silk Road and the "mishmash of things that emerged during that long journey for rare goods" as a current source of fascination. As a Korean American, incorporating global influences into her work is something she's especially passionate about. "I just really love that interplay," she muses.
Up next for Huh are historic tudors in Westchester and Chicago, town houses in New York, a ski house in Jackson Hole, and a new extension to the Point Grace resort in Turks and Caicos. (Huh has been working with the five-star property since 2019, giving its suites, cottages, lobby, and restaurant stylish and noteworthy makeovers.) But it's the world of product design that's got her buzzing with excitement these days: In a few months, she'll release a collection of Korean-inspired wallpaper with Fromental; the collaboration follows the collection of tiles she created with AKDO in 2018 and the line of ornate hardware she designed with Modern Matters earlier this year. "It's just so fun, applied art. You know? Designing something and then using it."